The Chapel at the Waters
When you first arrive to the Chapel at the Waters in Montgomery, Alabama, you feel like you stepped into a Nicholas Sparks novel.  On a hill, above a sweet community of cottages, sits the Chapel.  As regal and elegant as ever, the Chapel at the Waters is draped in white, and absolutely stunning.  From it's steeple, to the french double doors, the Chapel at the Waters has quickly become one of my new favorite wedding venues as a Montgomery Alabama Wedding Photographer!
Meredyth & Miles
The Chapel at the Waters made for the most beautiful location for Miles and Meredyth to say "I do".  Even more beautiful than the chapel, is the love, selflessness and relationship that these two share.  Miles is a joy-filled planner, and Meredyth is graciously flexible, happy to always be at the forefront of Mile's plans.  They work well together, and they are better because of each other.  I have SO loved watching these two plan and prepare over this last year.  Their marriage has always been the most important thing.  More important than the wedding, or the fluidity of their special day, more important than the deadlines or the details, Miles and Meredyth made sure that their covenant to Christ, and commitment to each other was what that mattered most.
Montgomery Alabama Wedding Photographer
As a Montgomery Alabama Wedding Photographer, I've seen wedding days unfold in a variety of ways.  But what I love most about wedding days are the people that come together in love and support of the couple getting married.  Miles and Meredyth have the most incredible people.  I had a front row seat as friends and family surrounded them on all sides, being supportive, selfless and willing to lend a hand in whatever way possible.  A lot can be said for the type of people that we find ourselves surrounded by.  Miles and Meredyth have the most wonderful support system, because they are wonderful too.
Shades of blue and green were woven into the details of their wedding day, and it was beautiful to see everything come together.  From the garden-like flower arrangements, to the sentimental moments shared, to the beautiful wedding party, this day was a dream!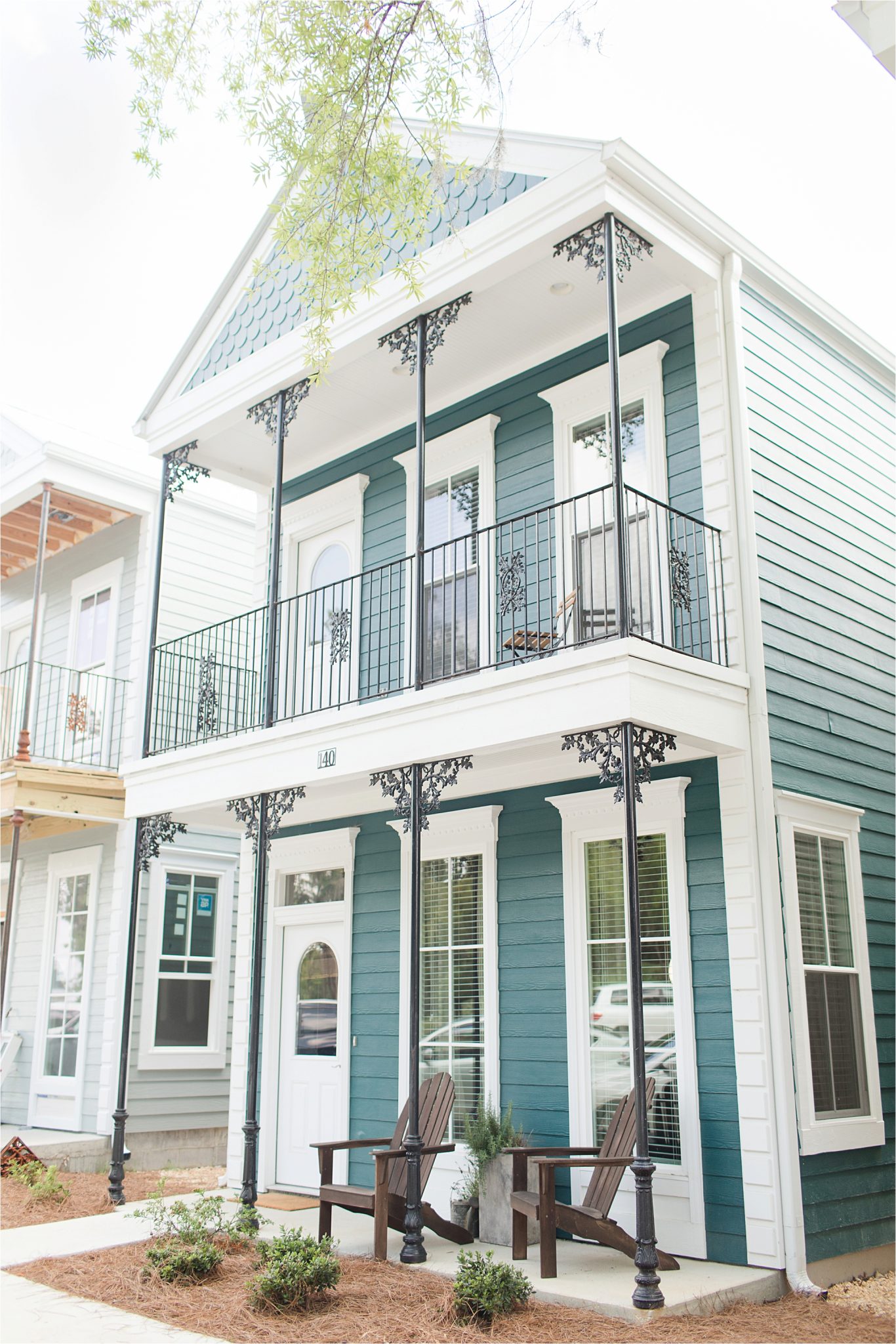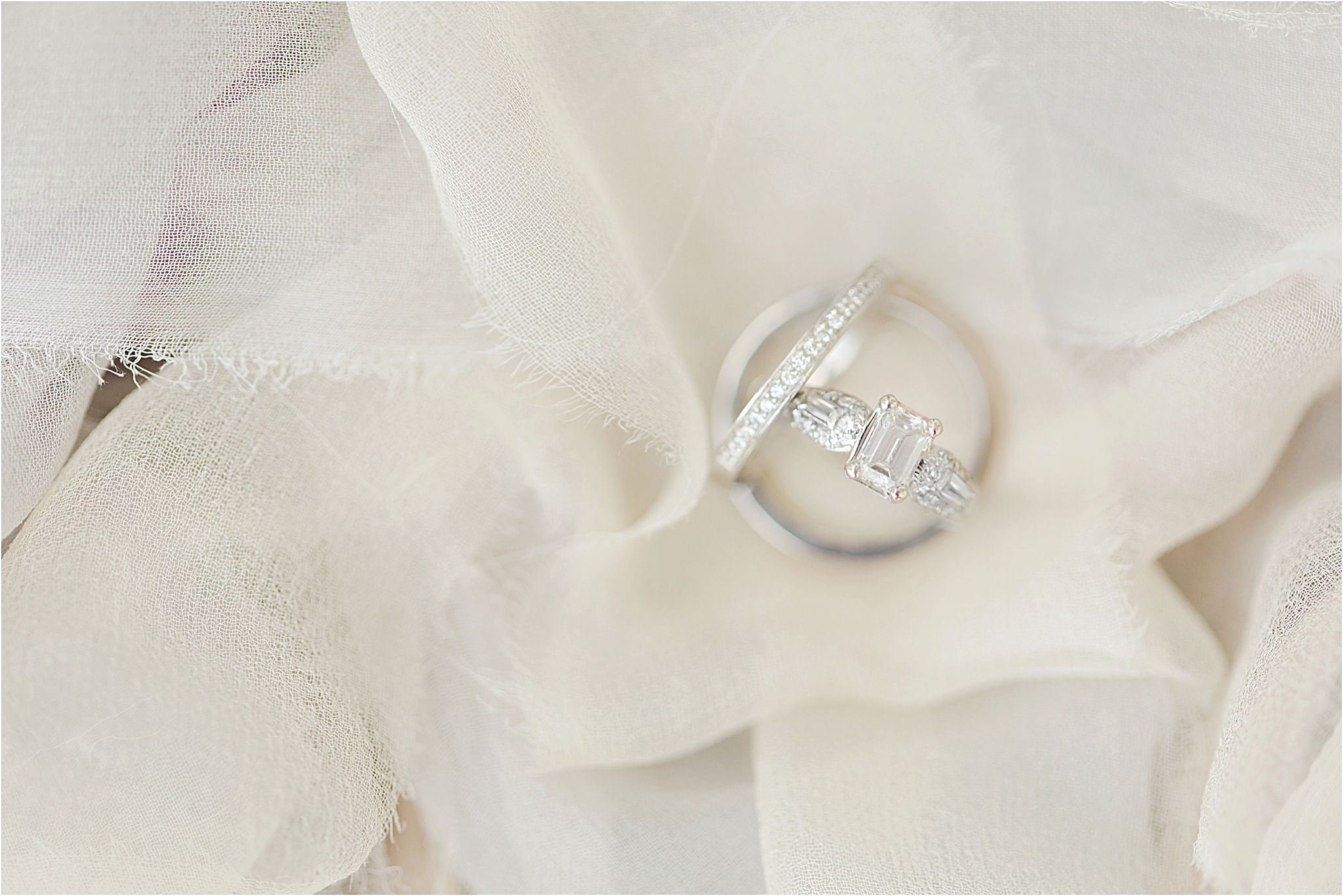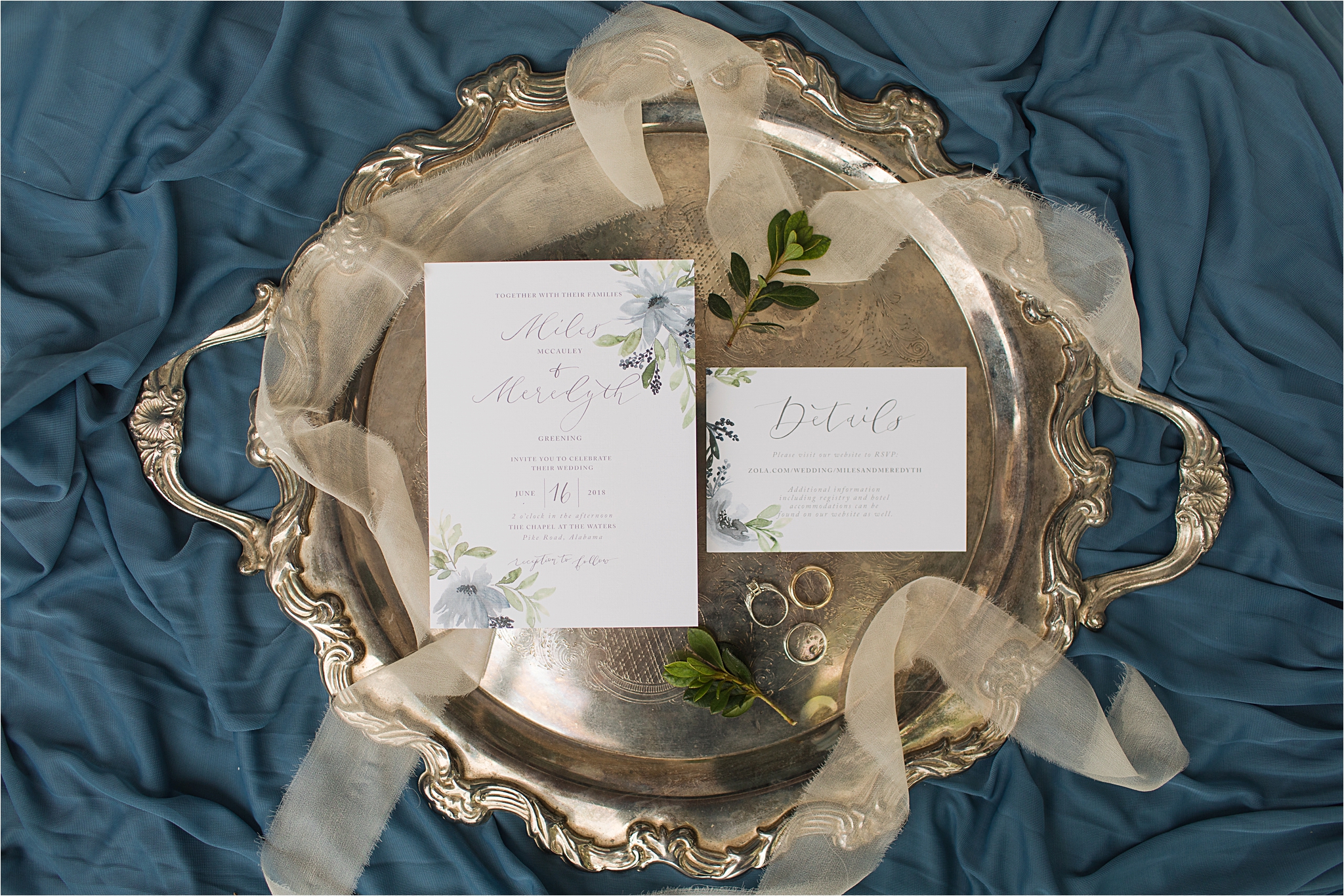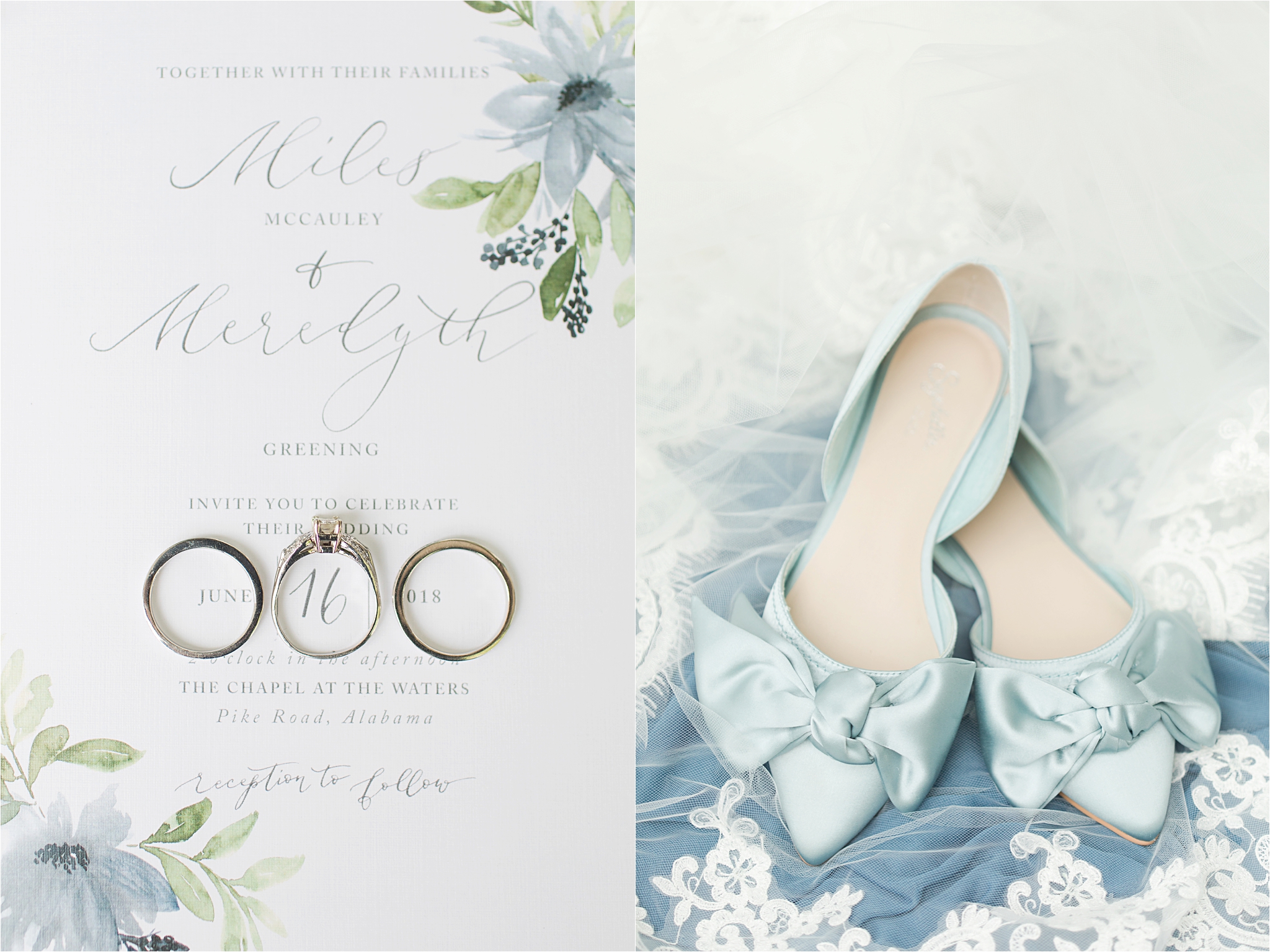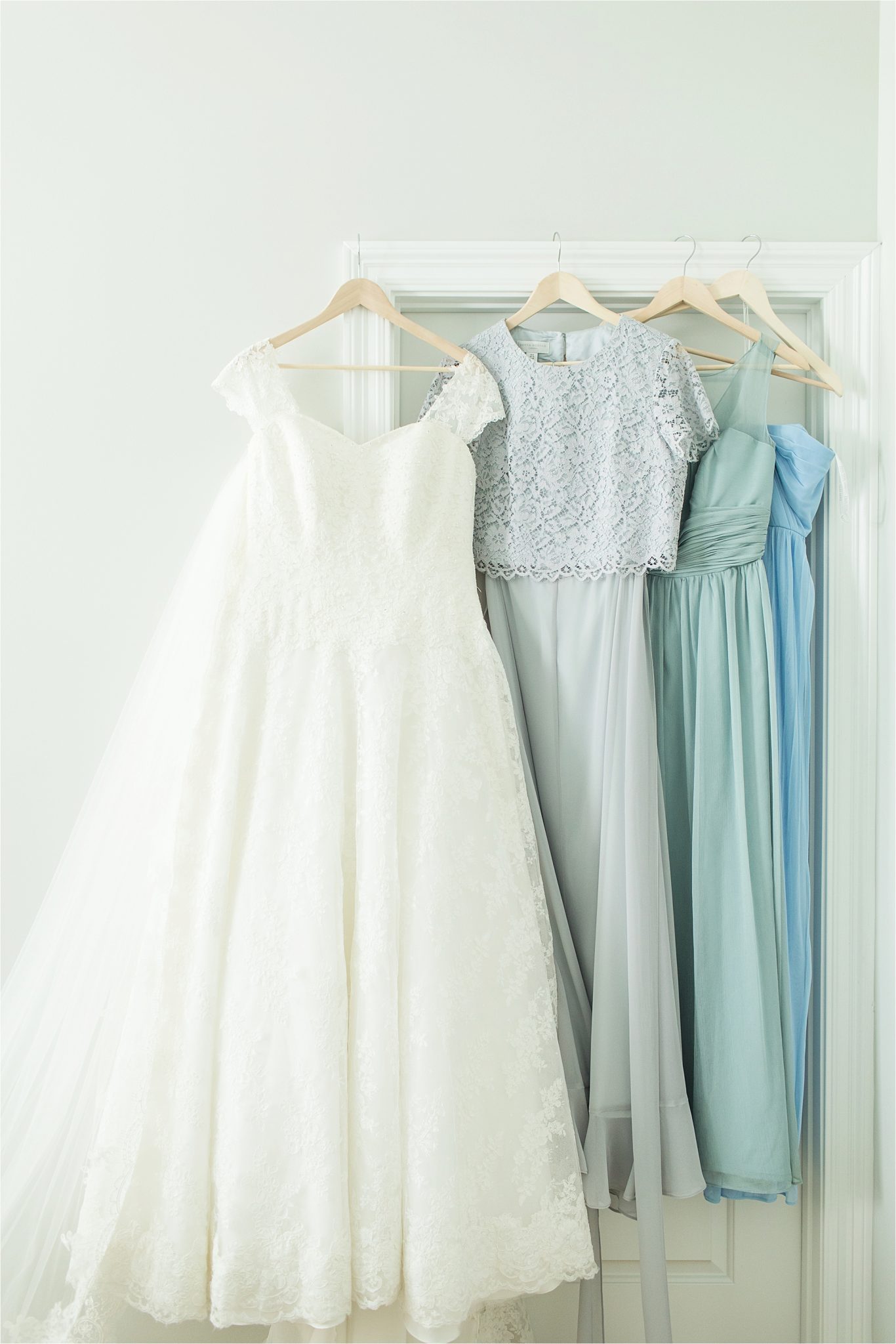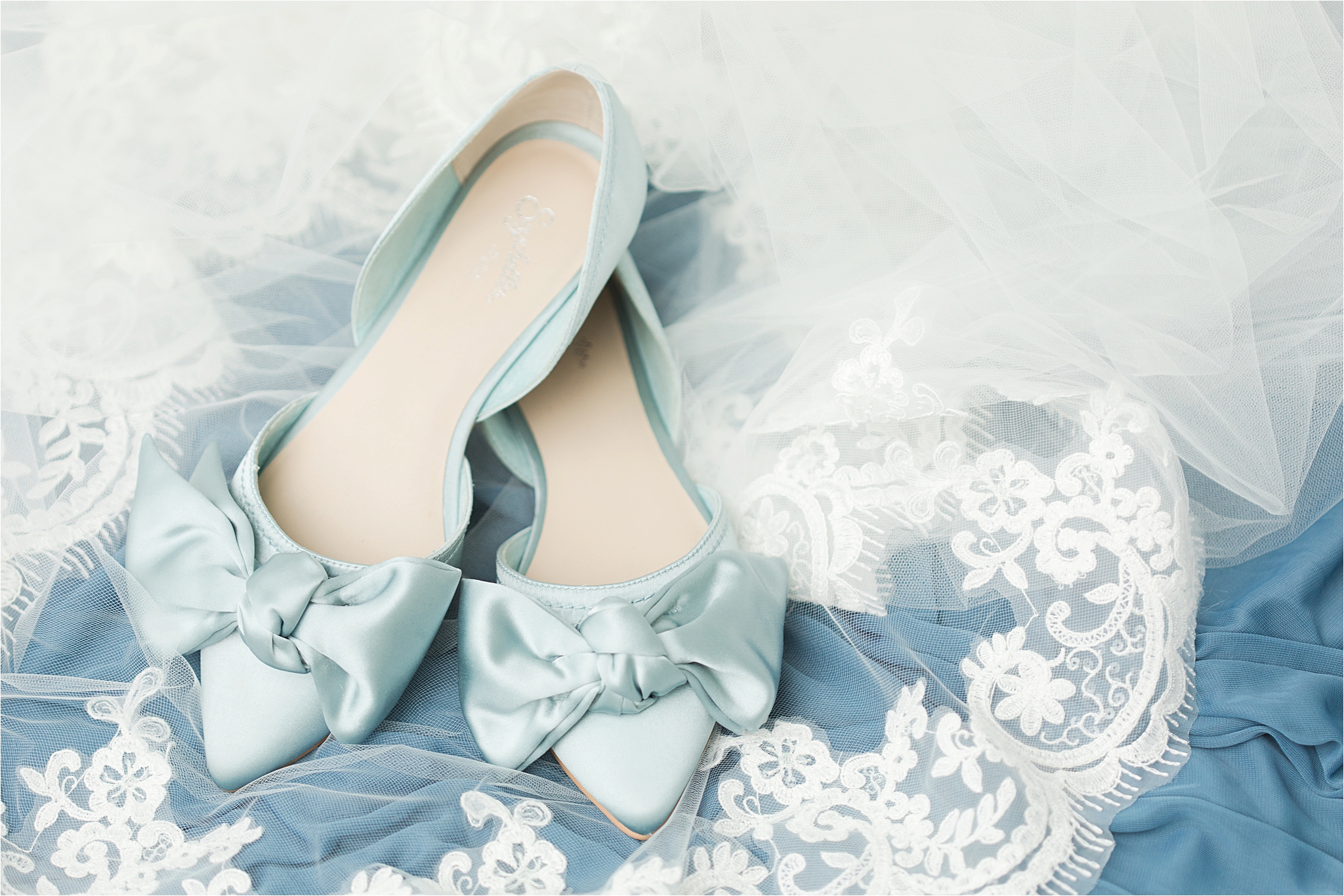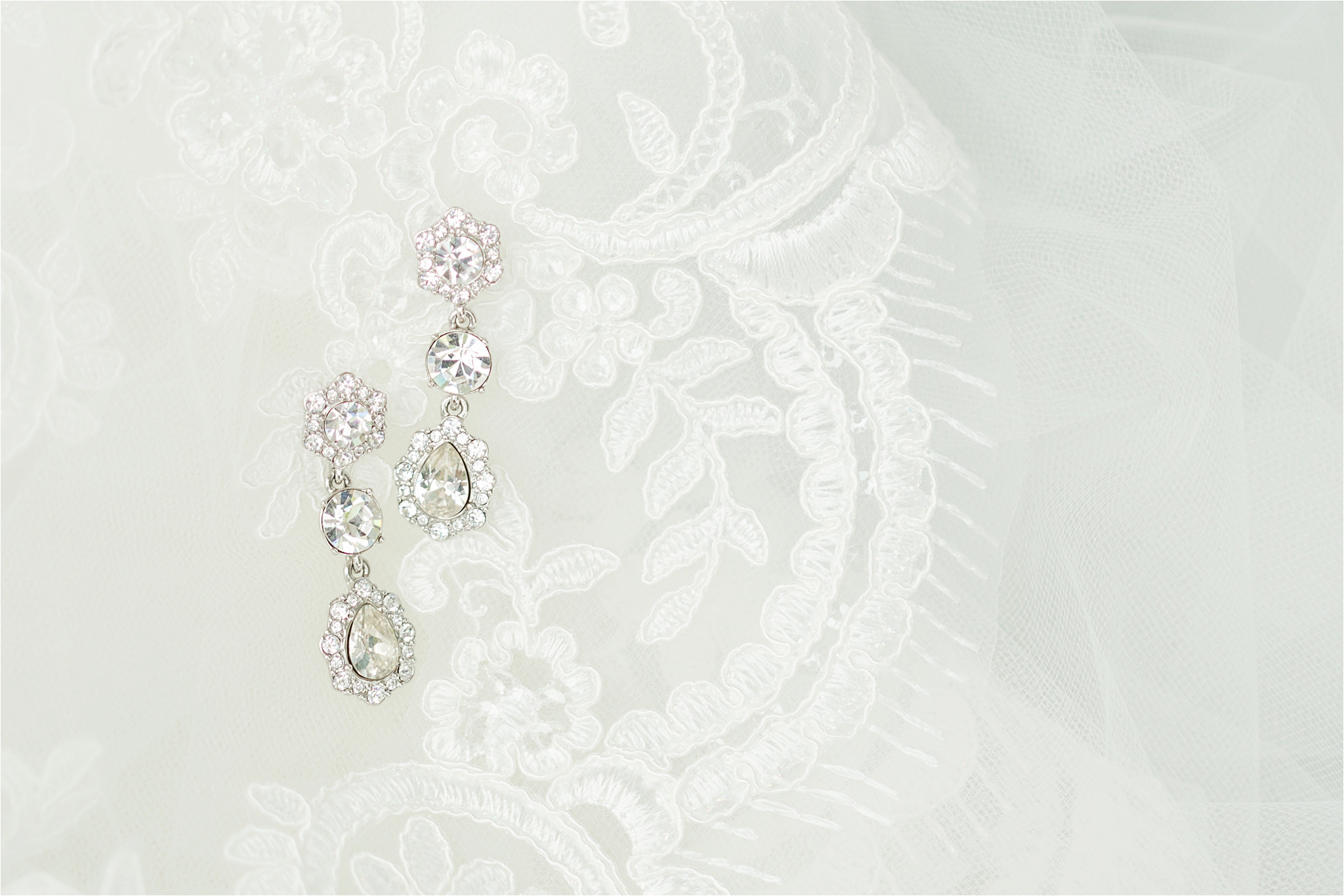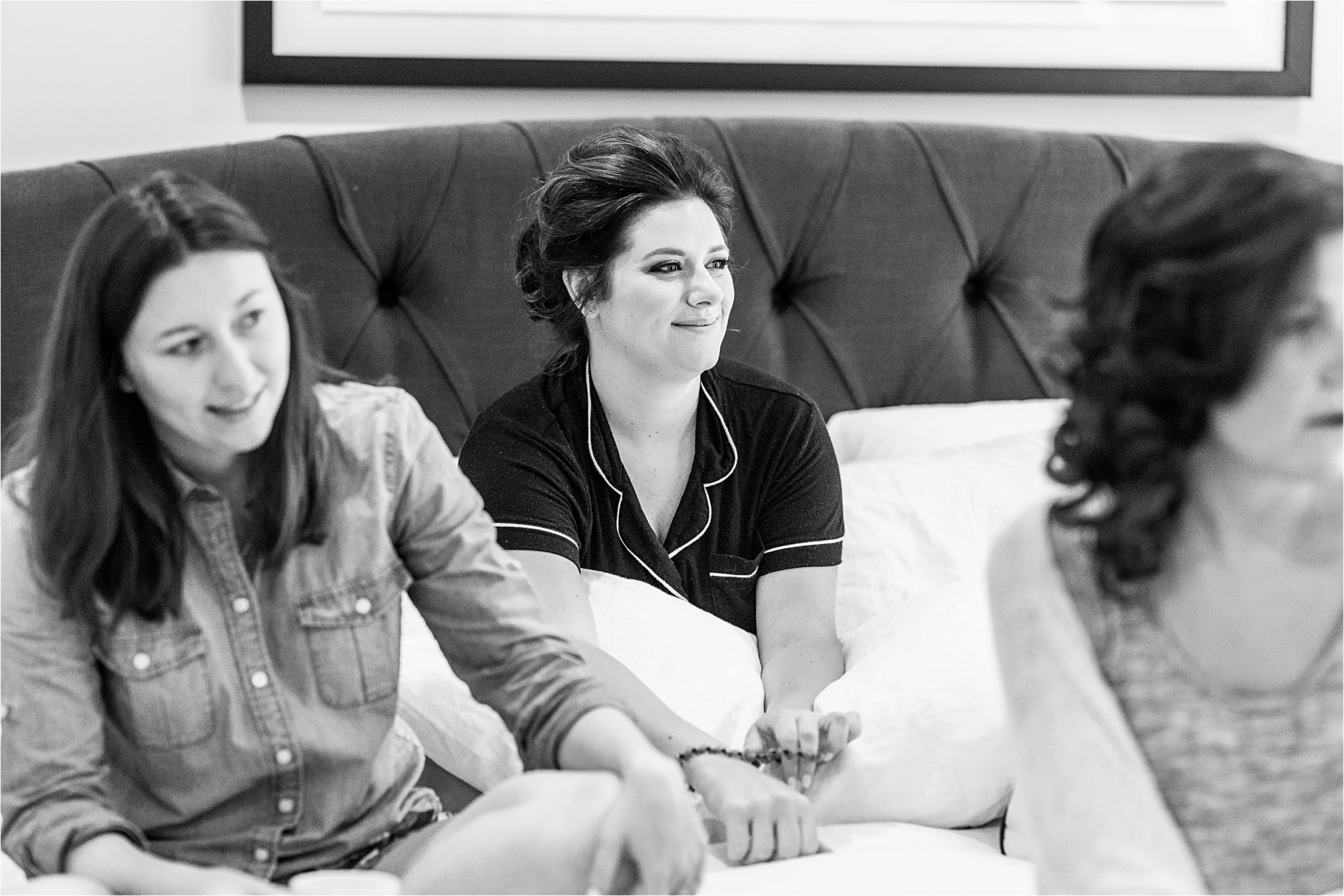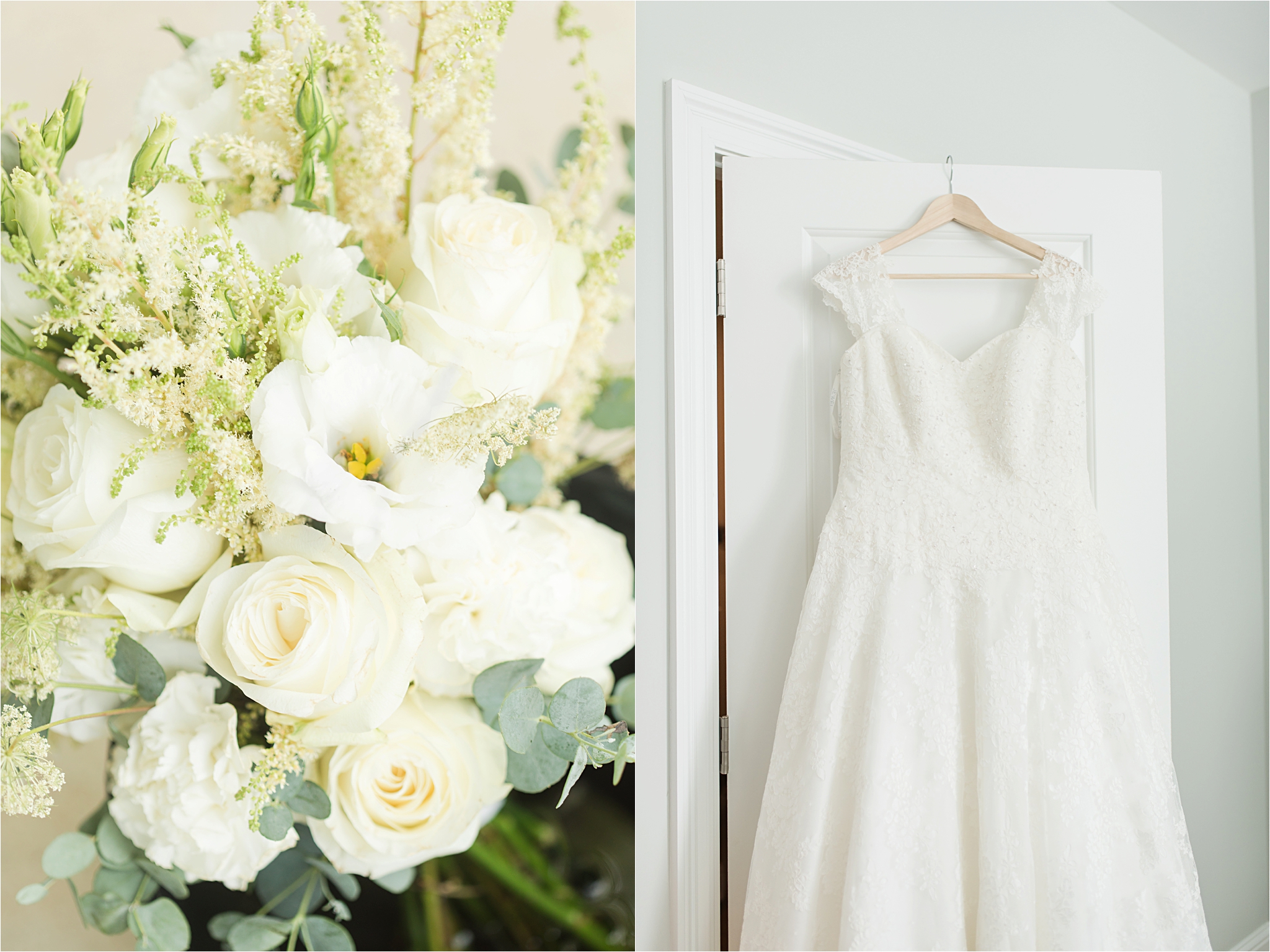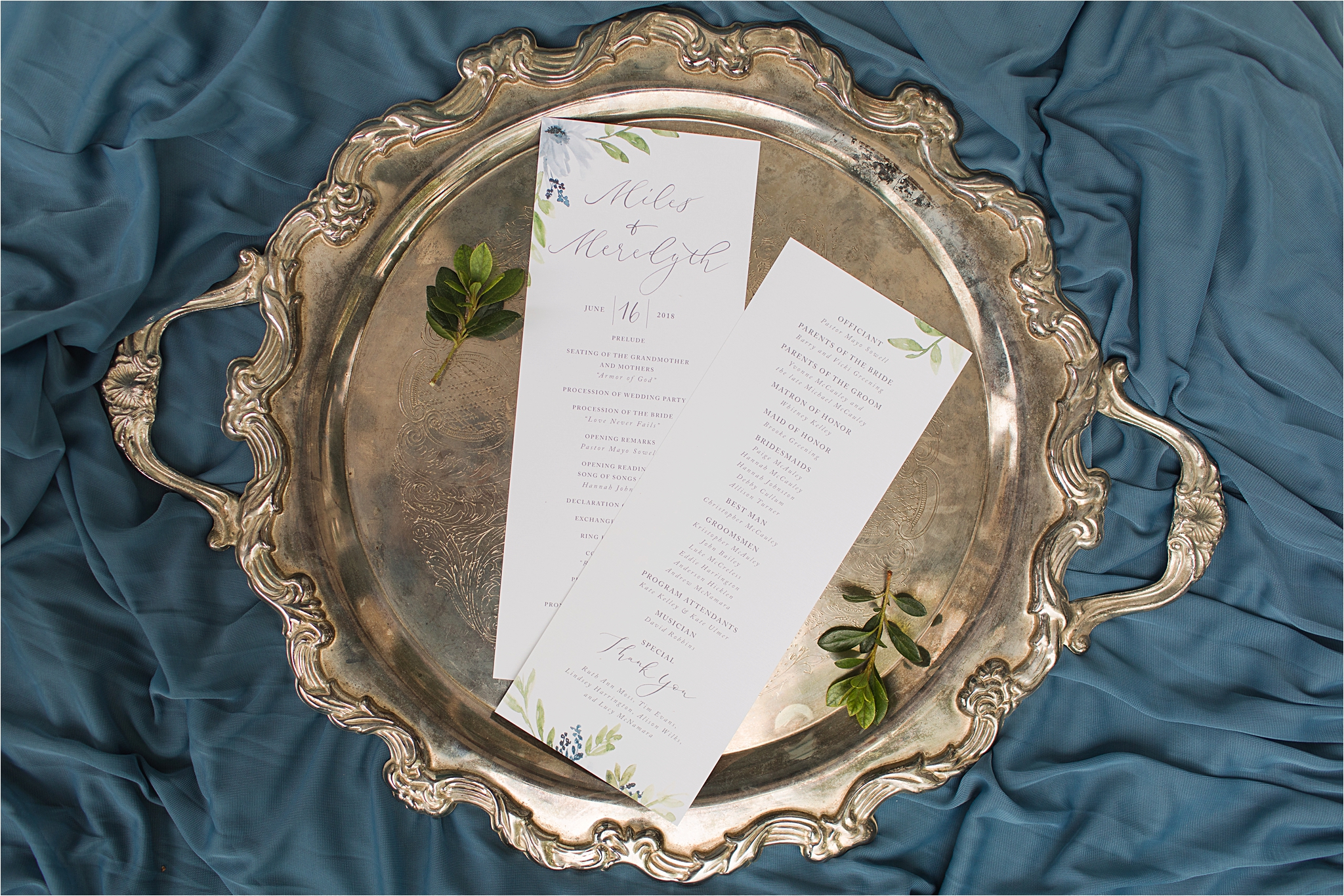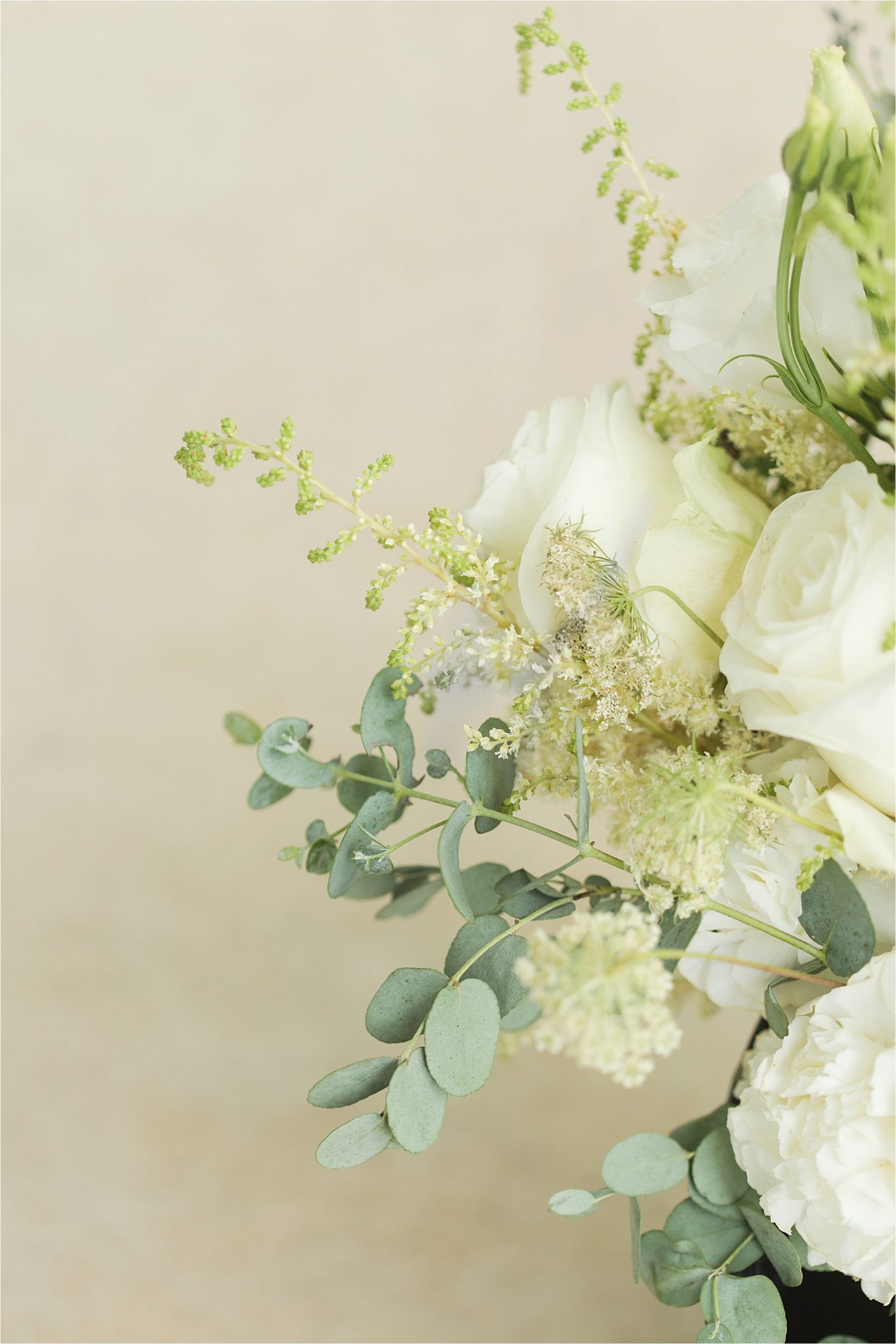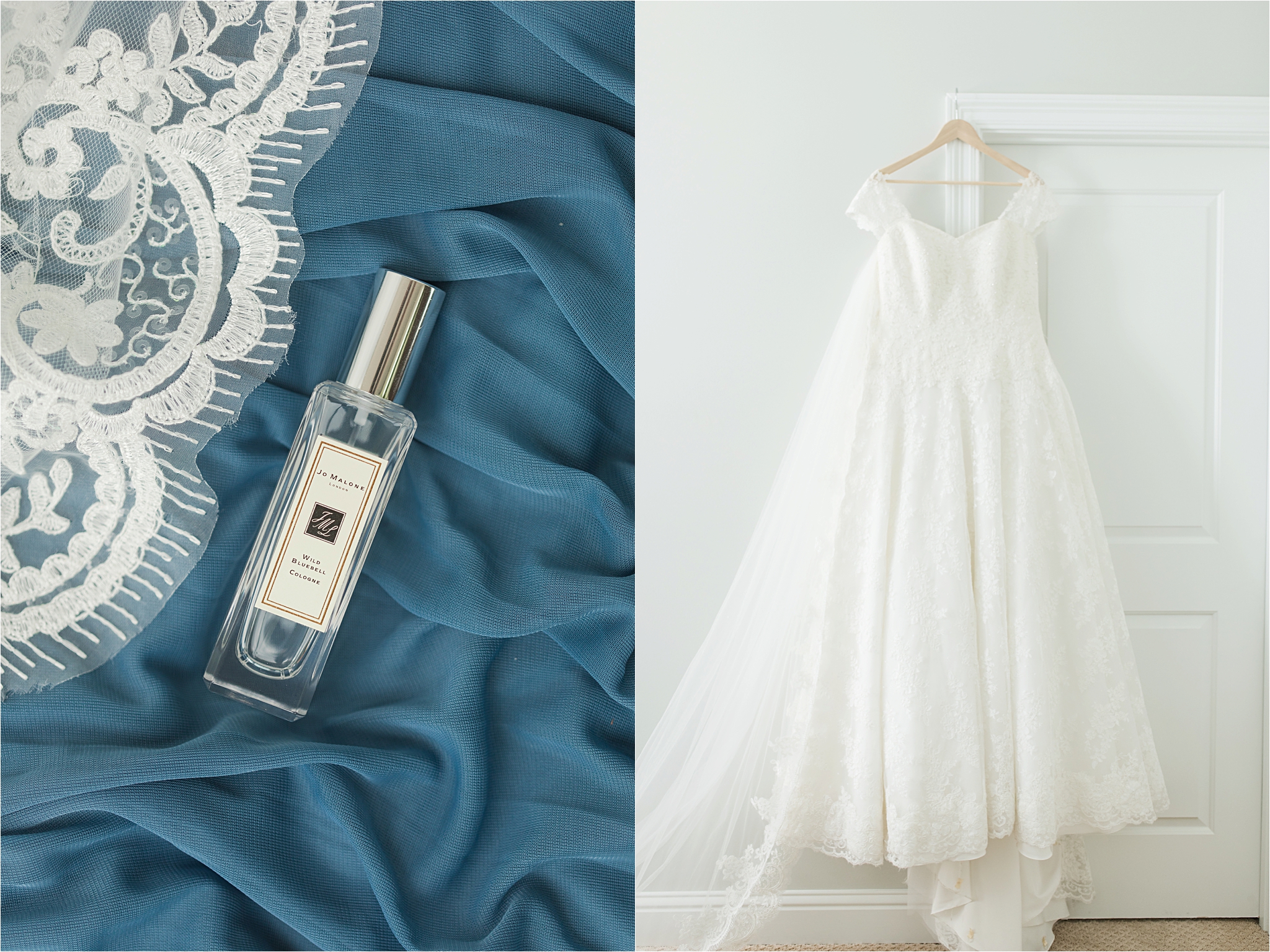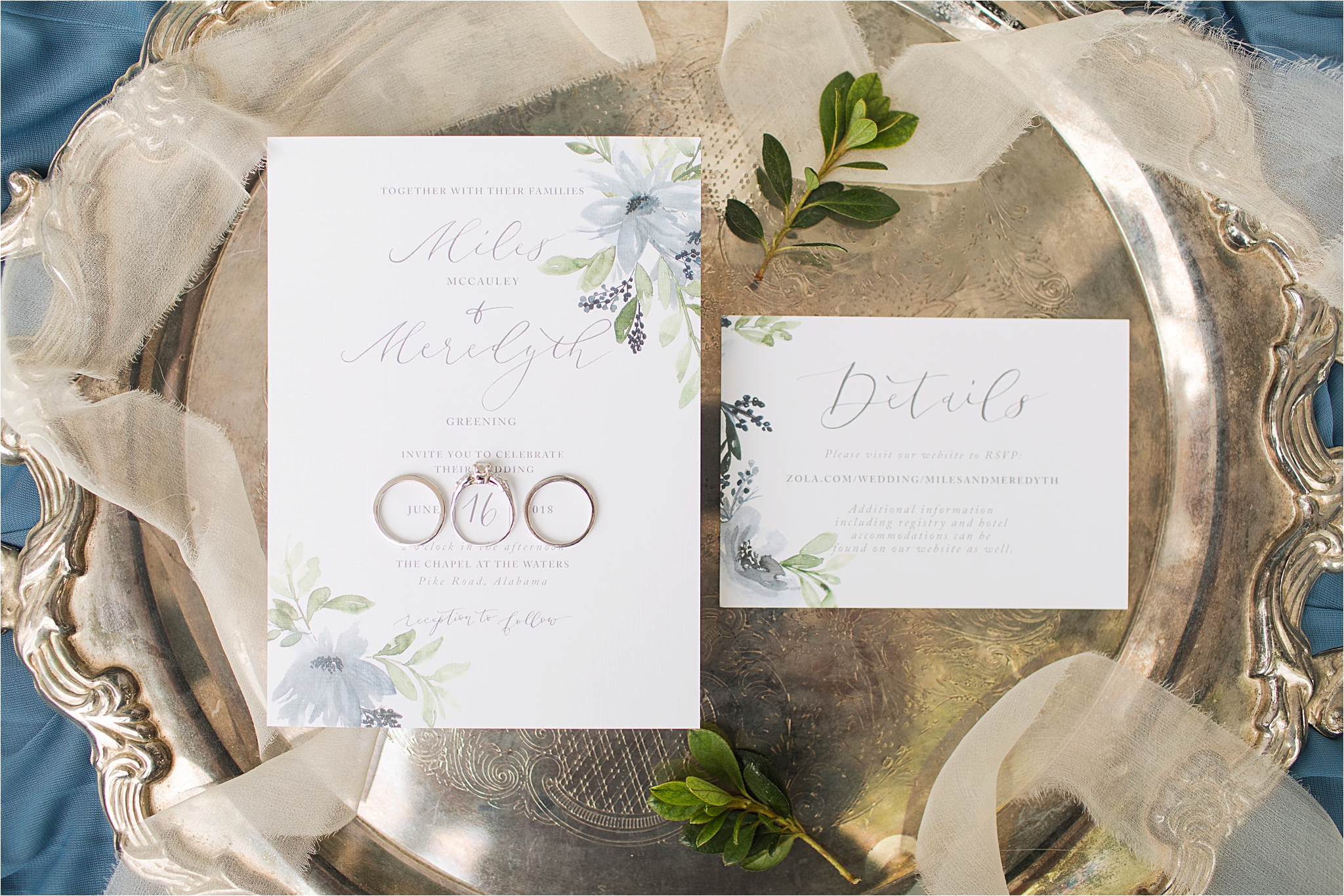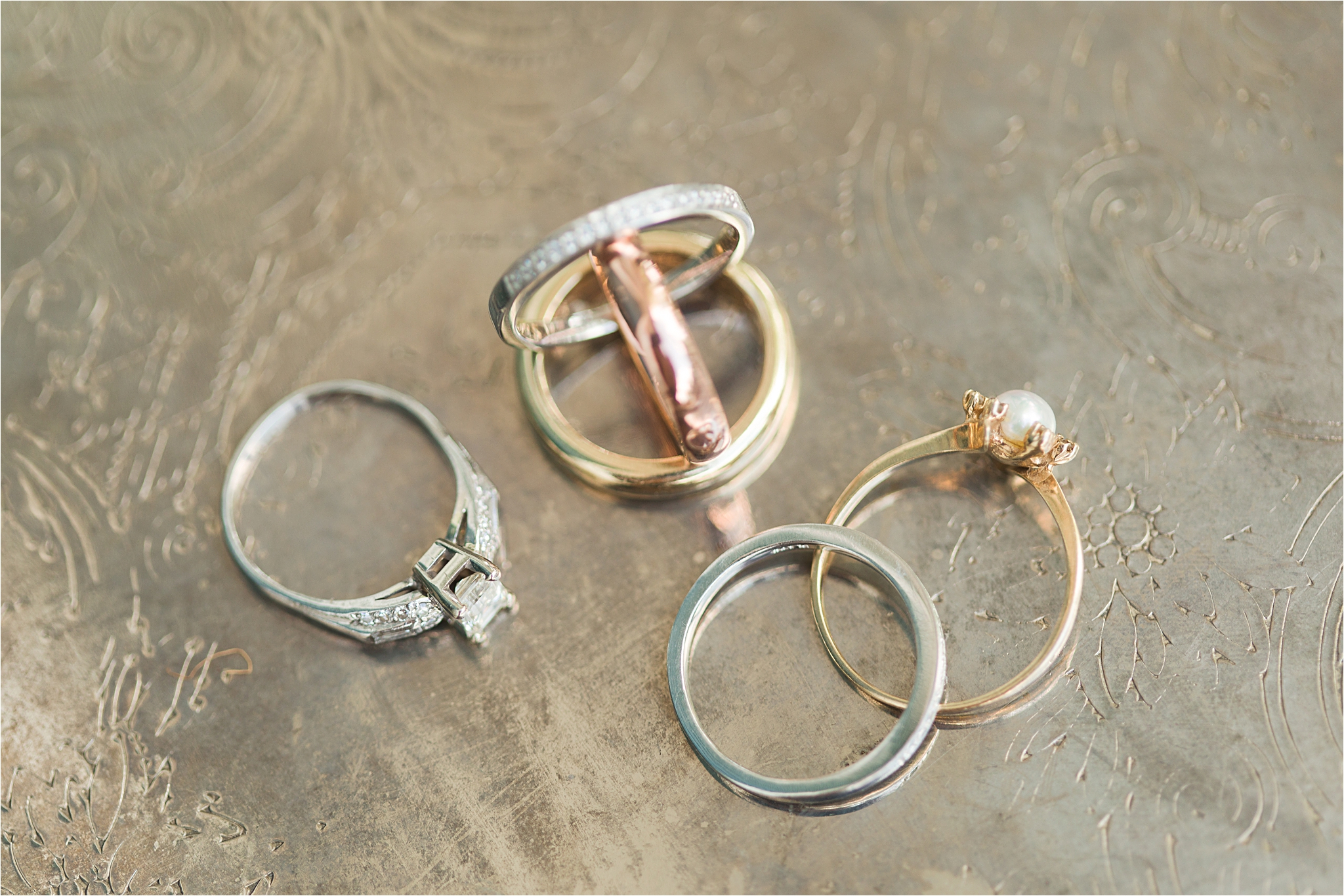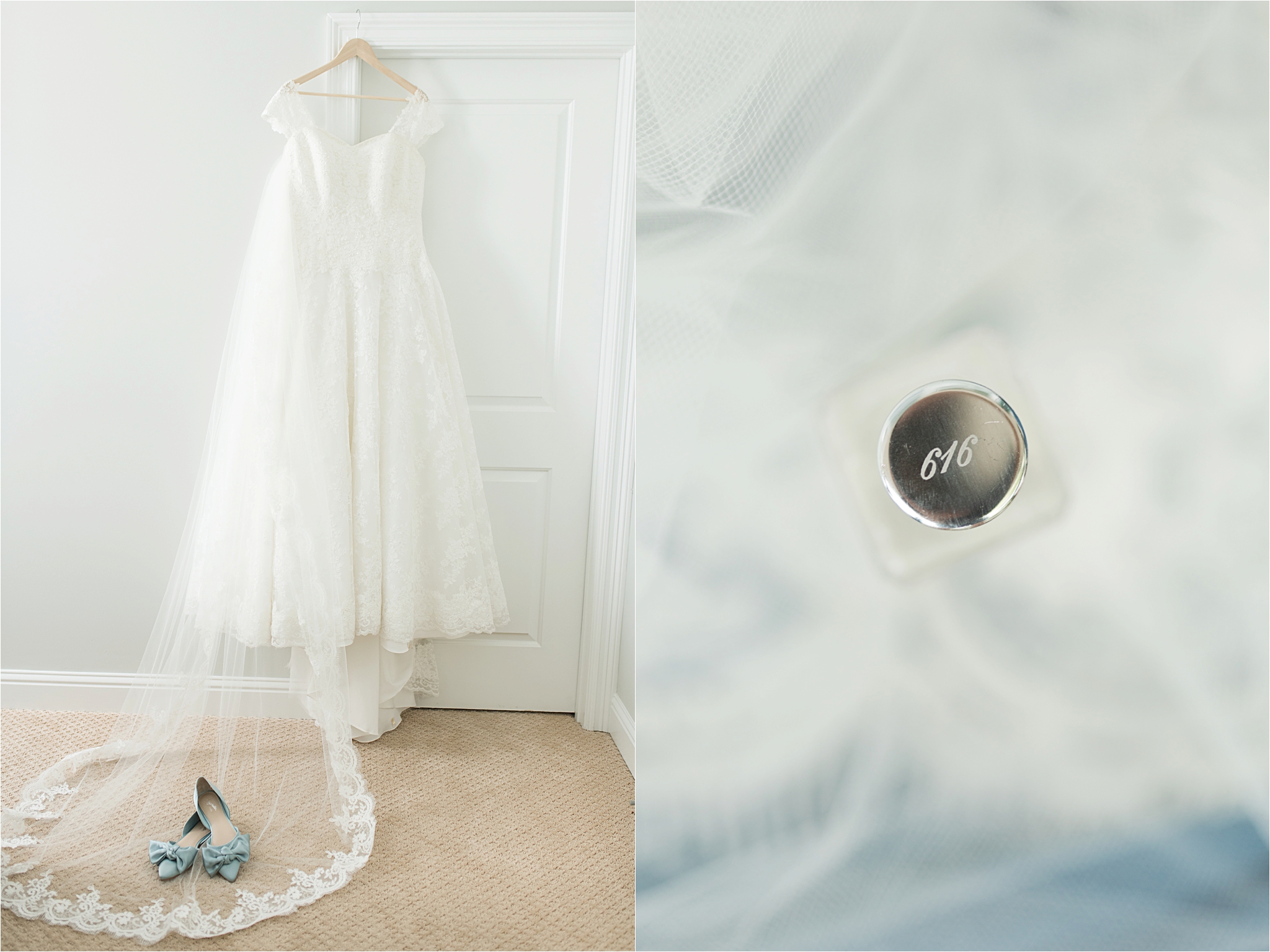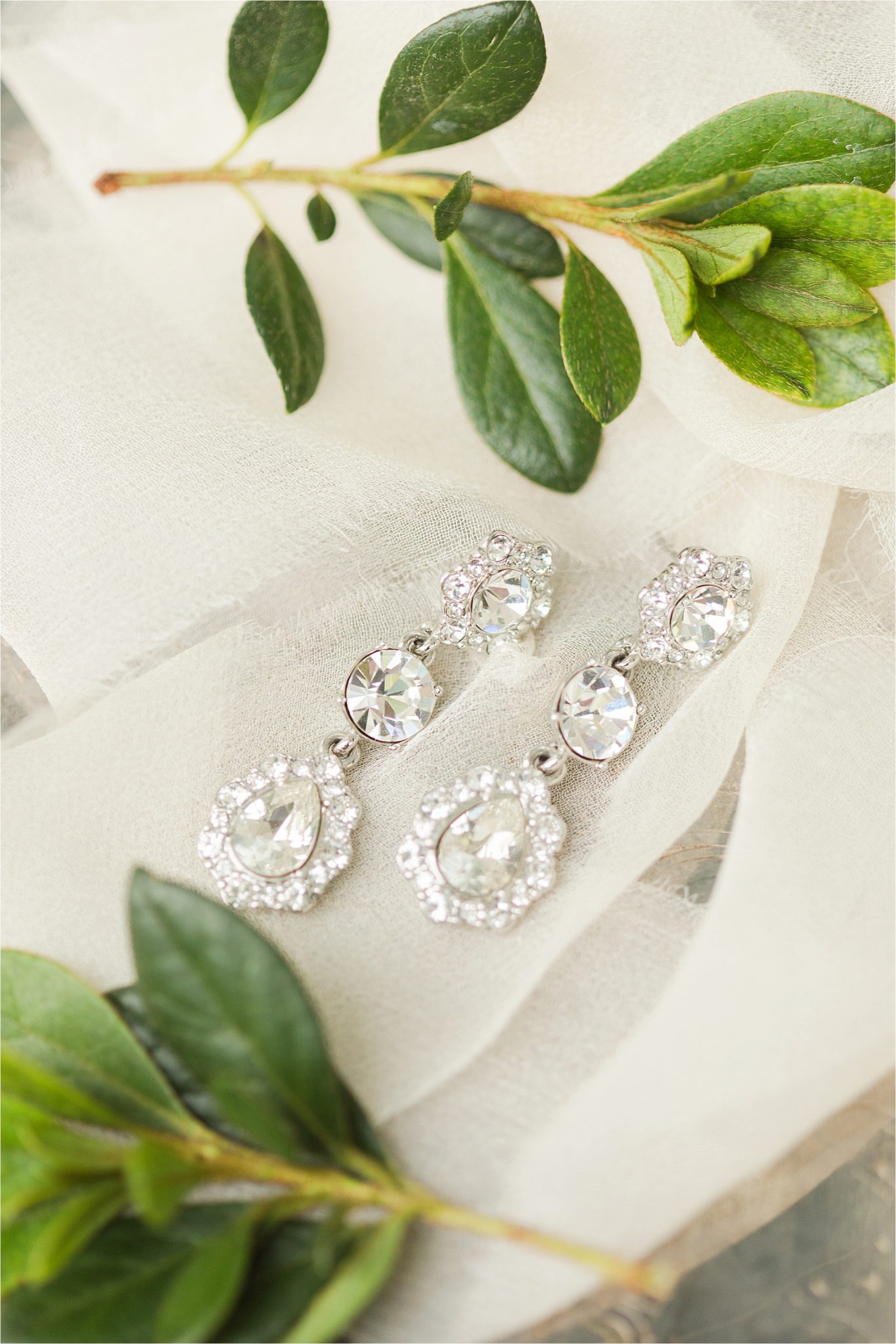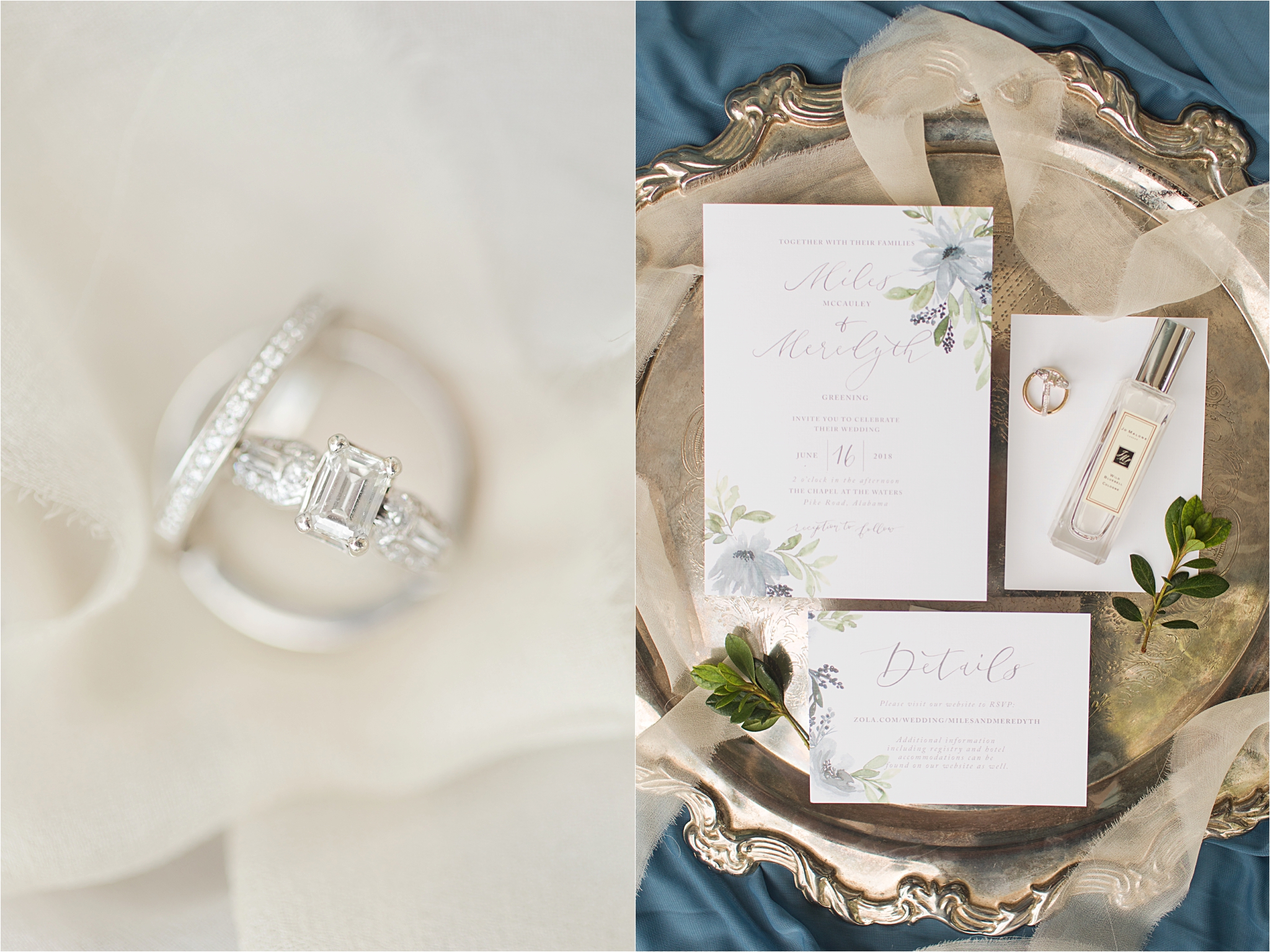 I love how excited Meredyth was to put on her dress!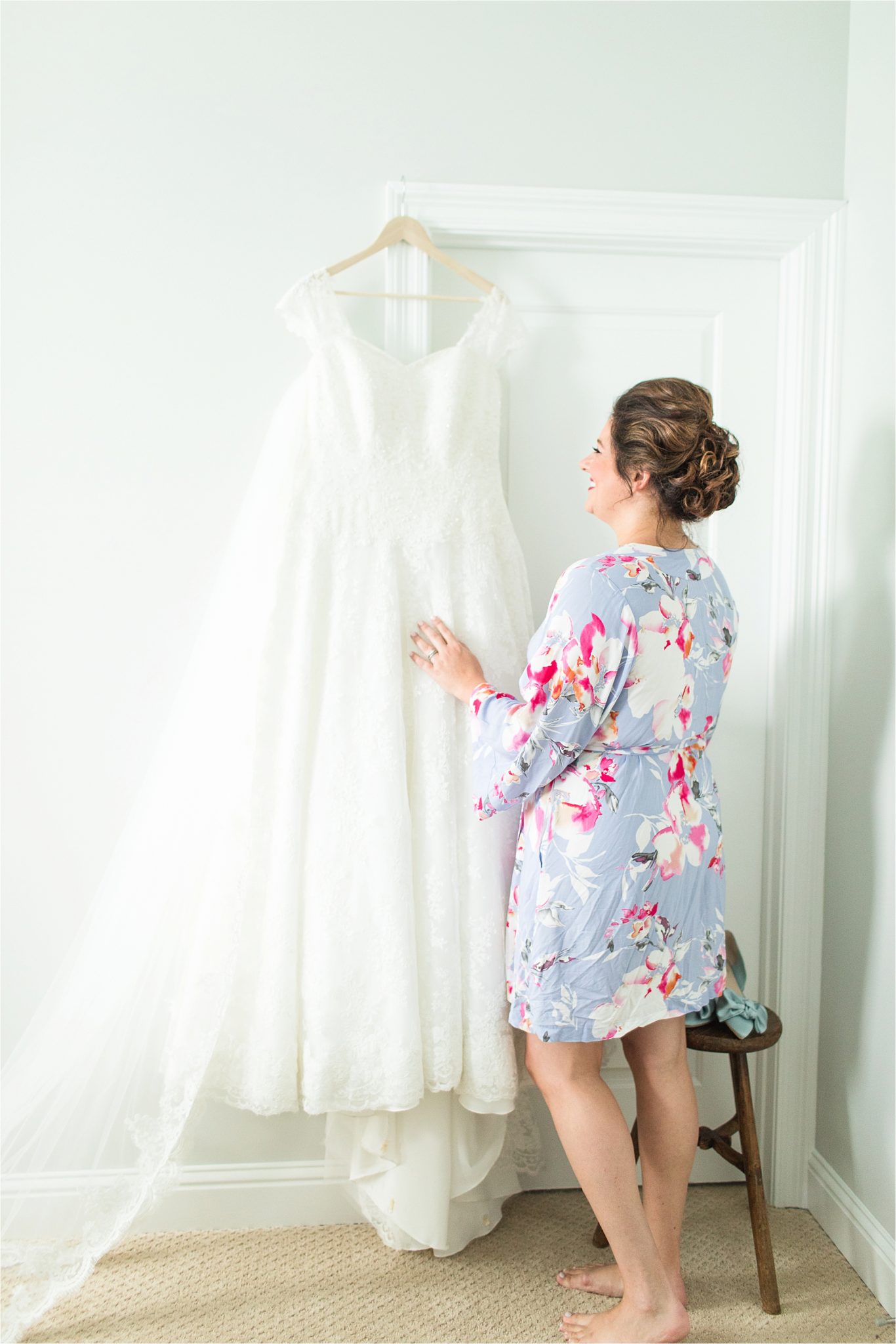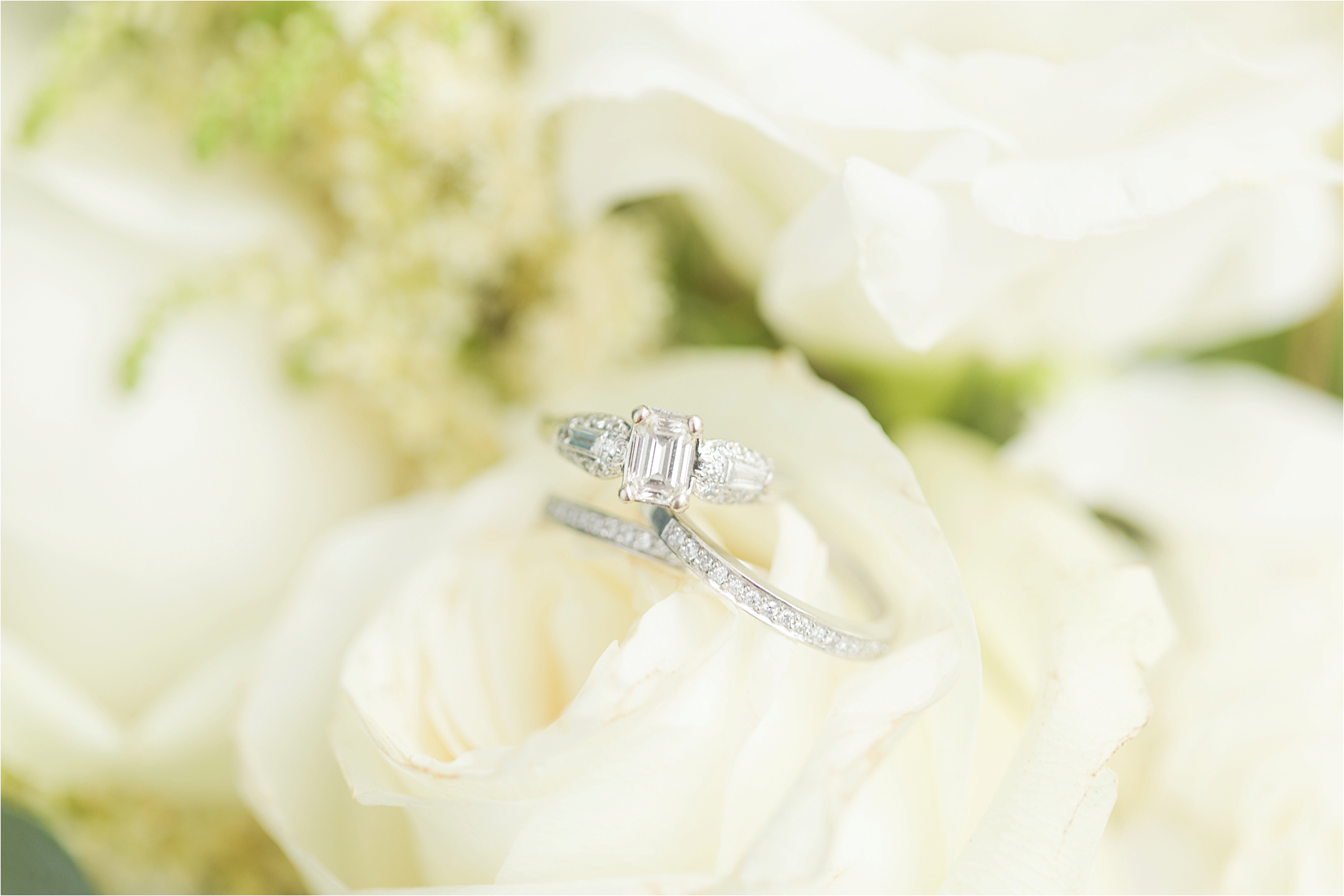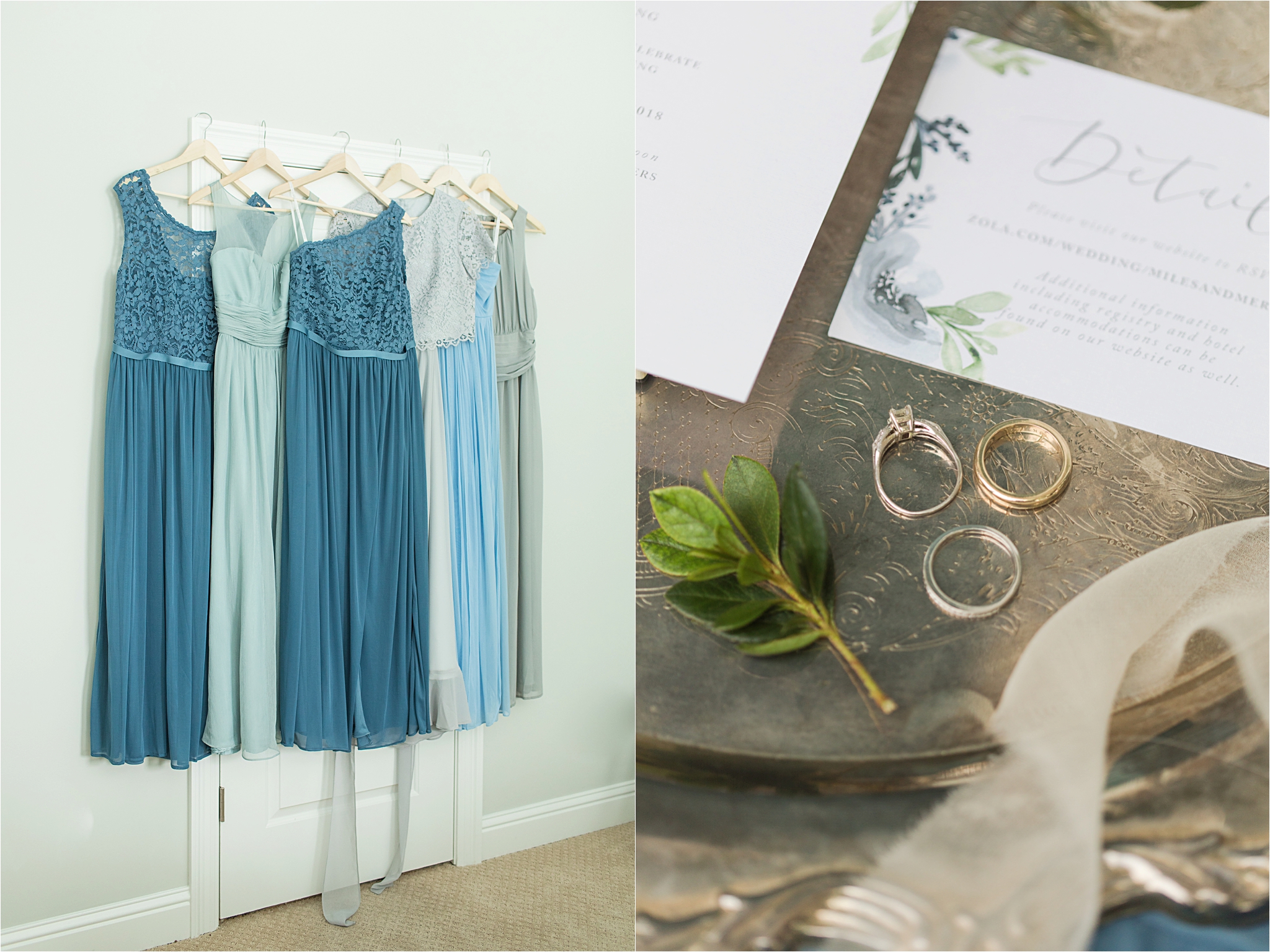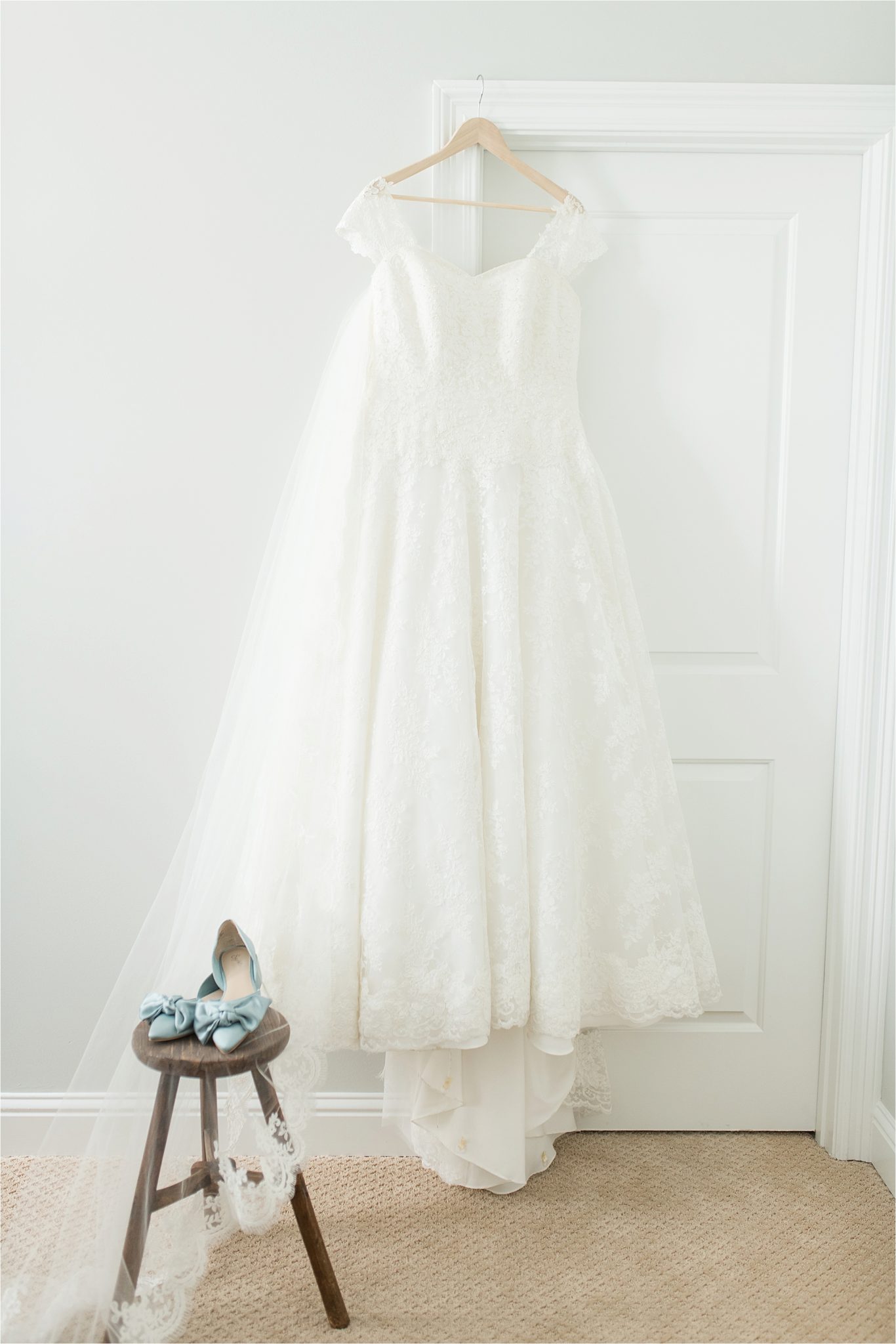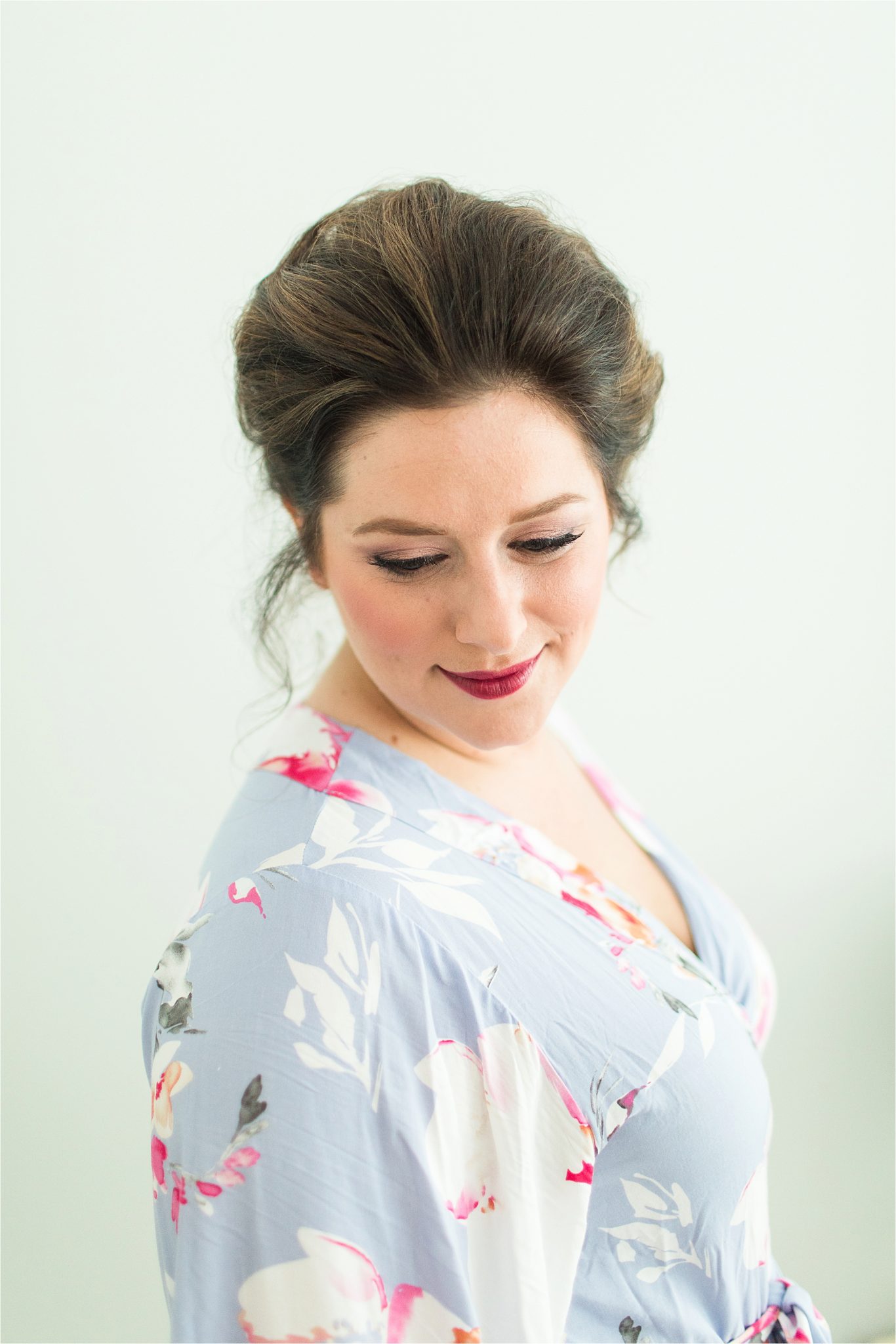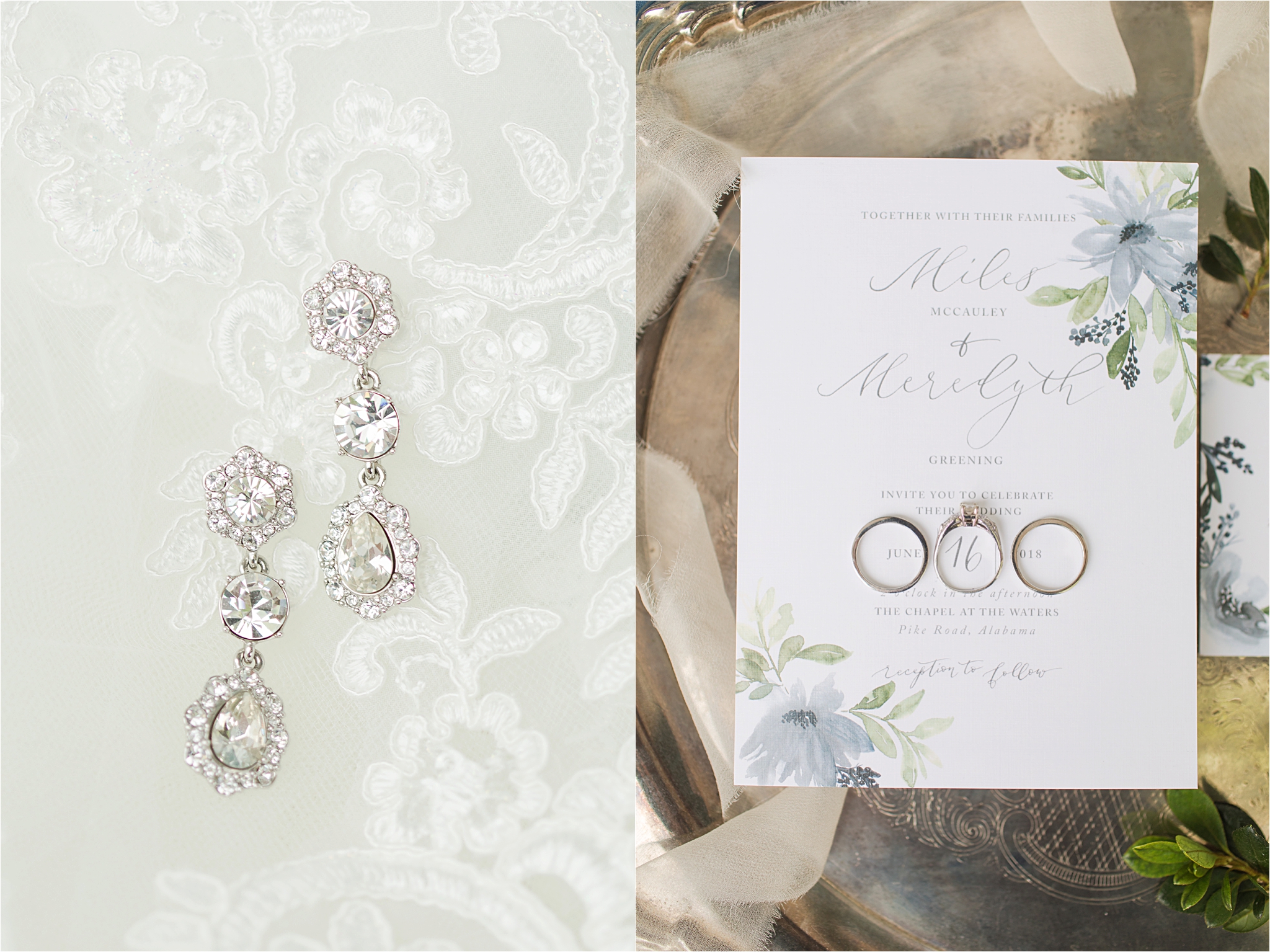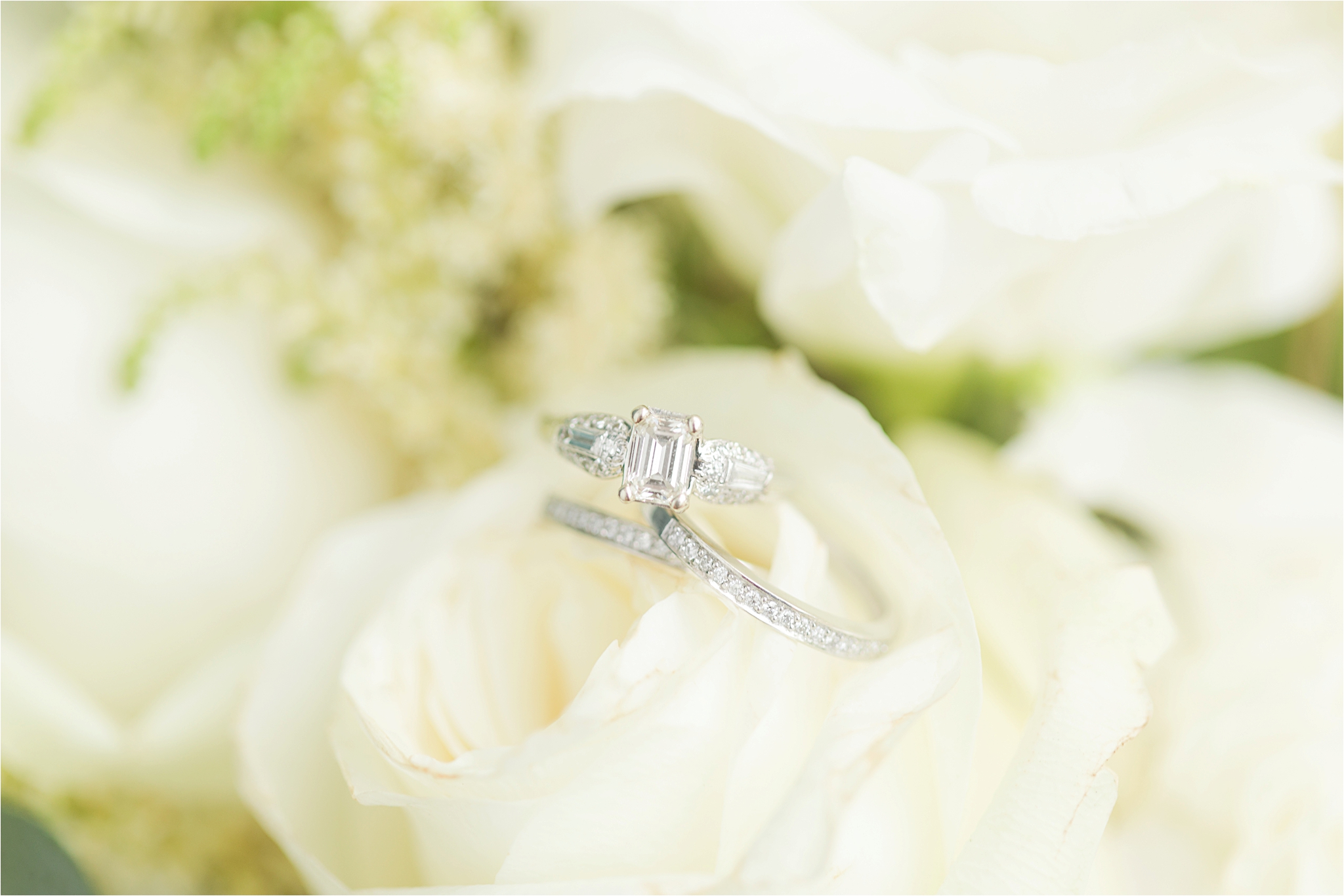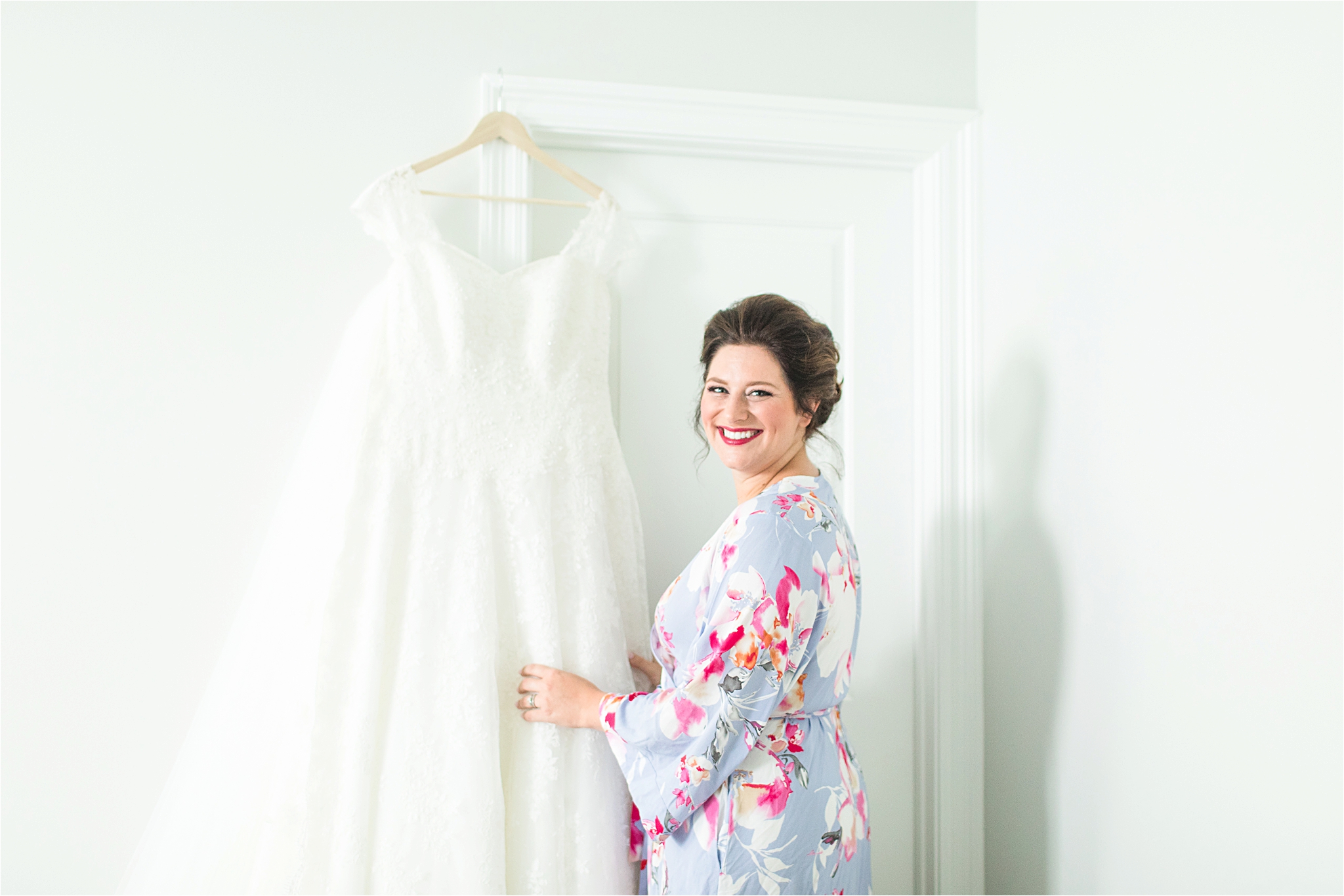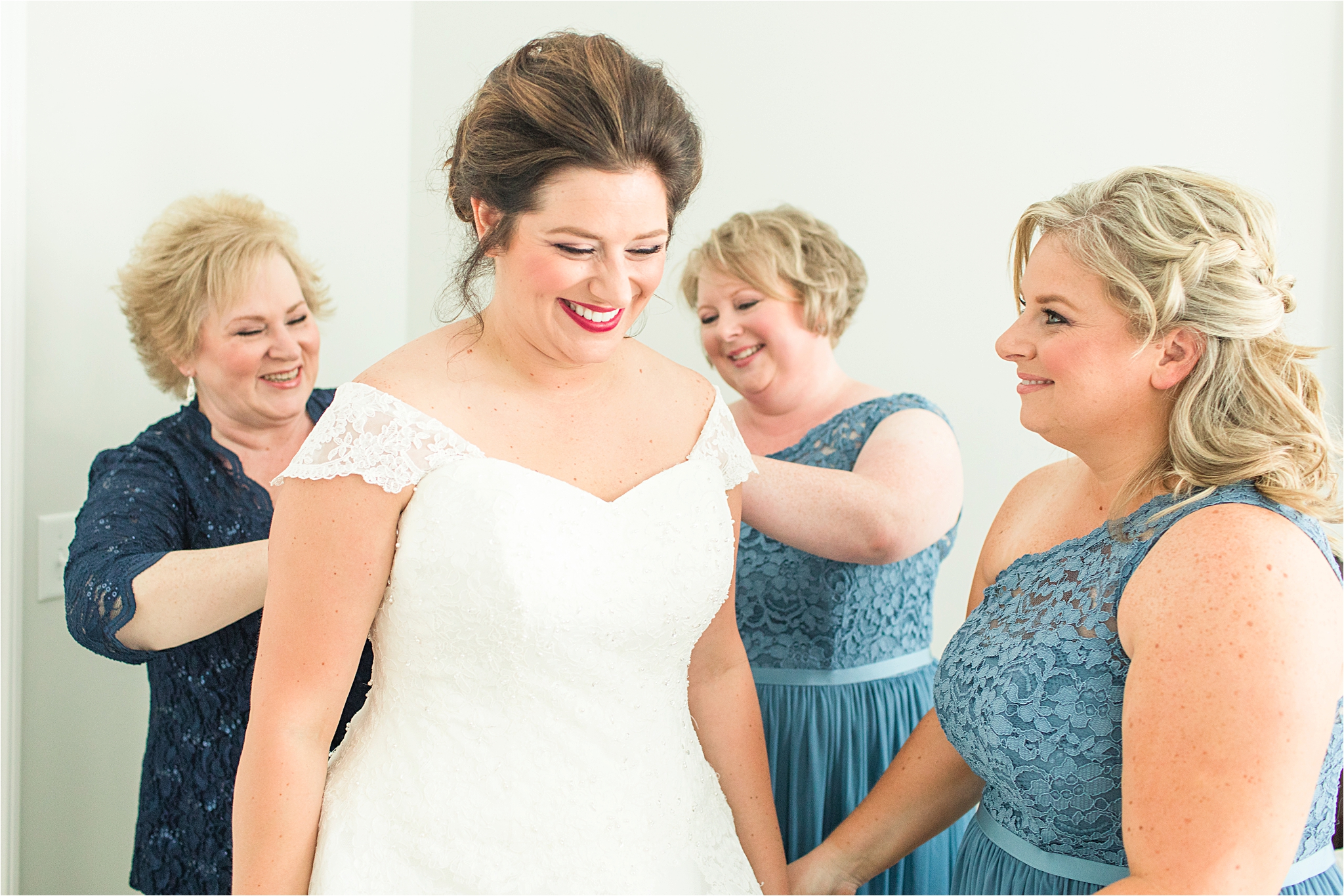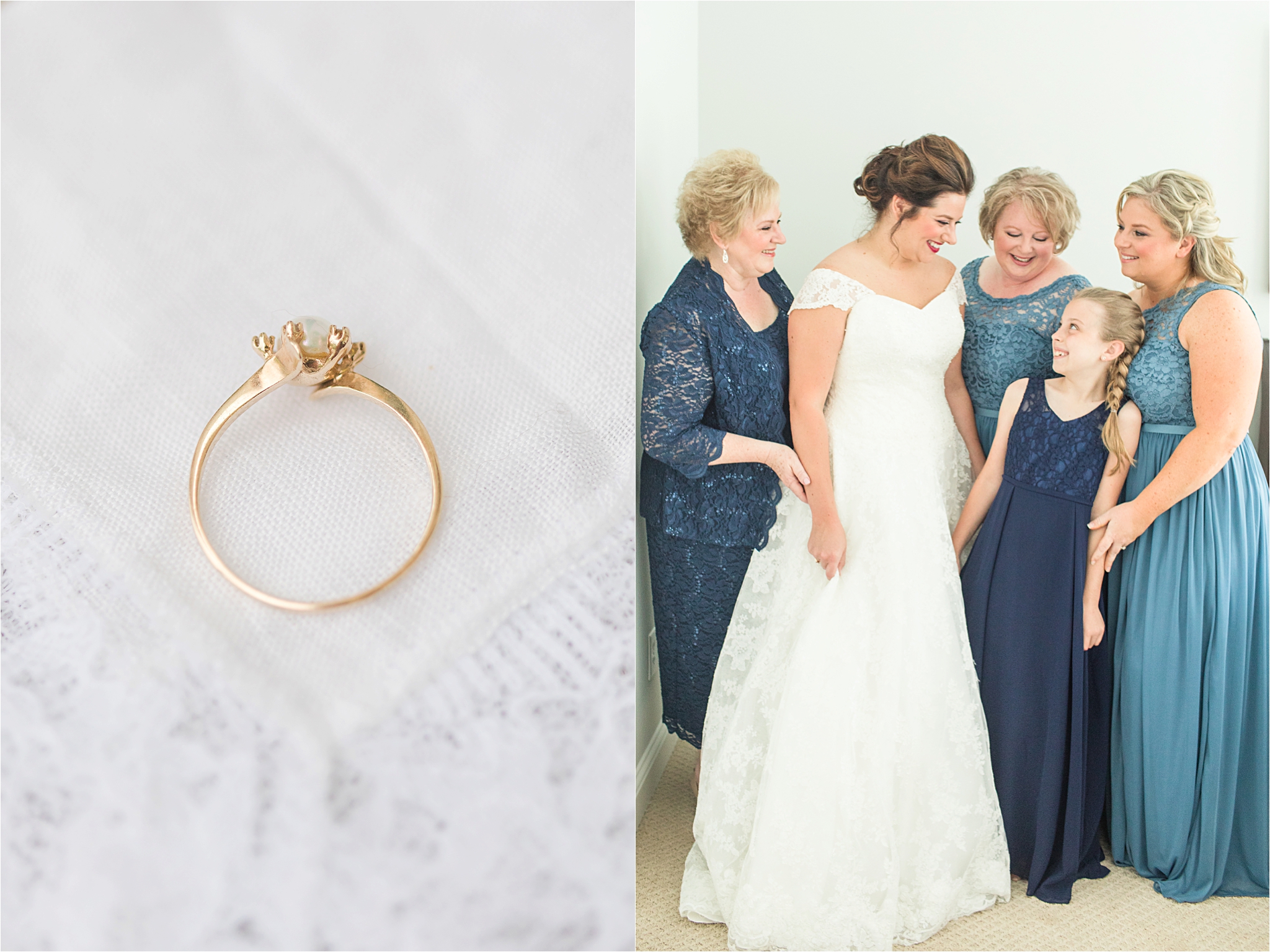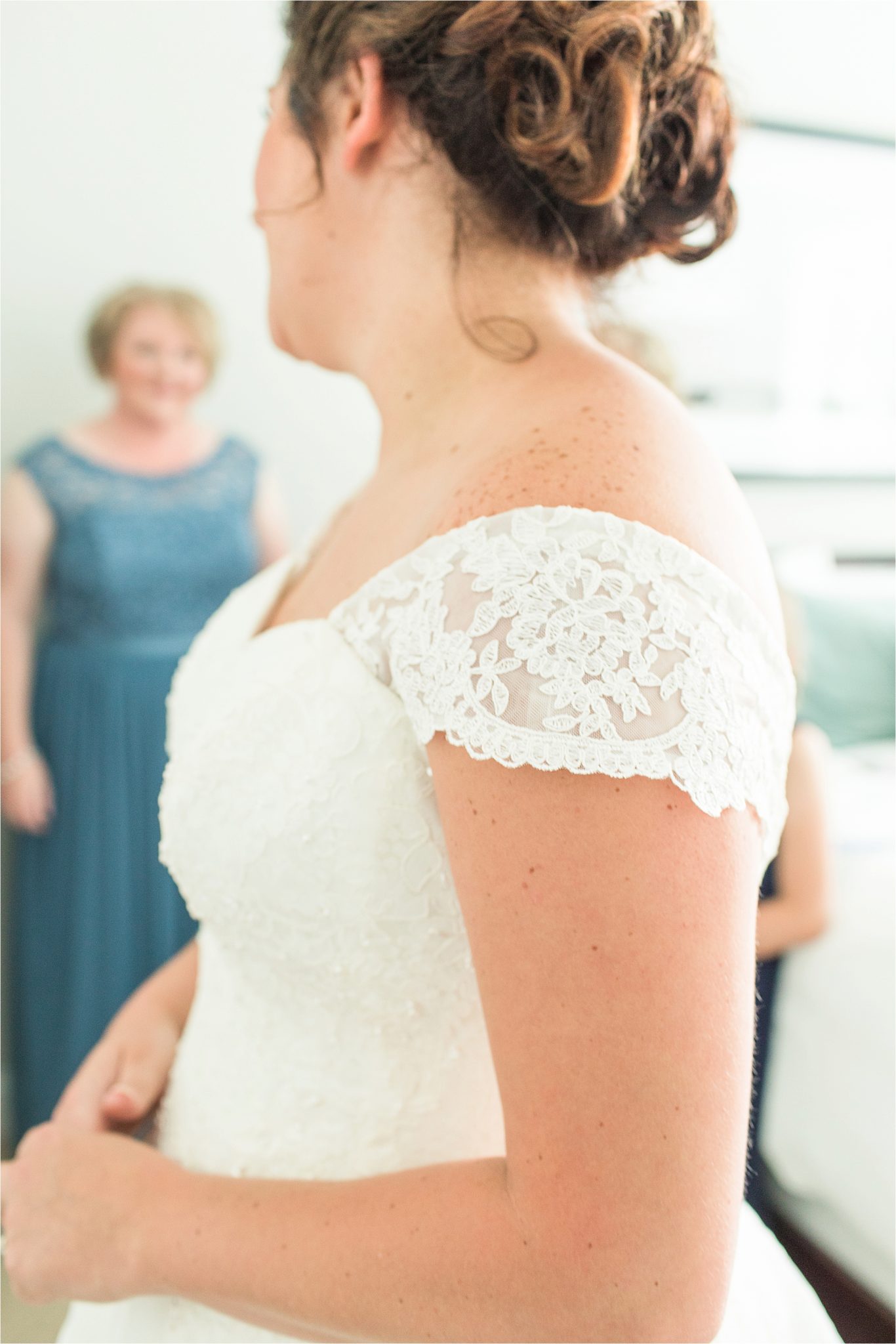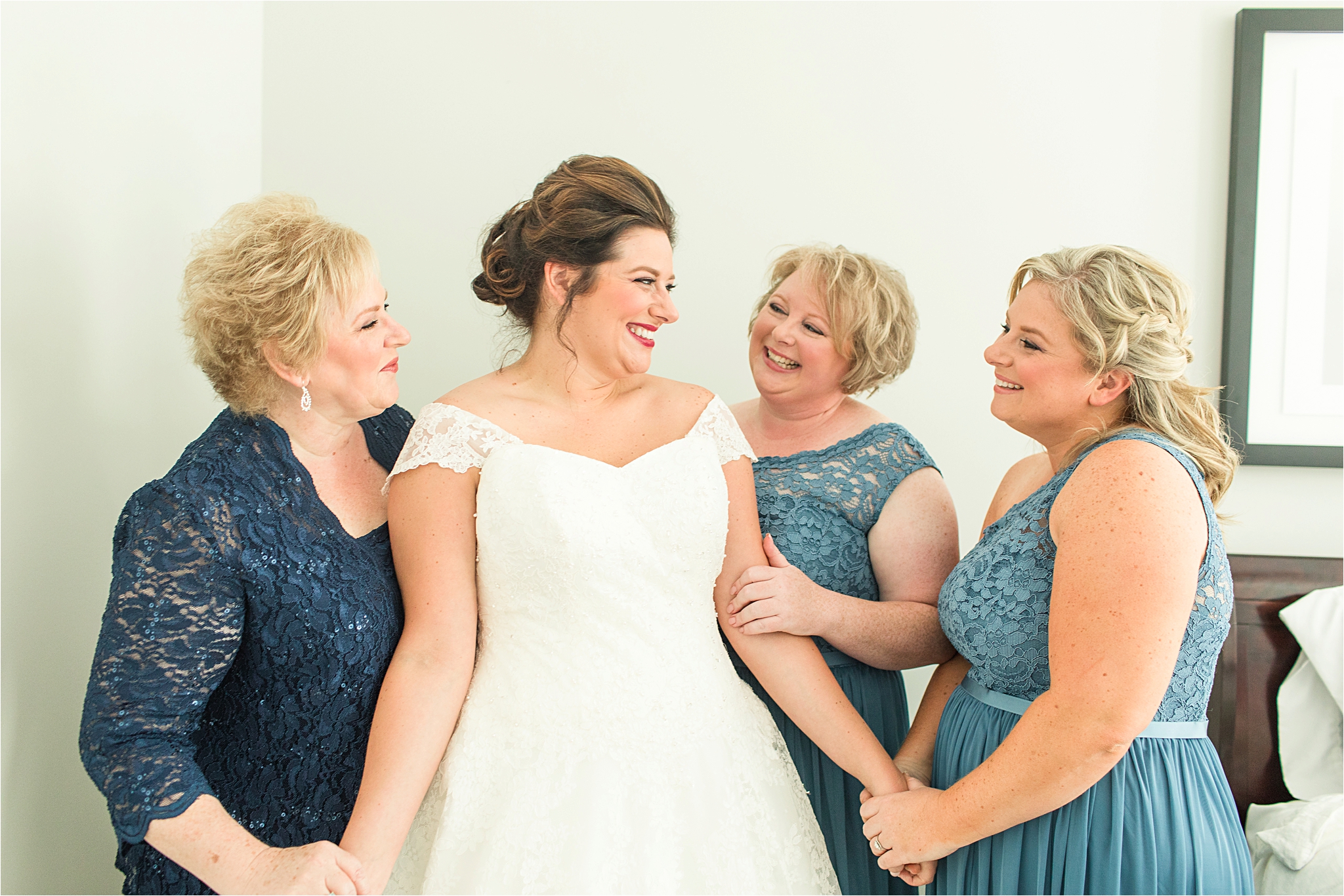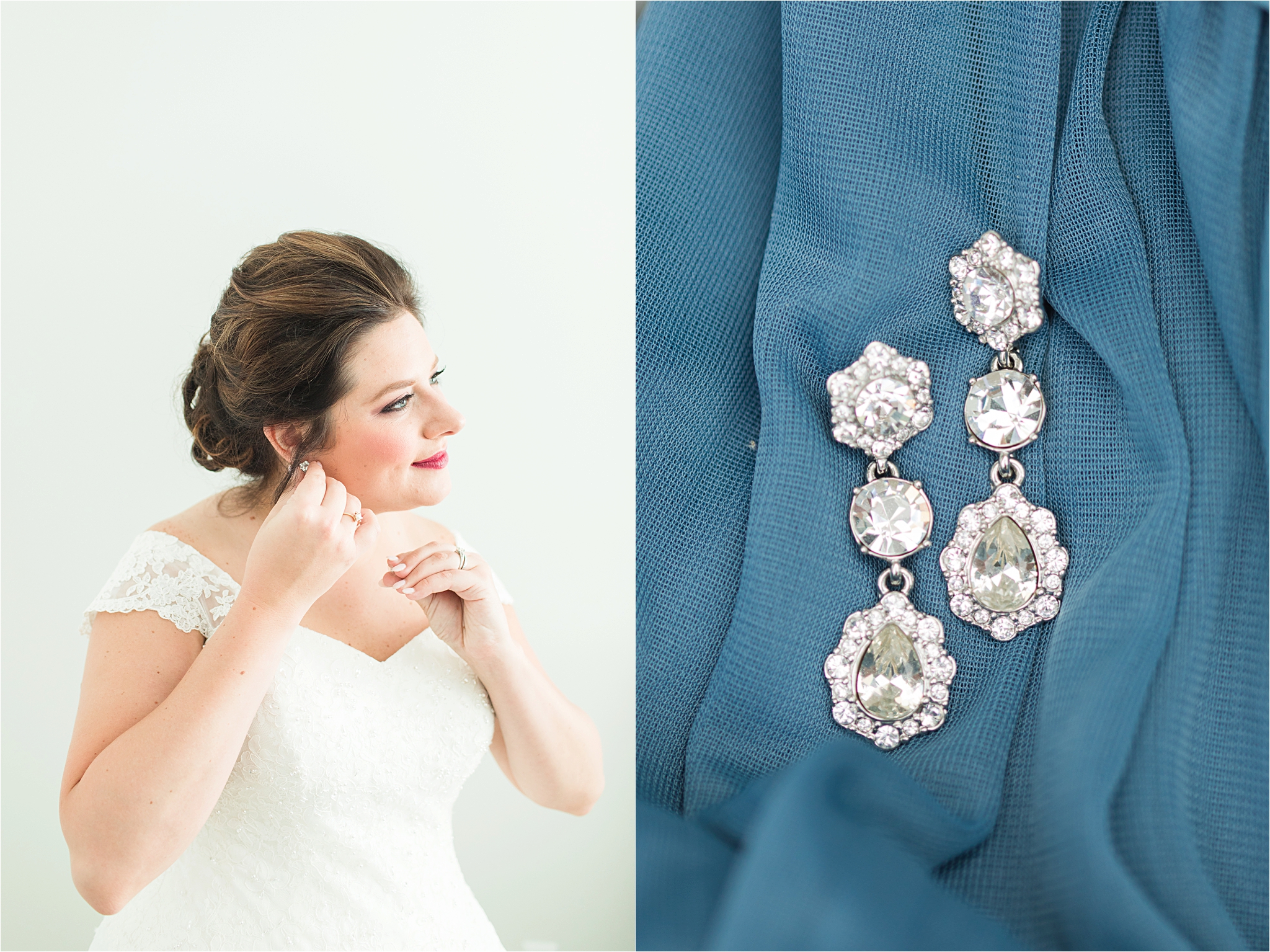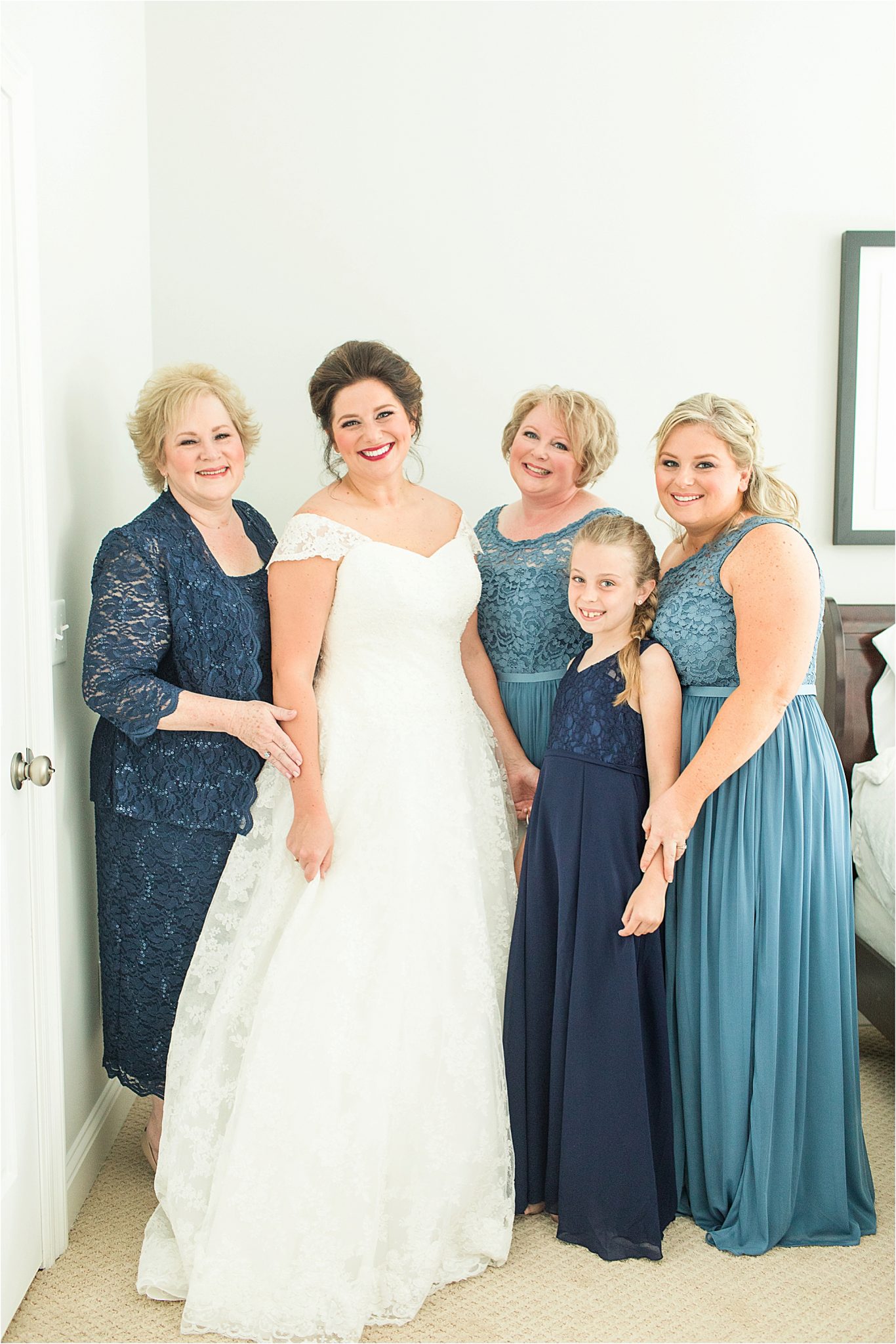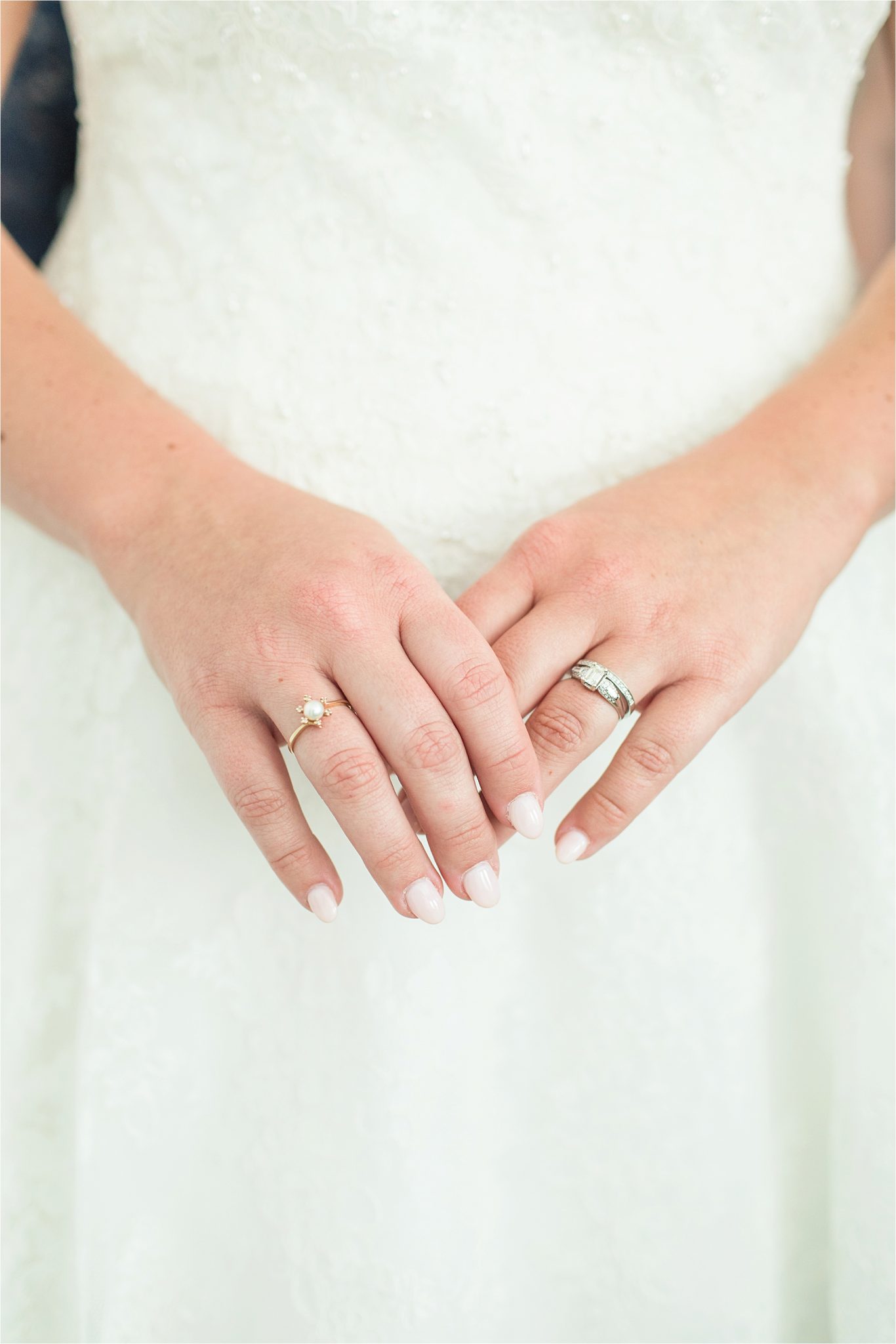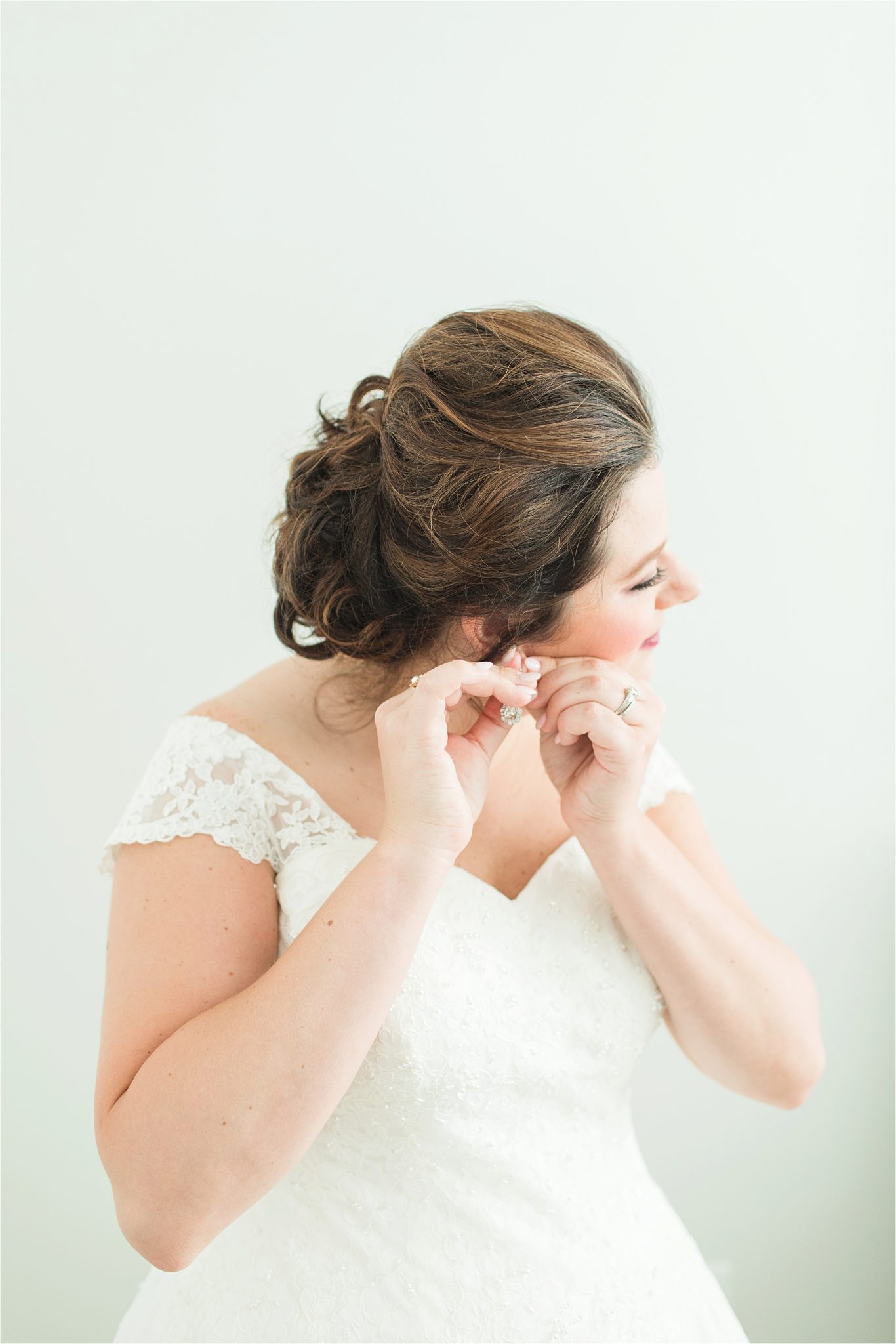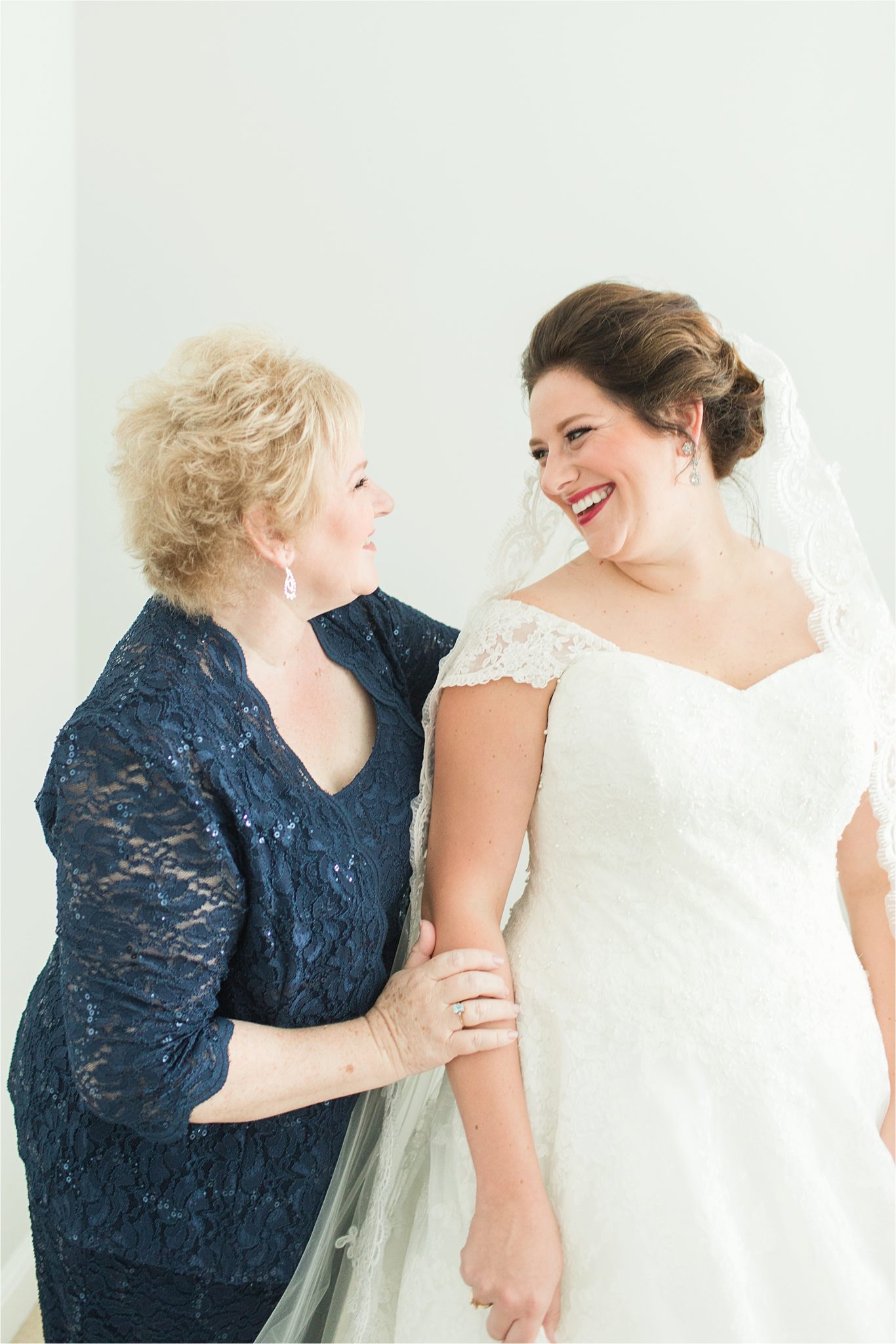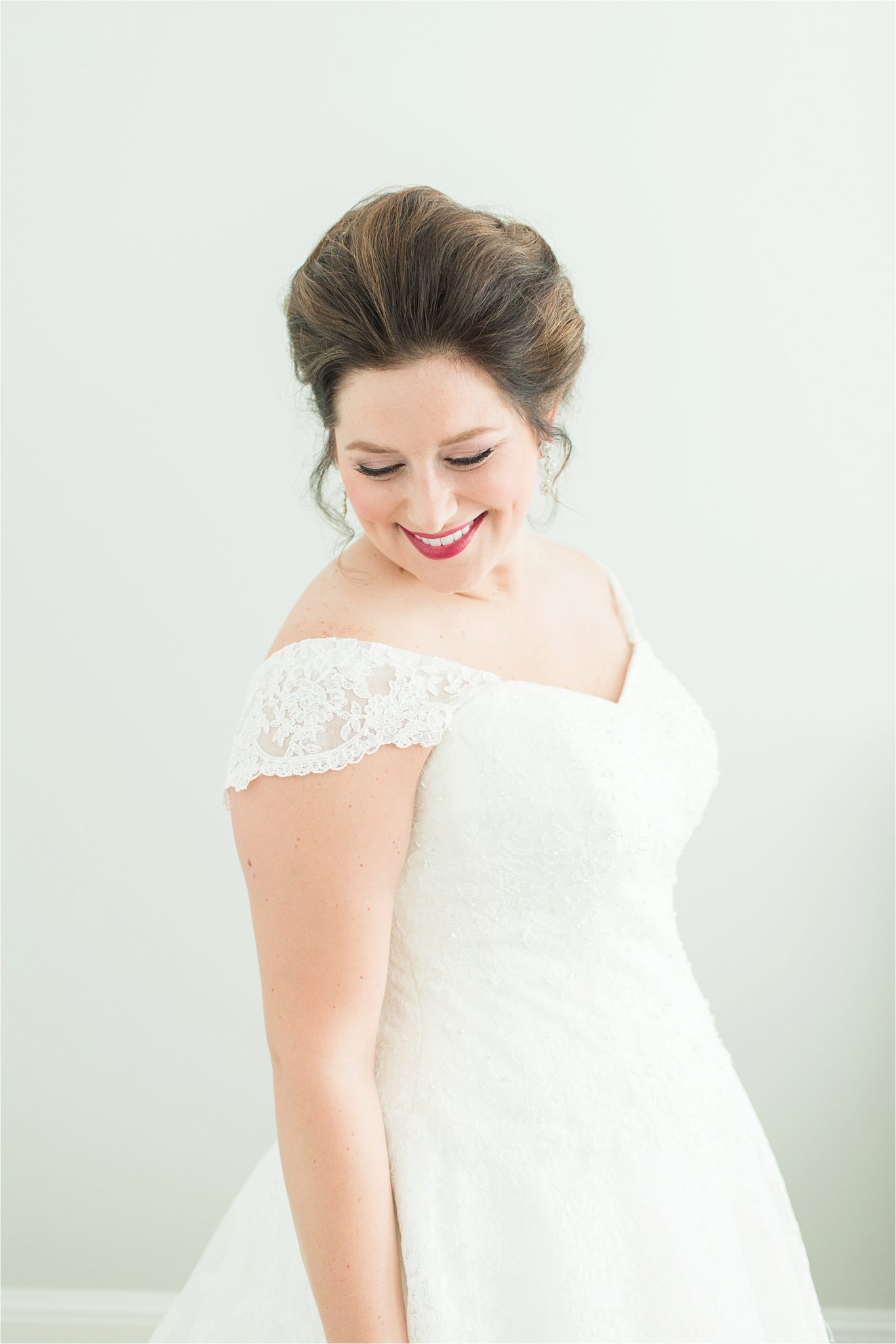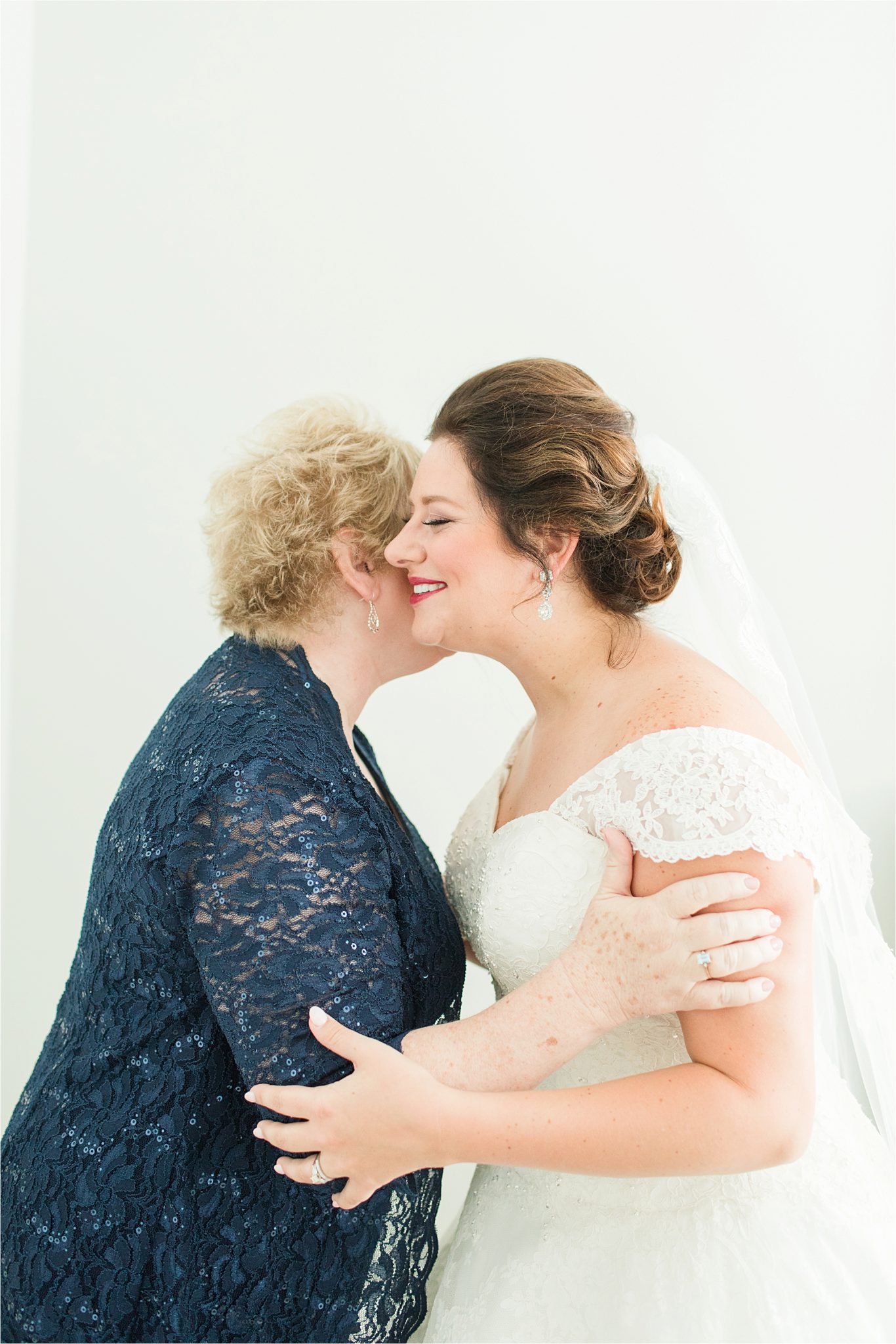 Meredyth had the SWEETEST bridesmaid crew!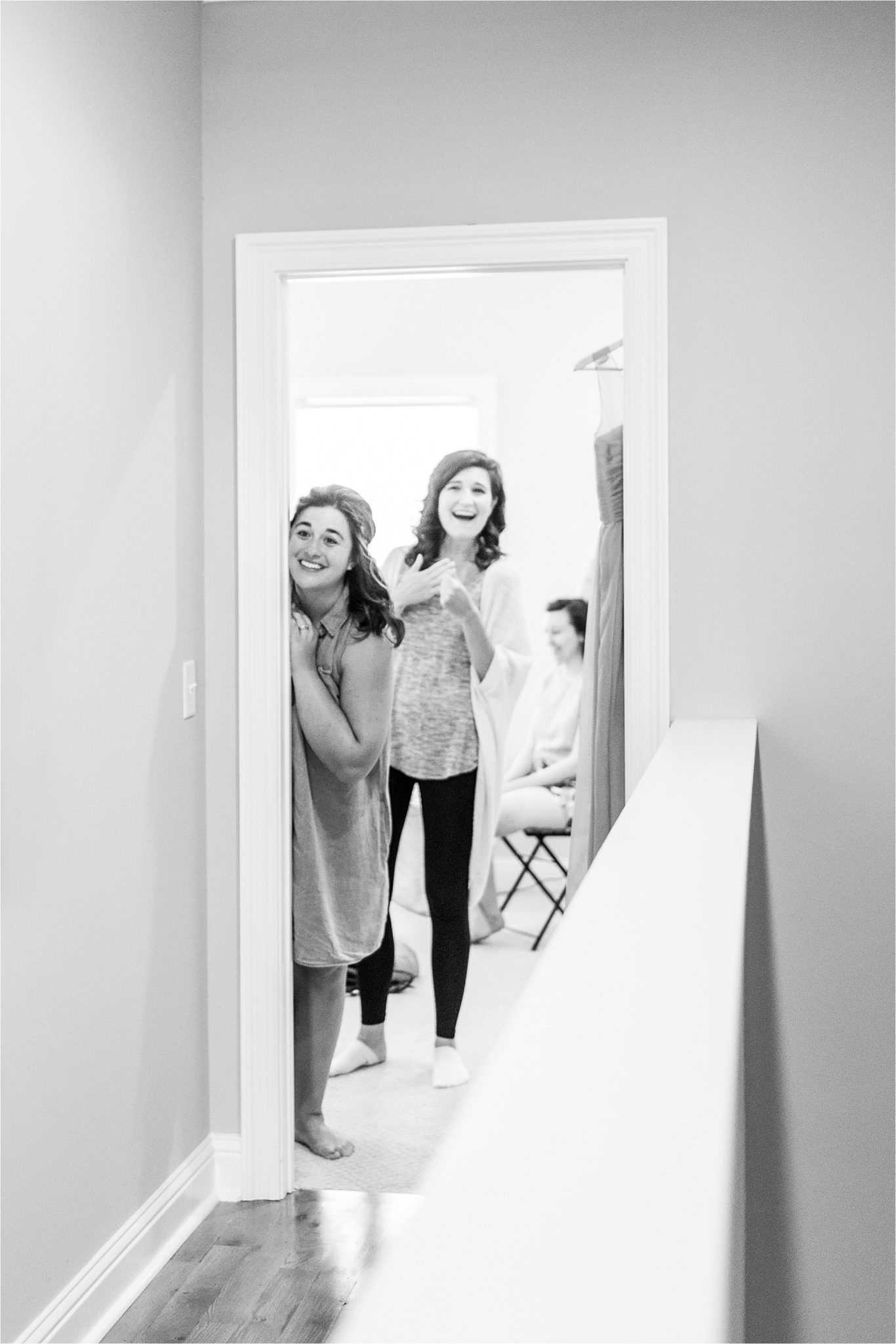 Such a precious Daddy Daughter First Look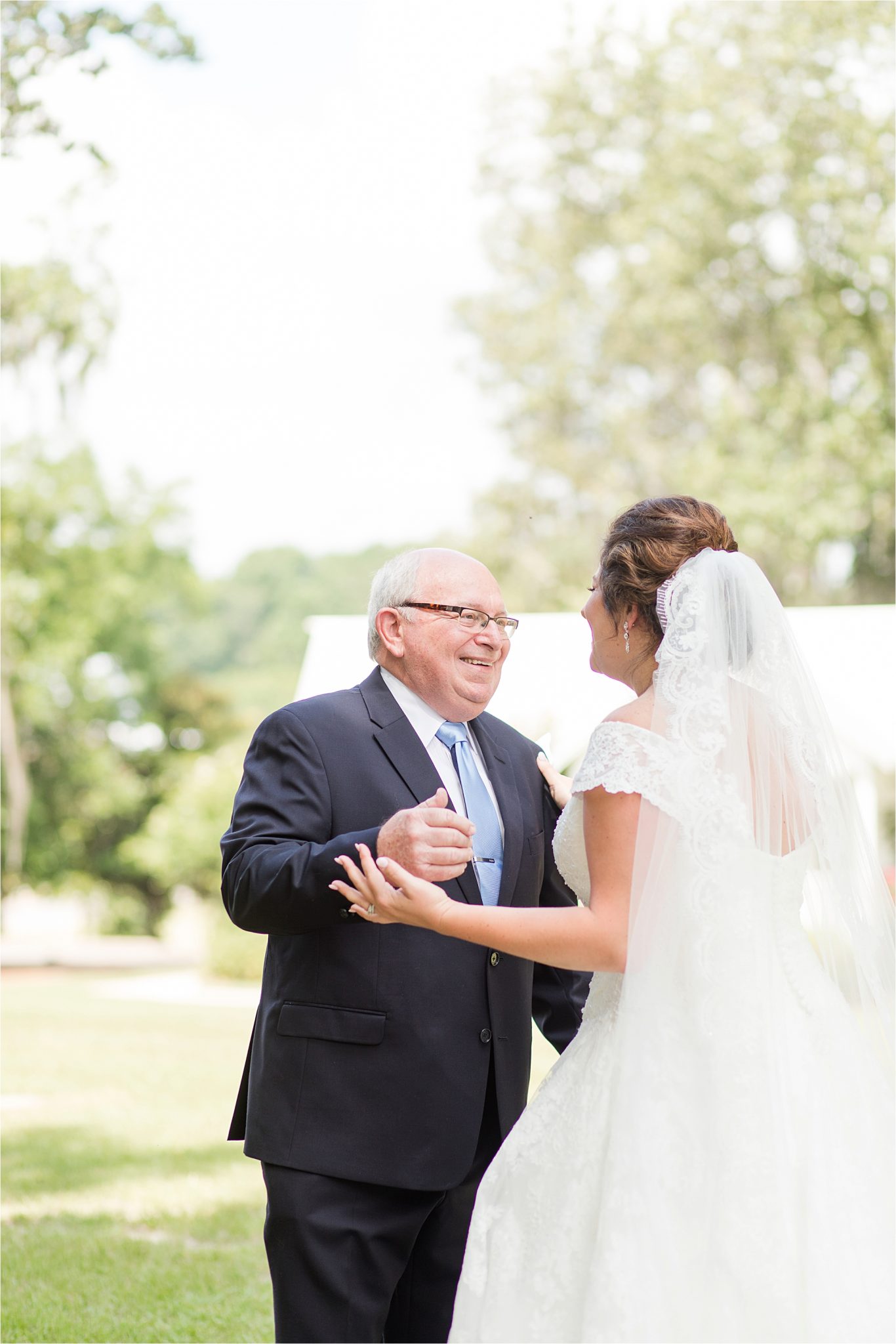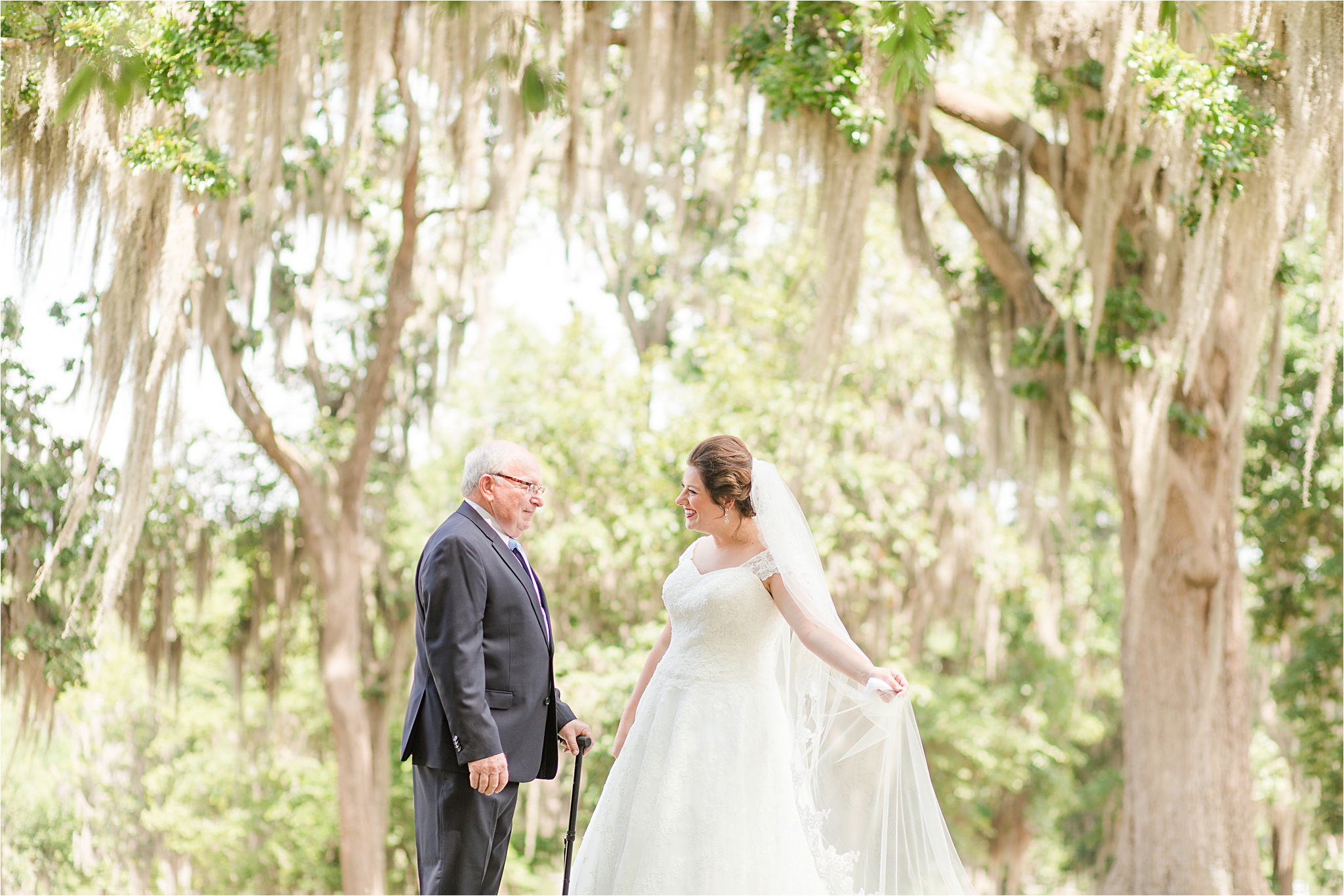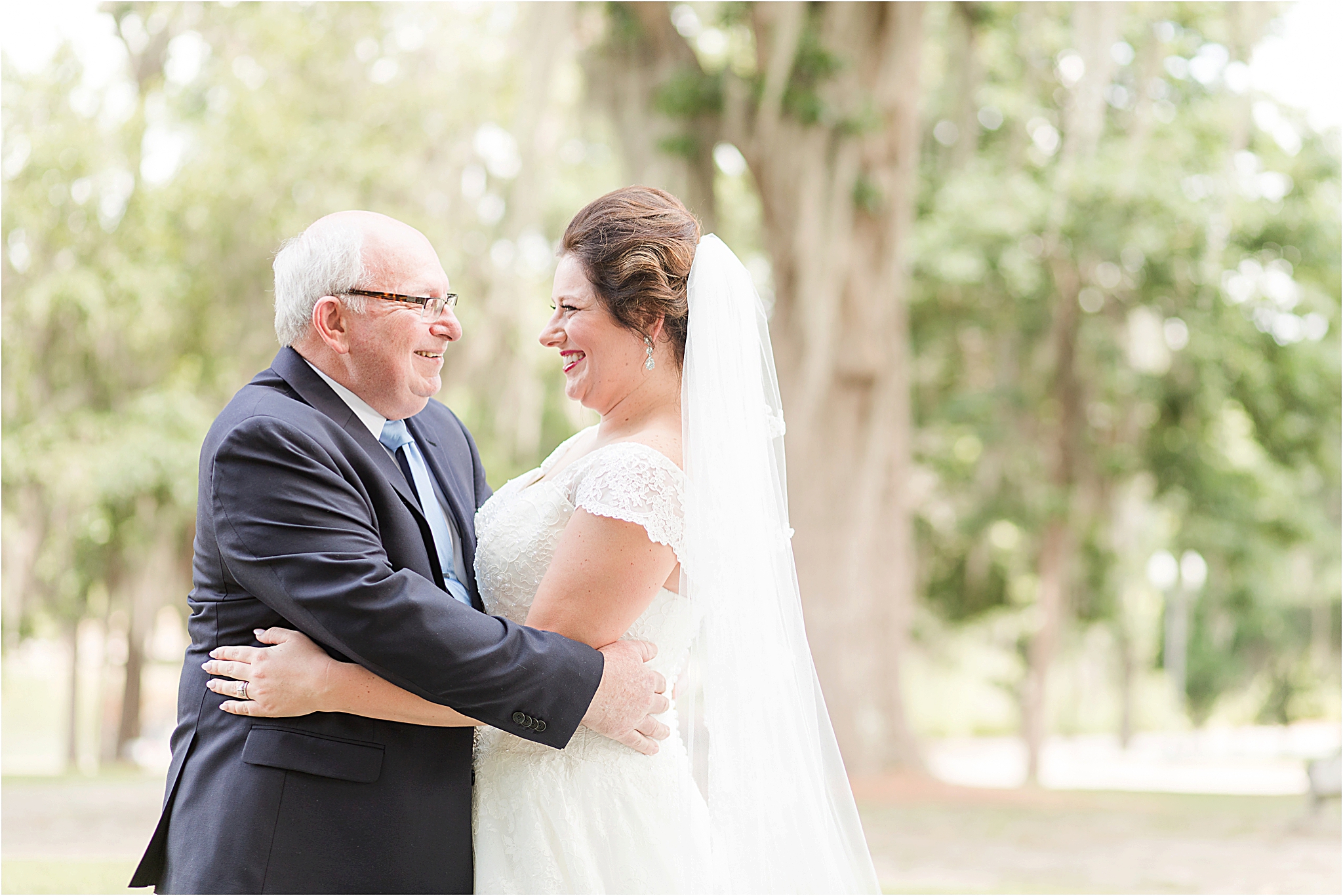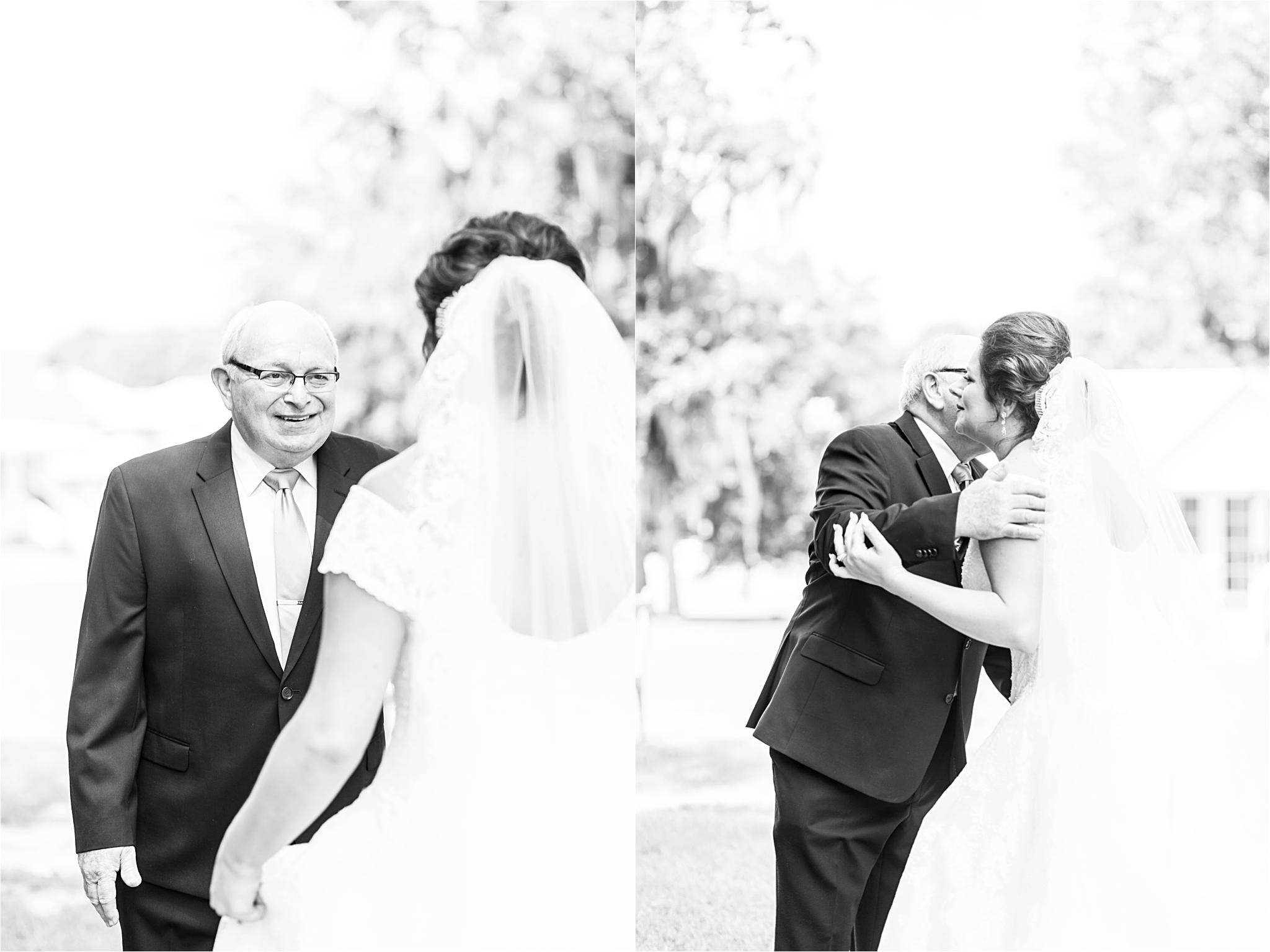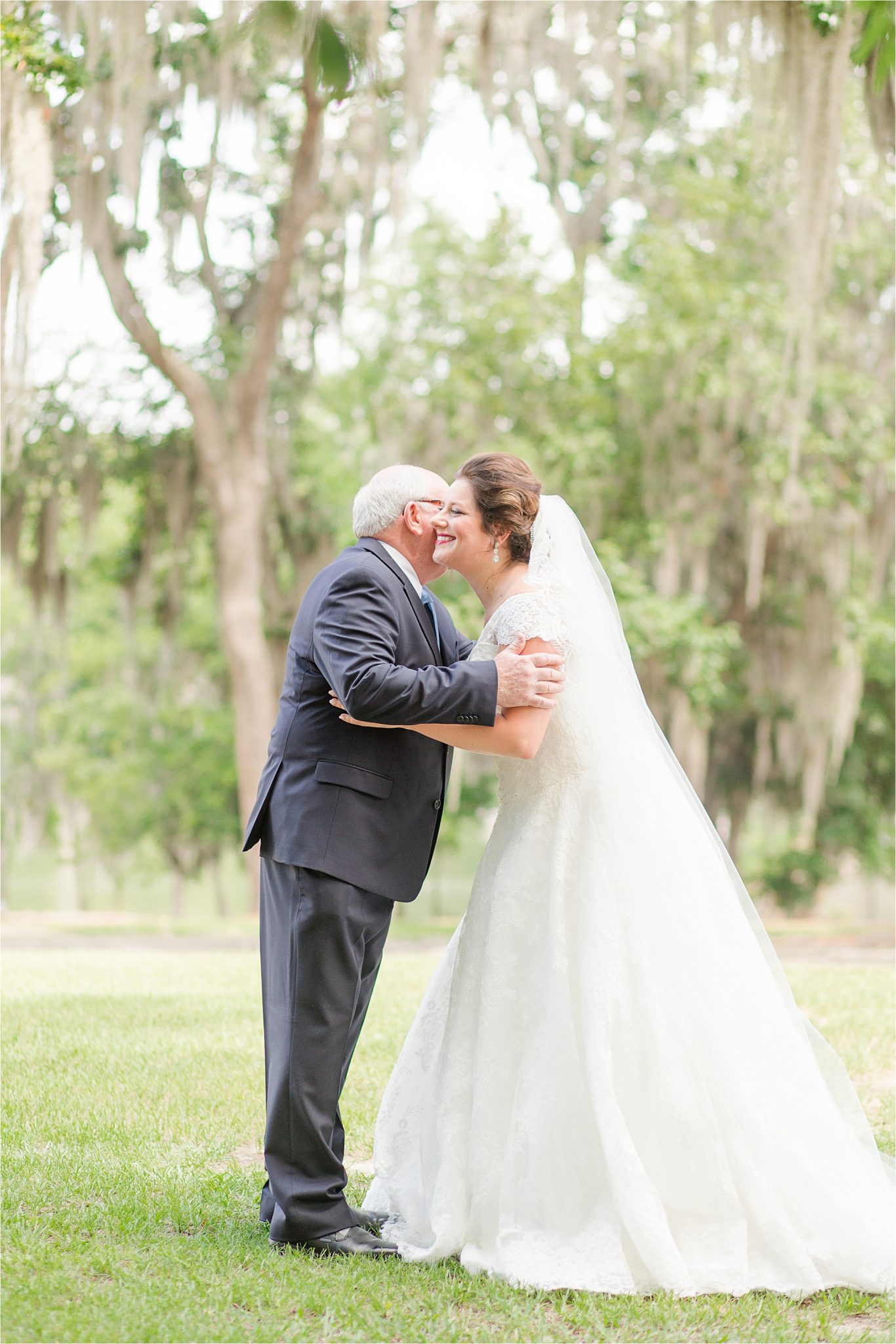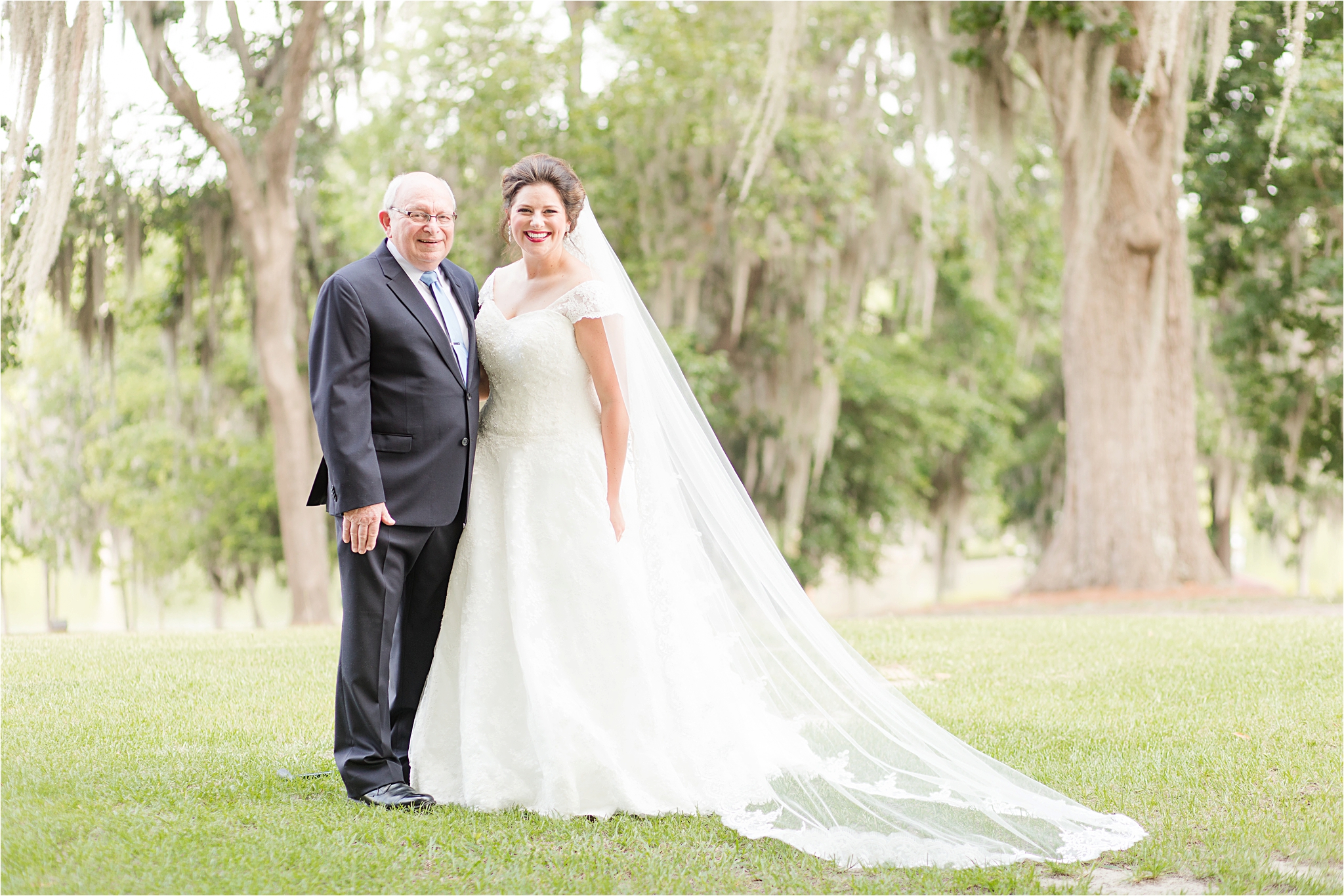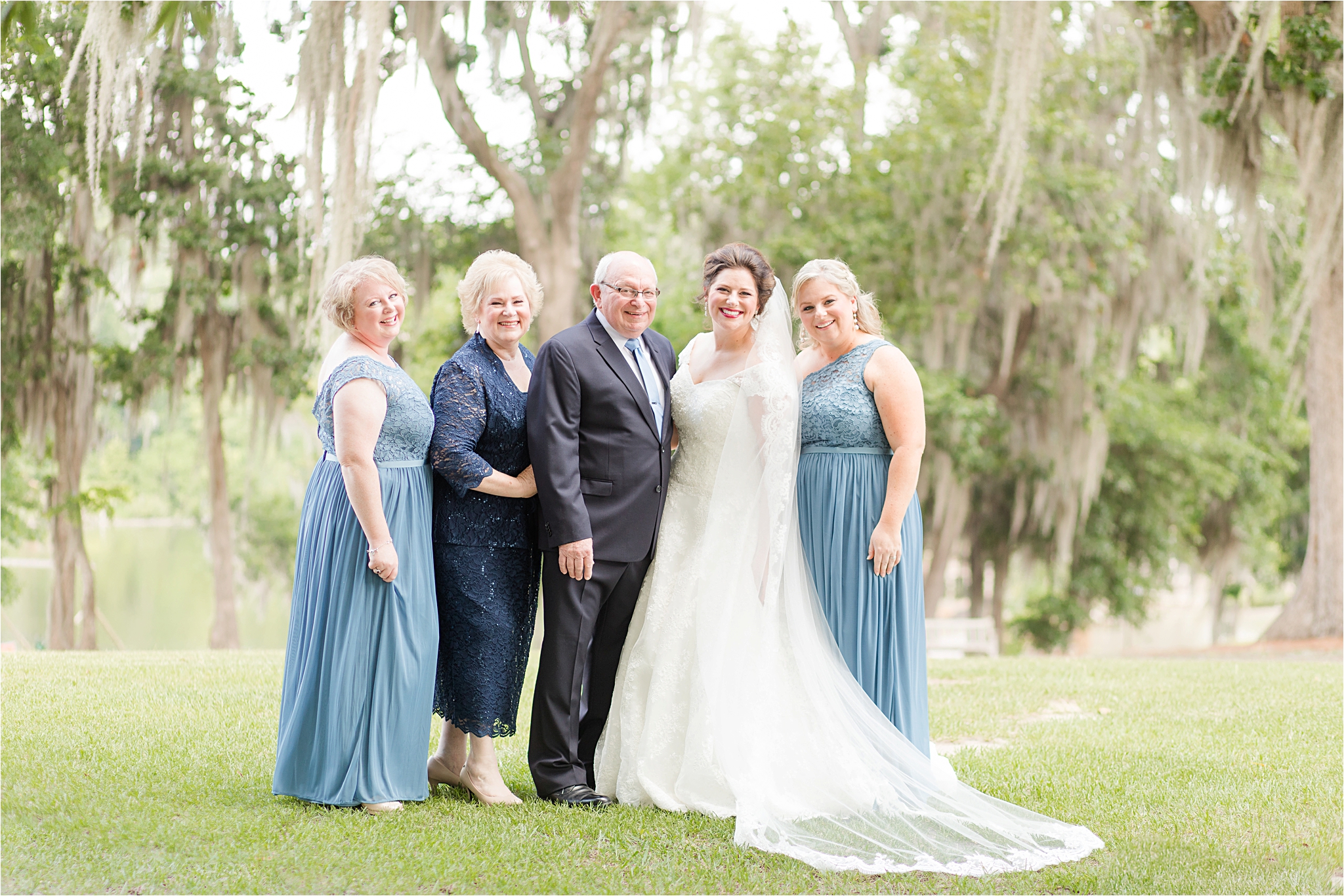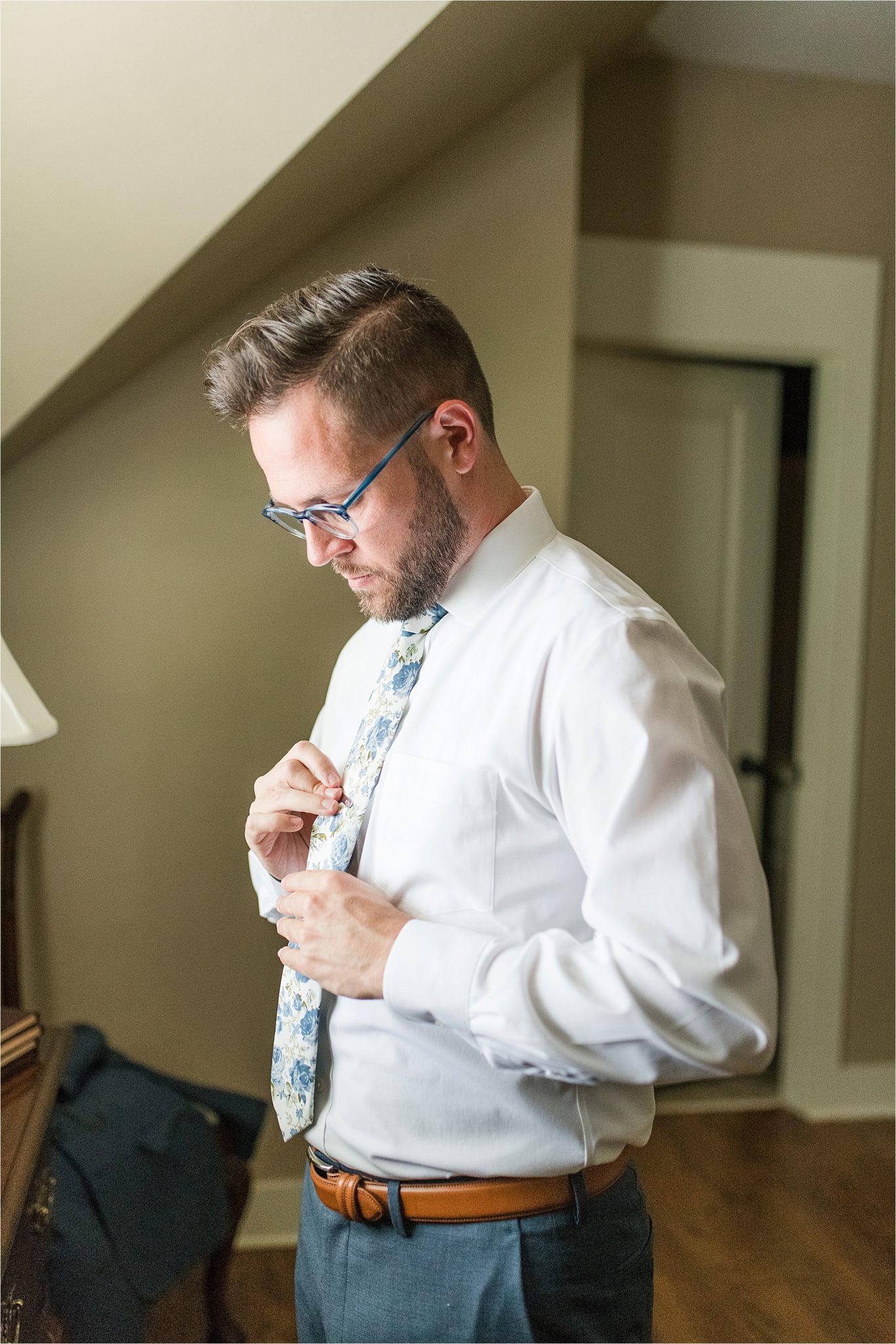 Miles and his sweet momma have such a precious relationship…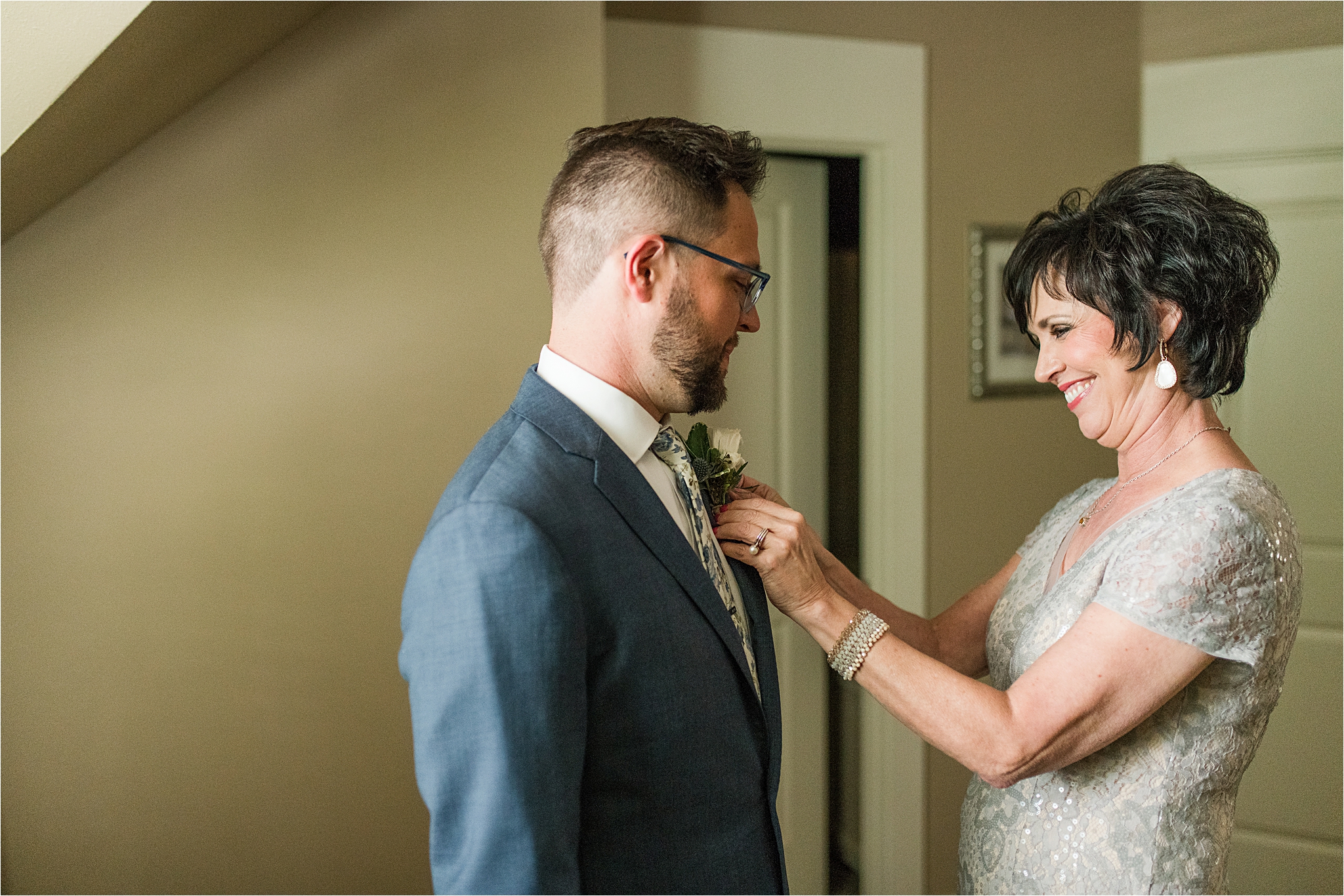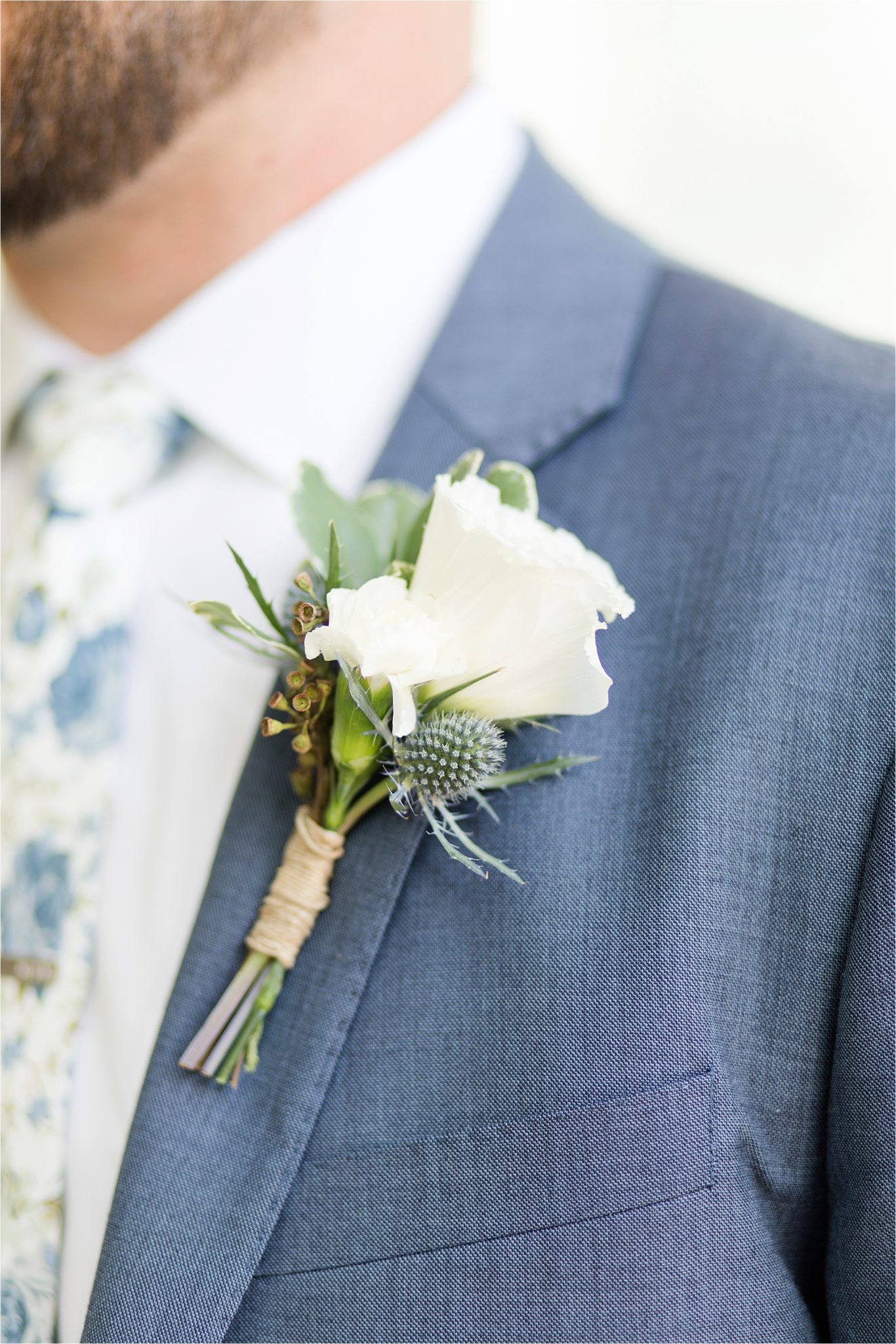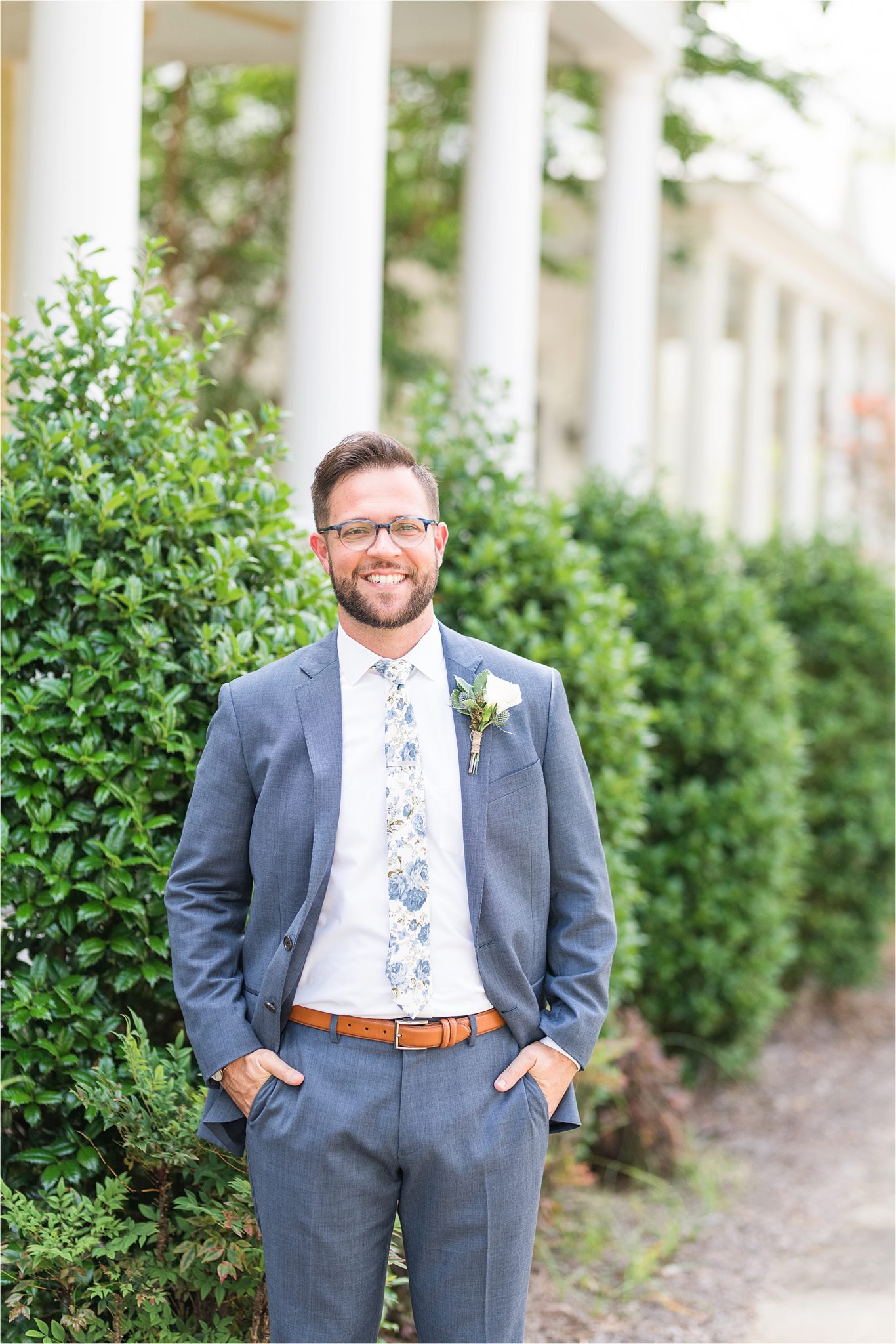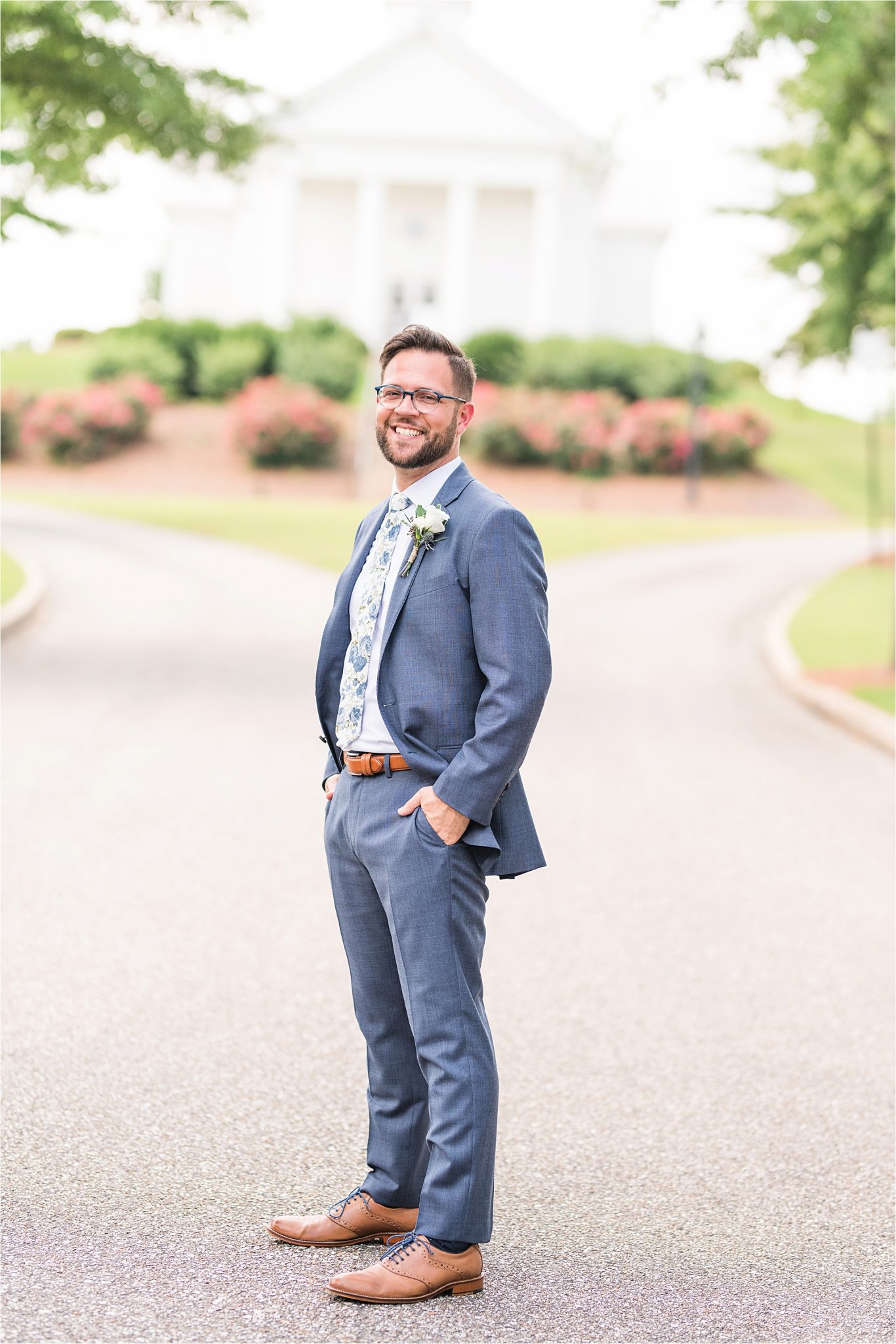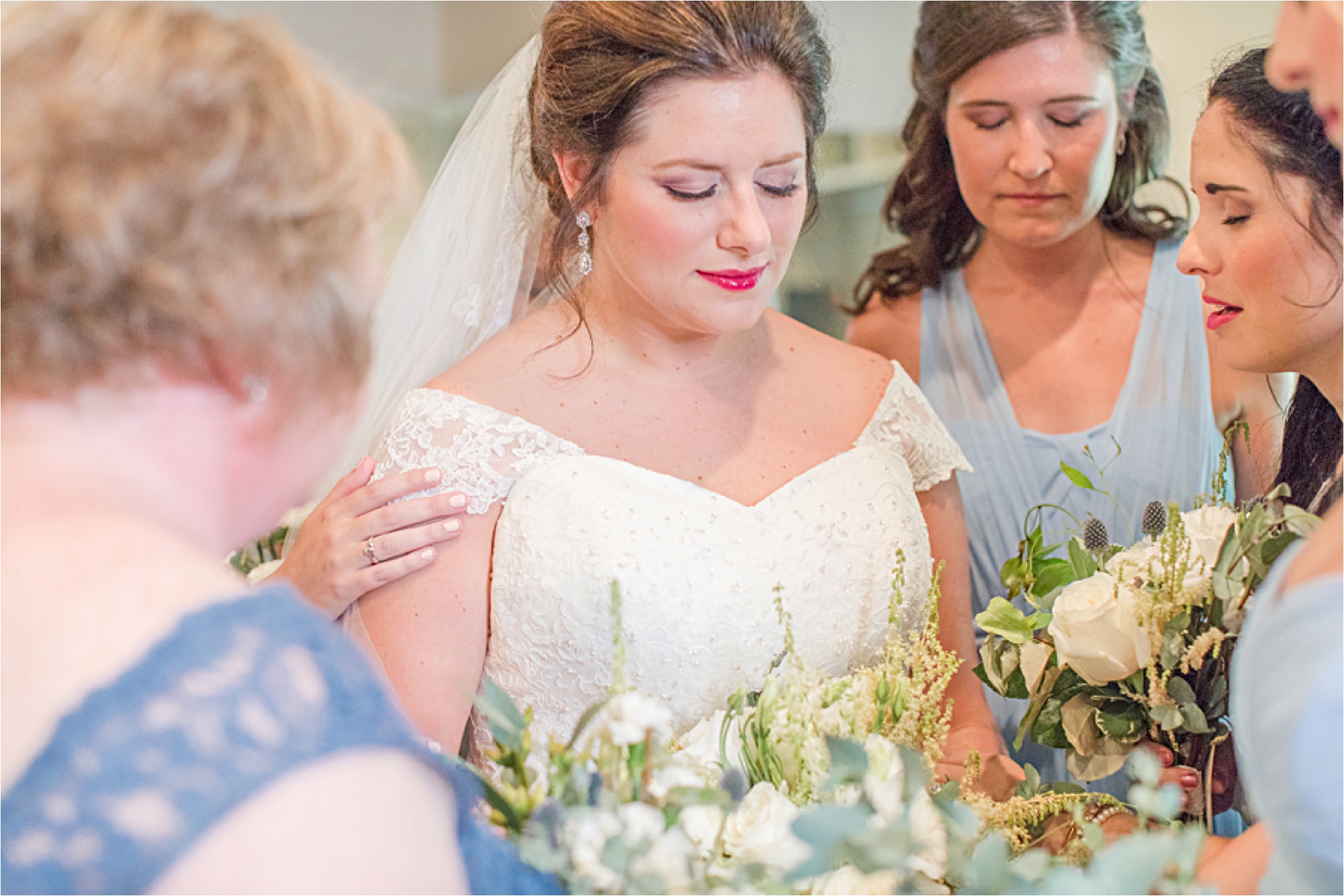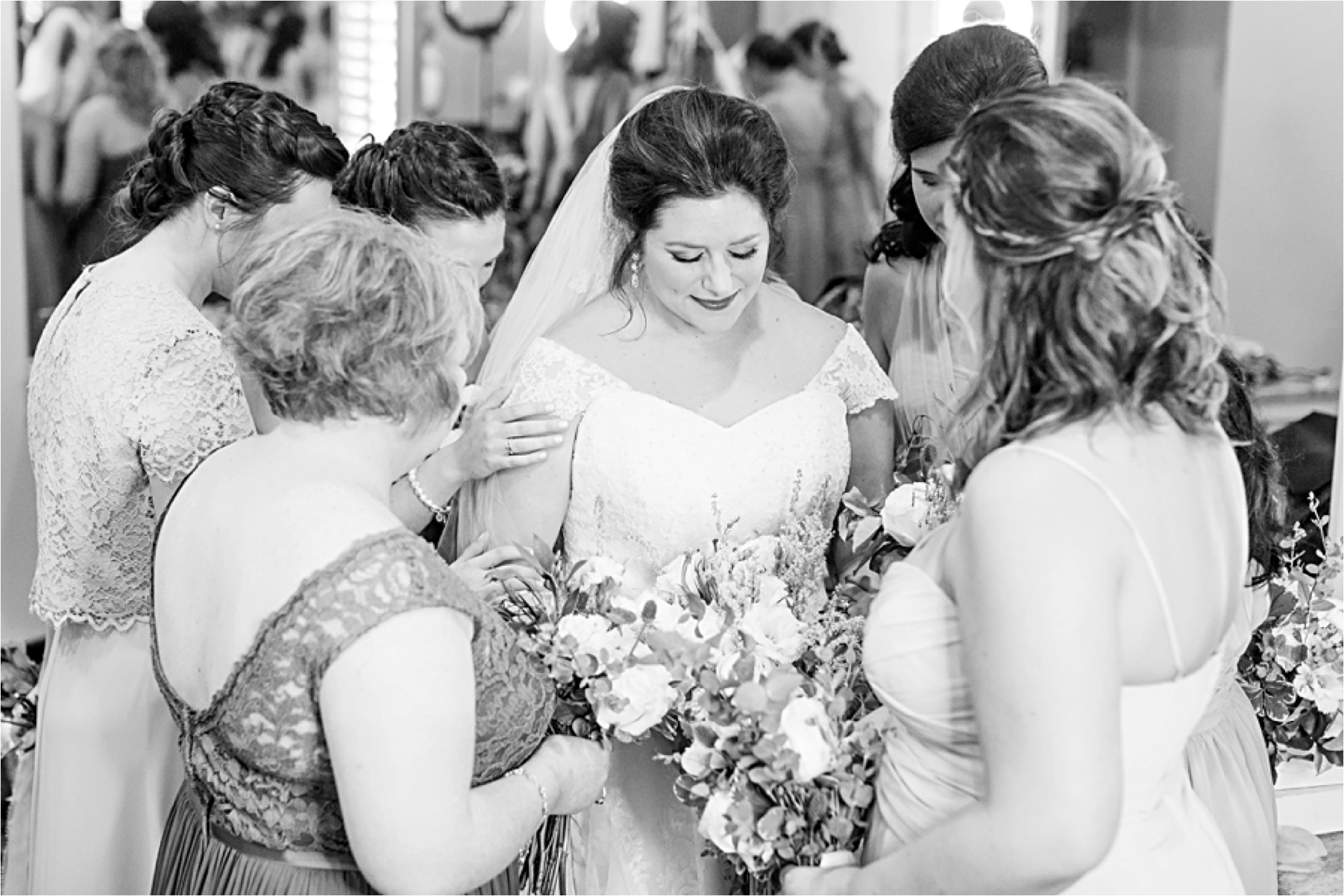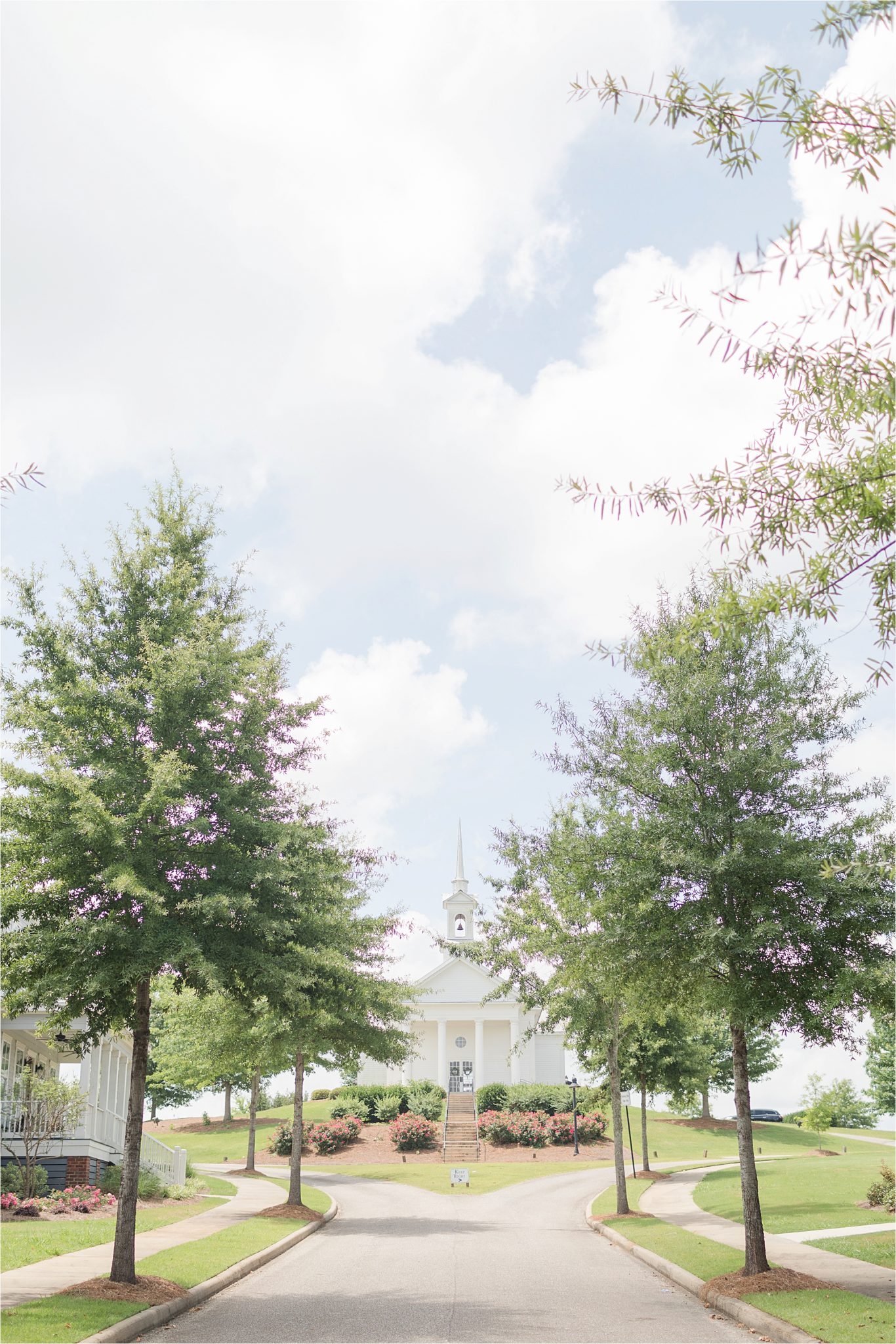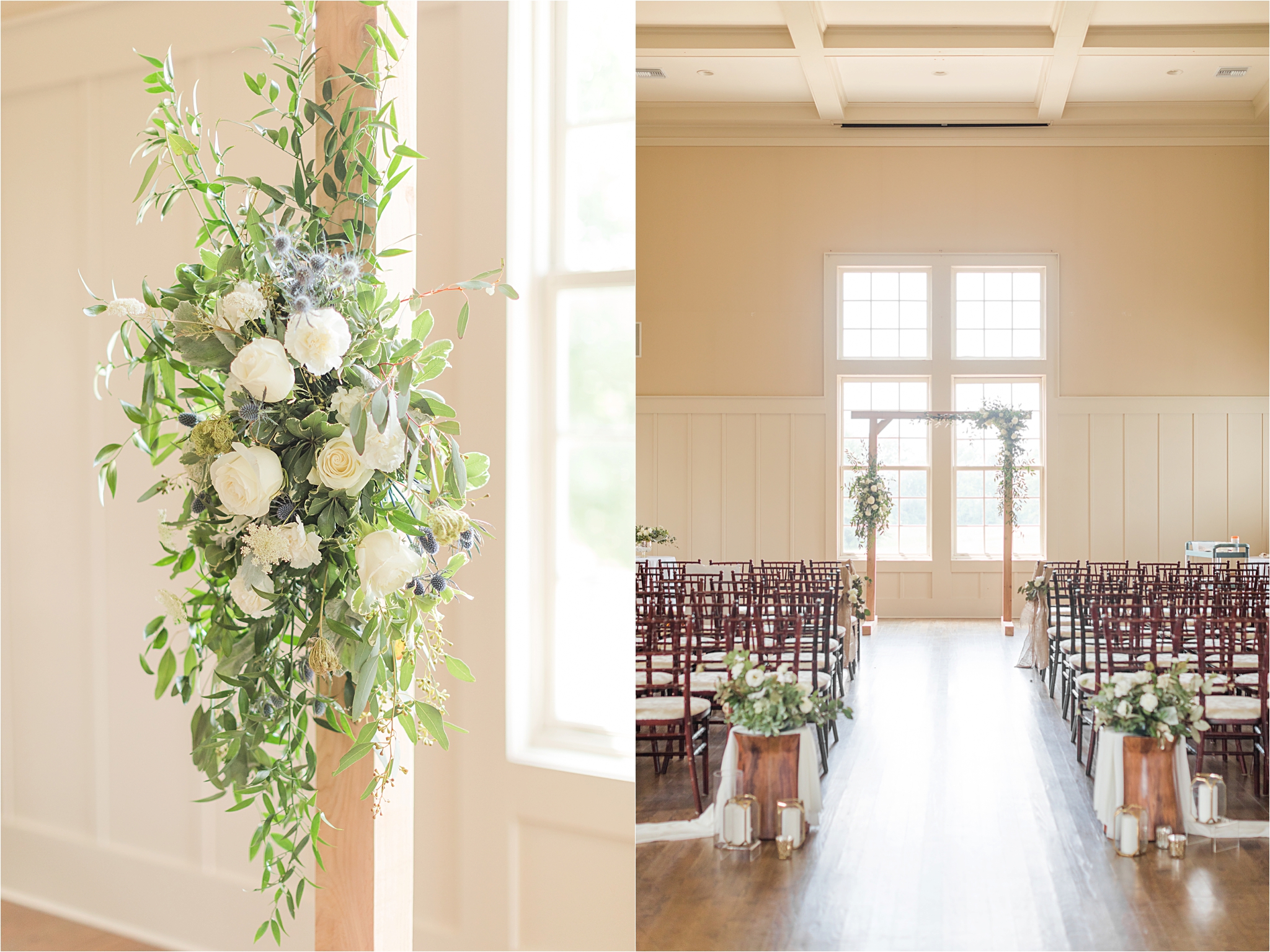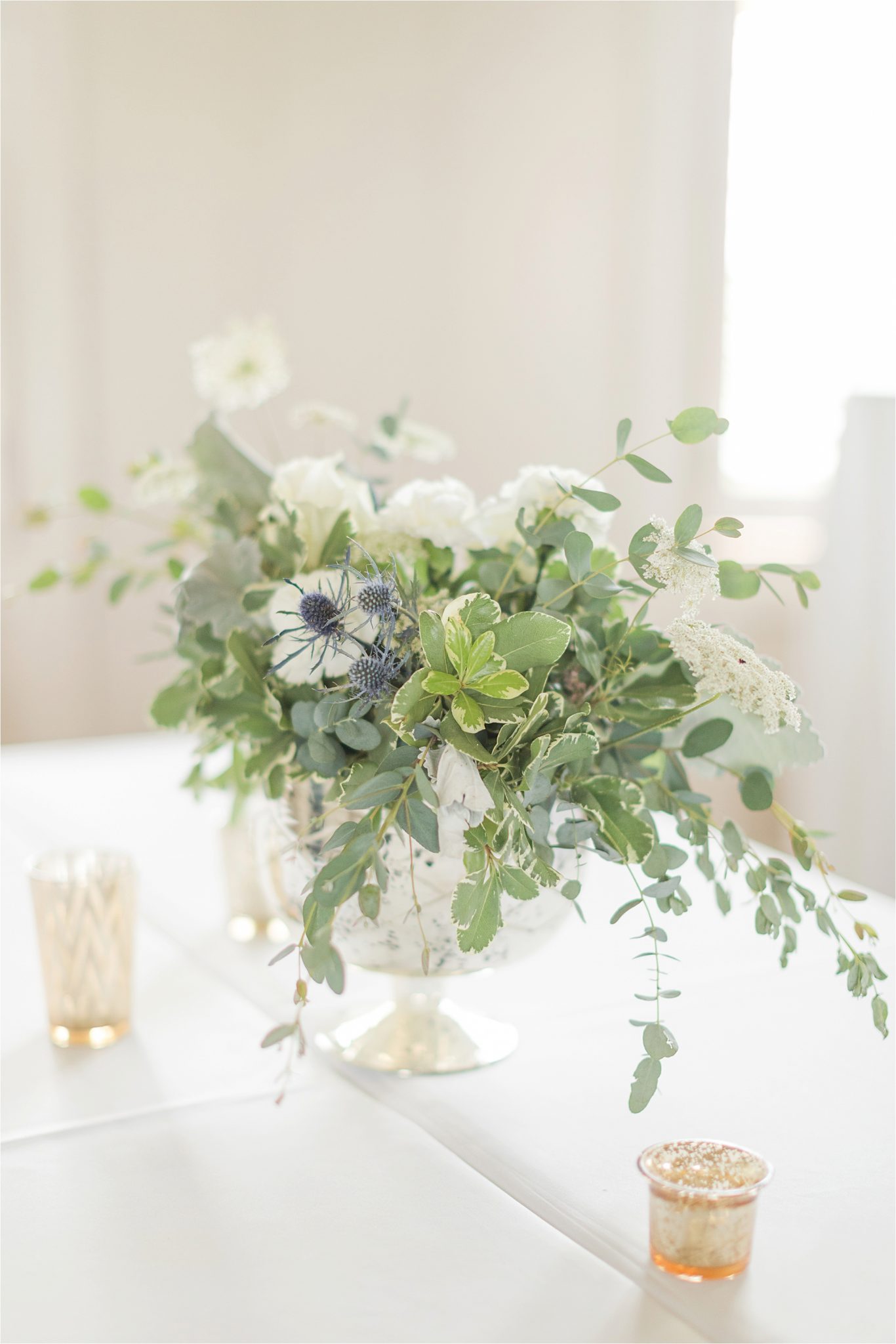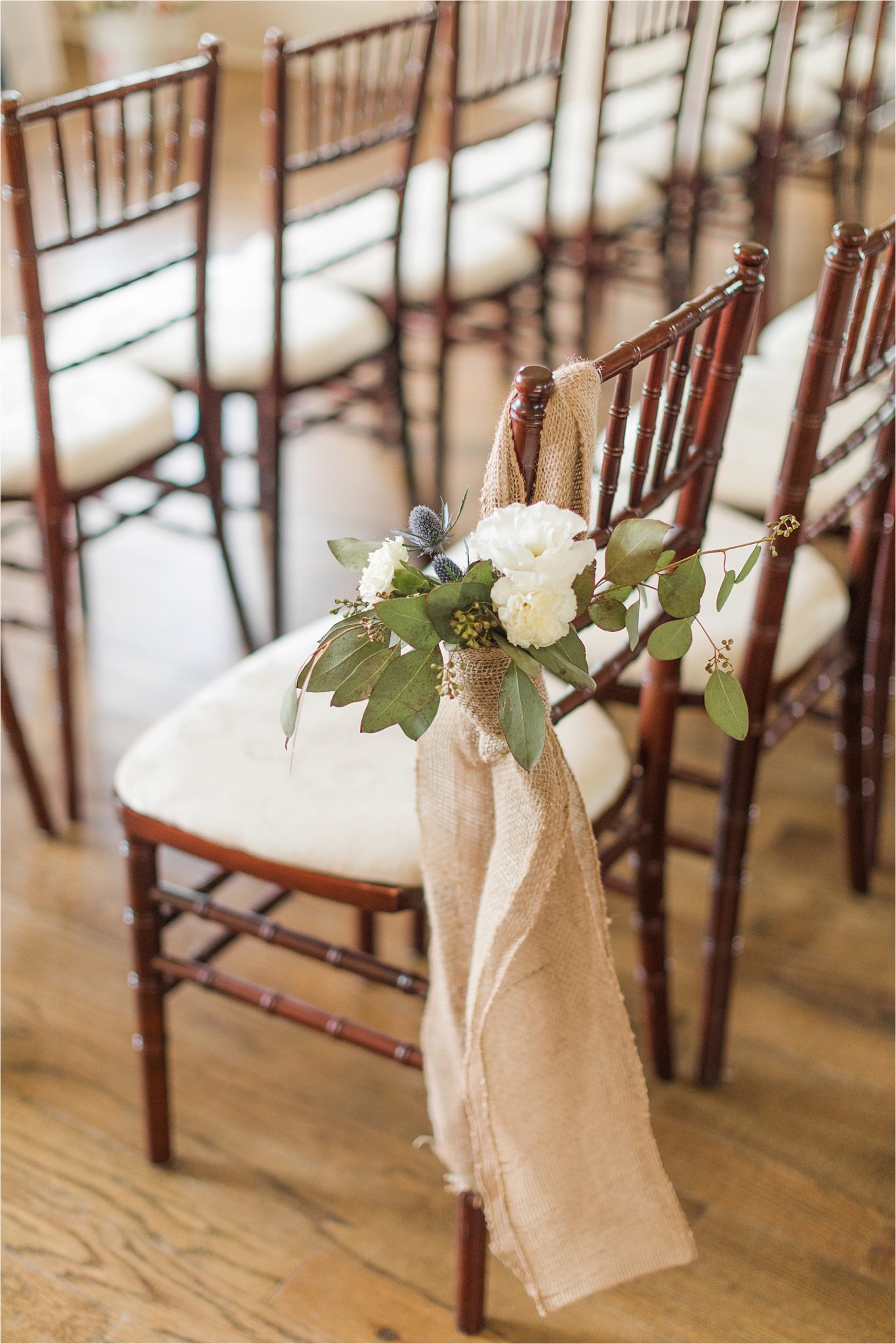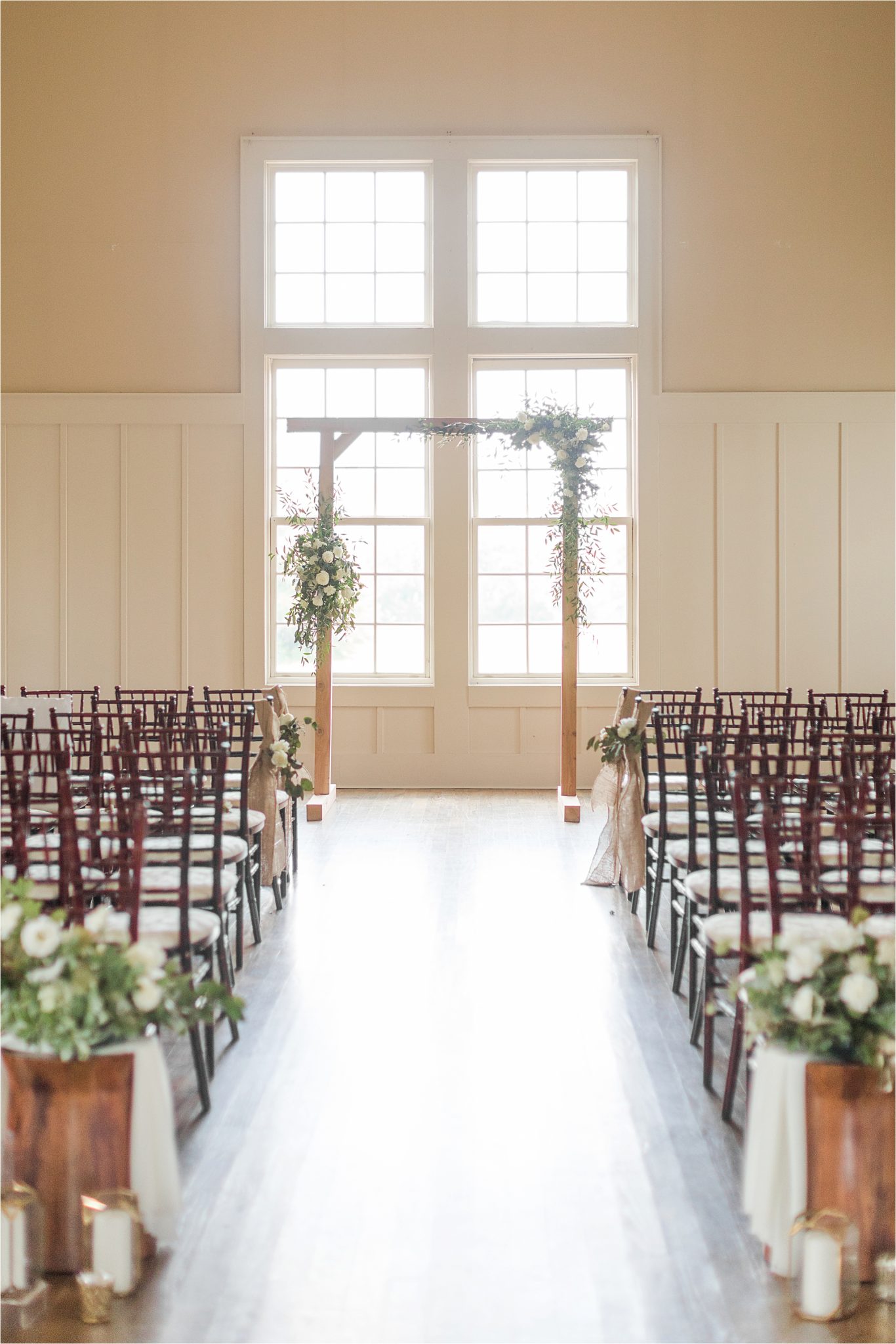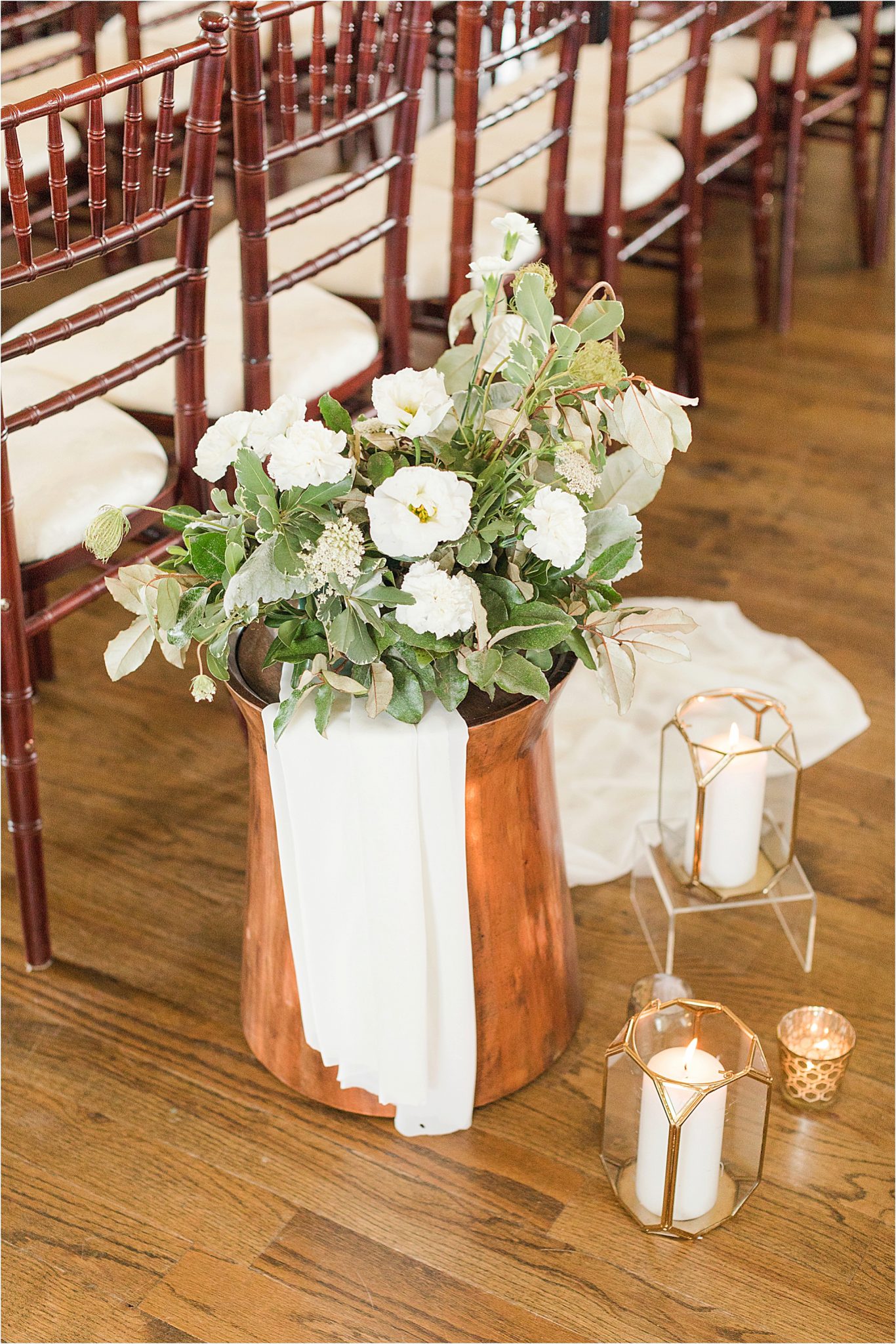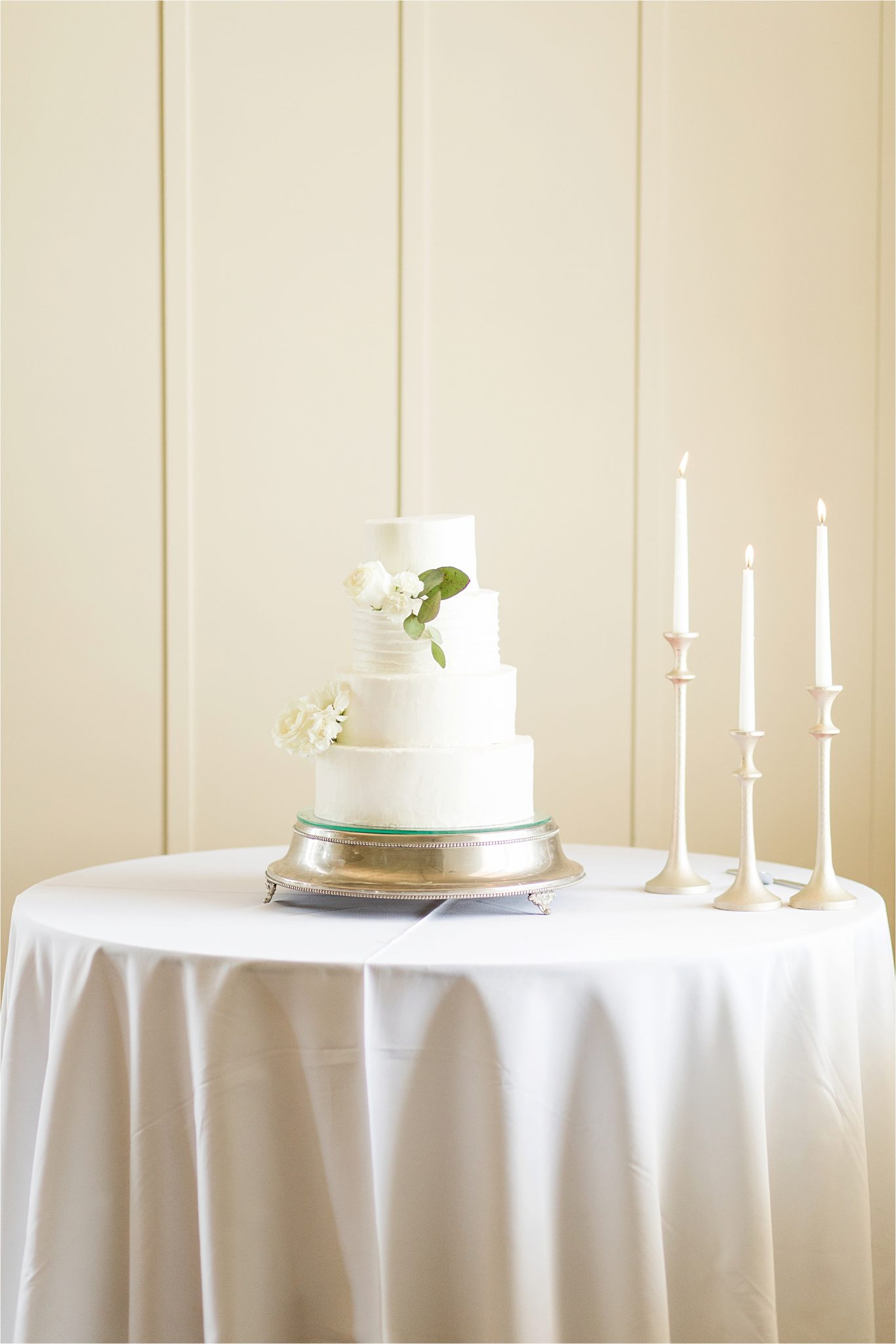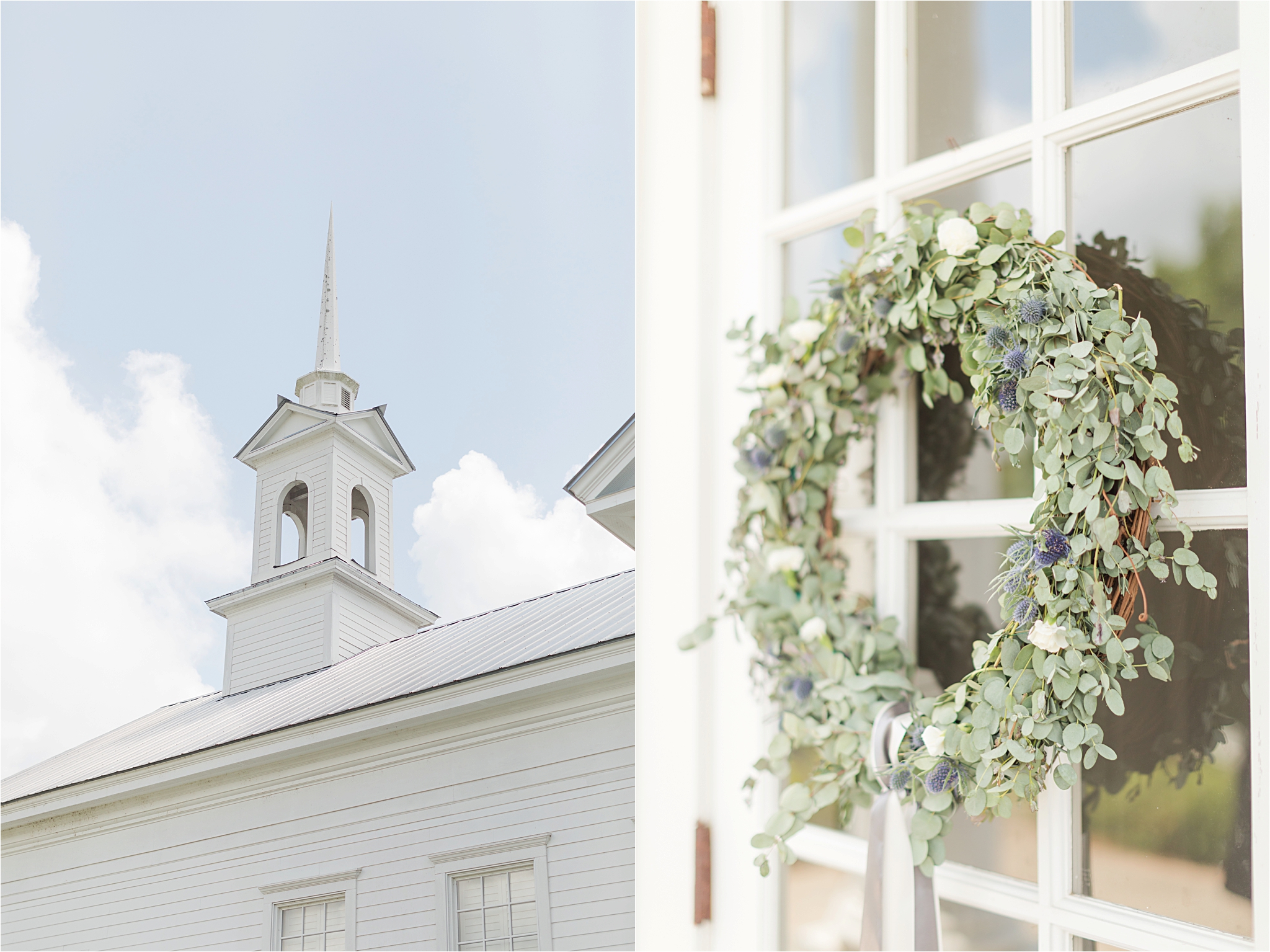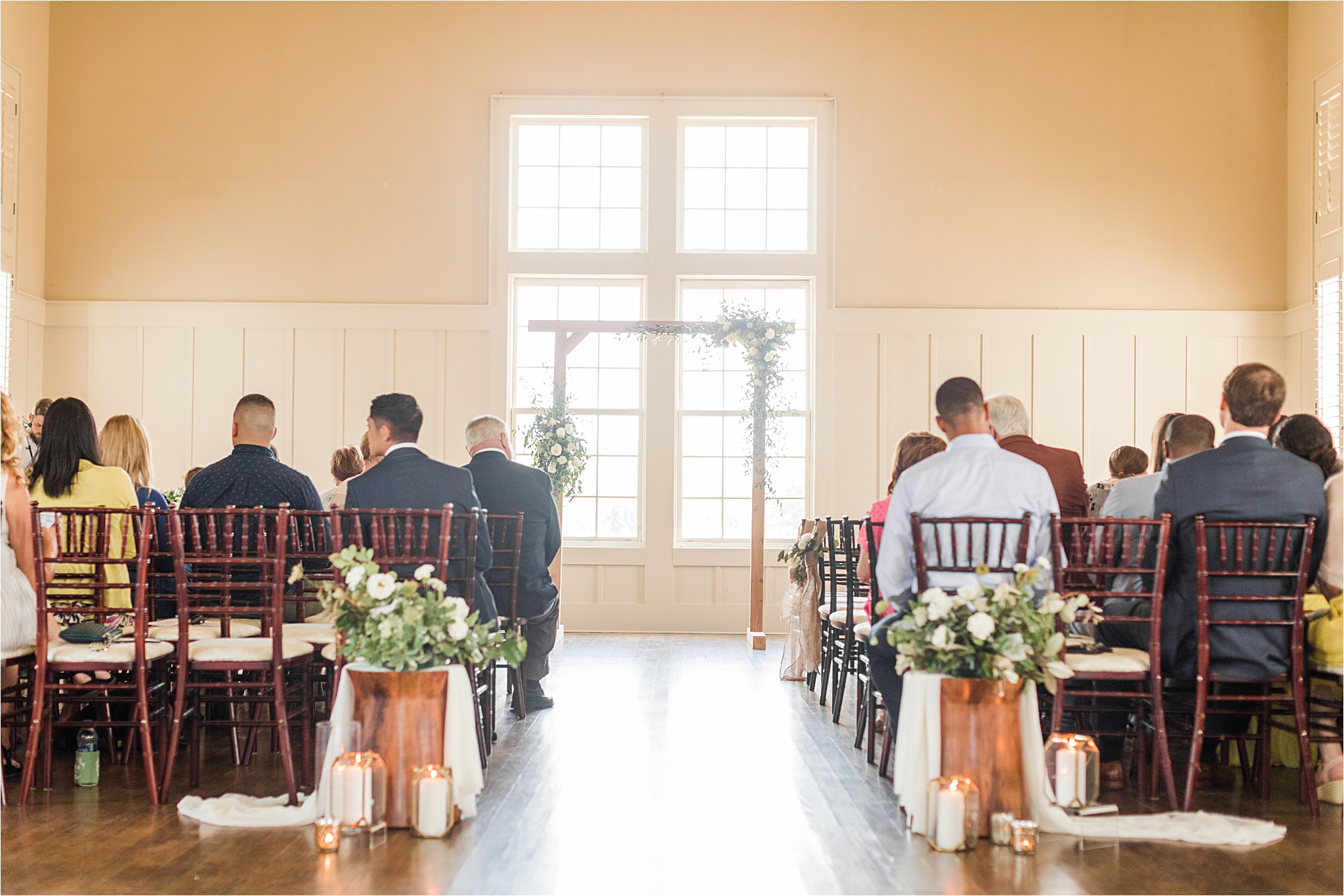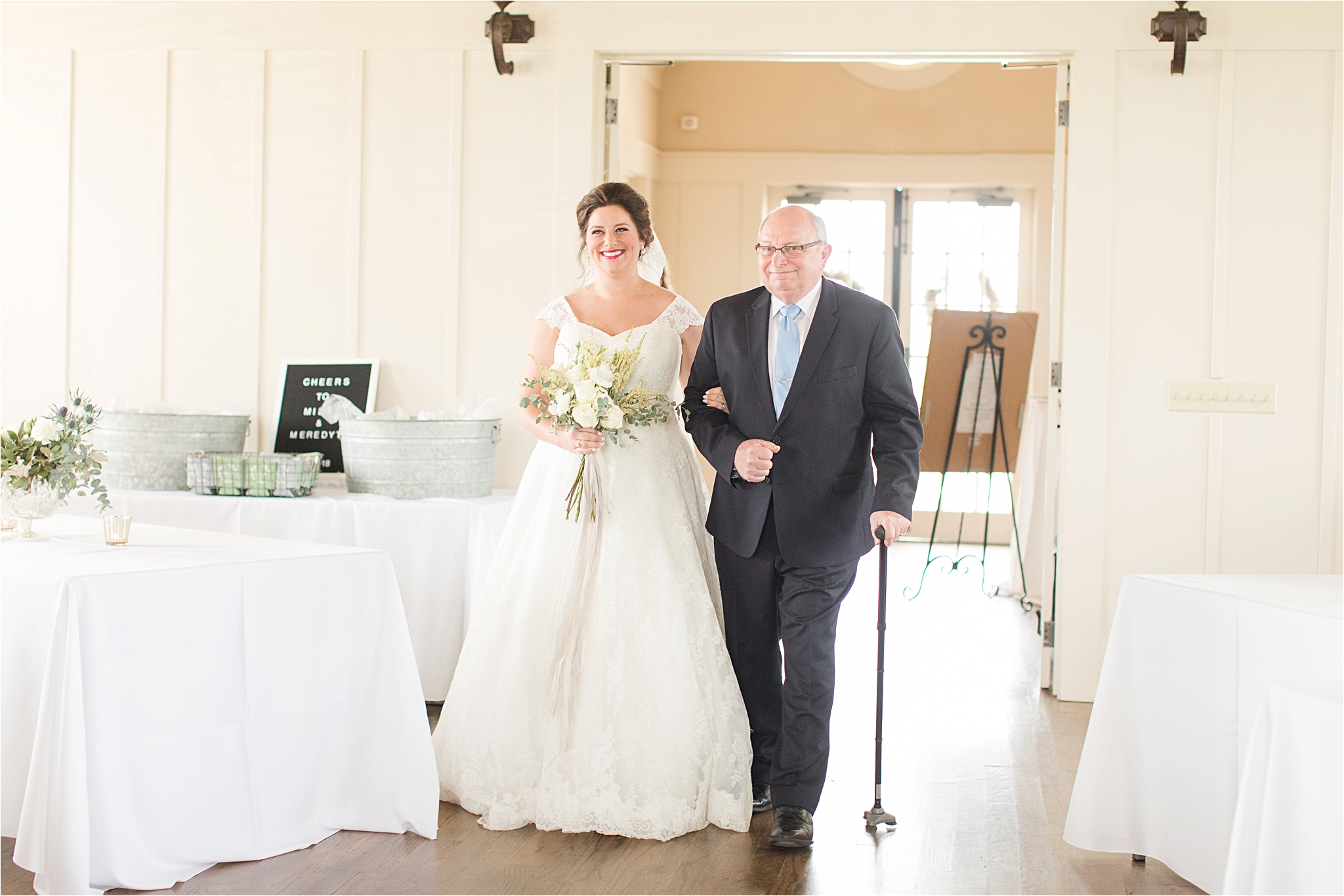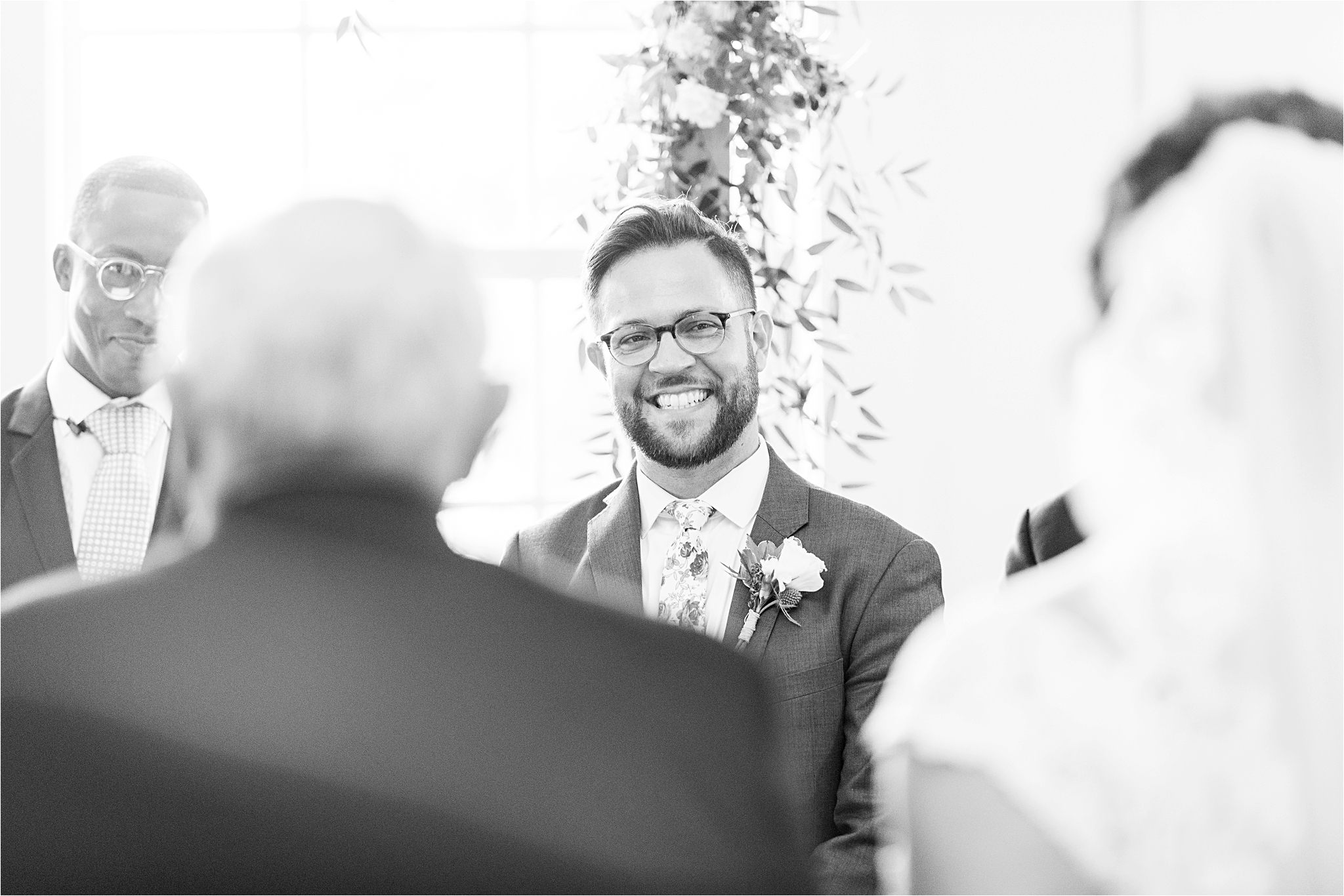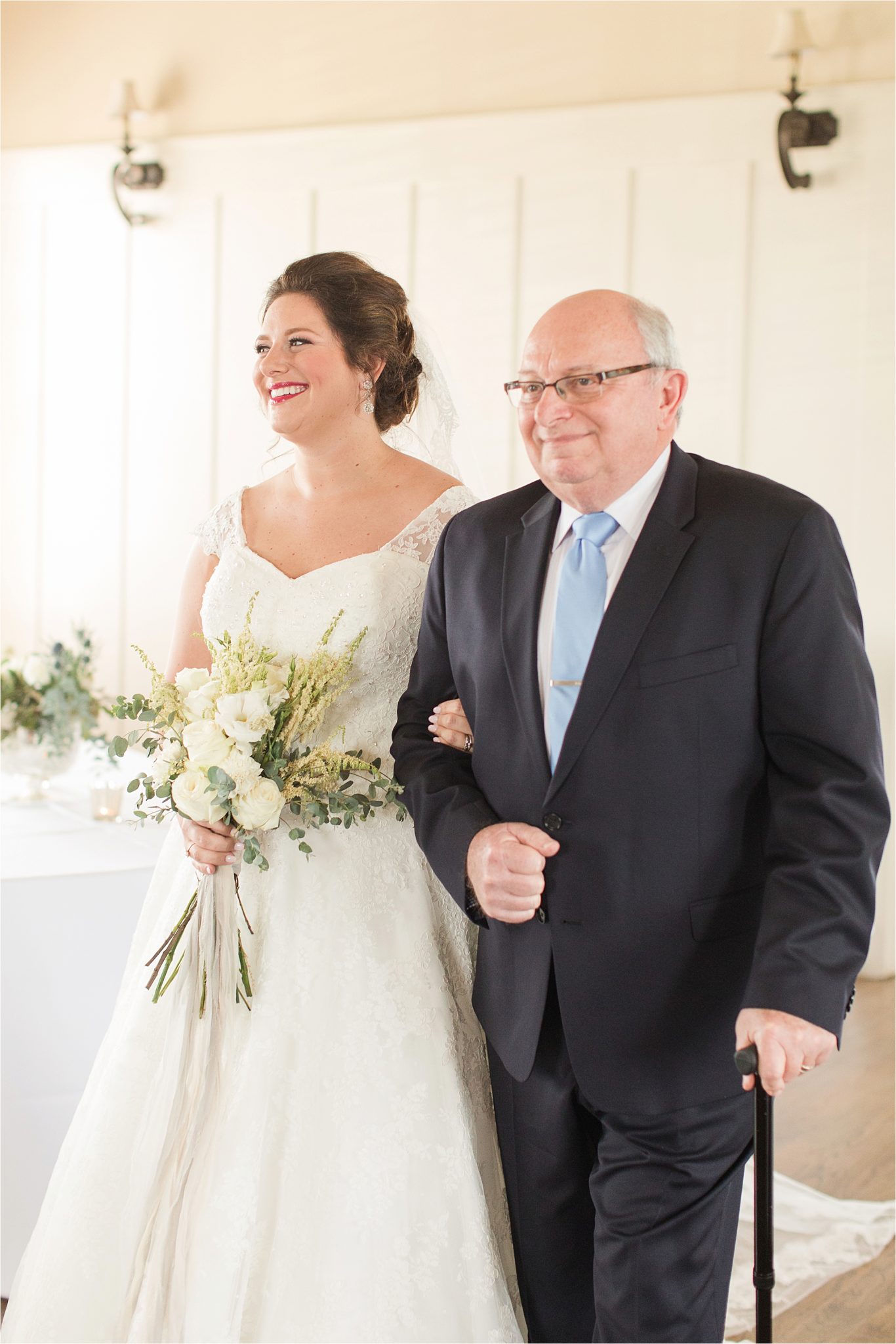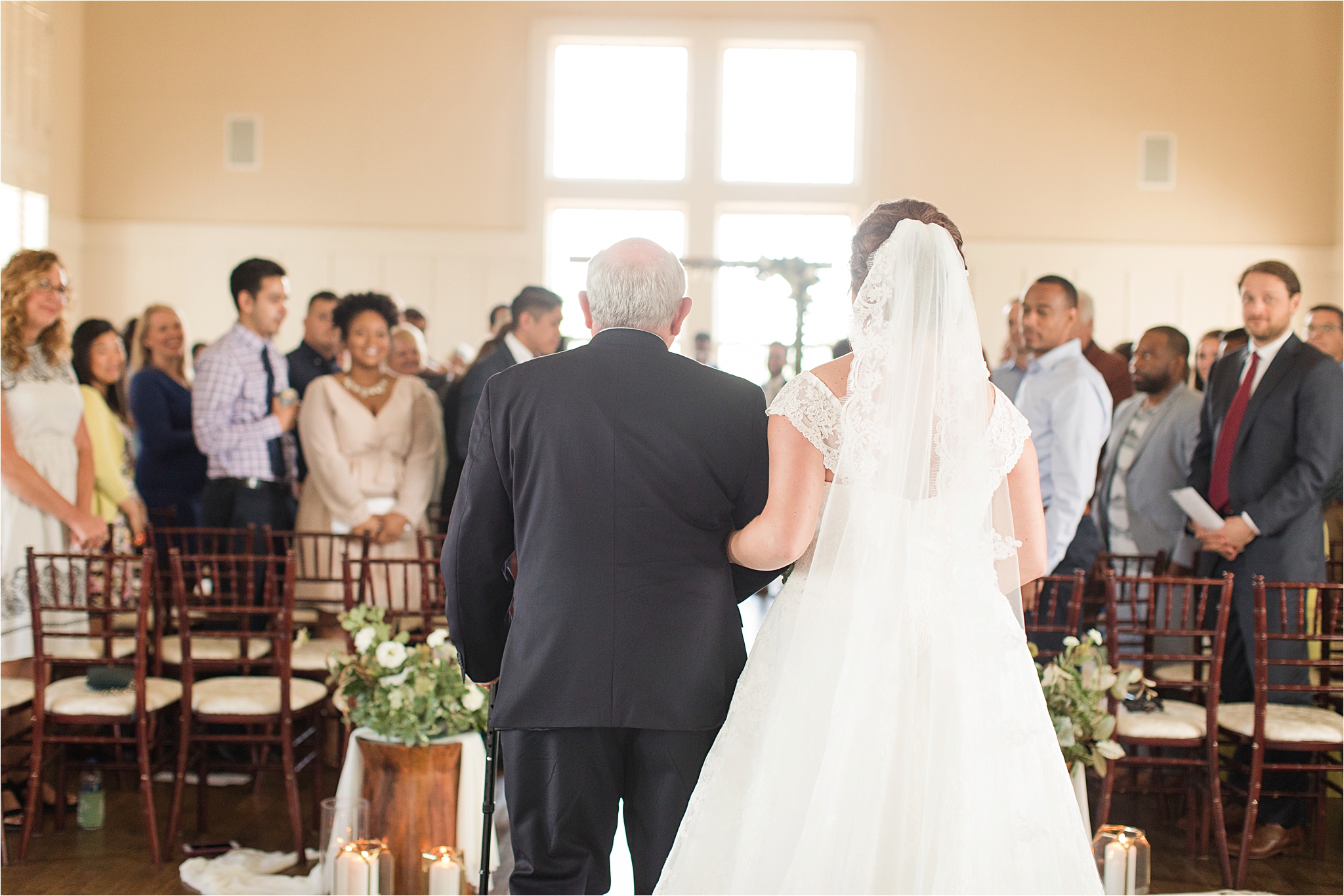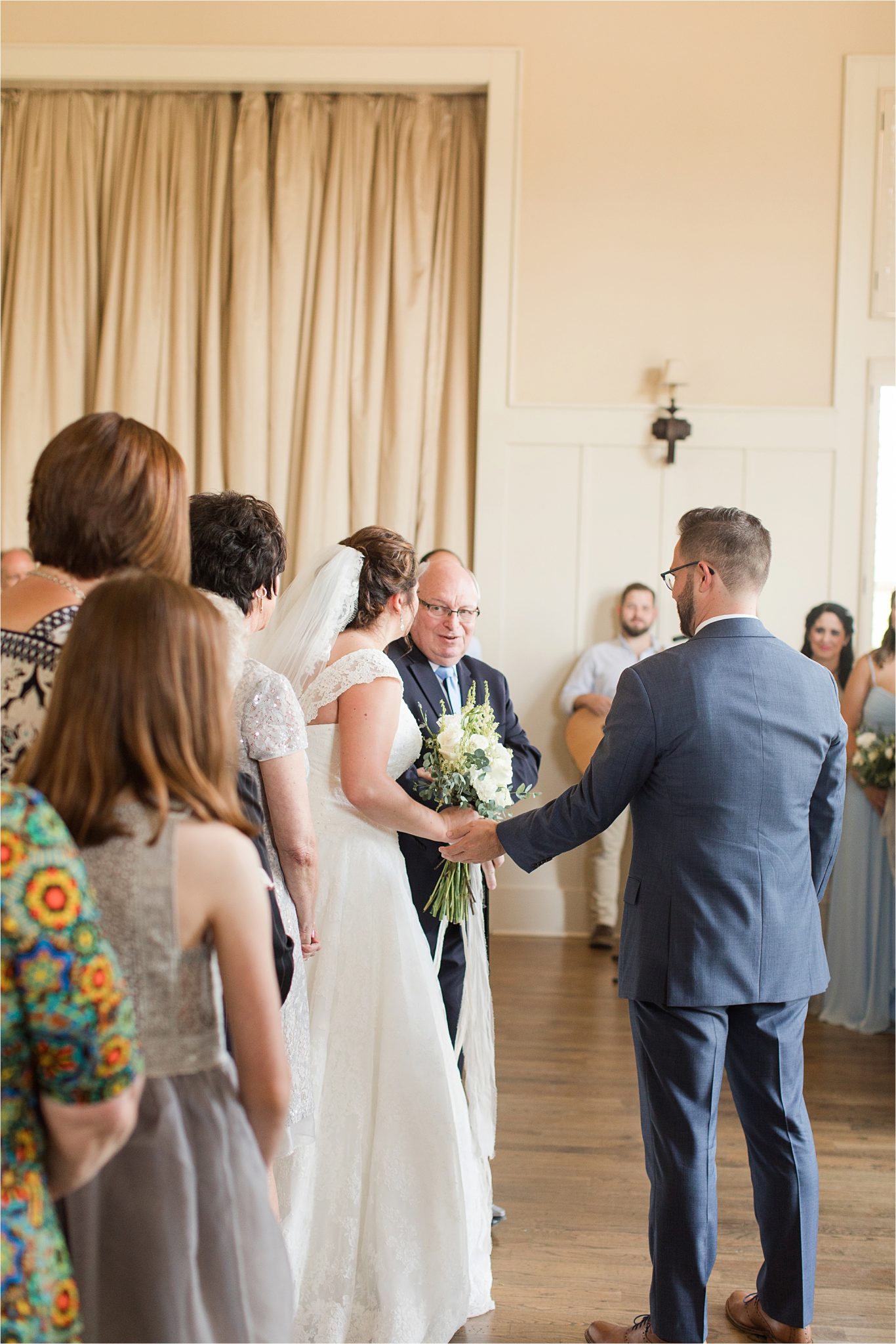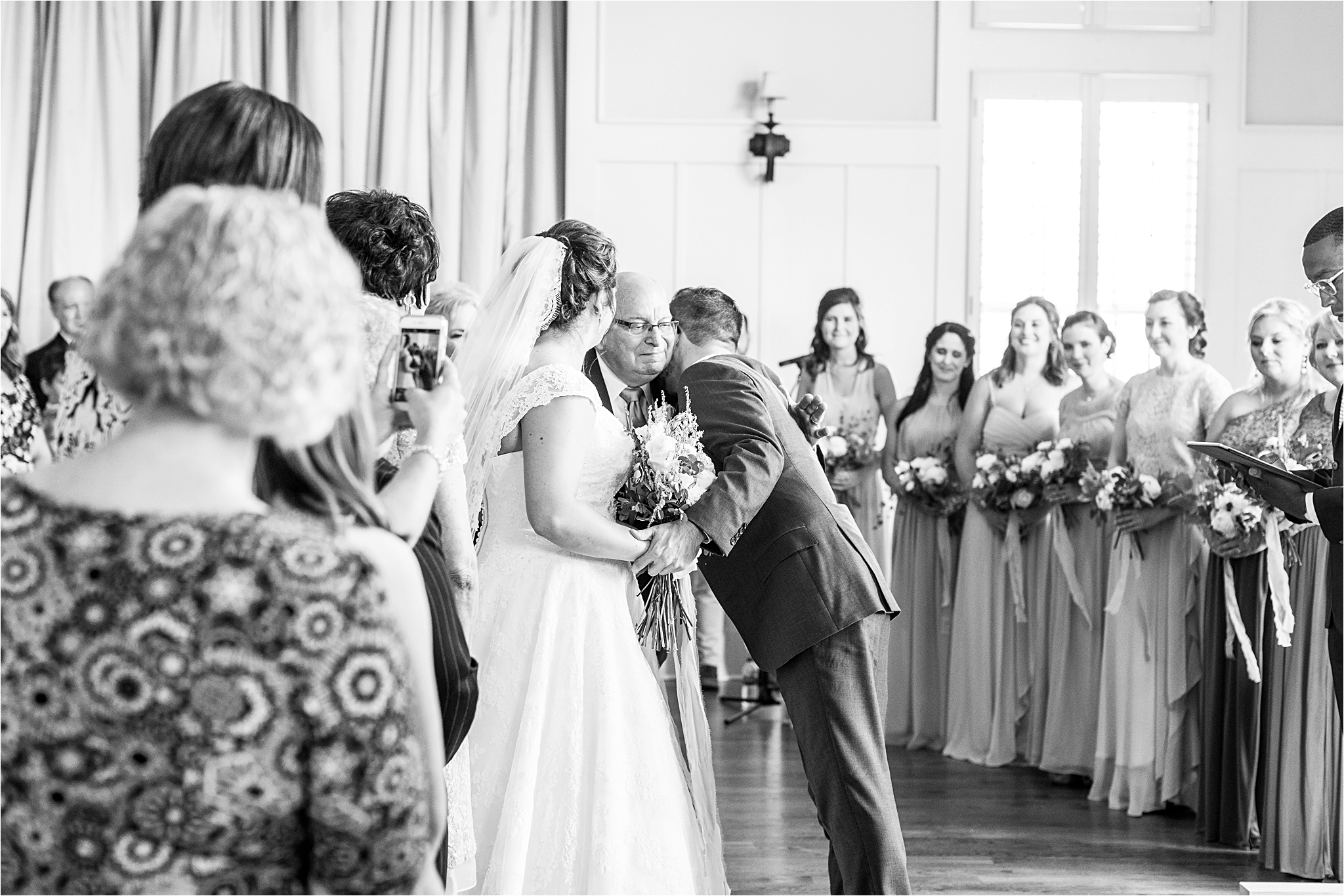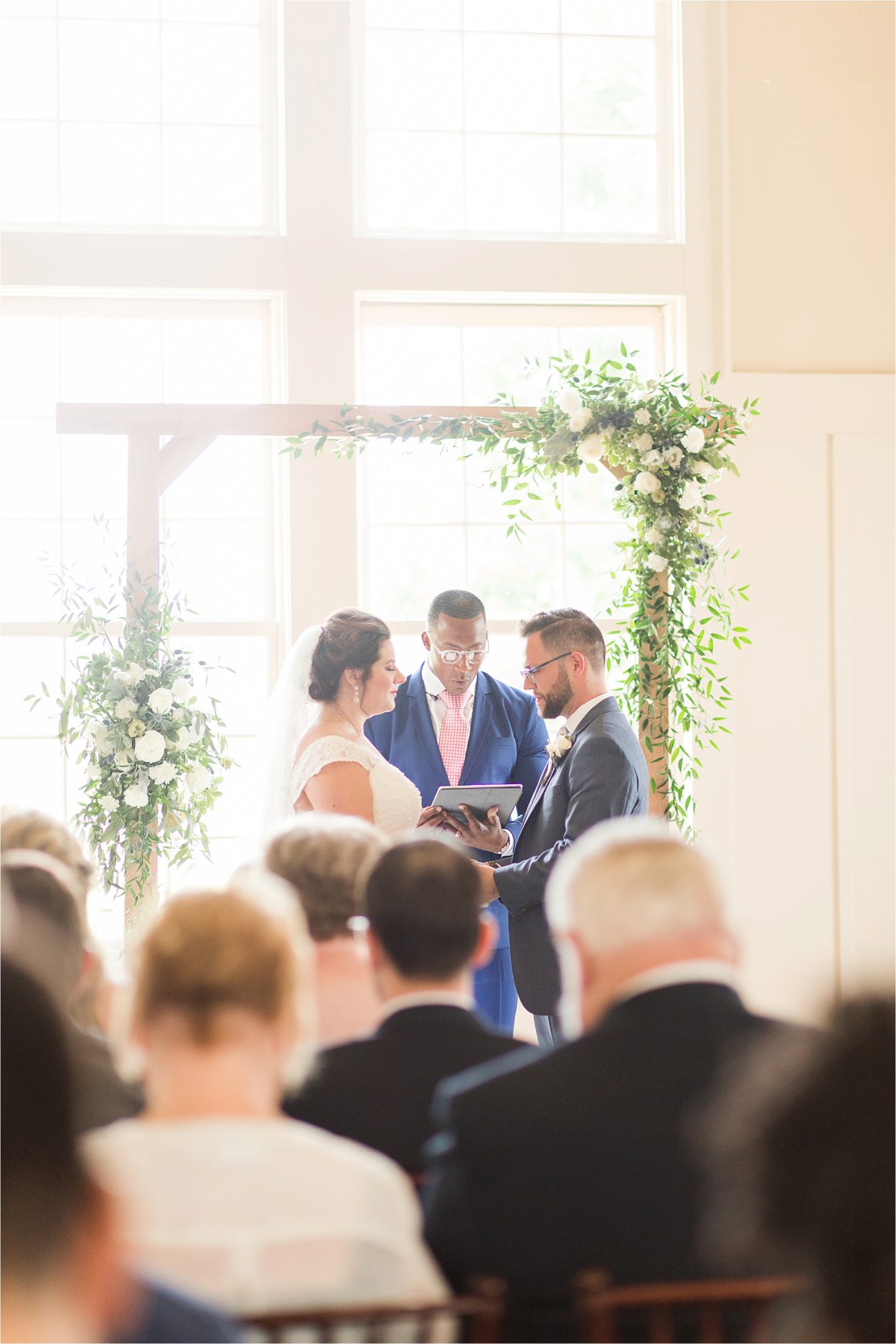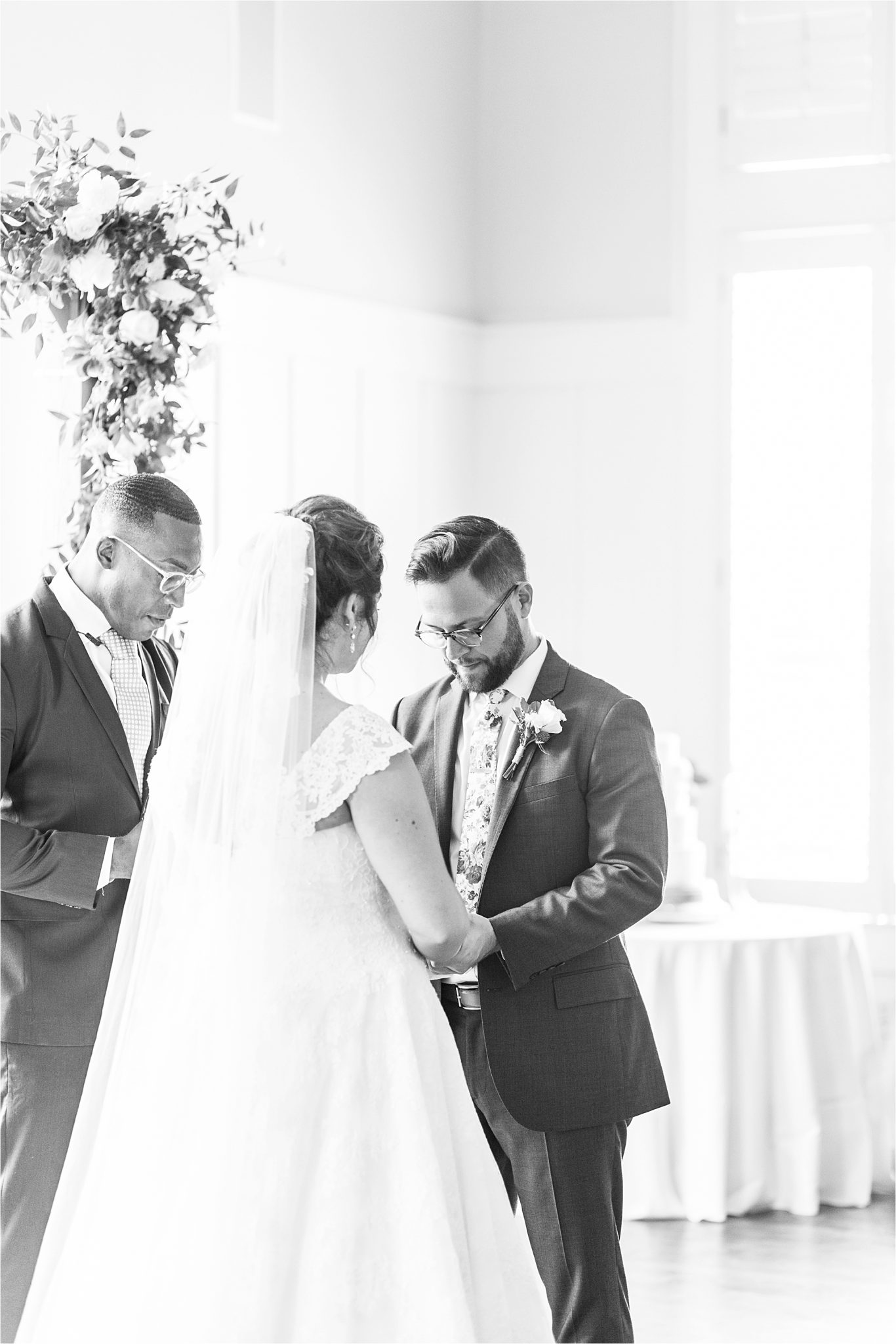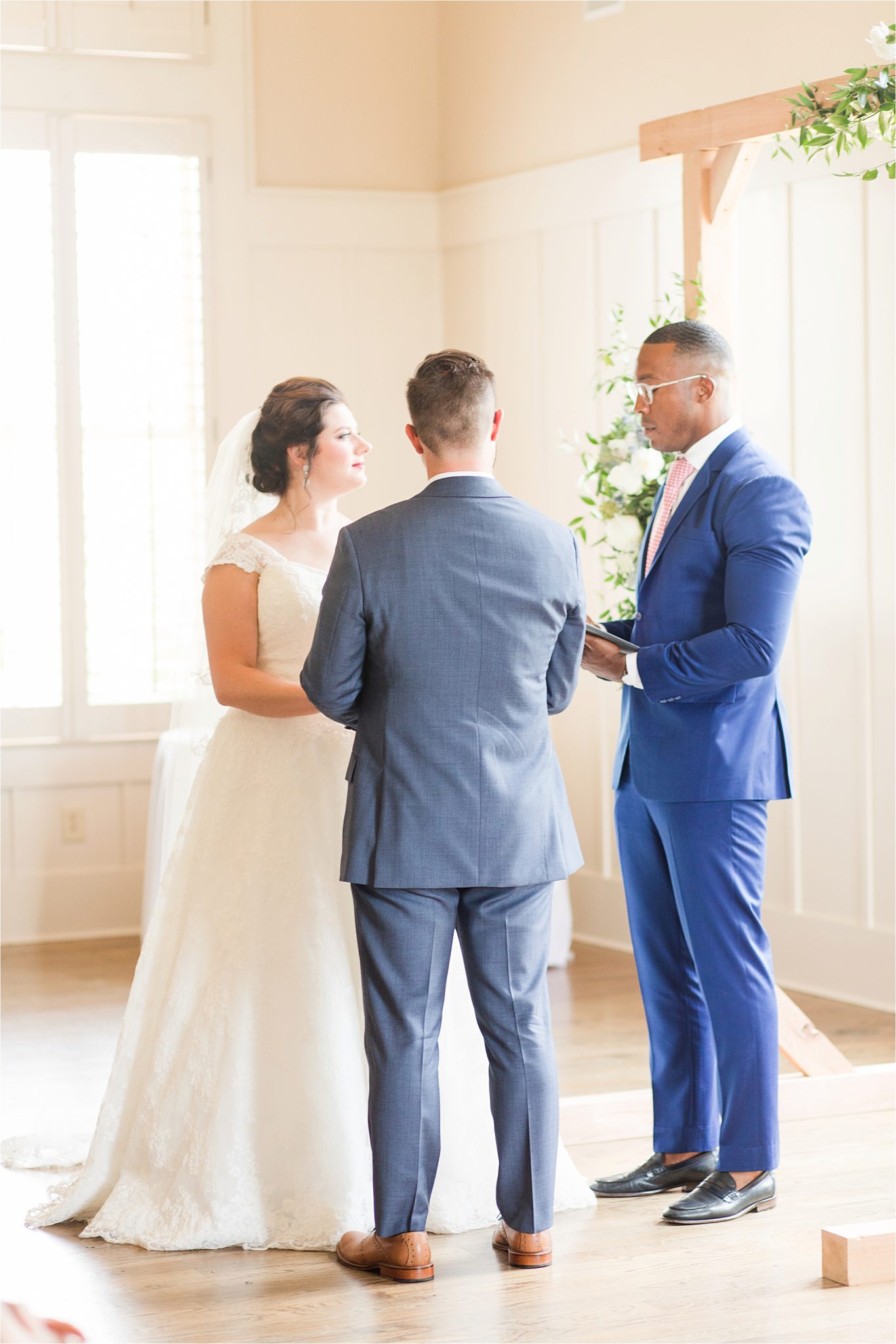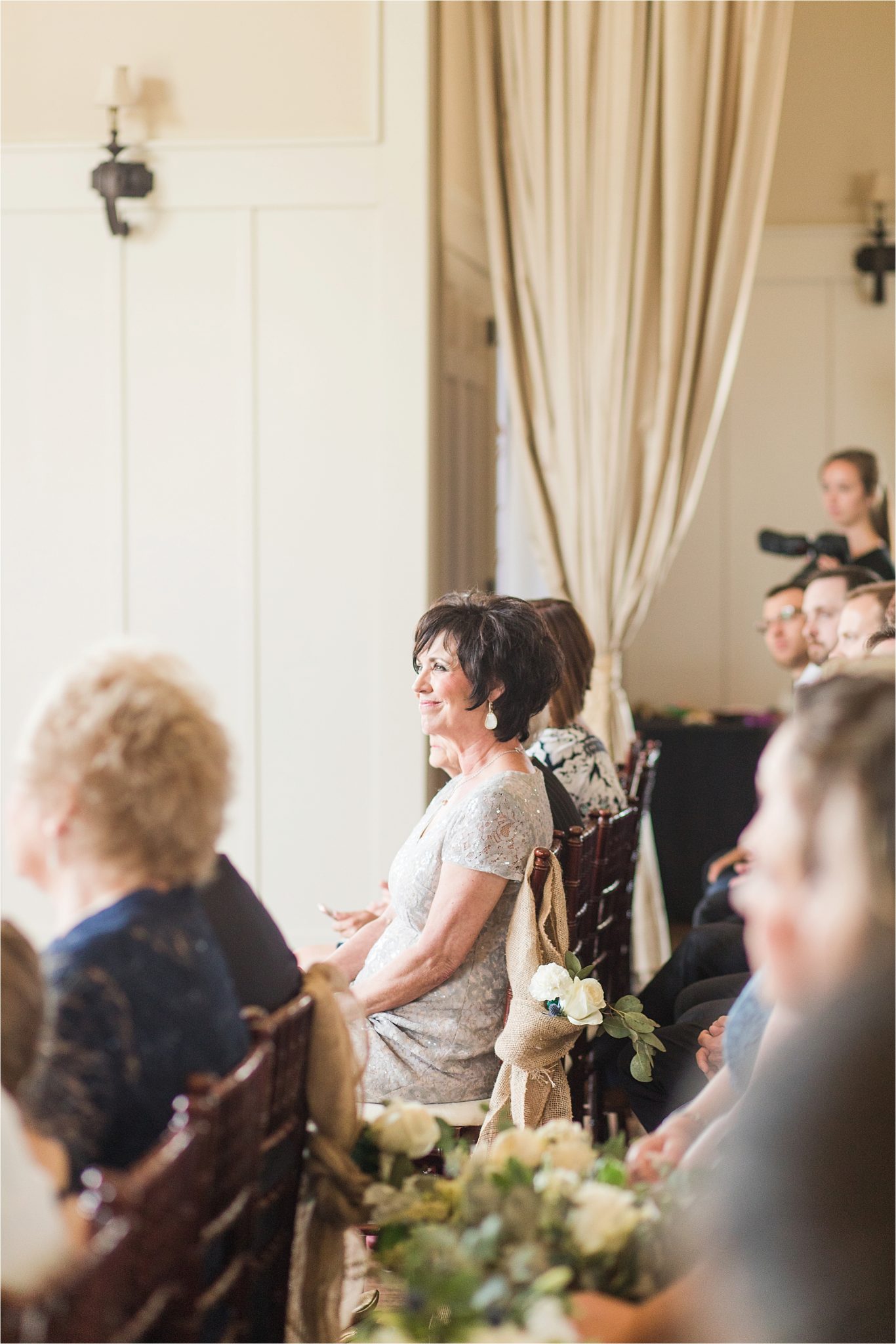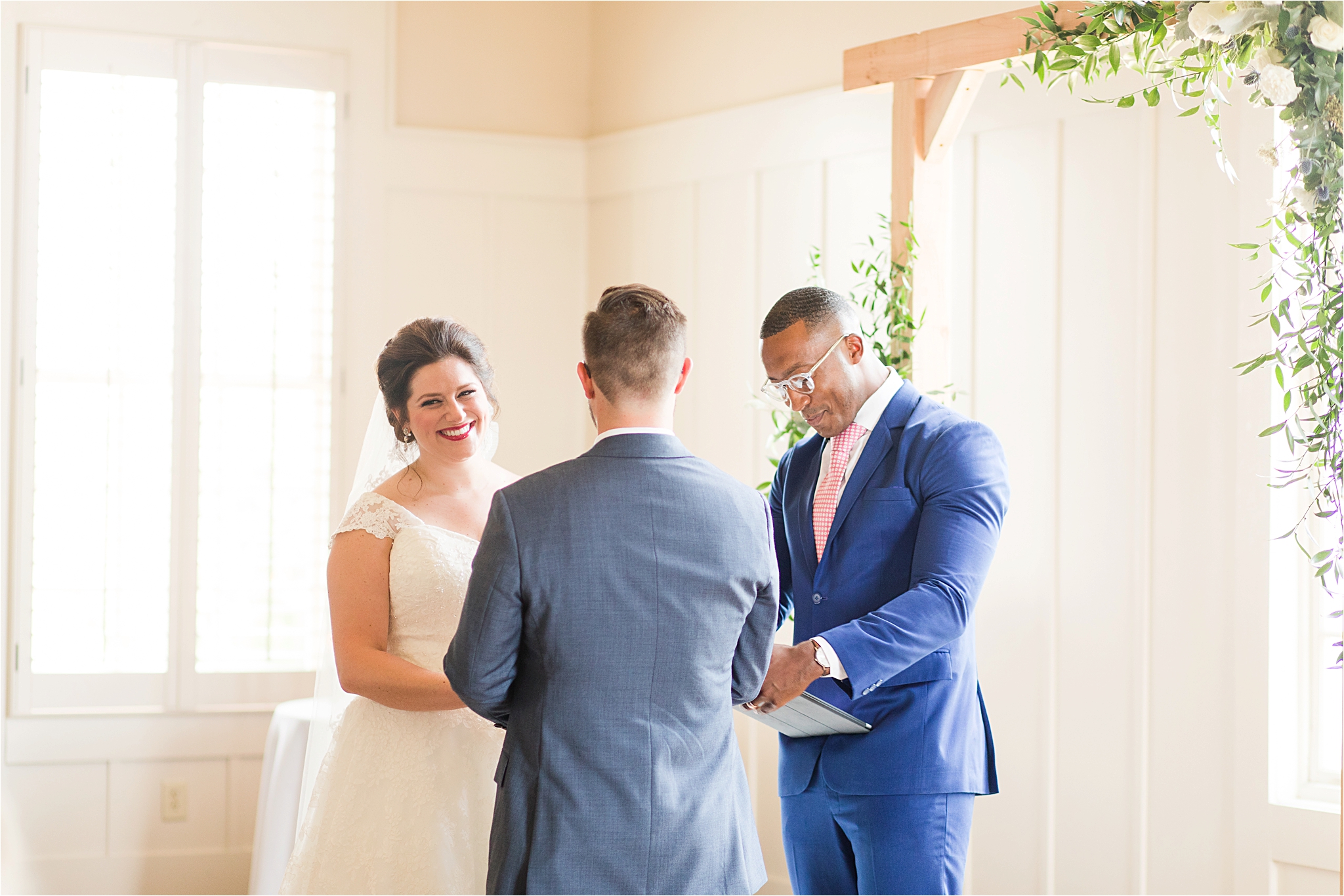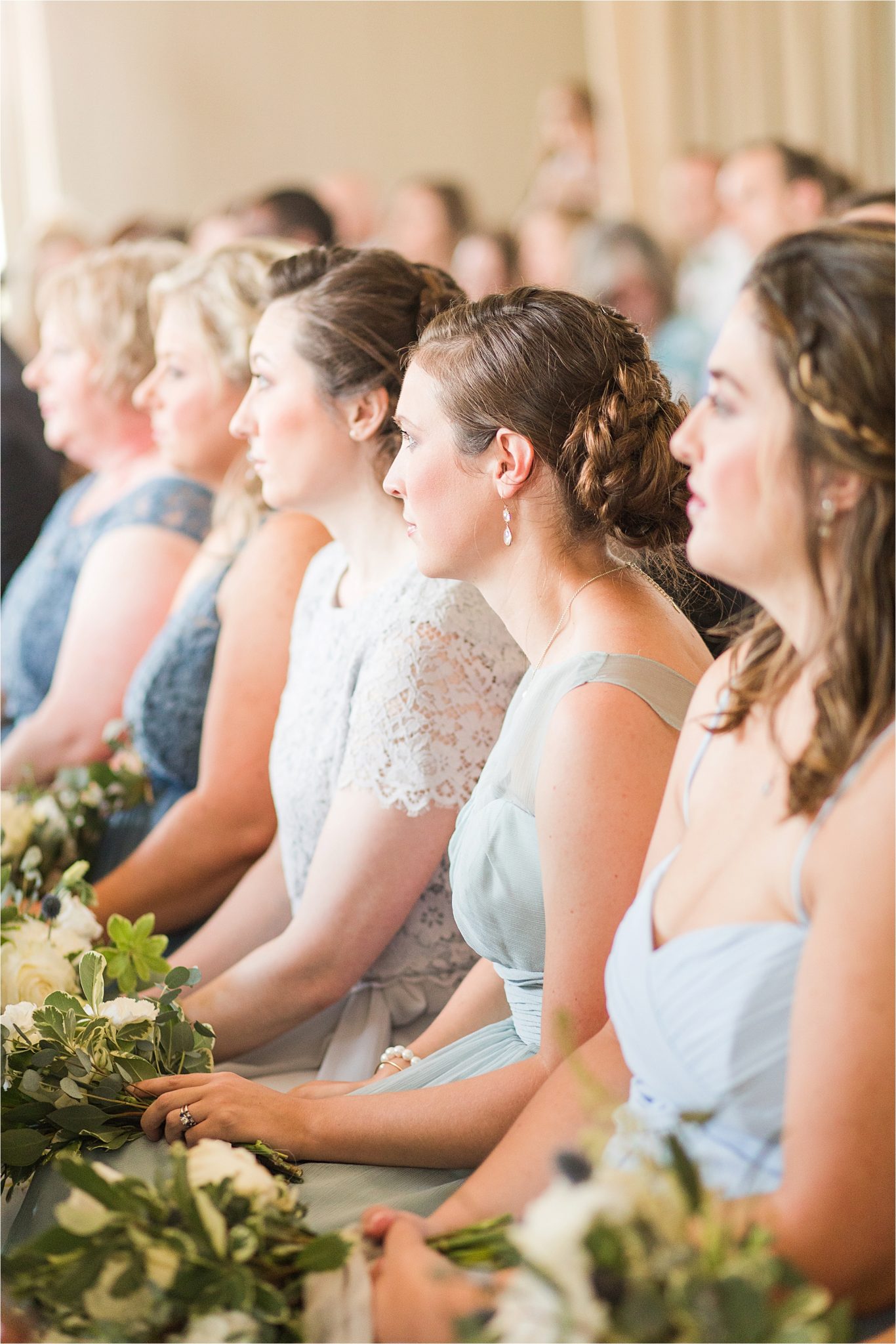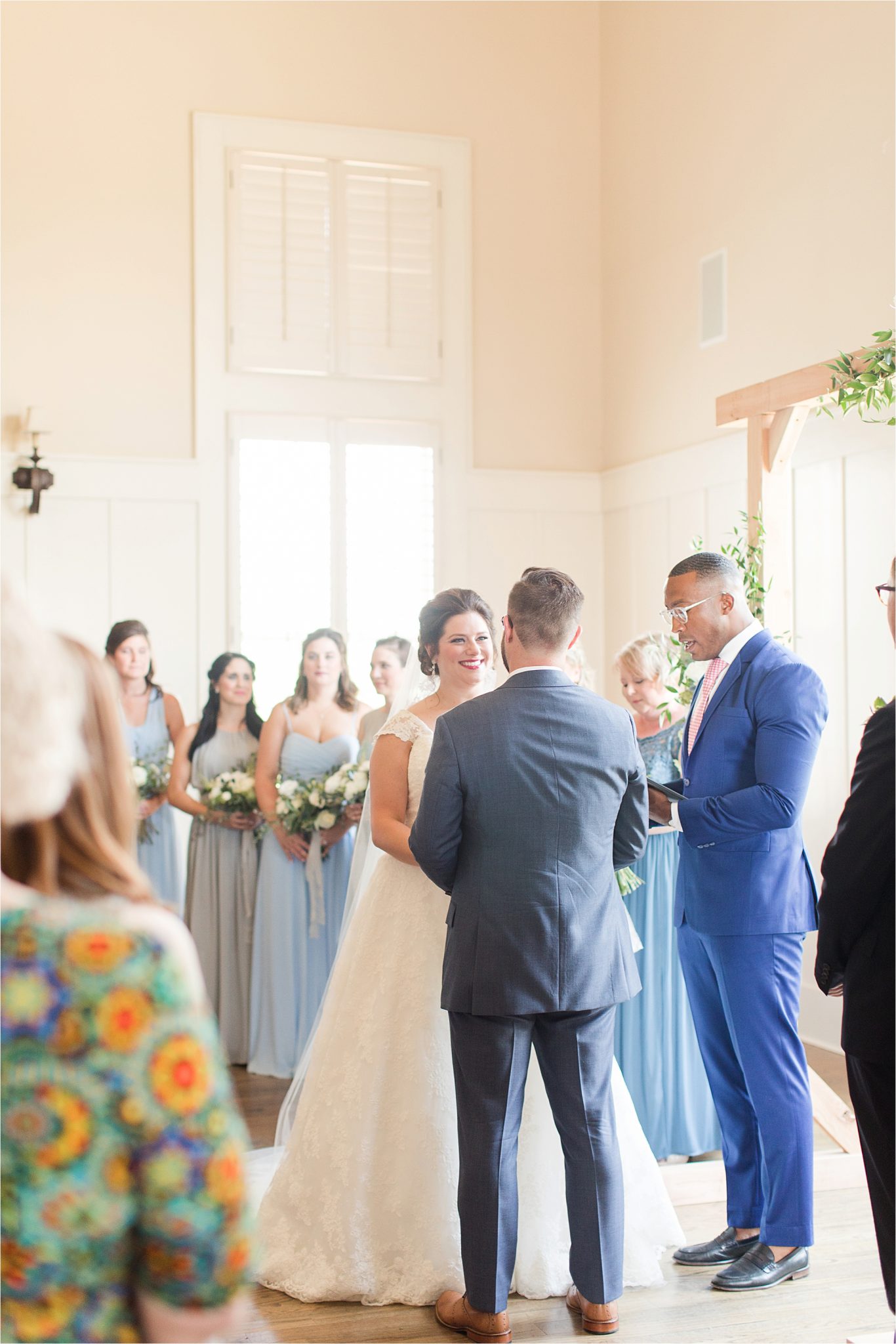 My husband, David, led the music for their ceremony… and my oh my was it beautiful….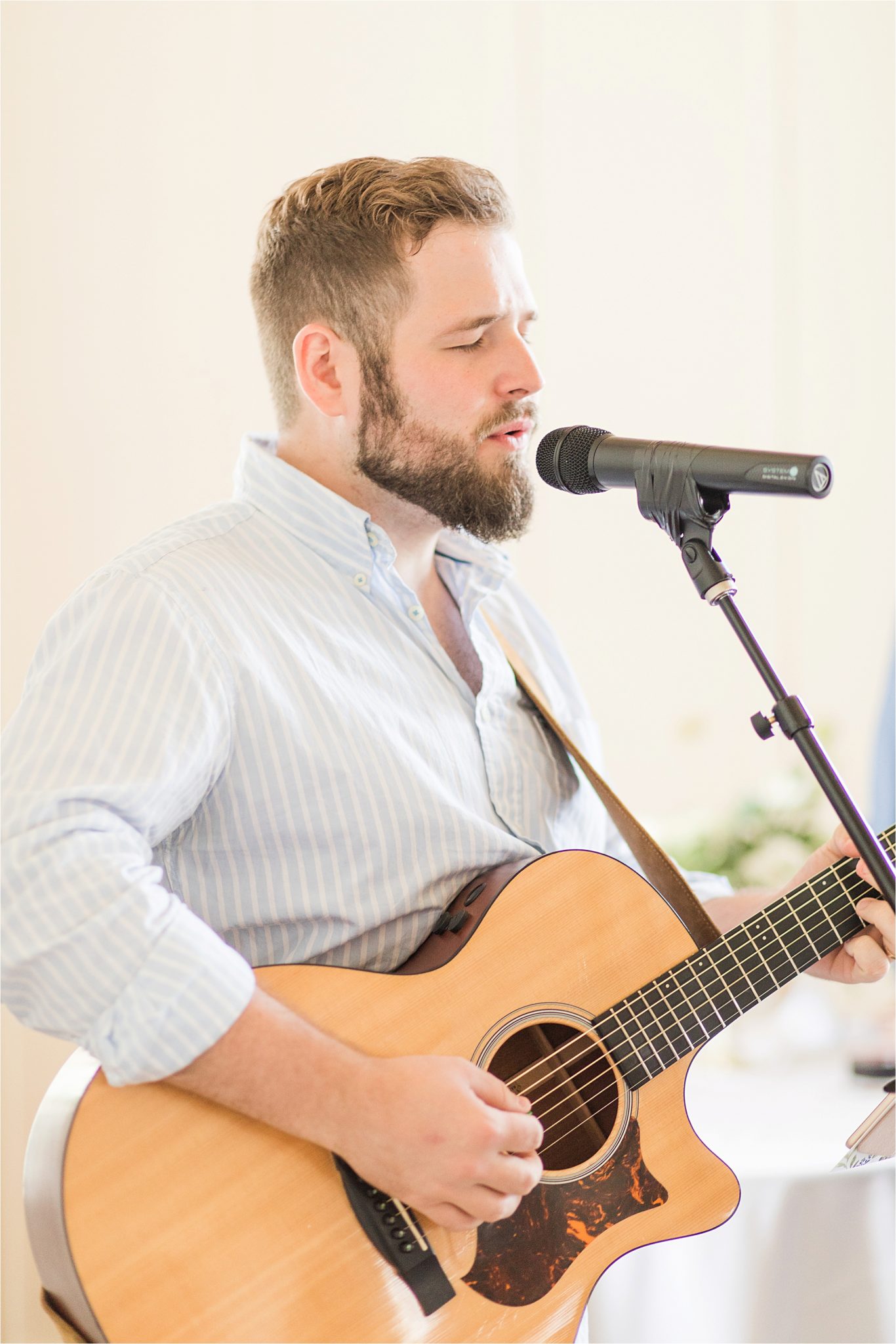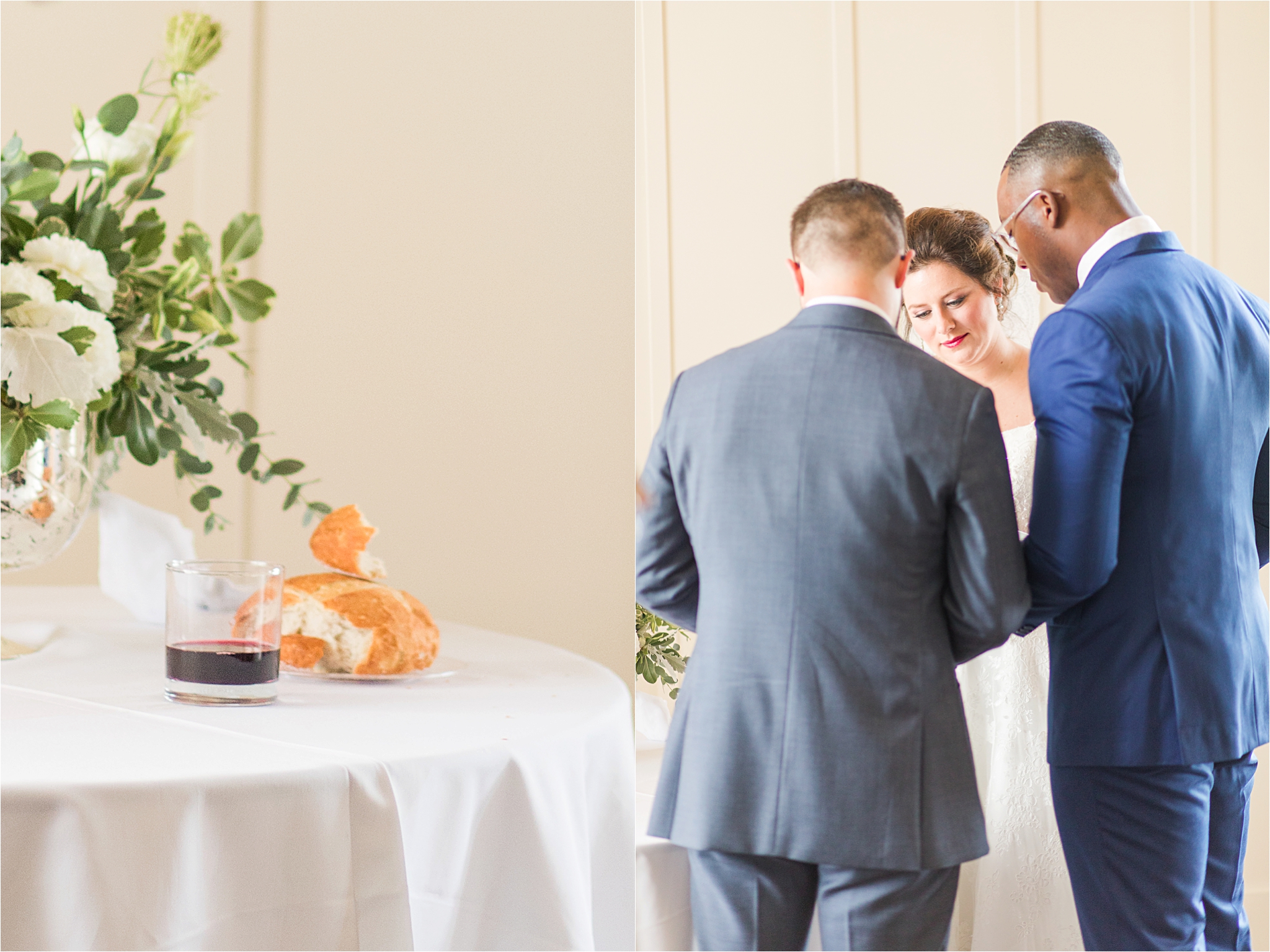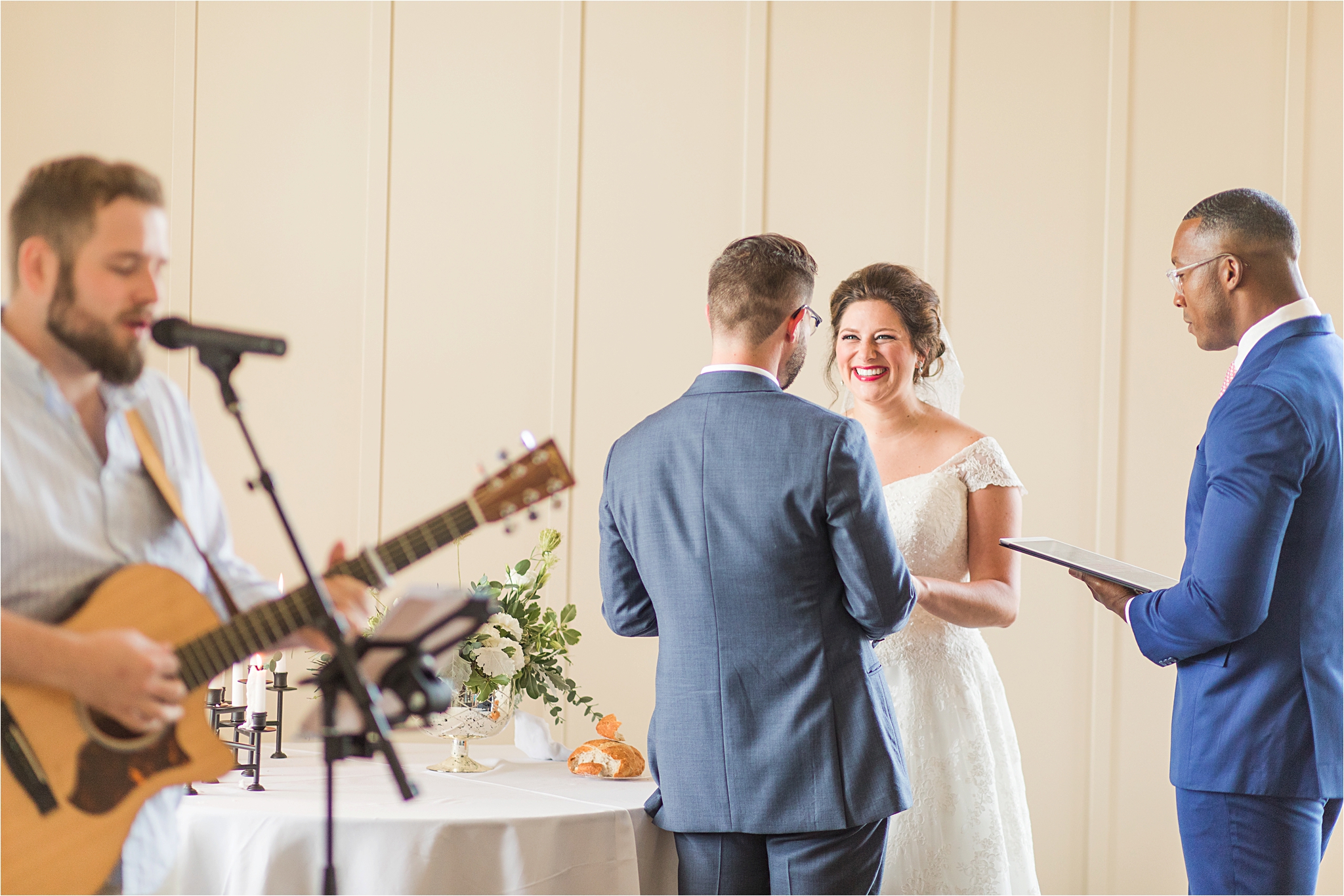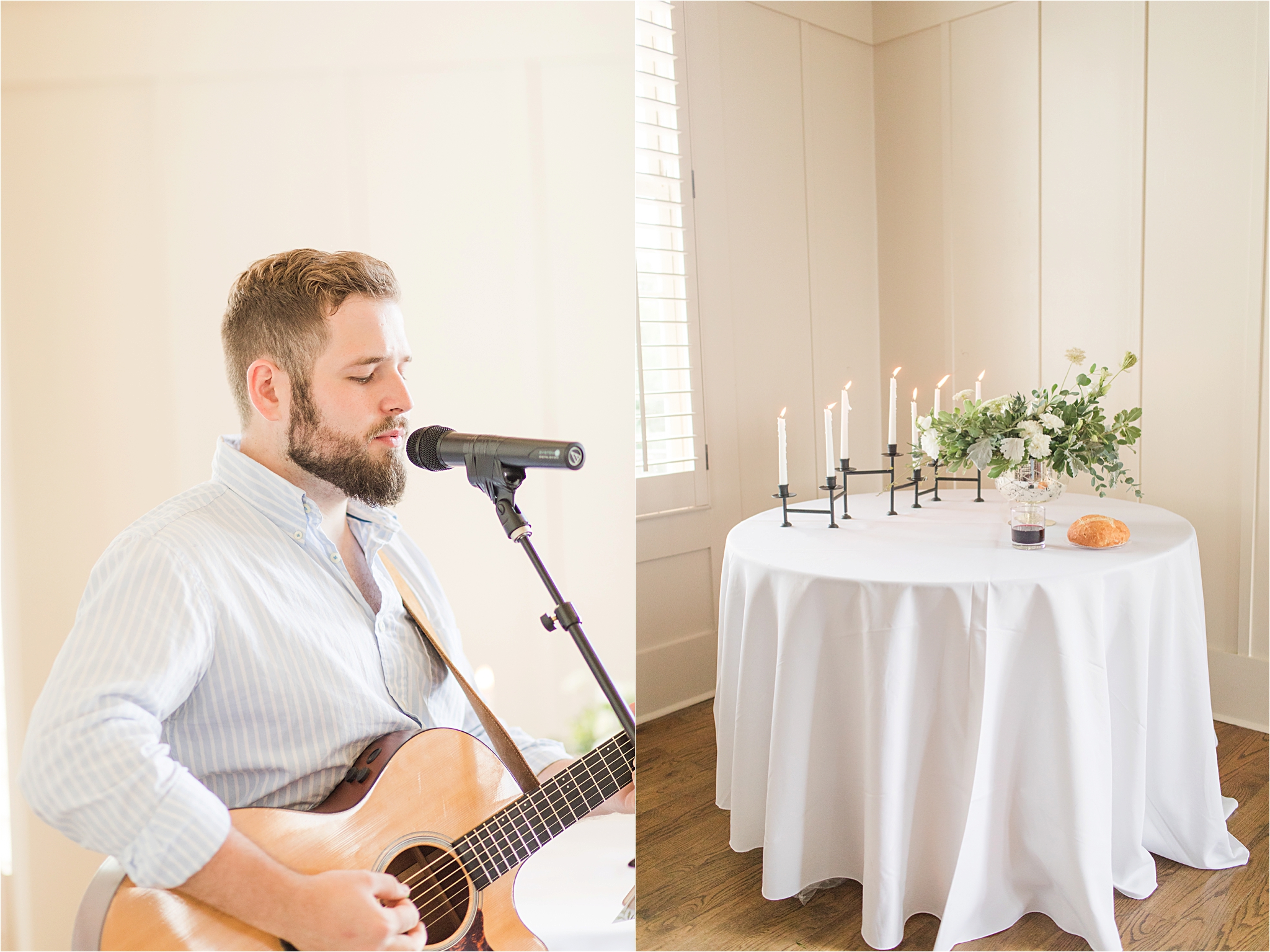 Miles + Meredyth had their closest friends and family pray over them during their ceremony…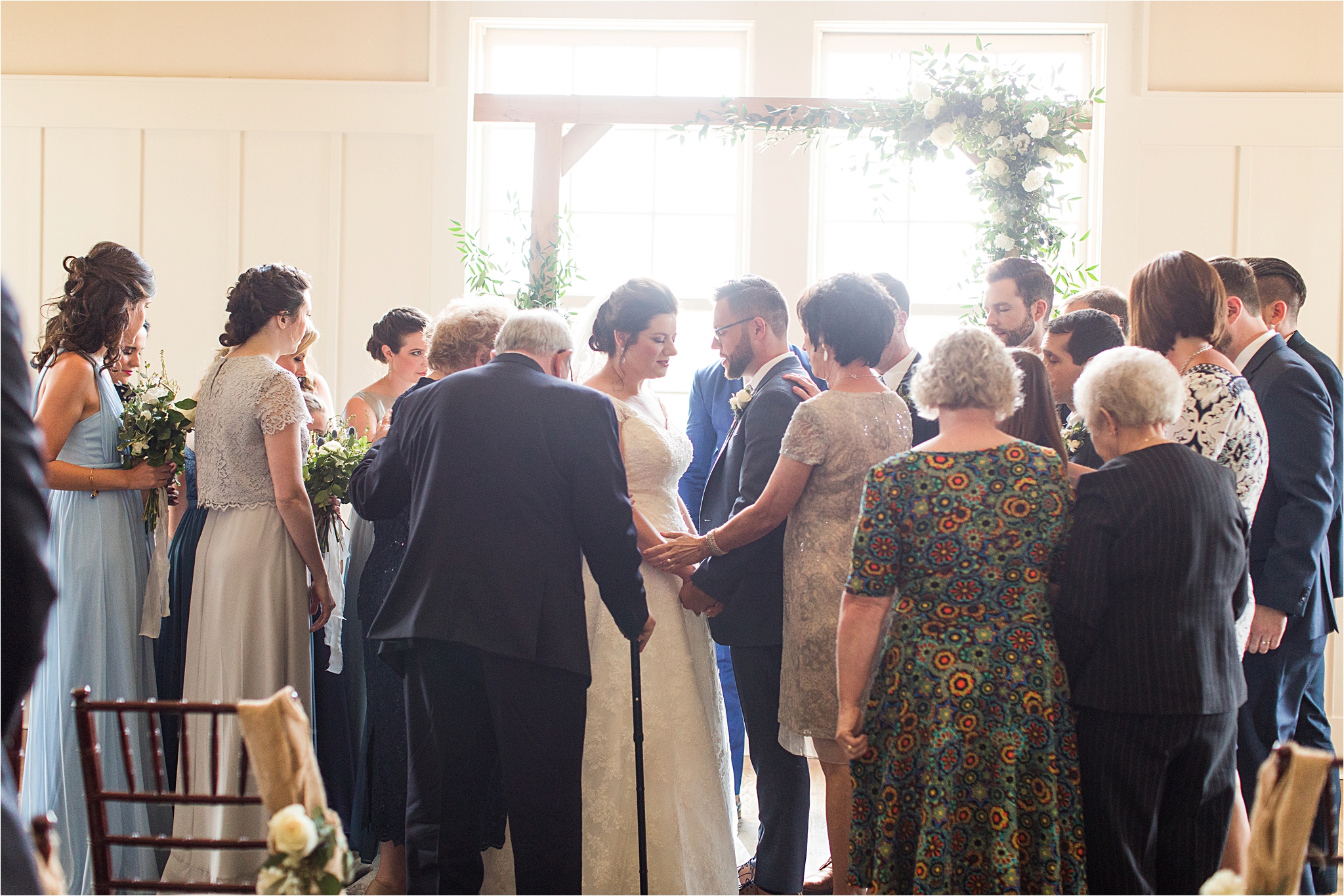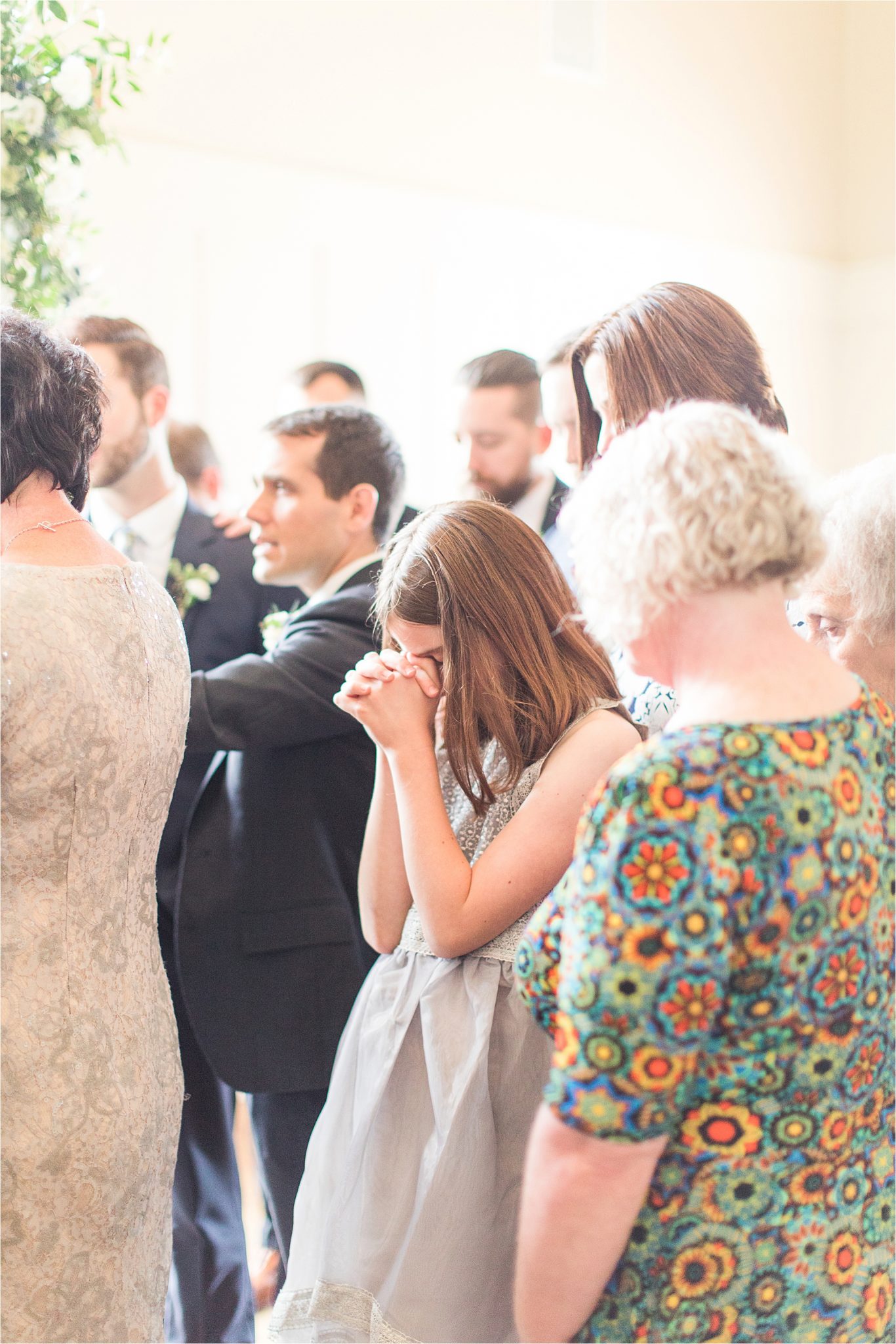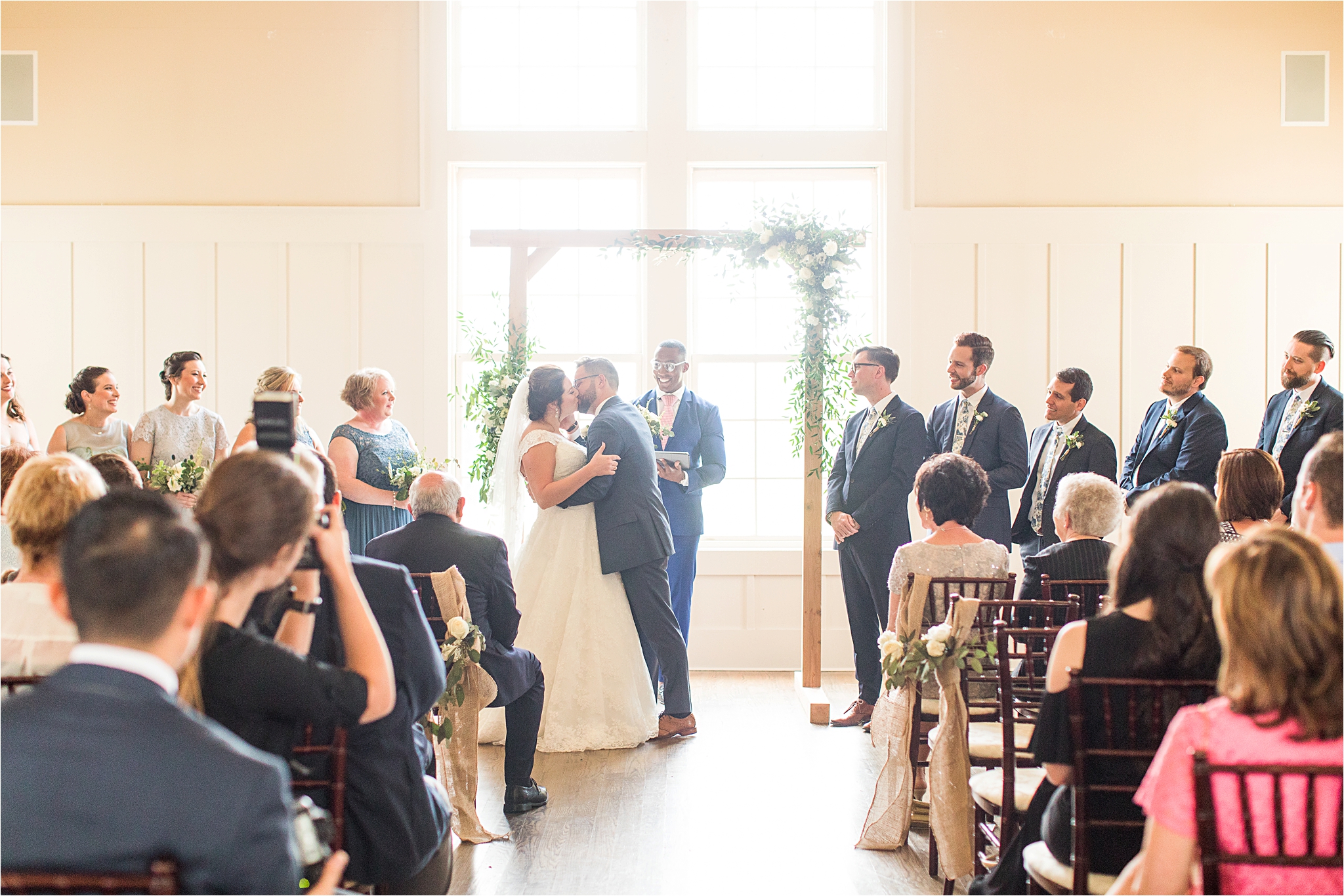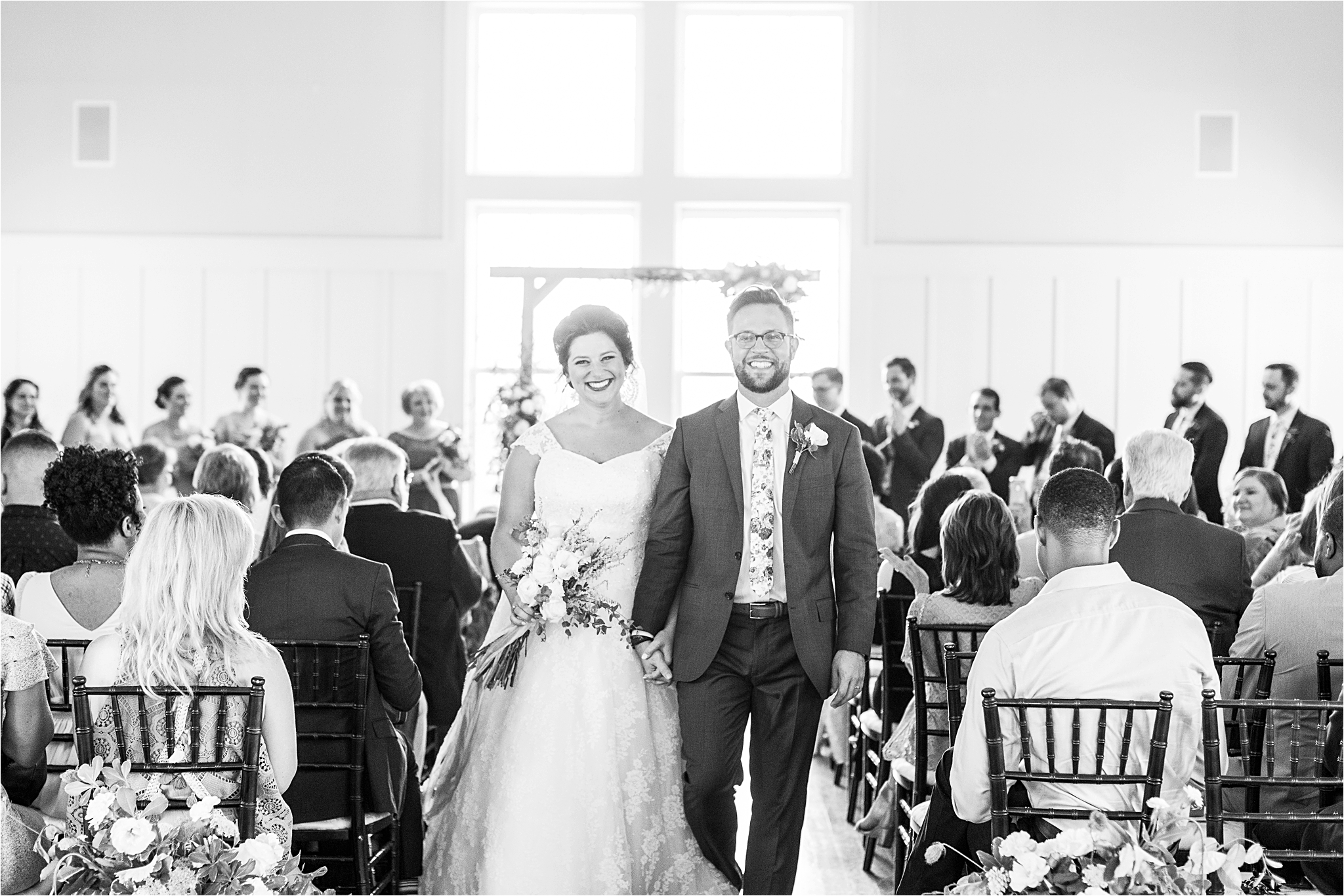 Such a perfect bridal party!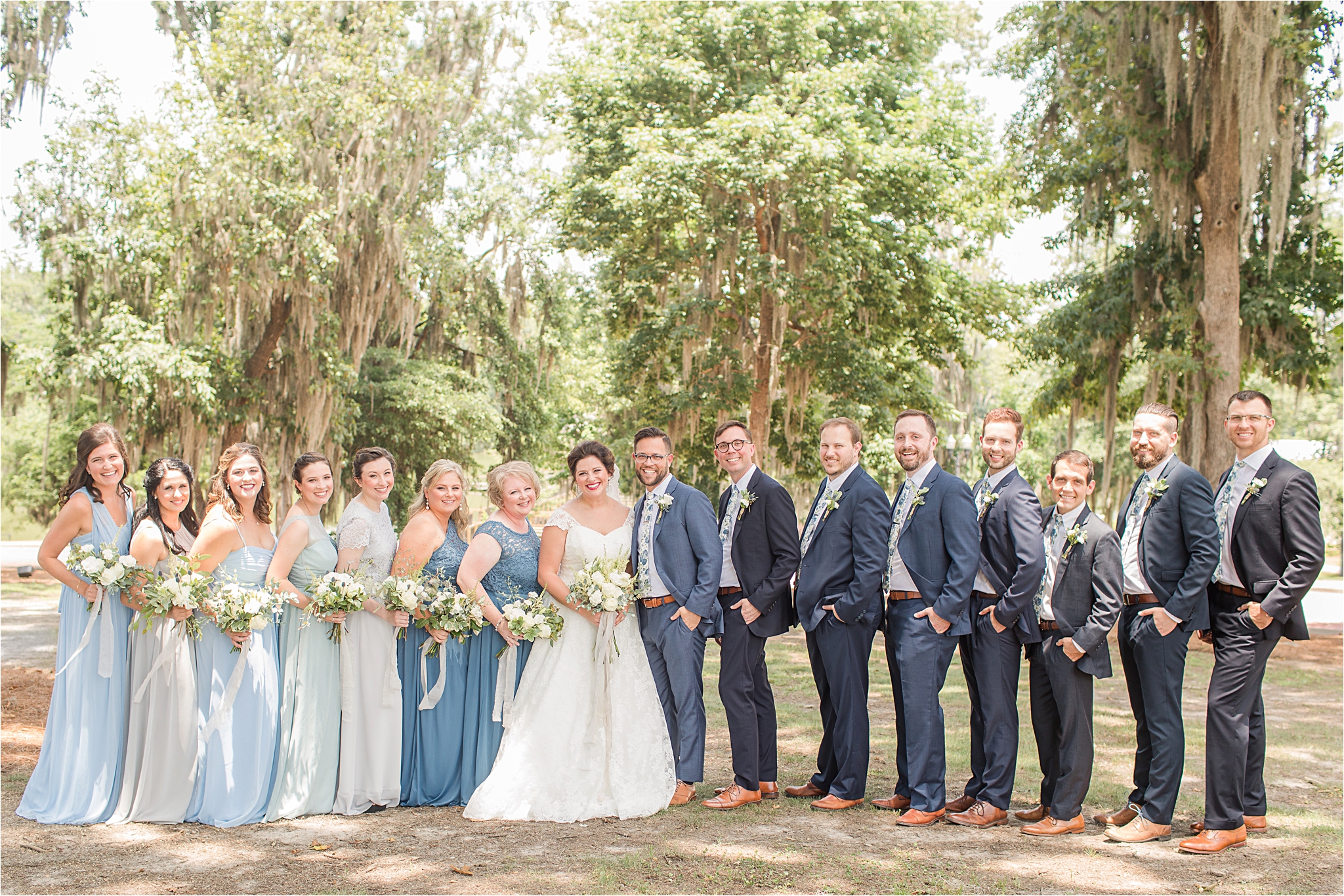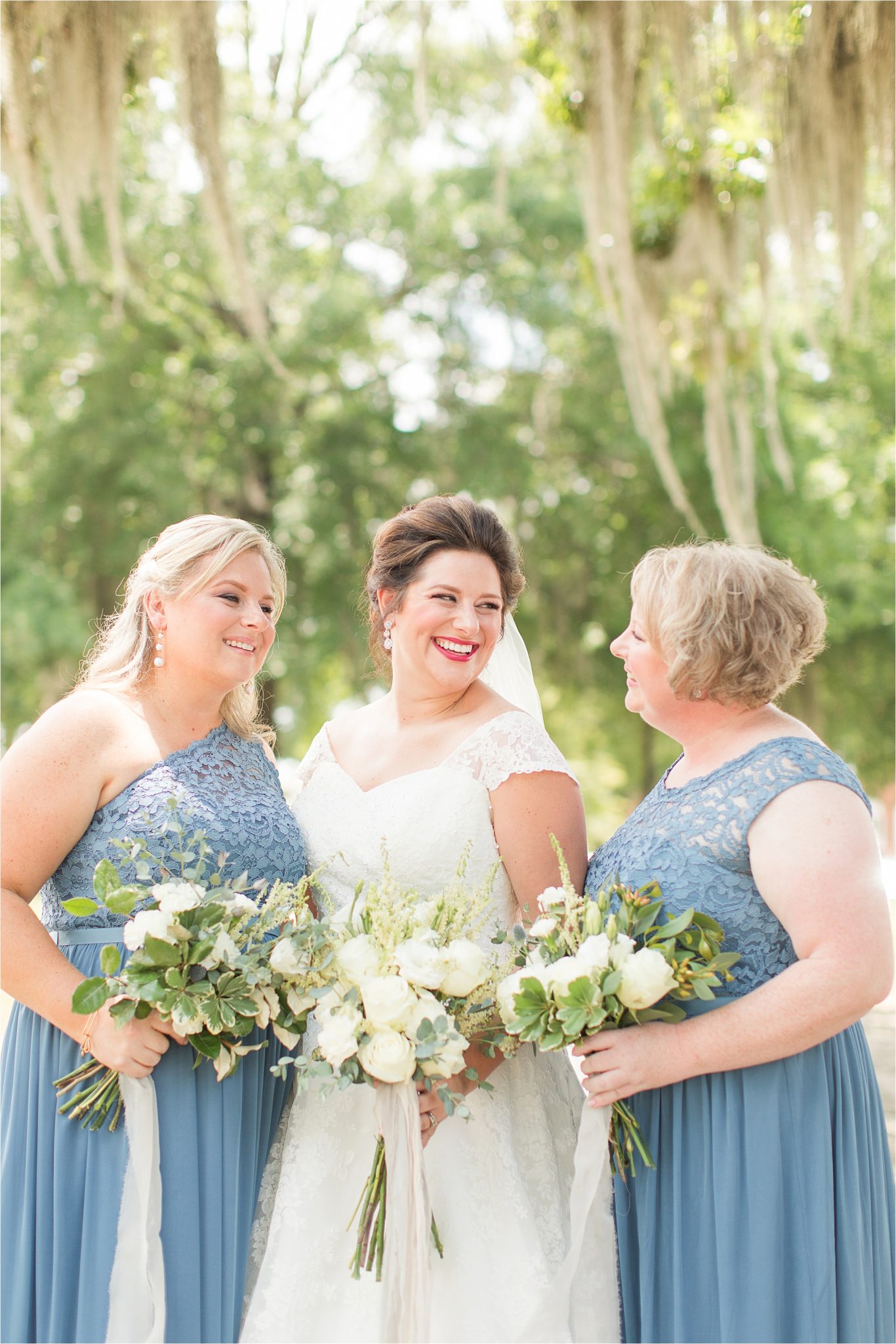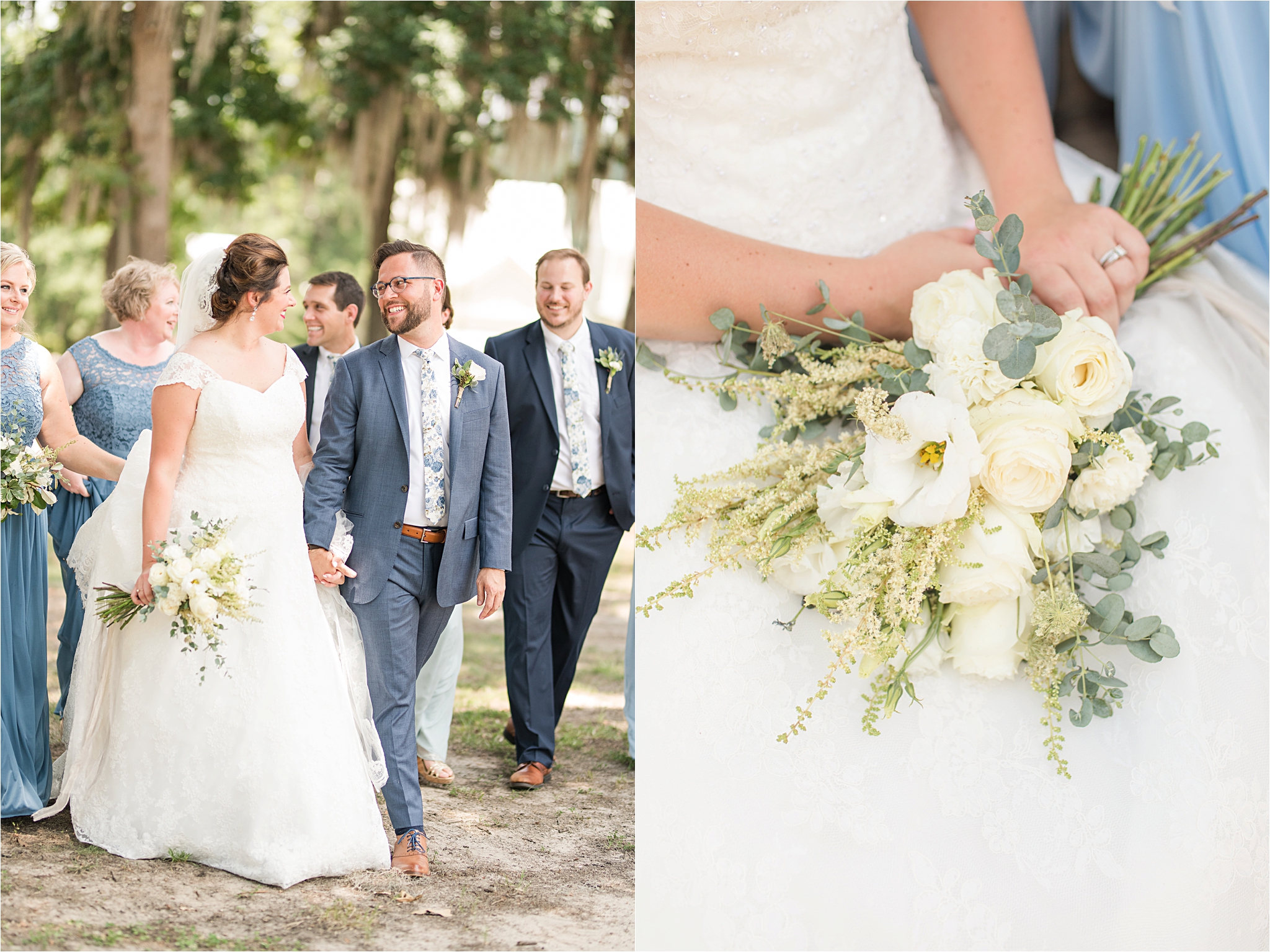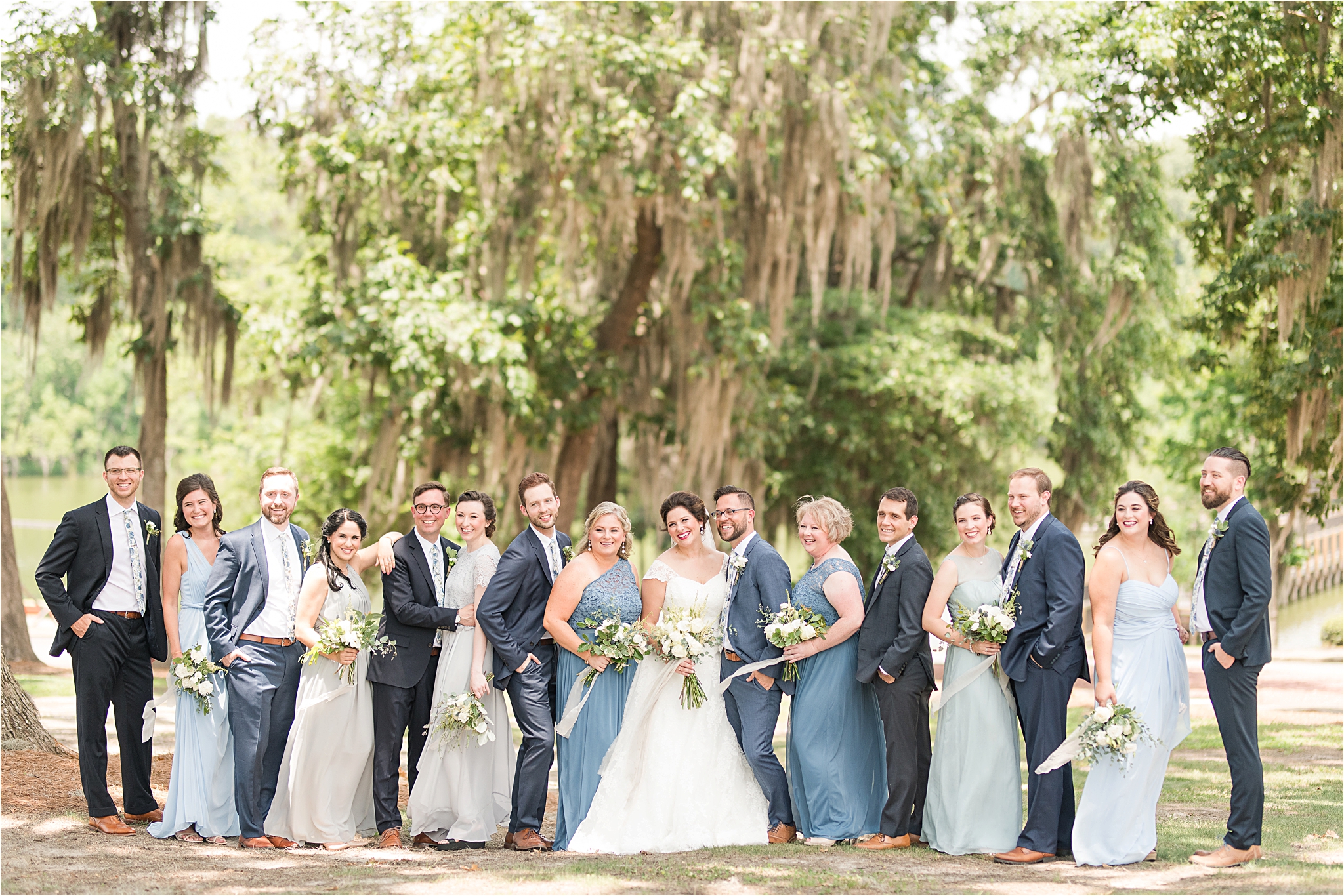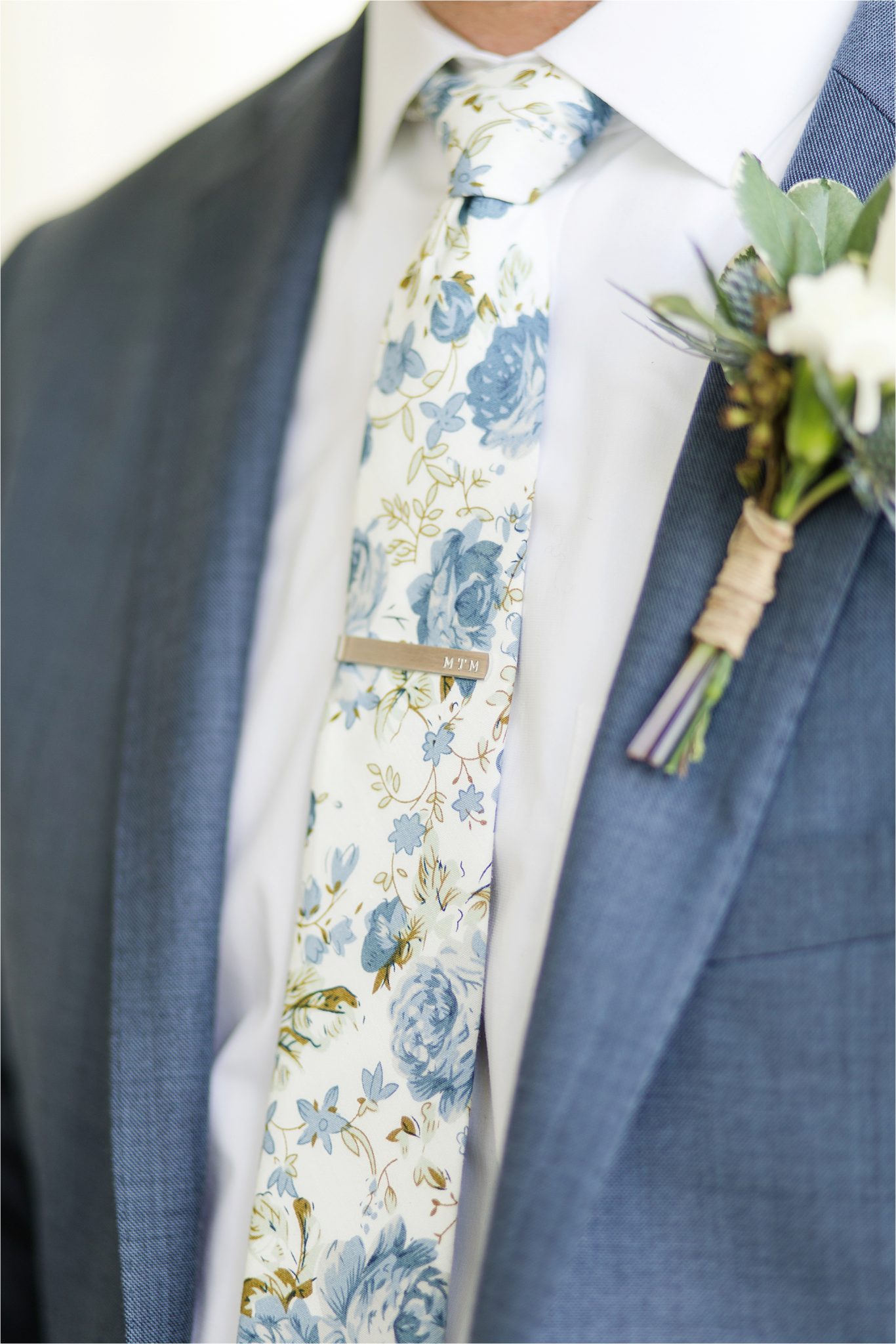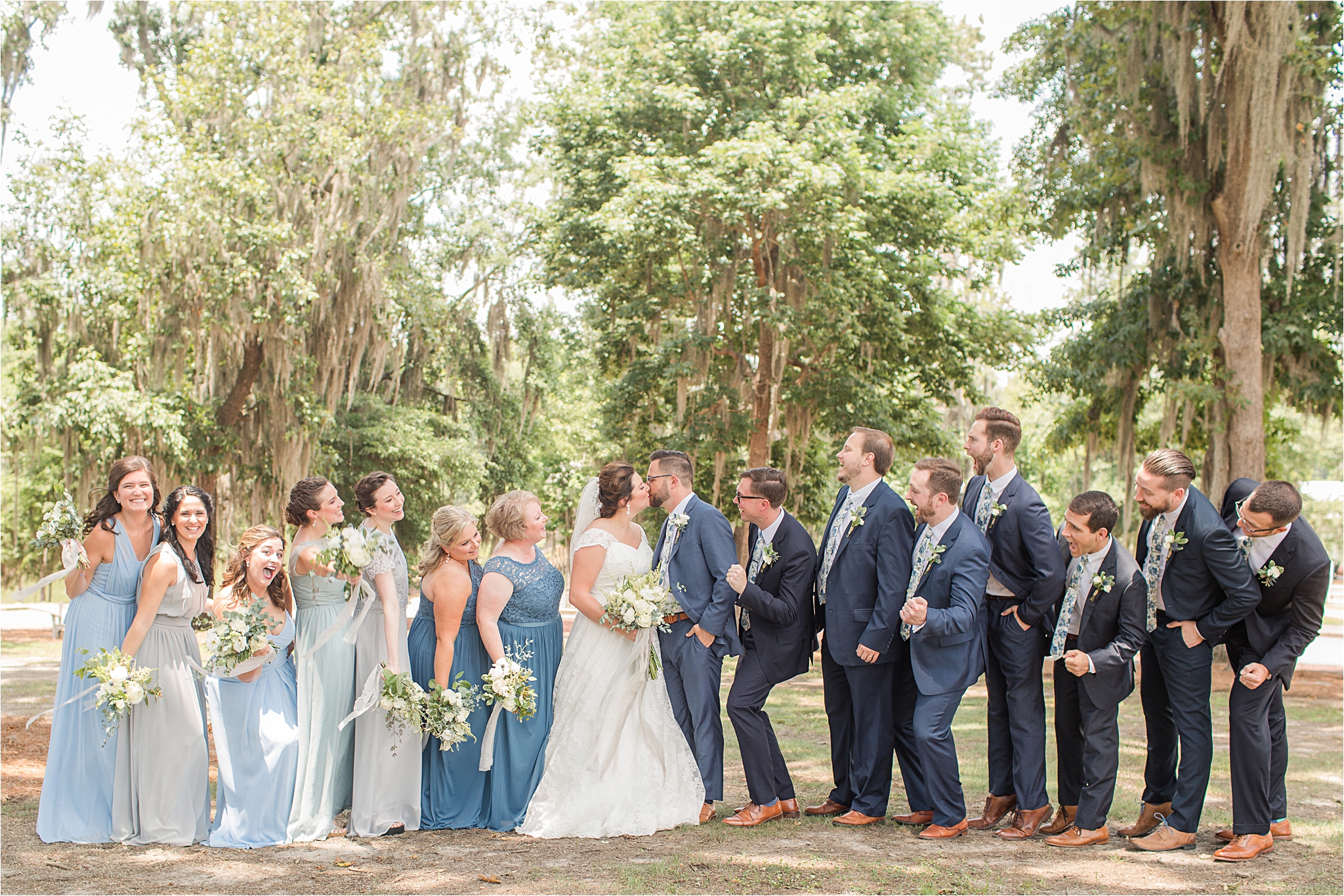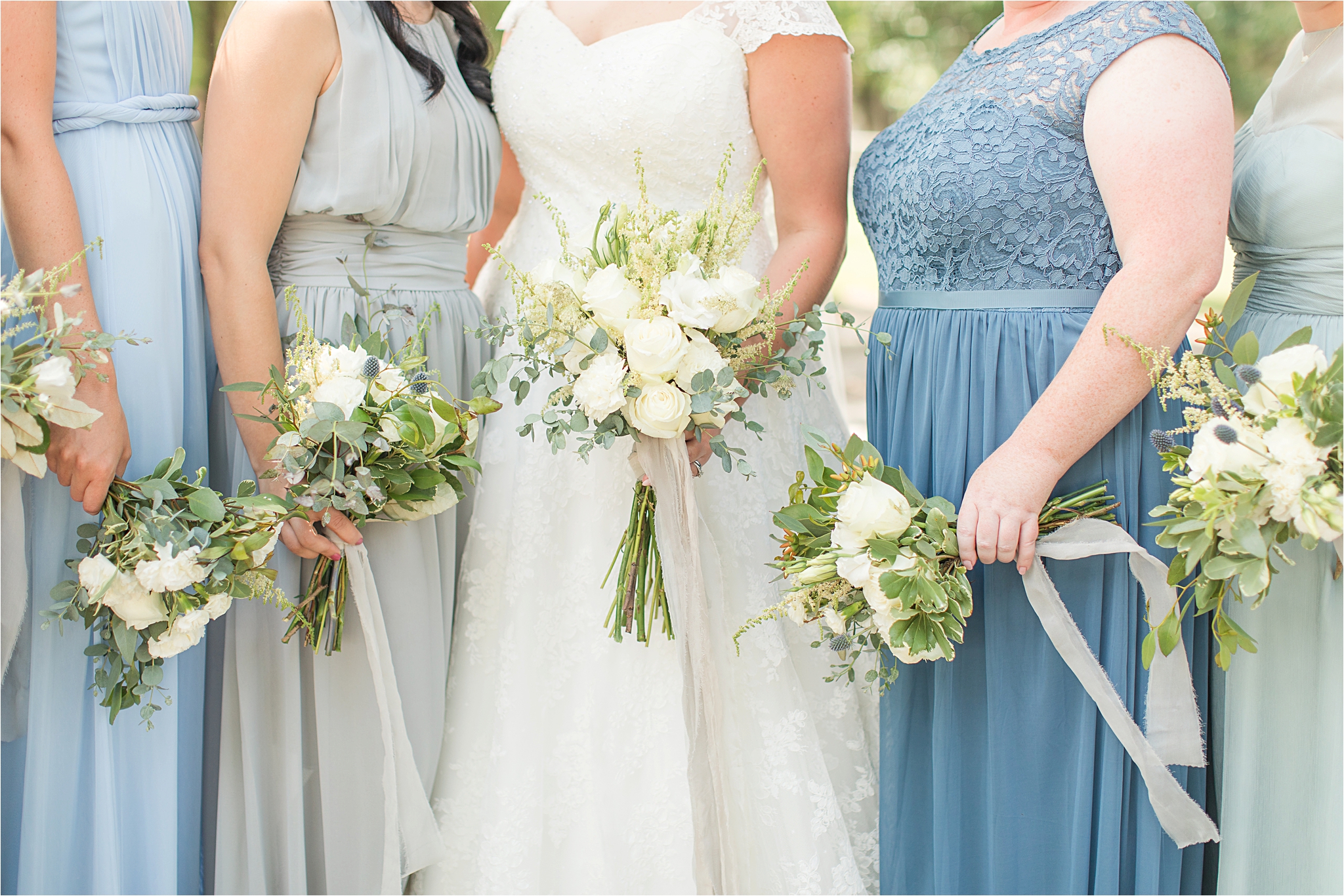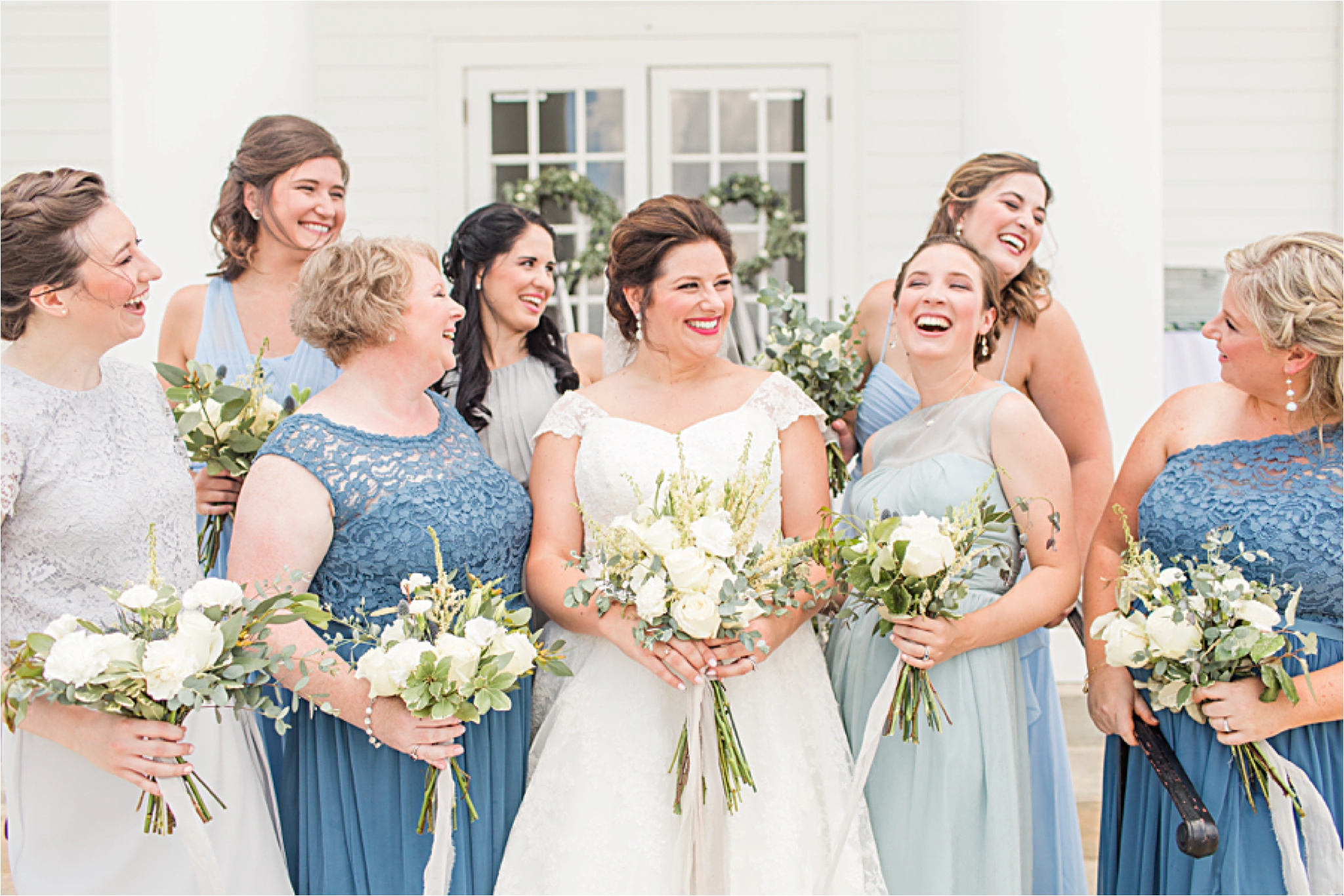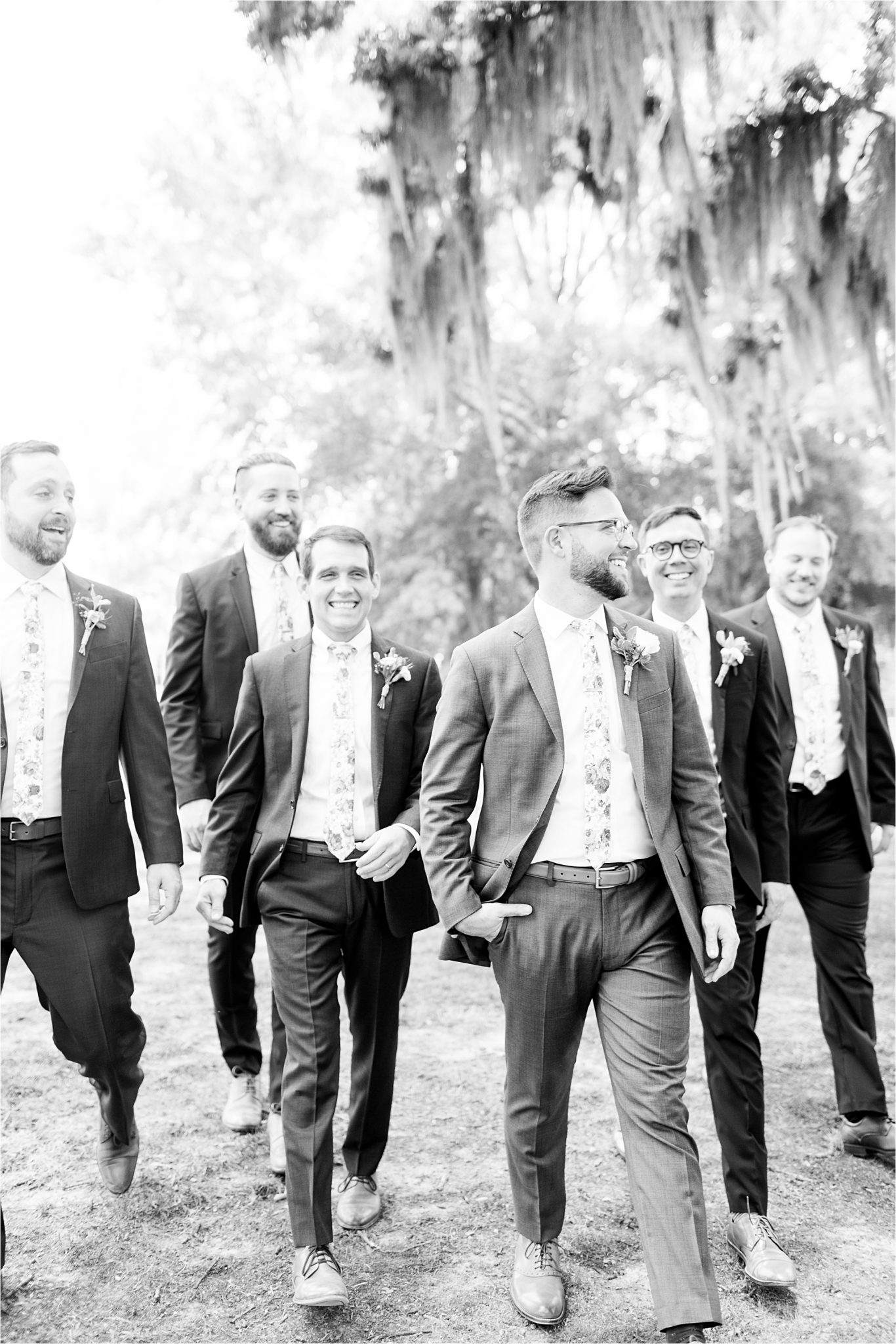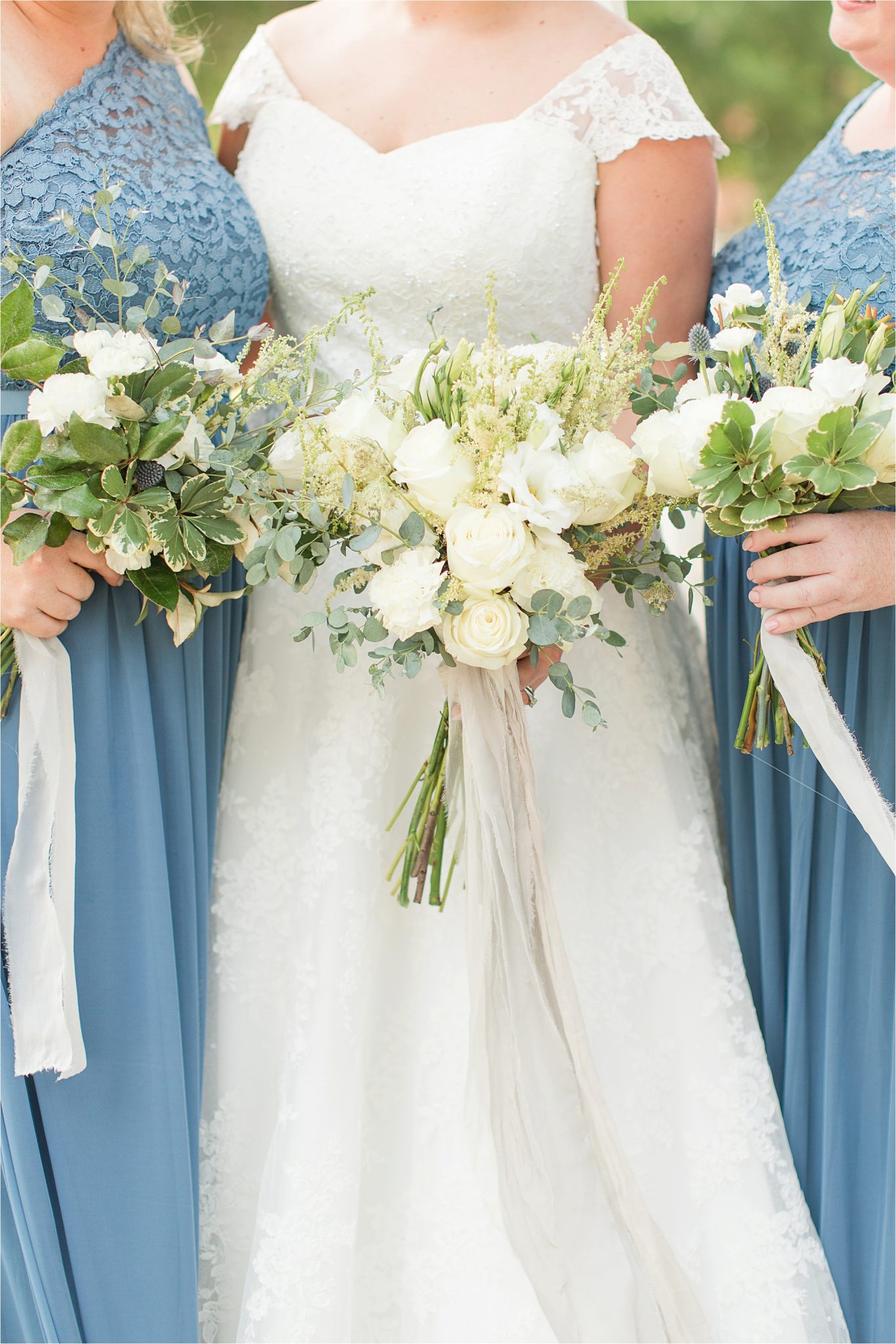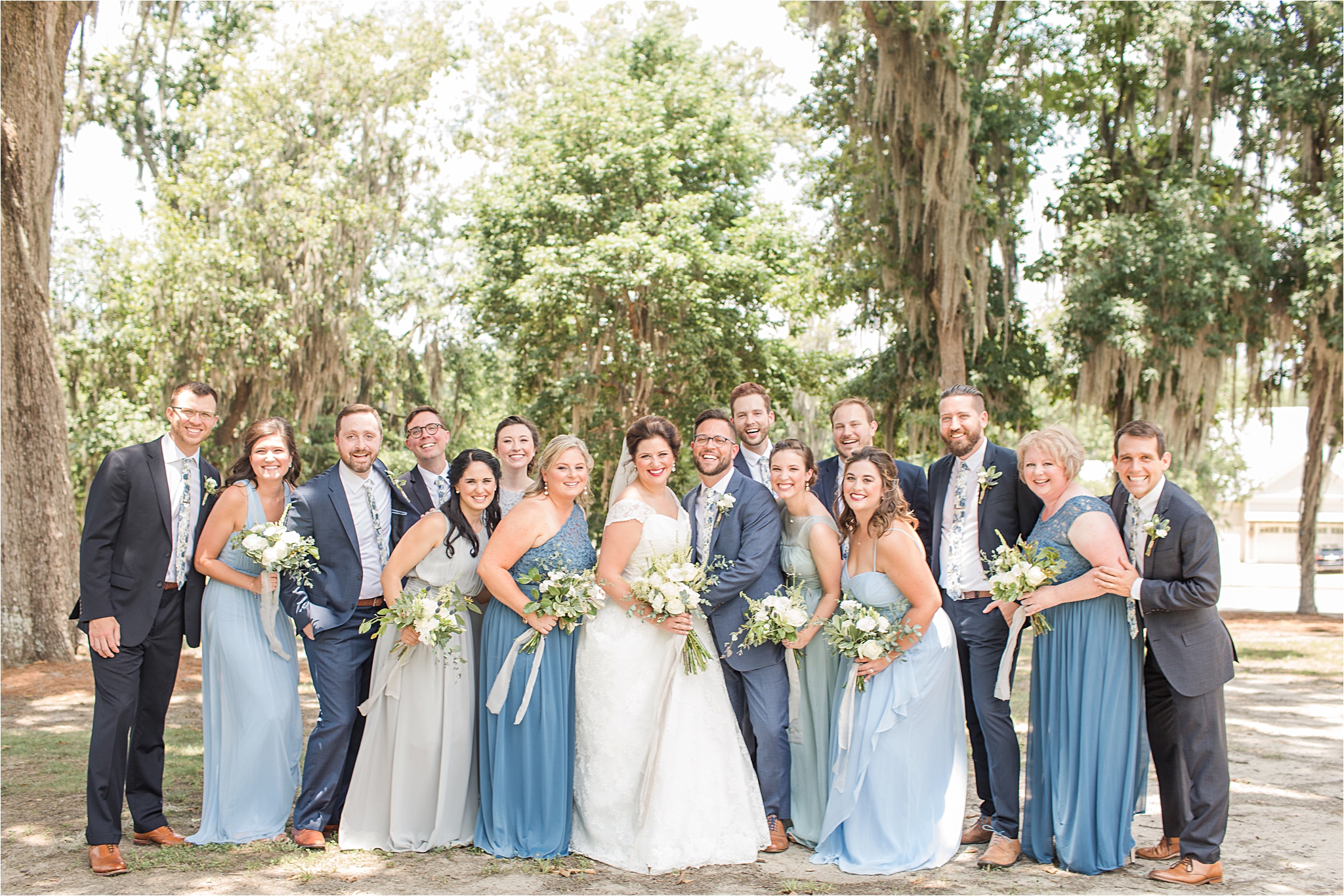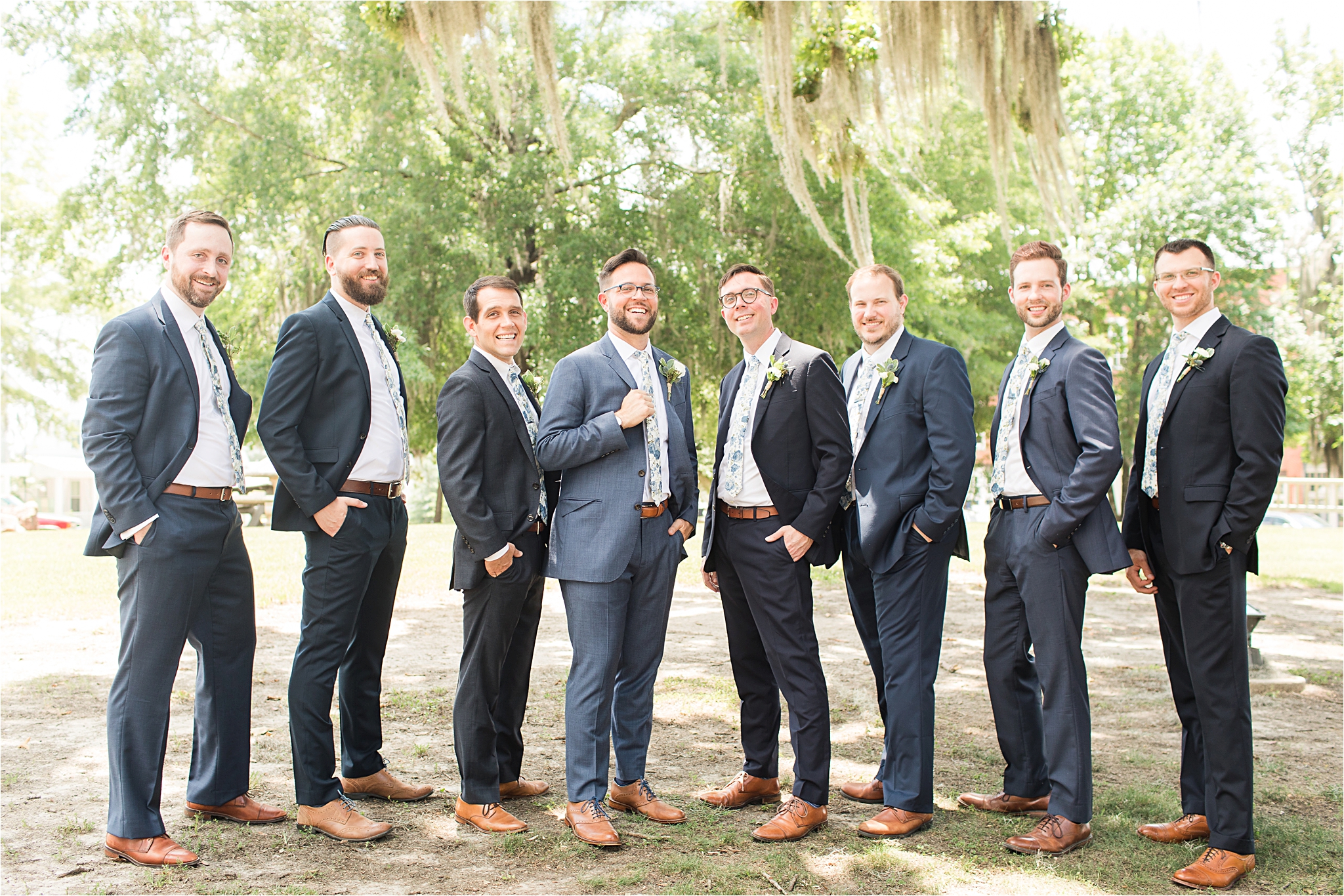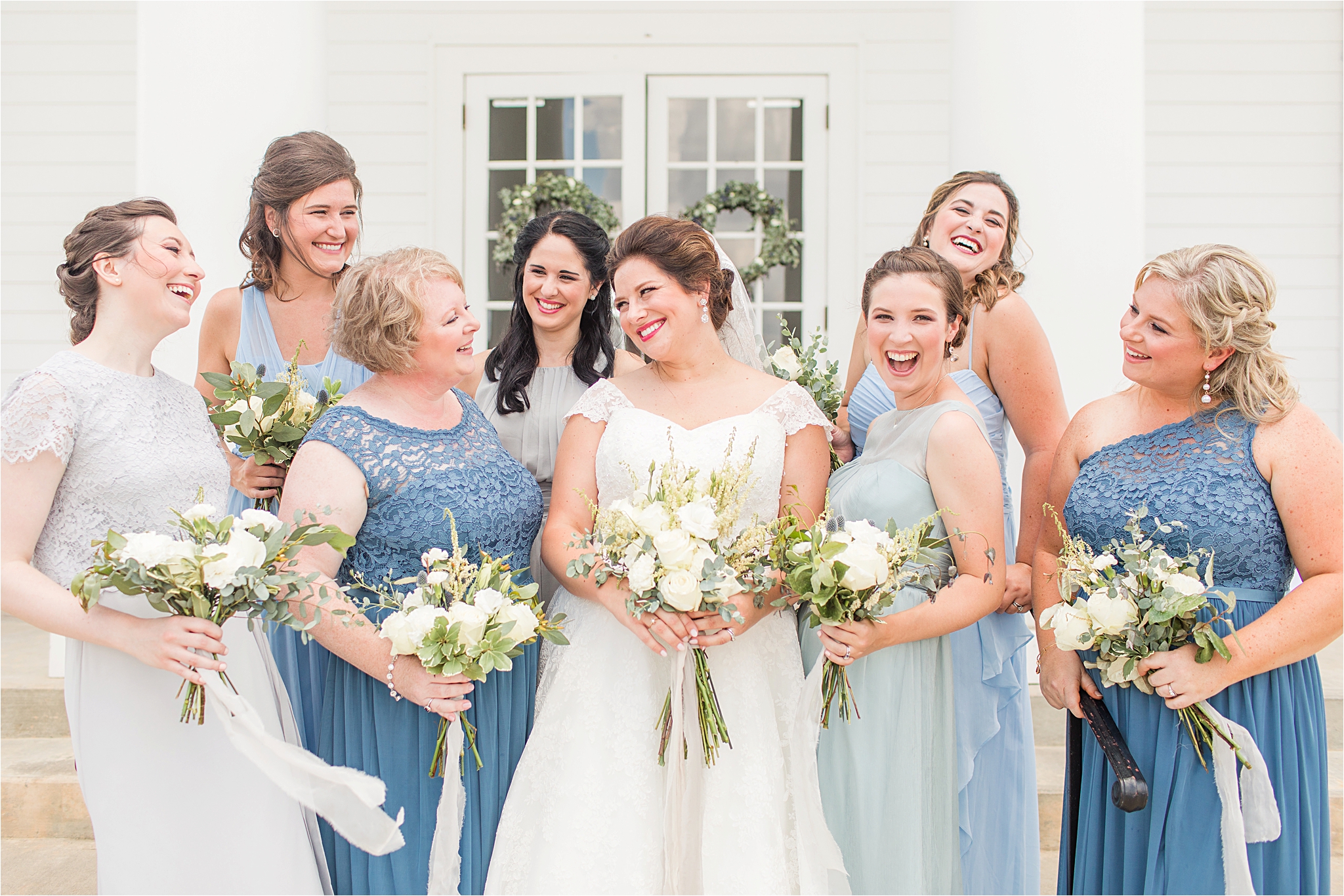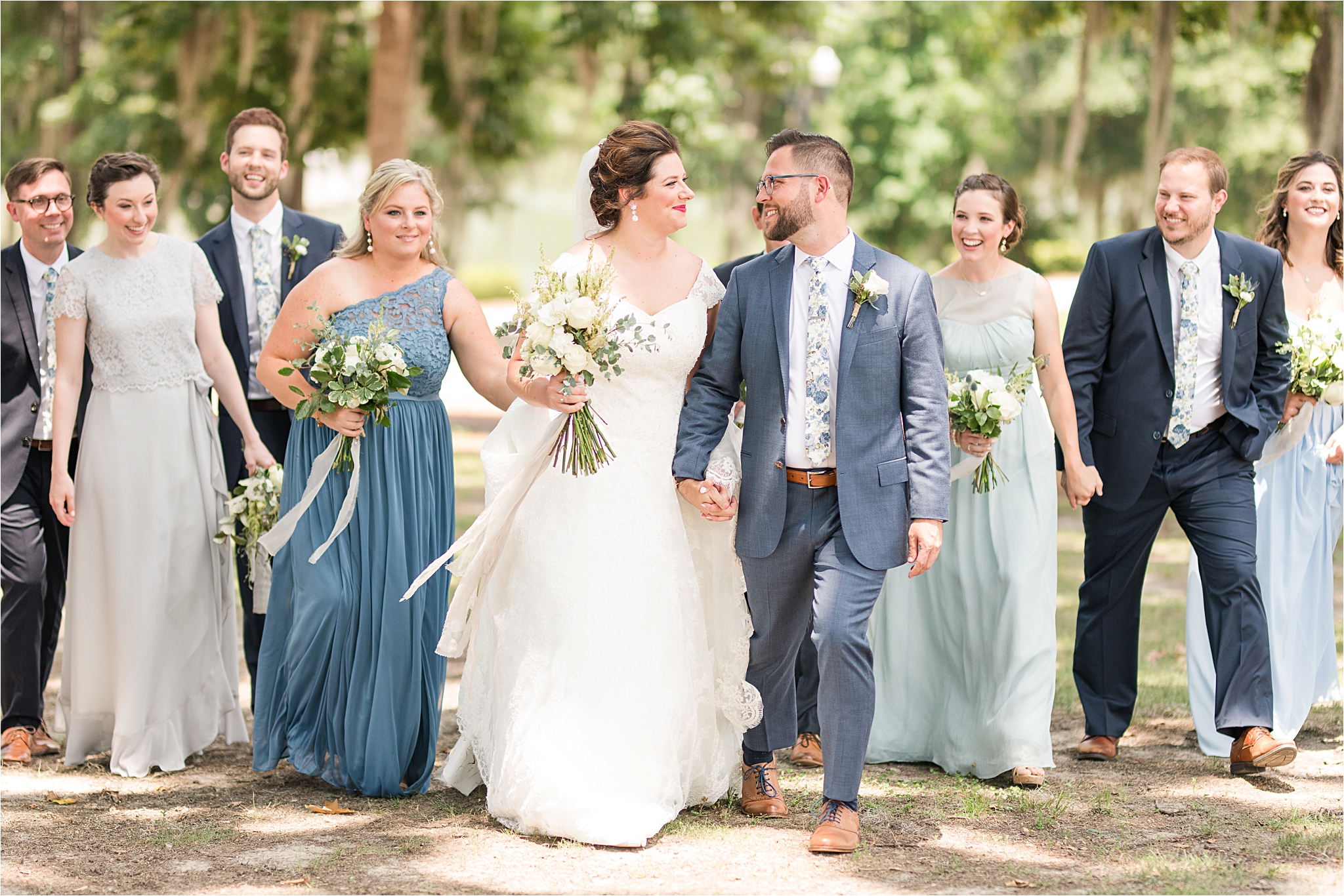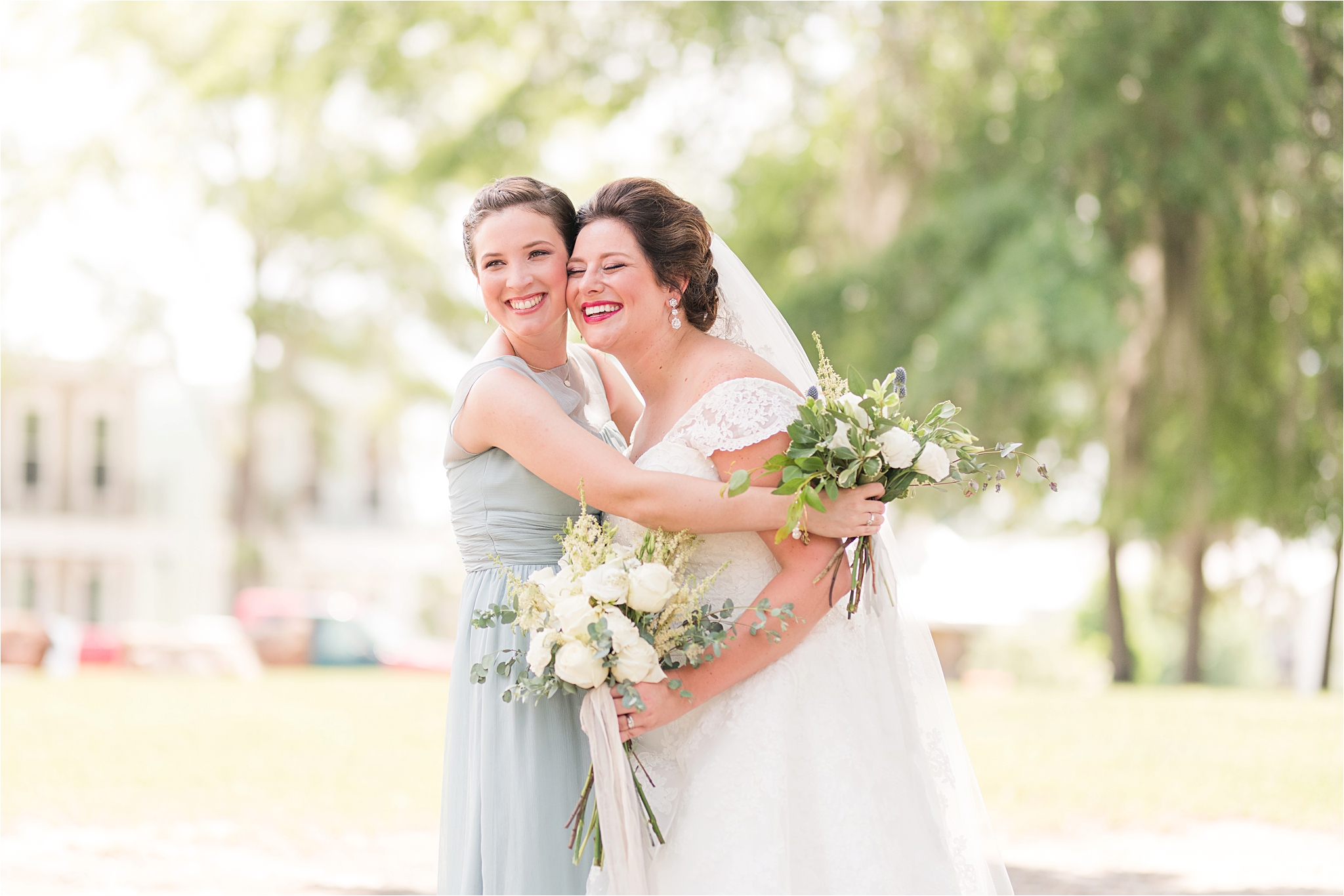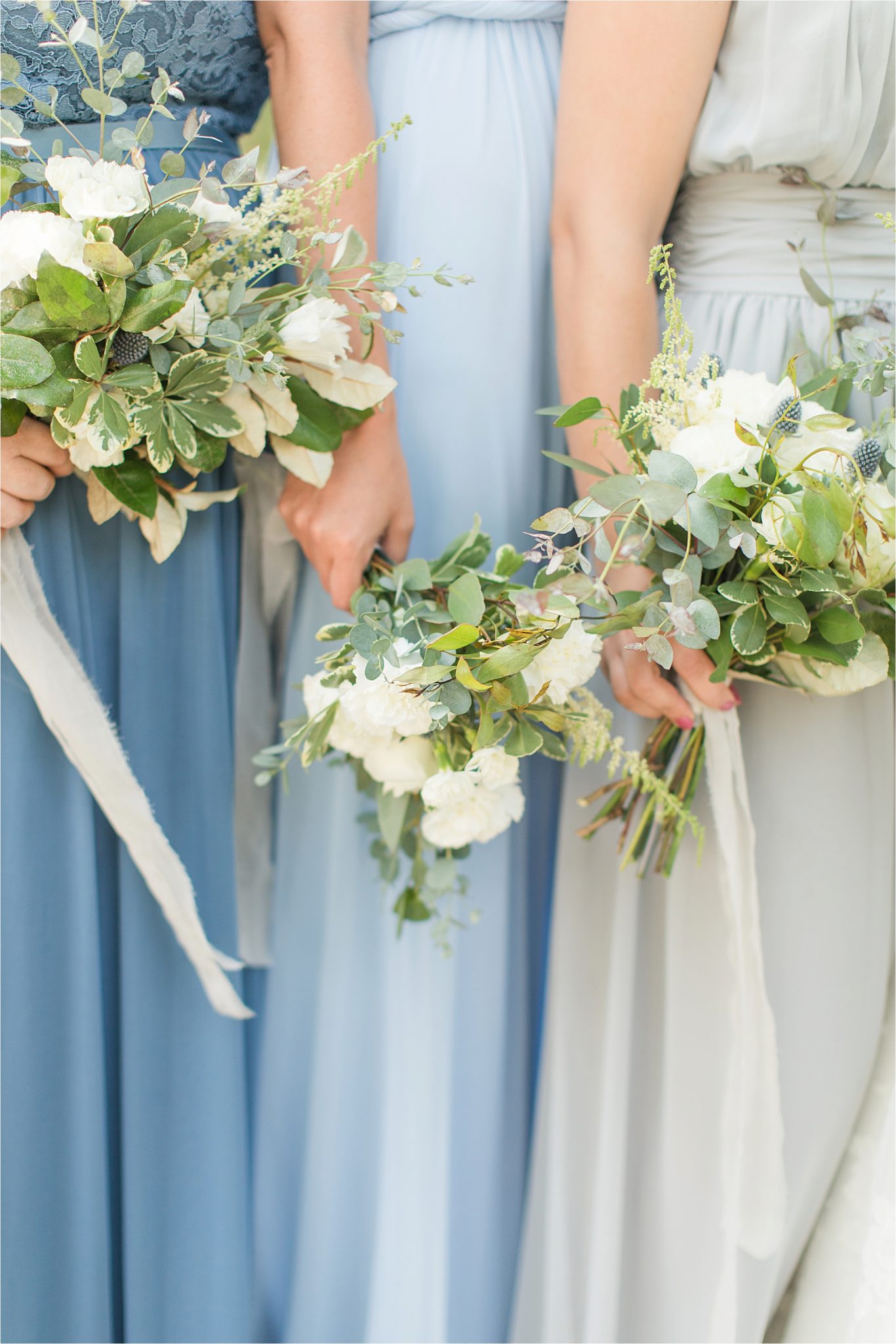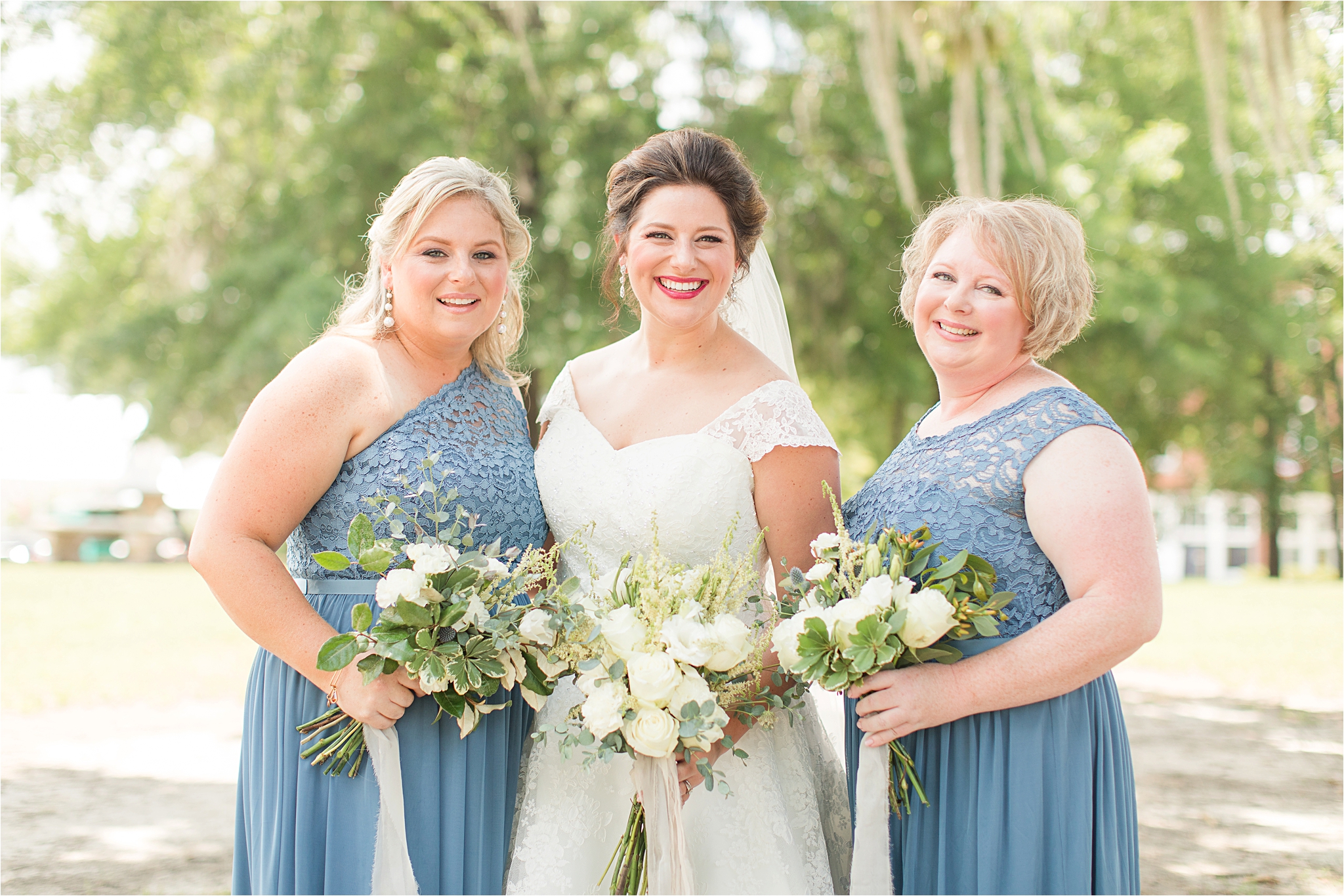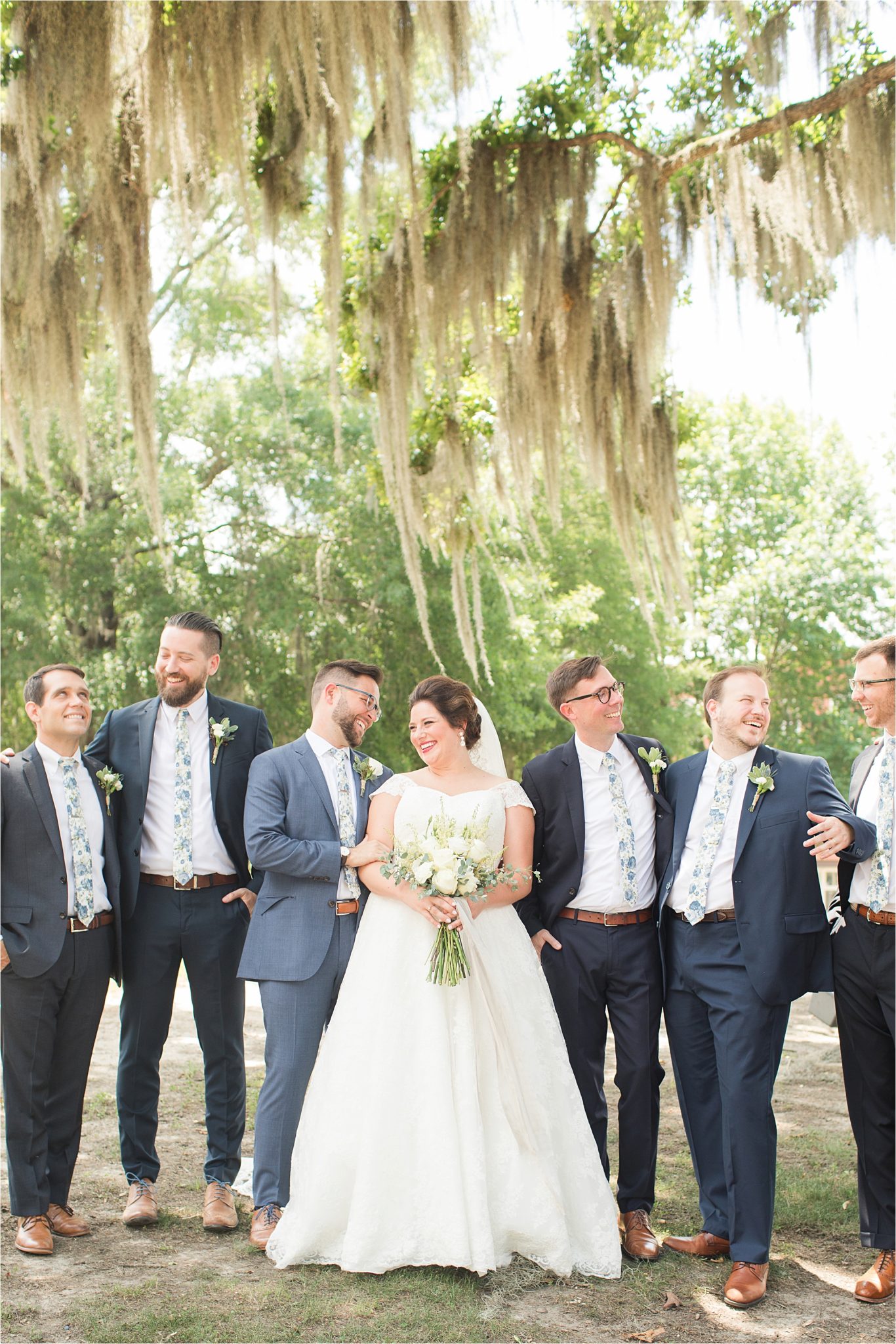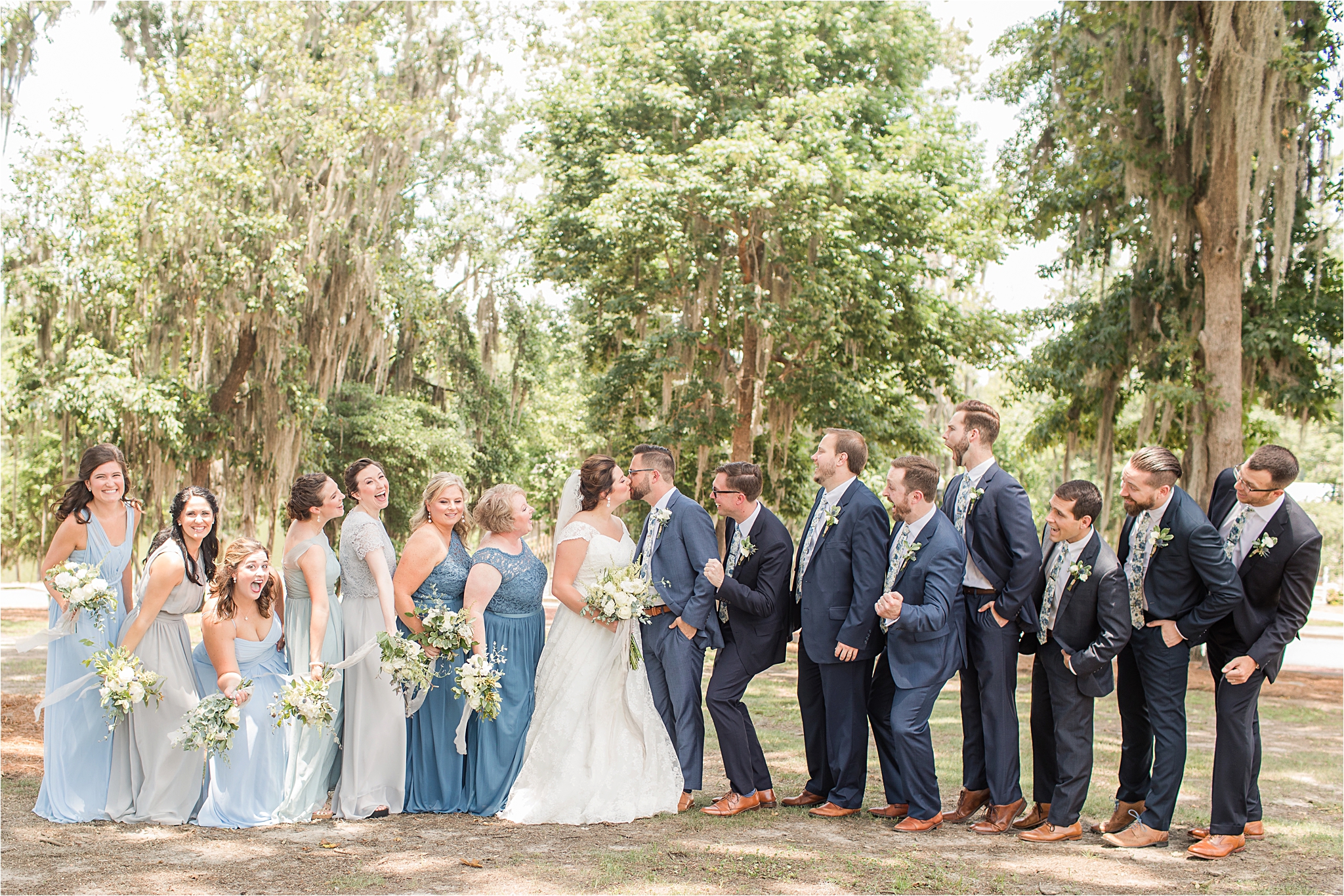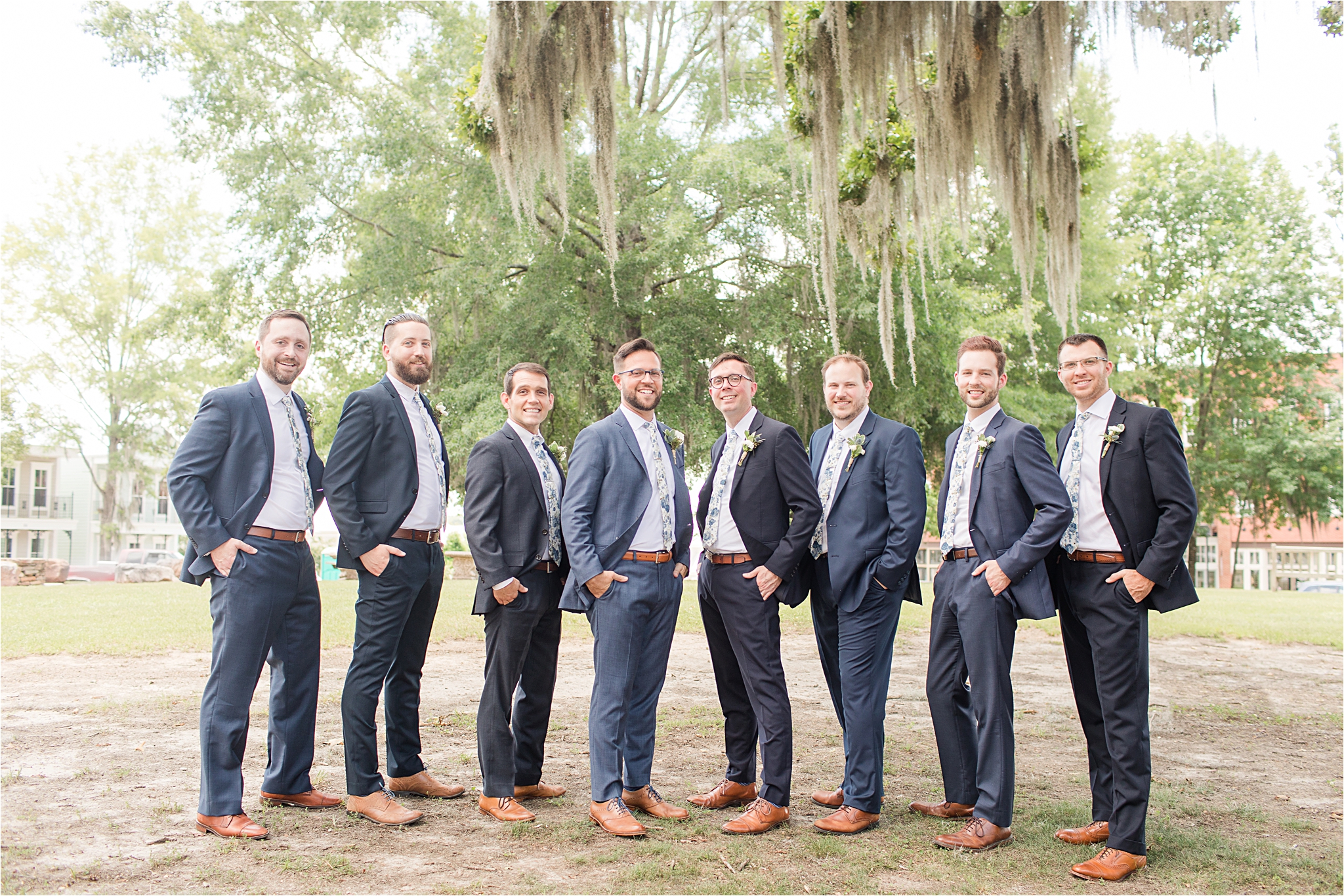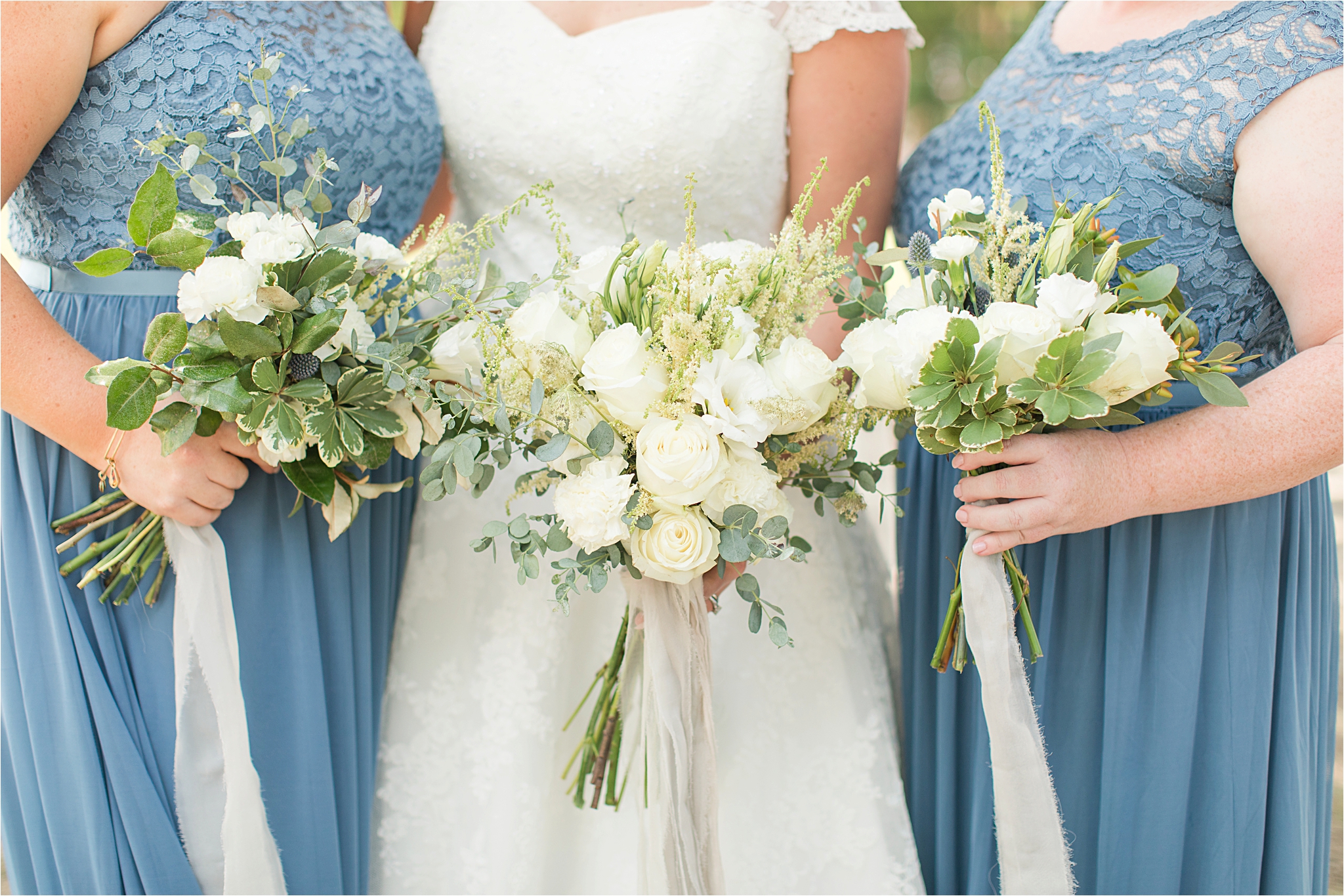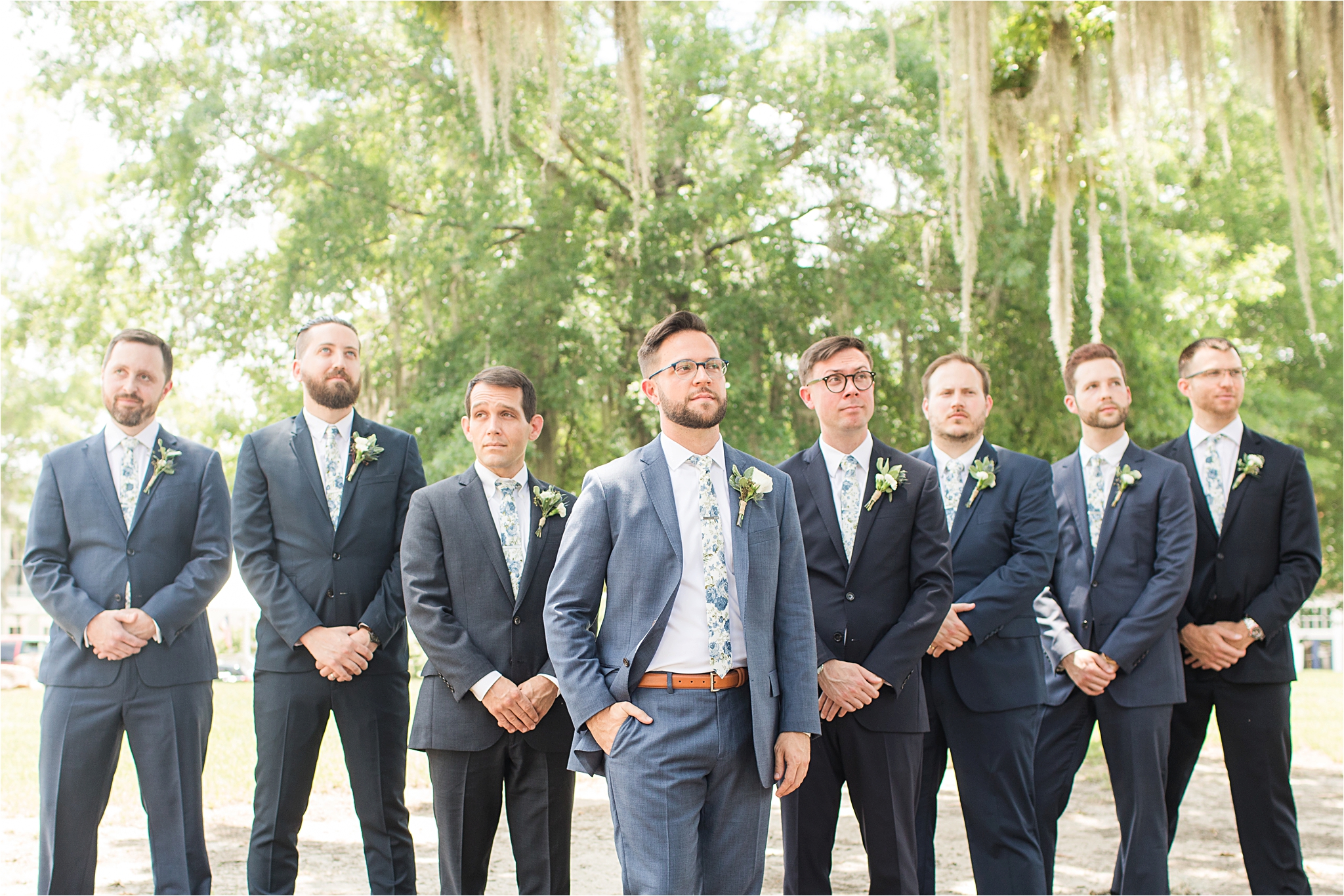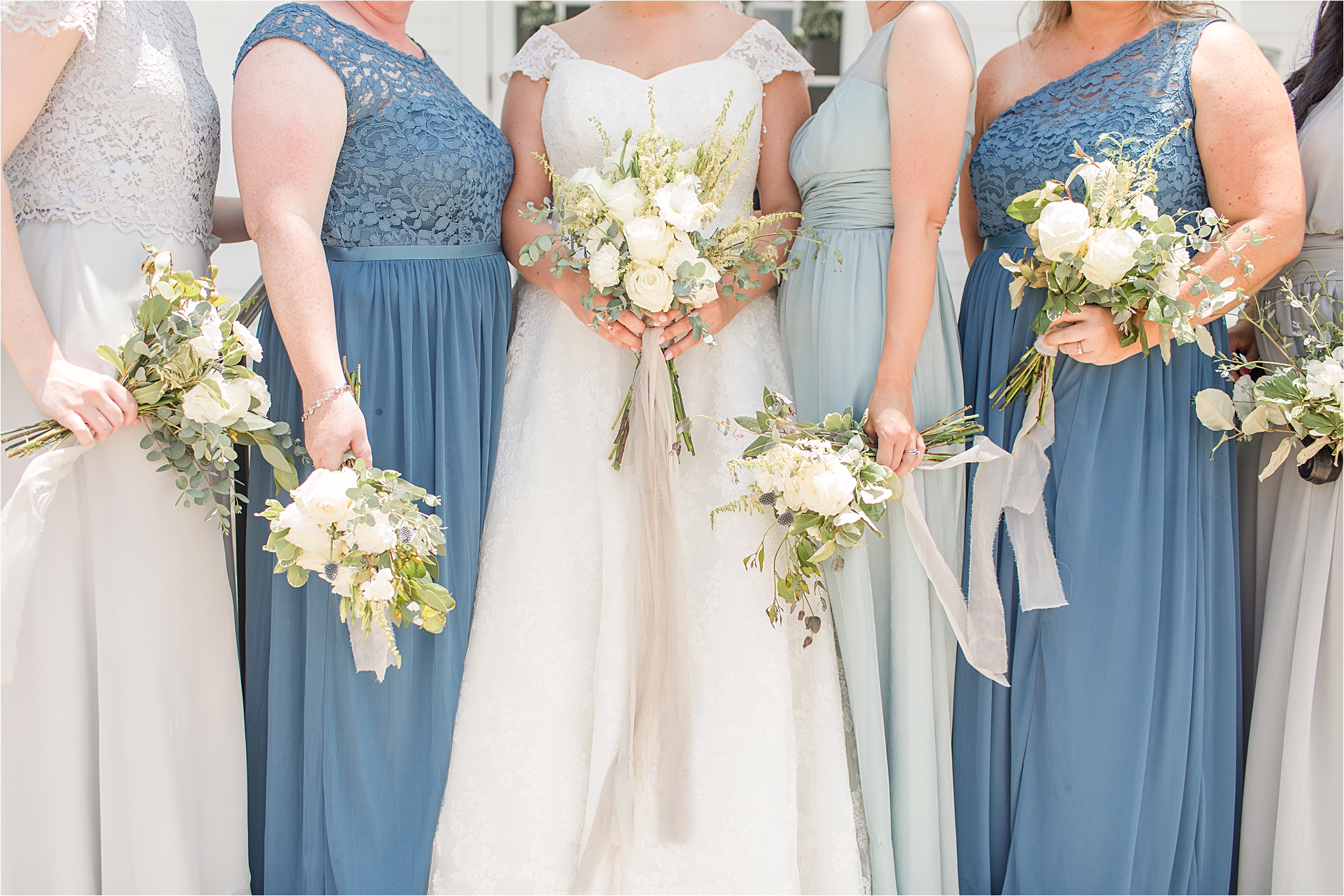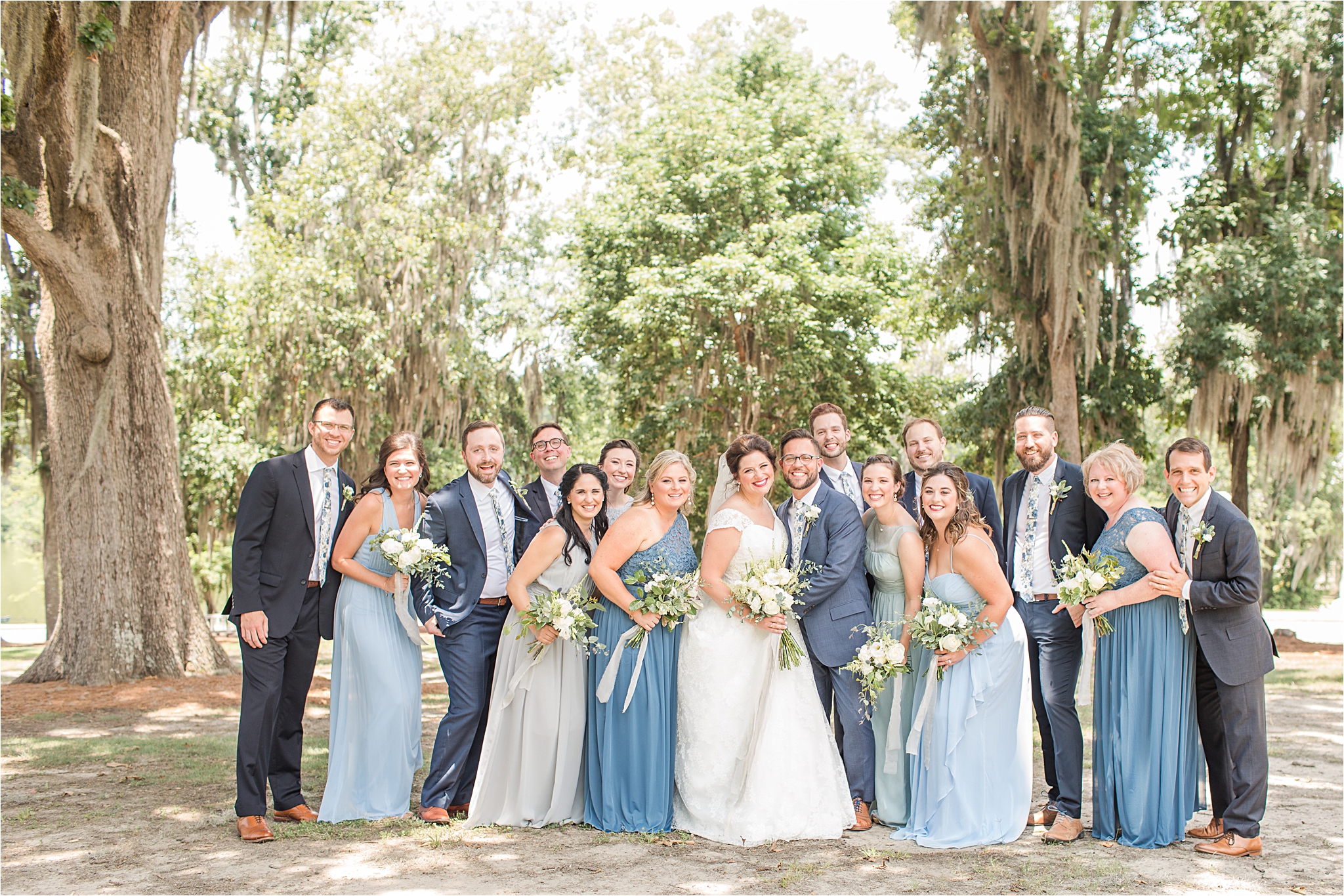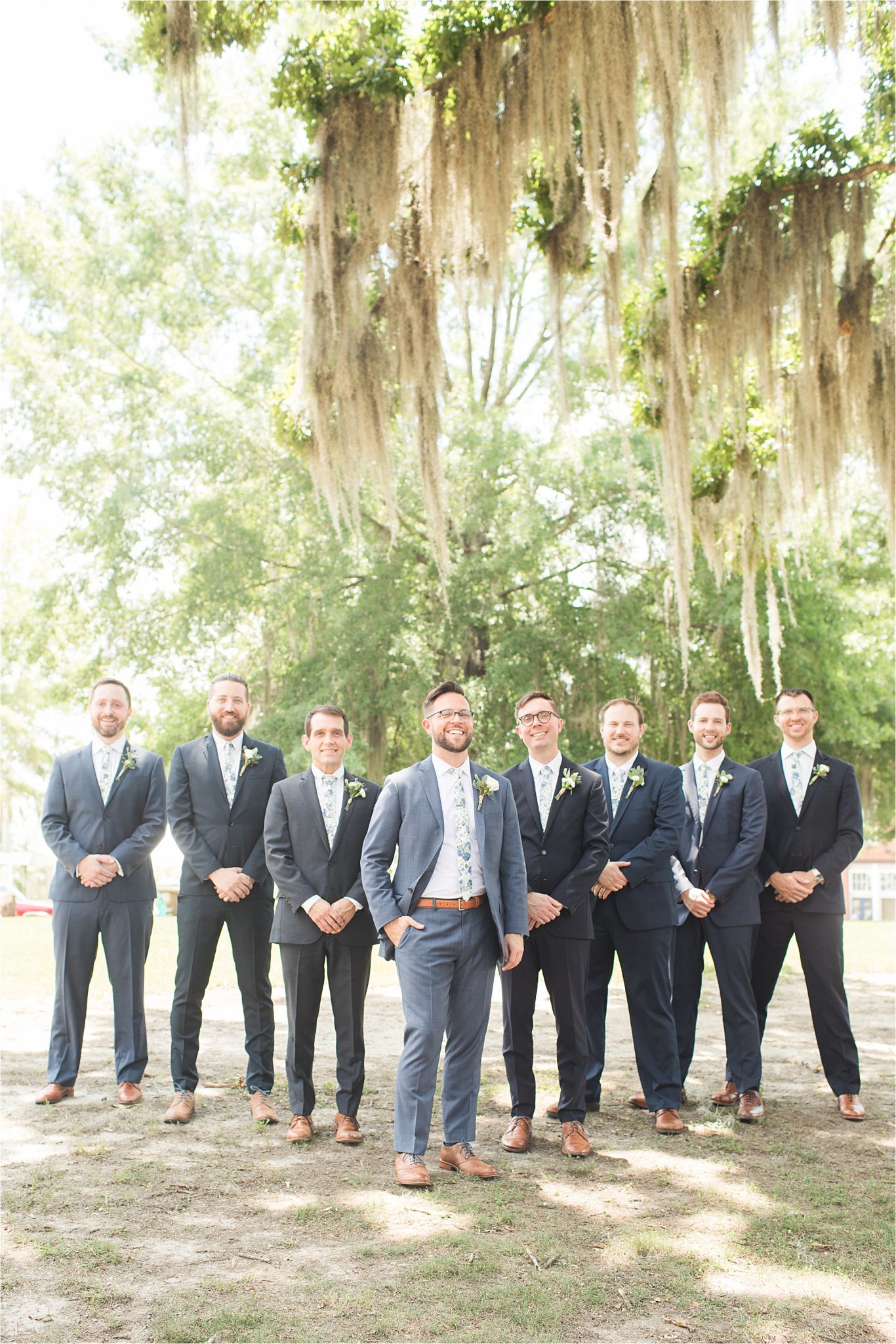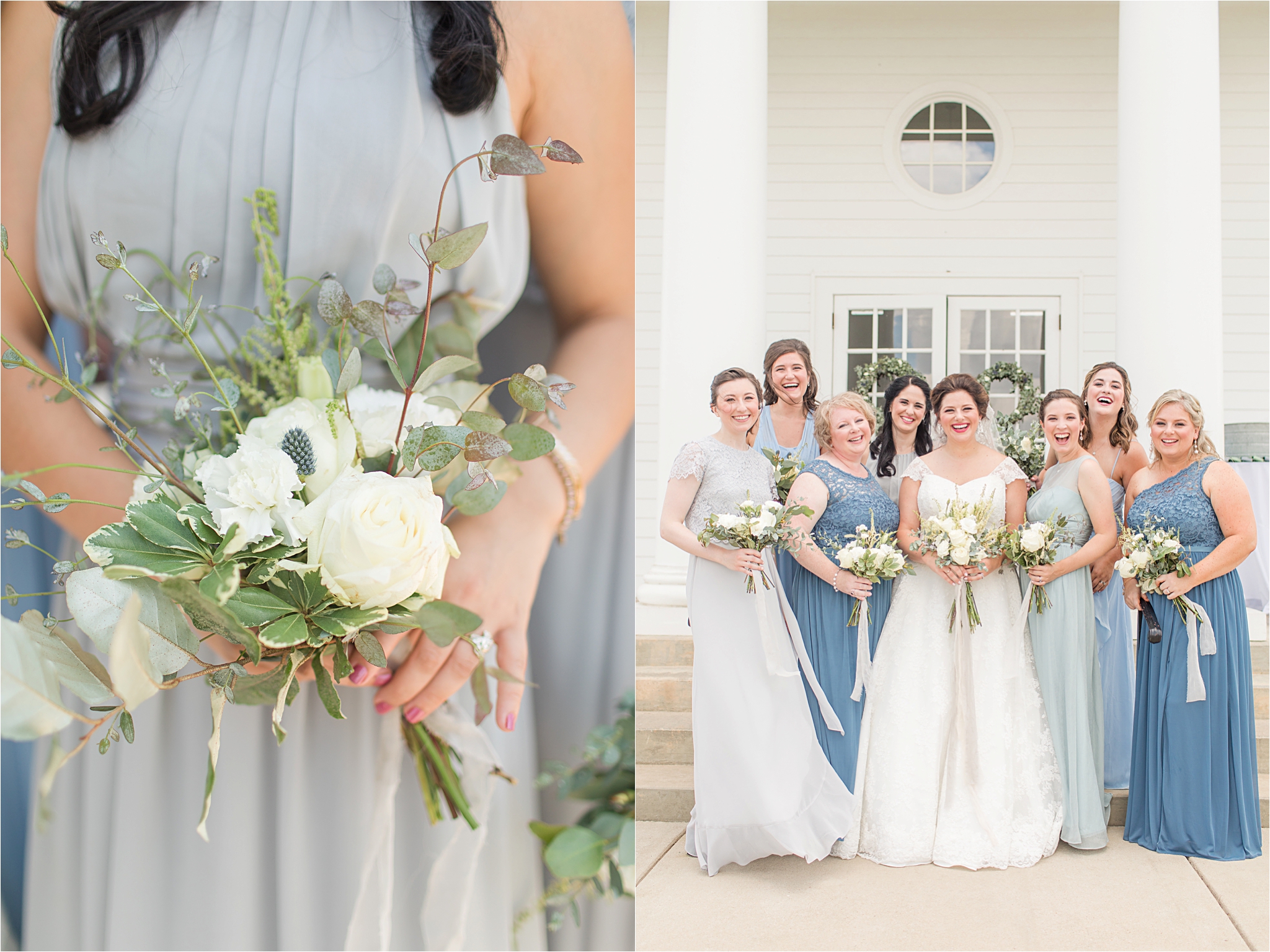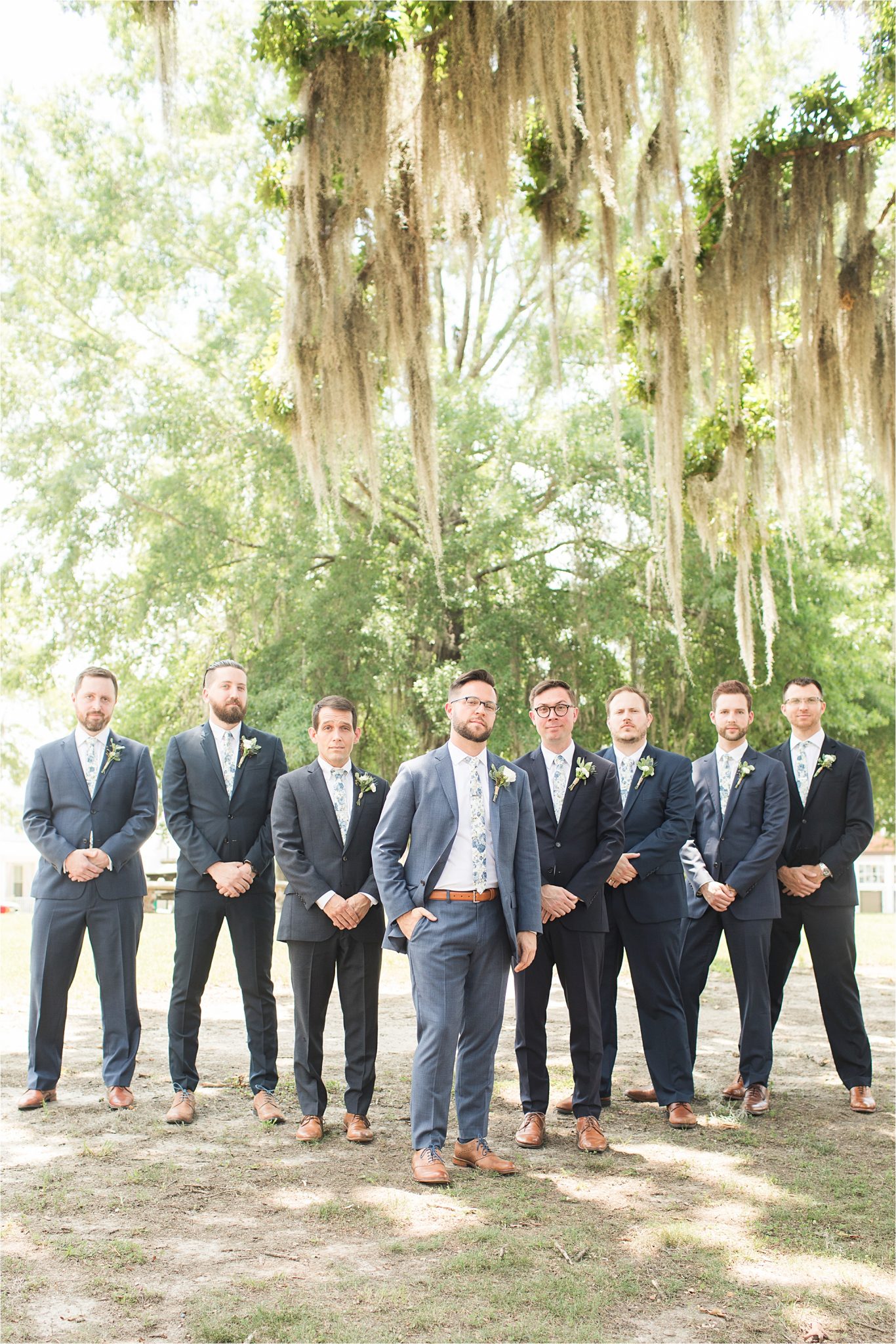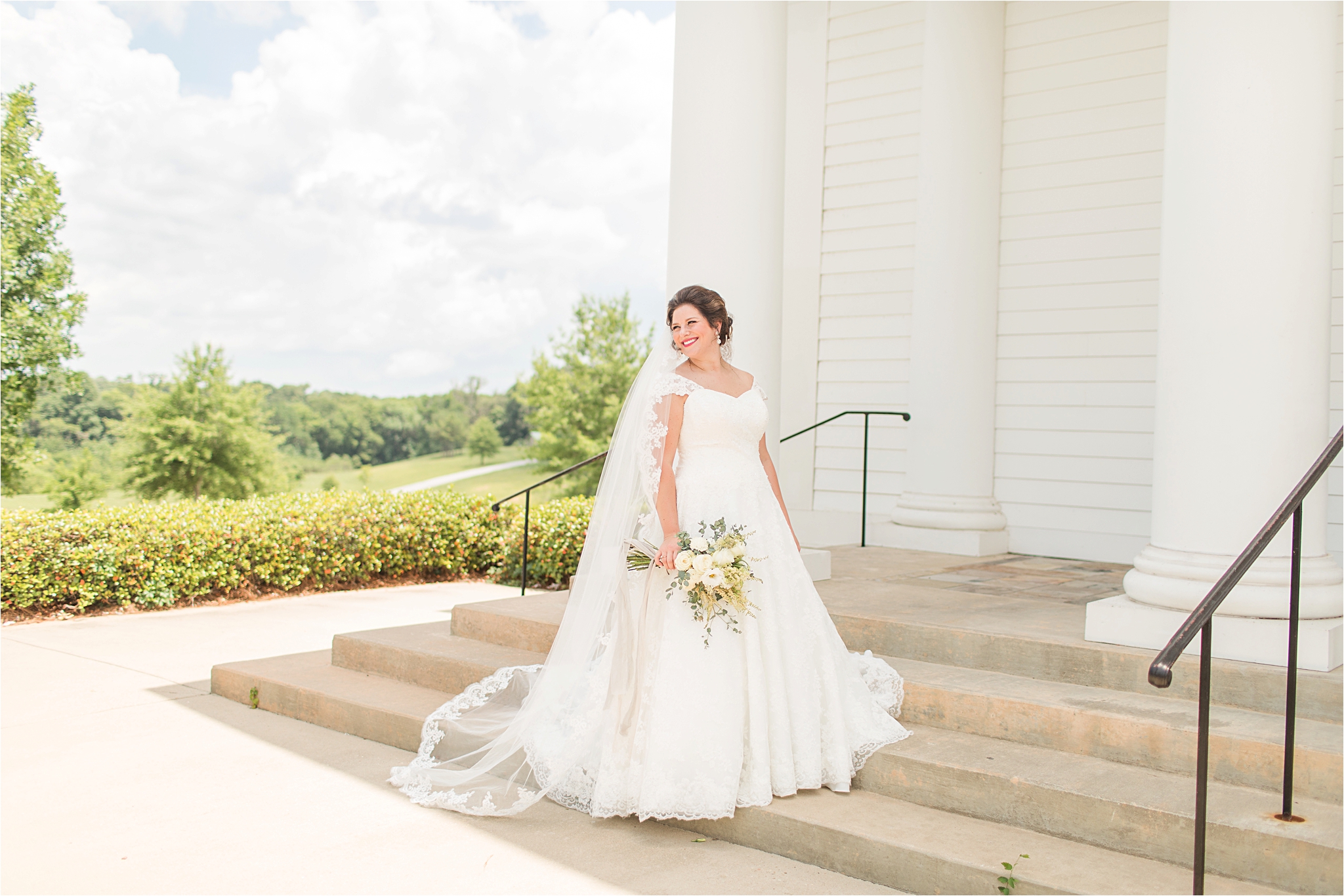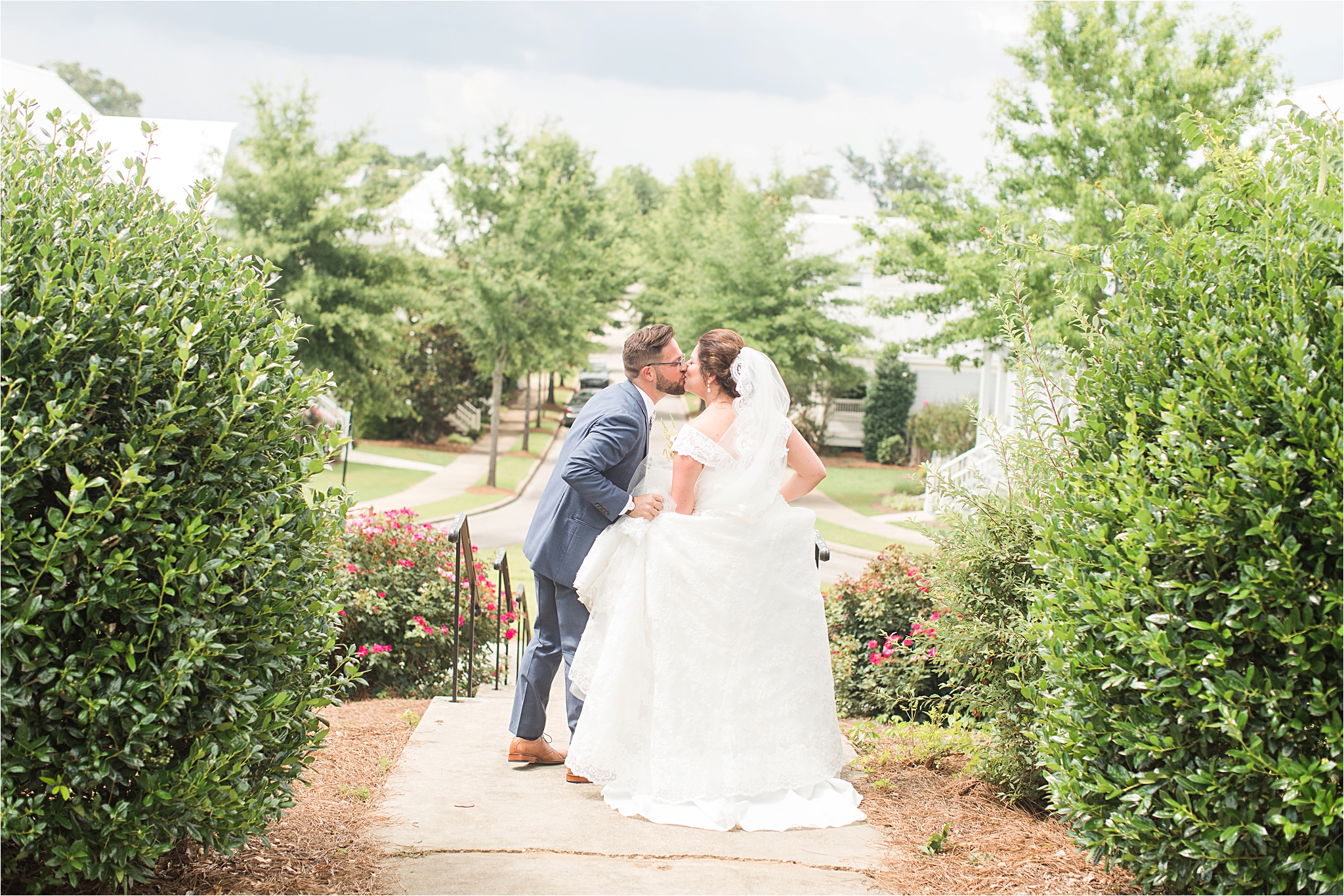 These two are just a dream!  And that oak tree!!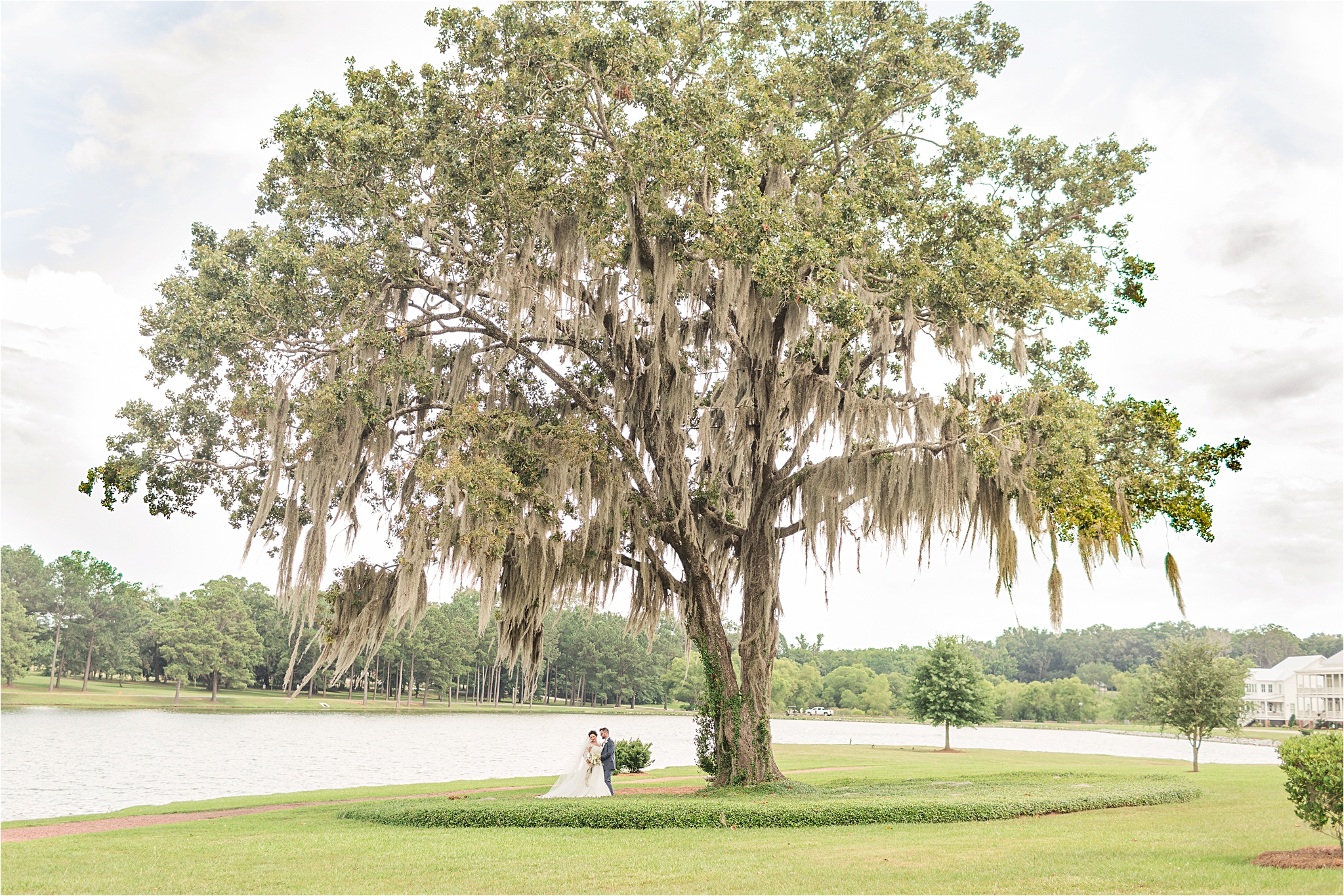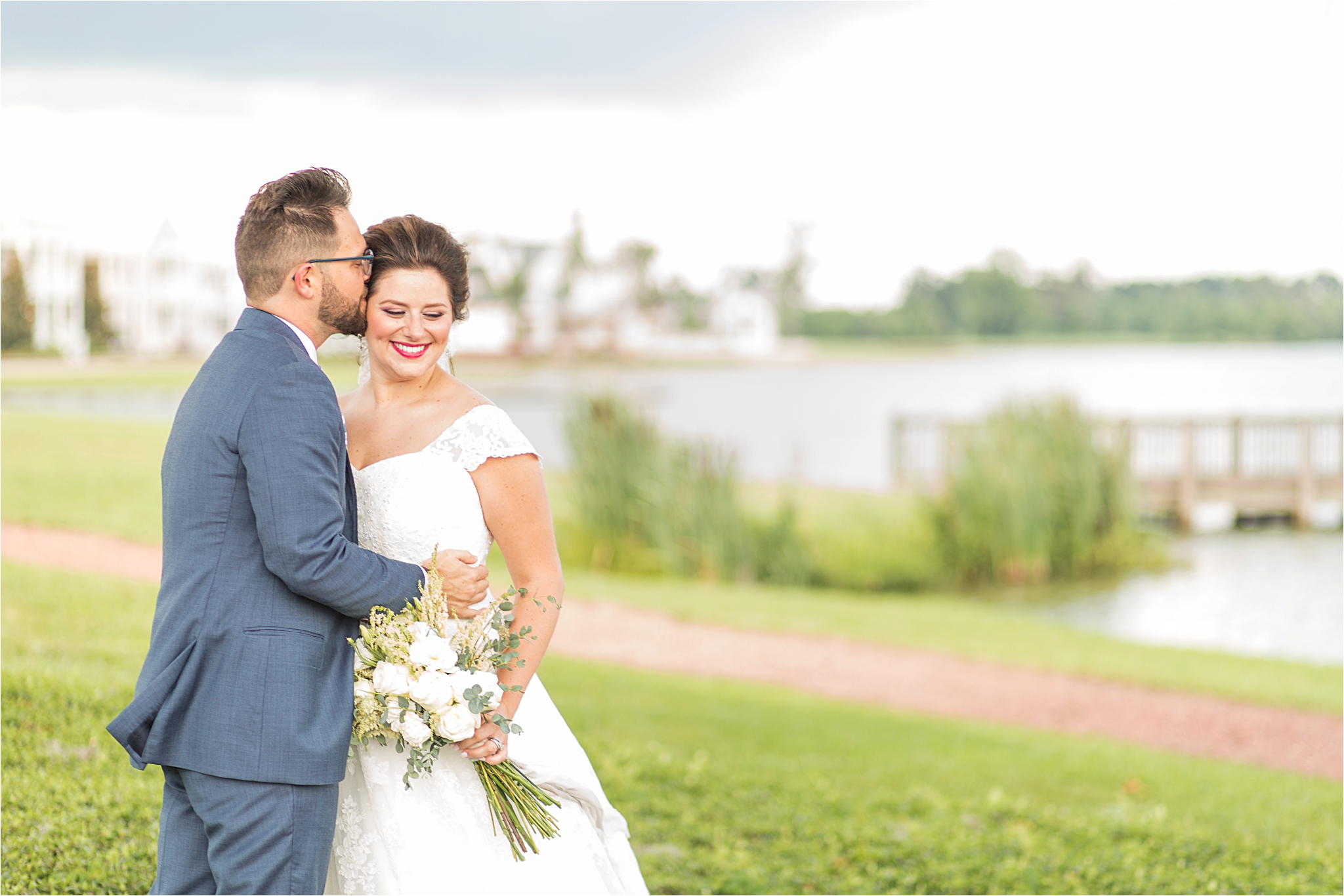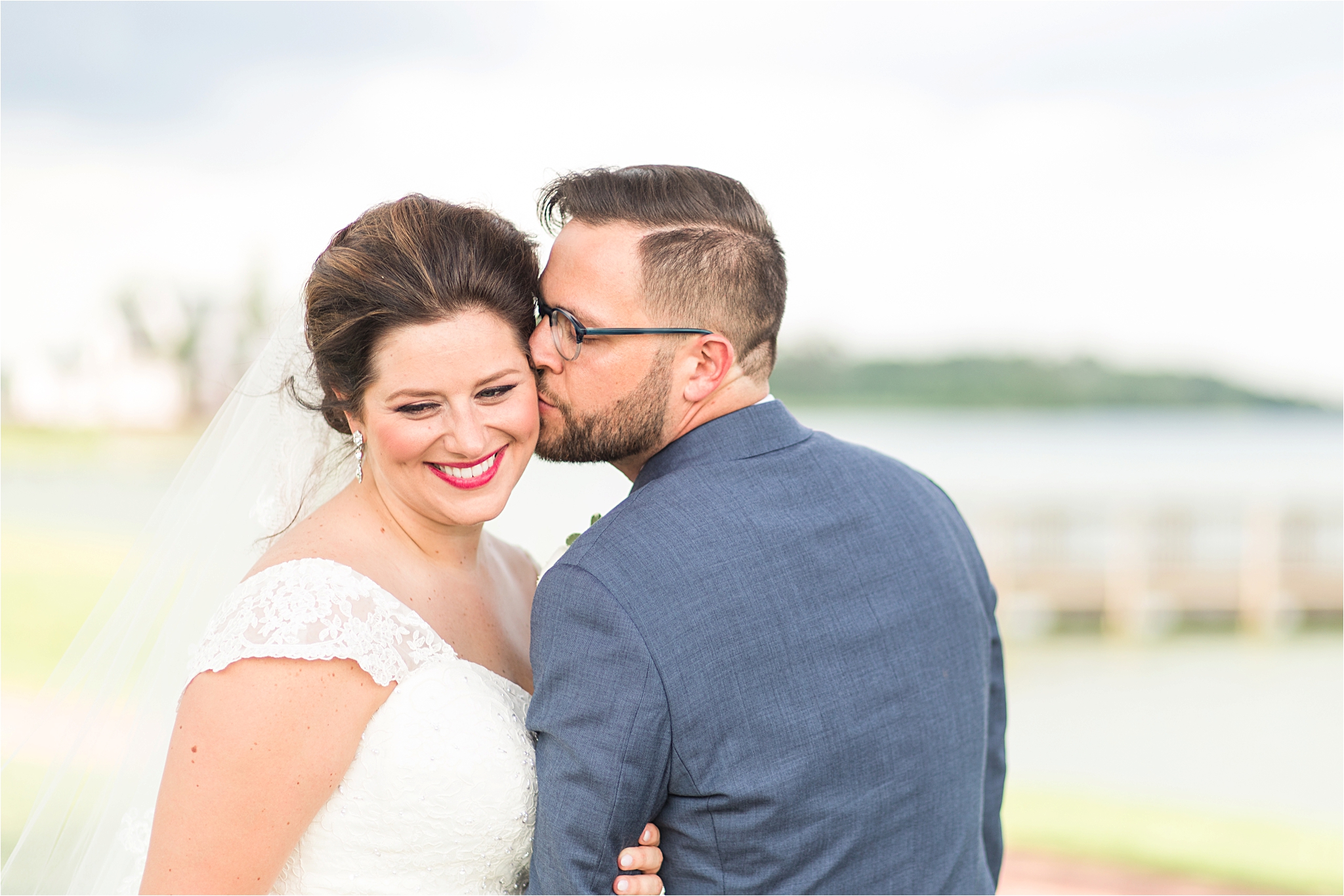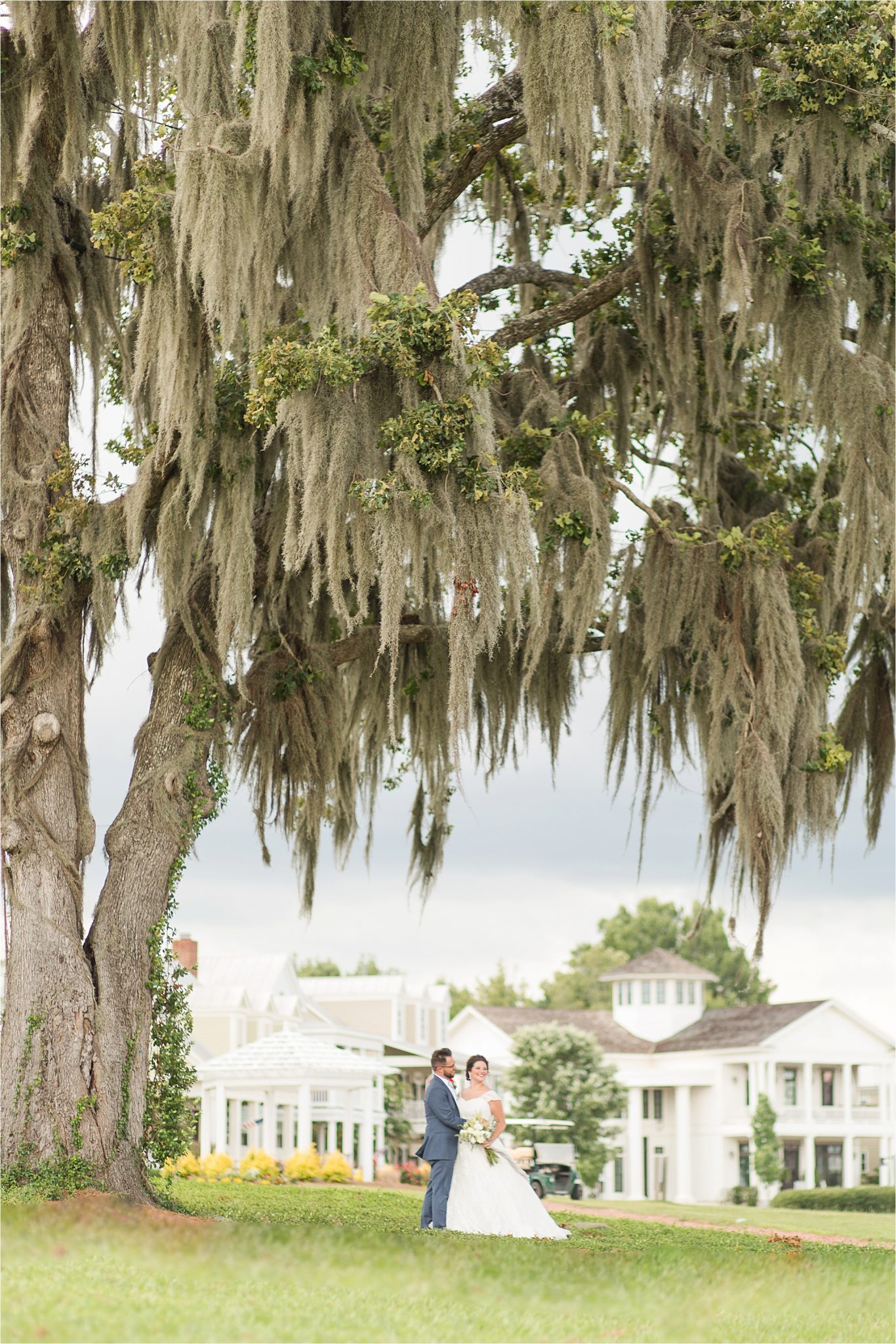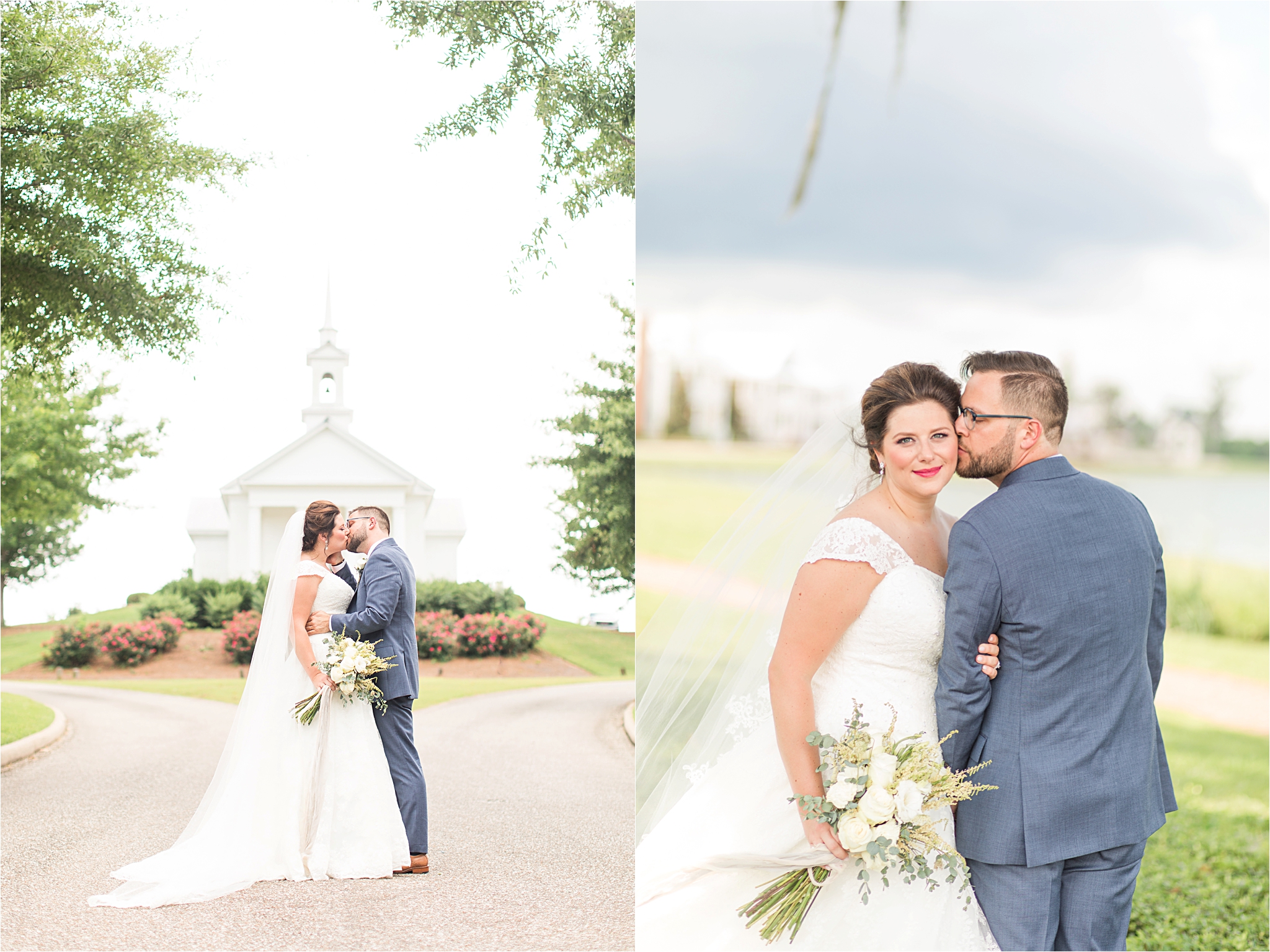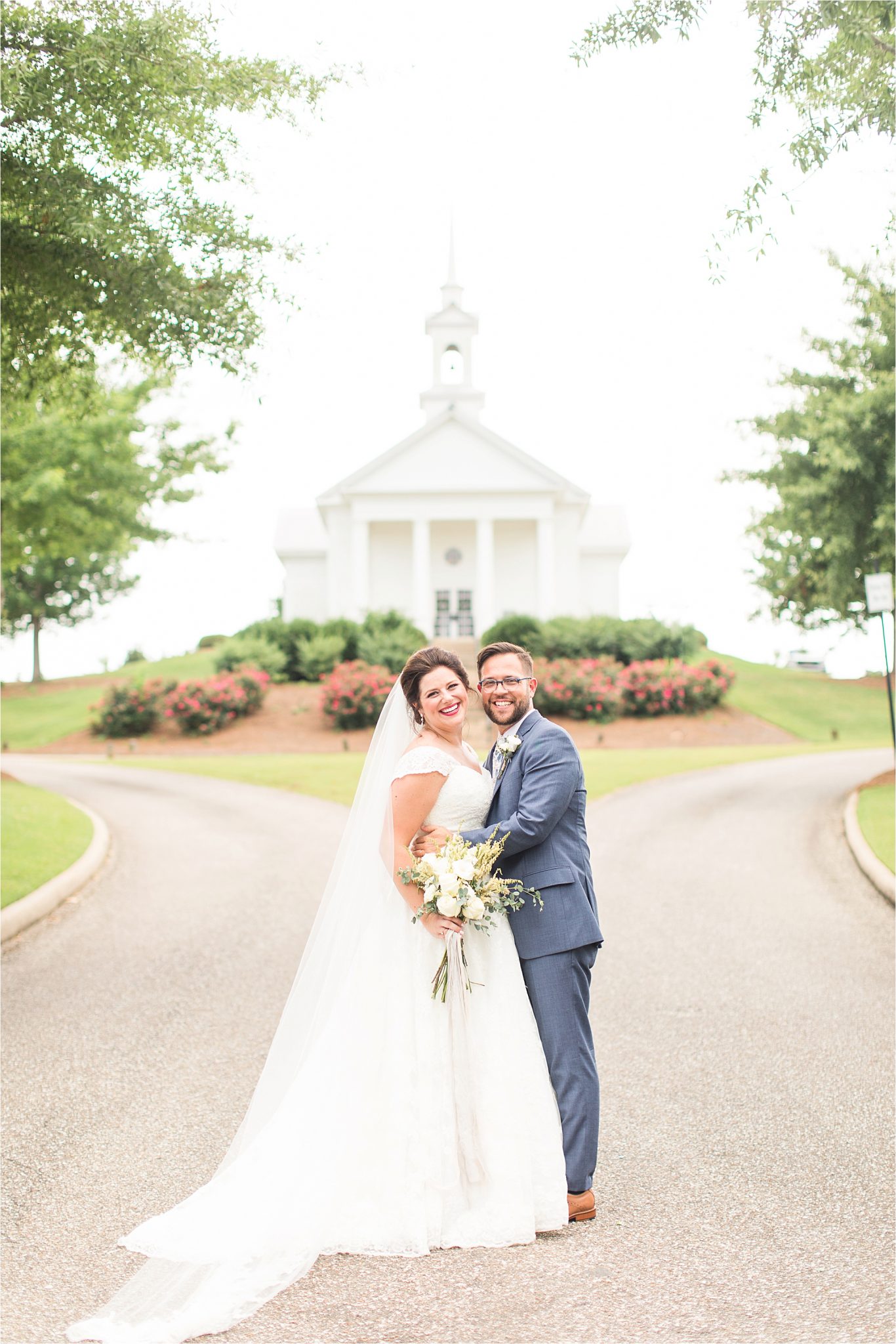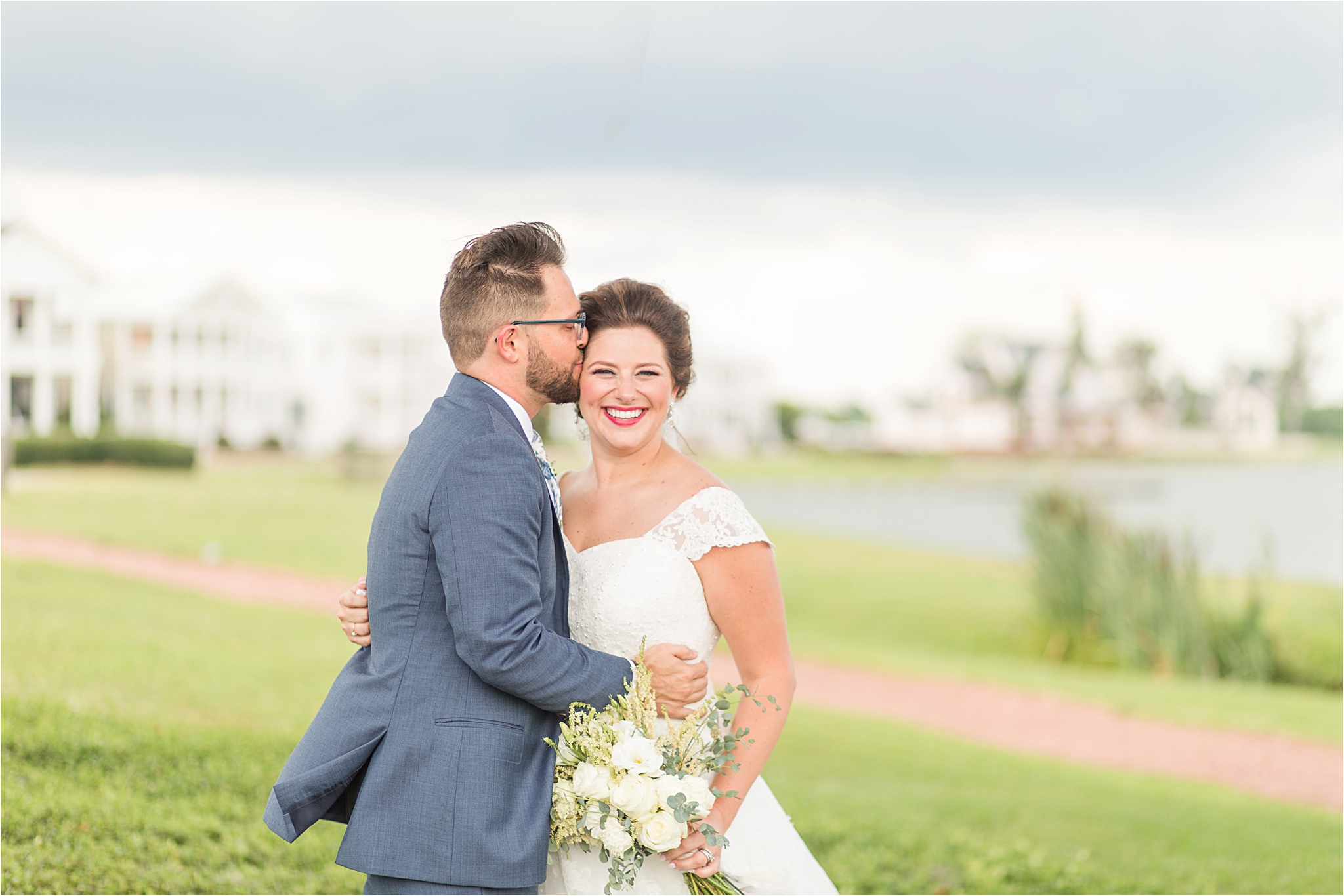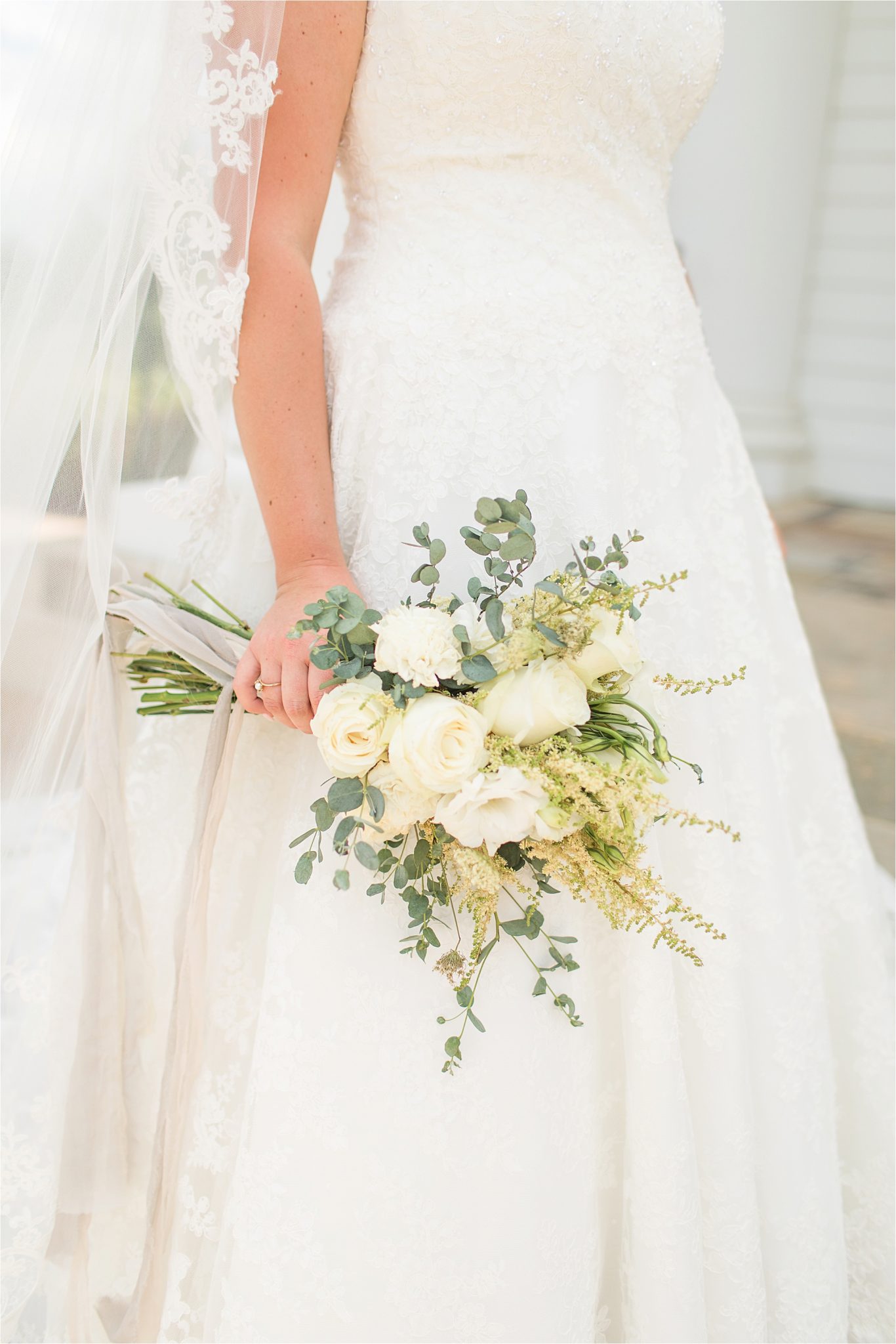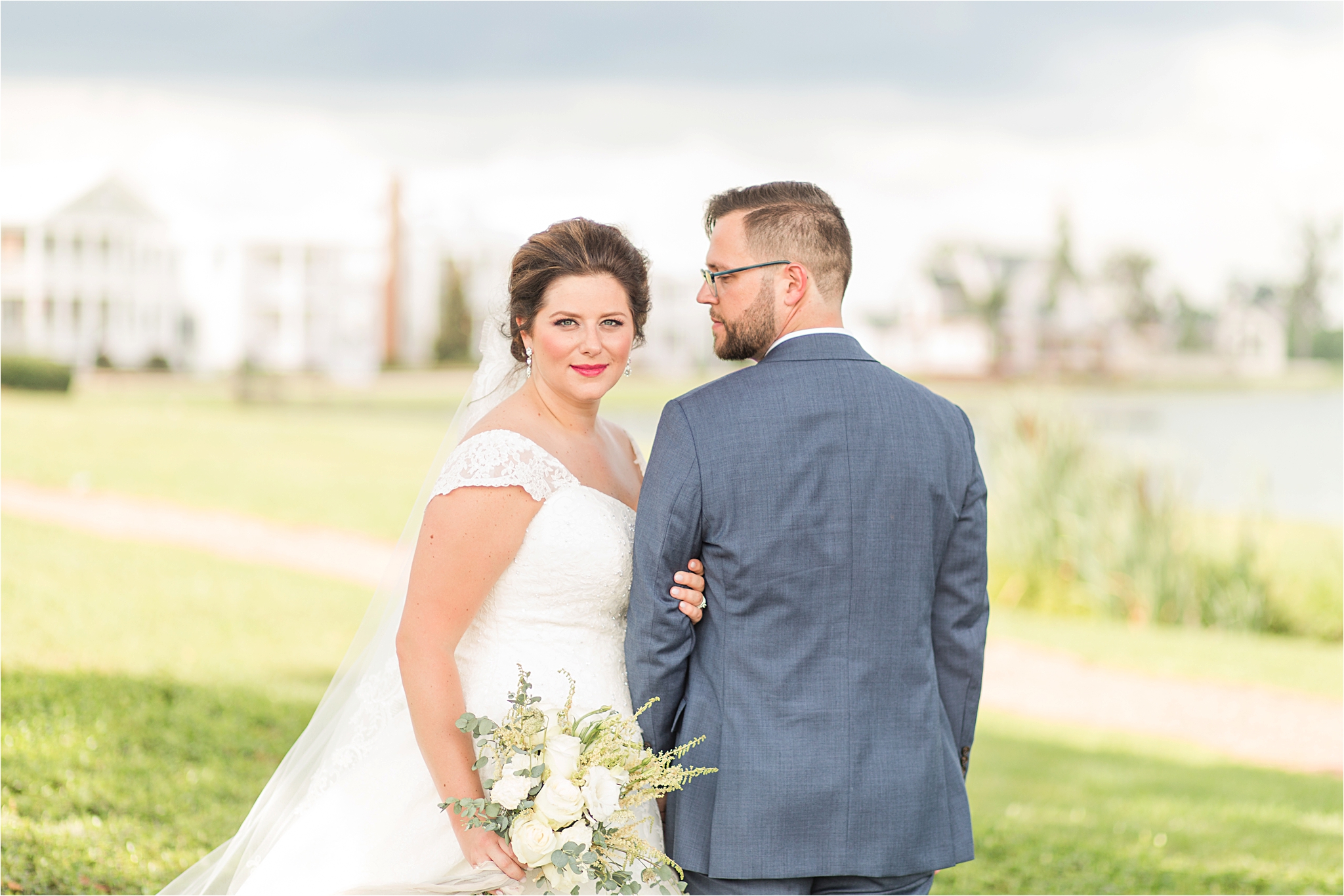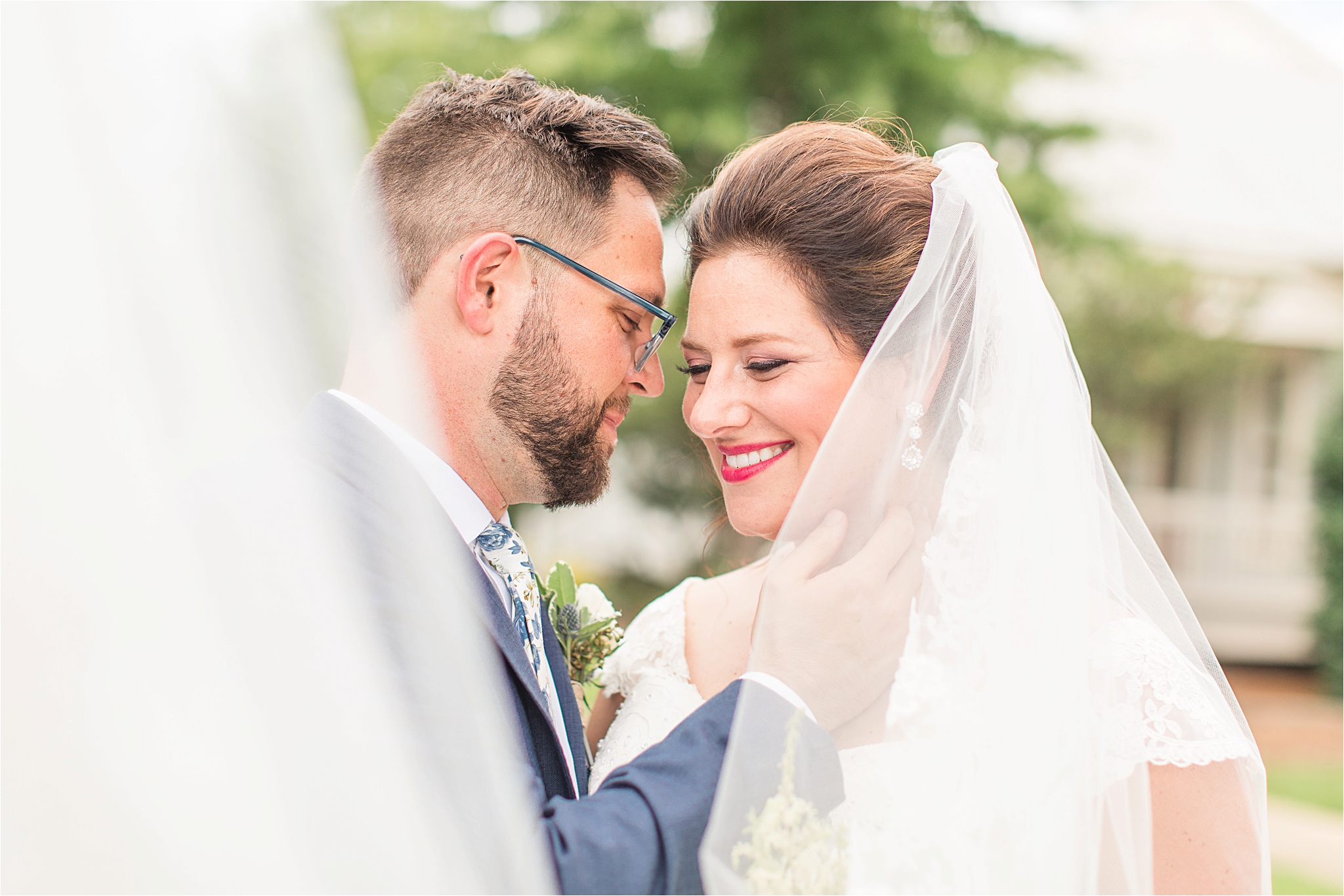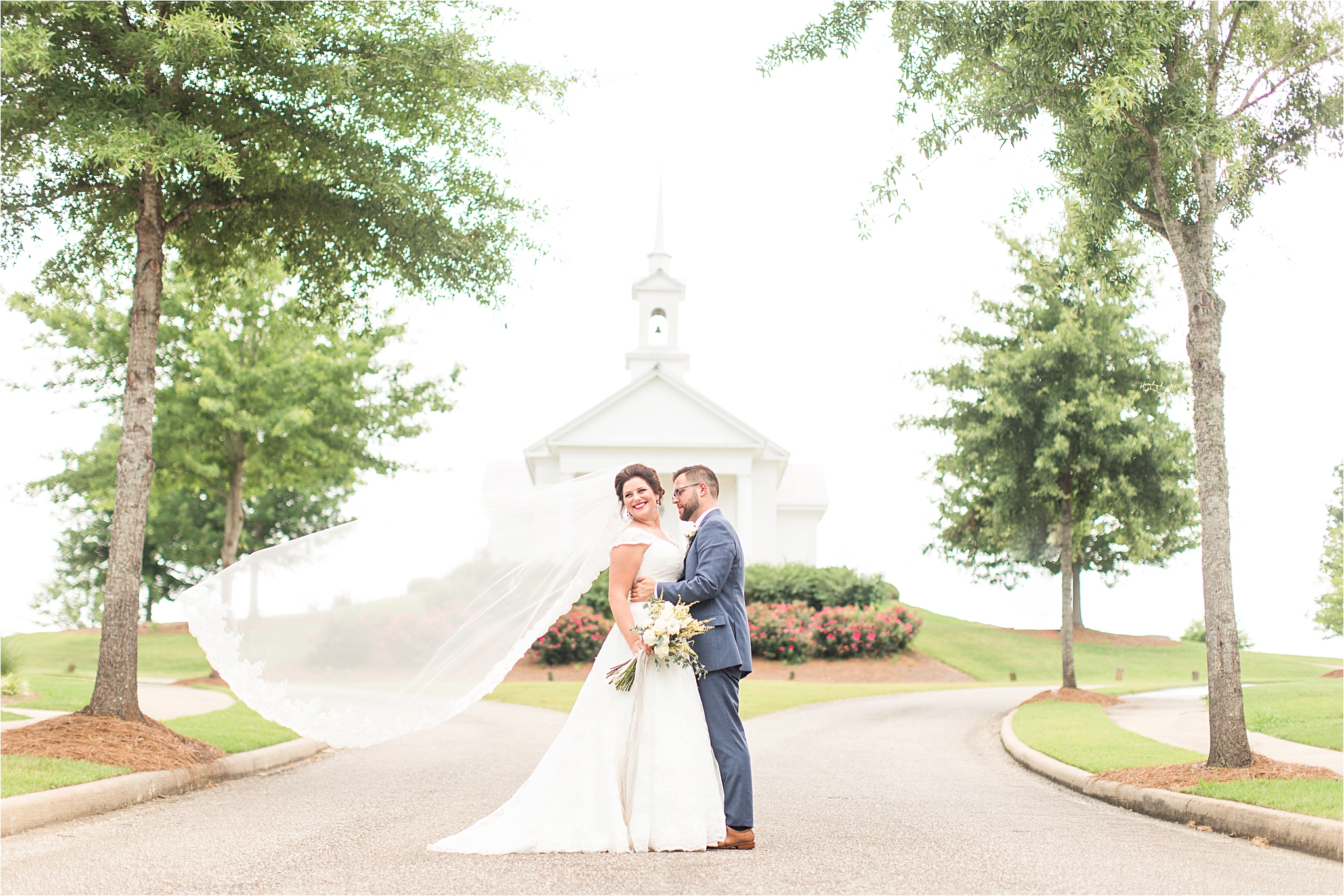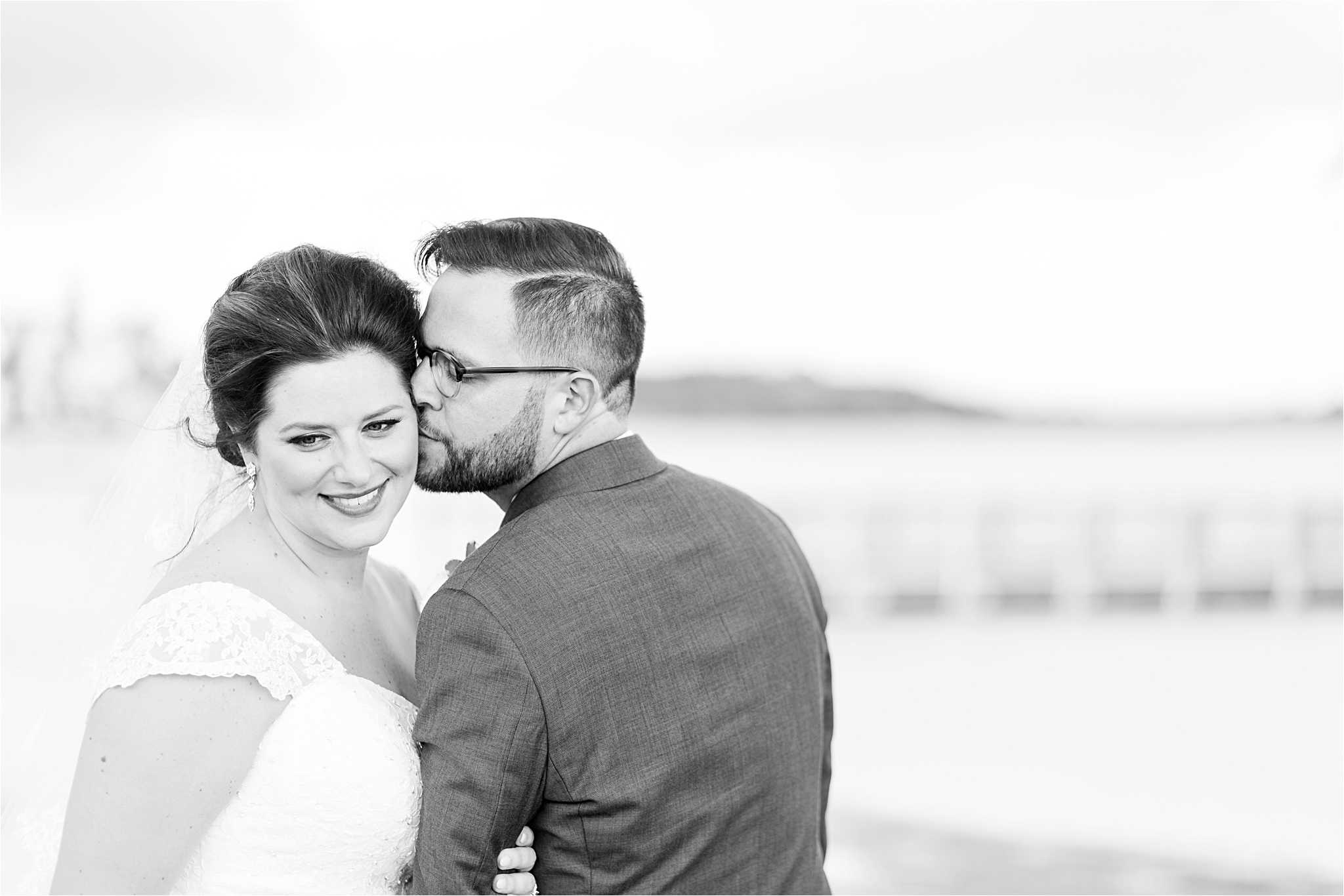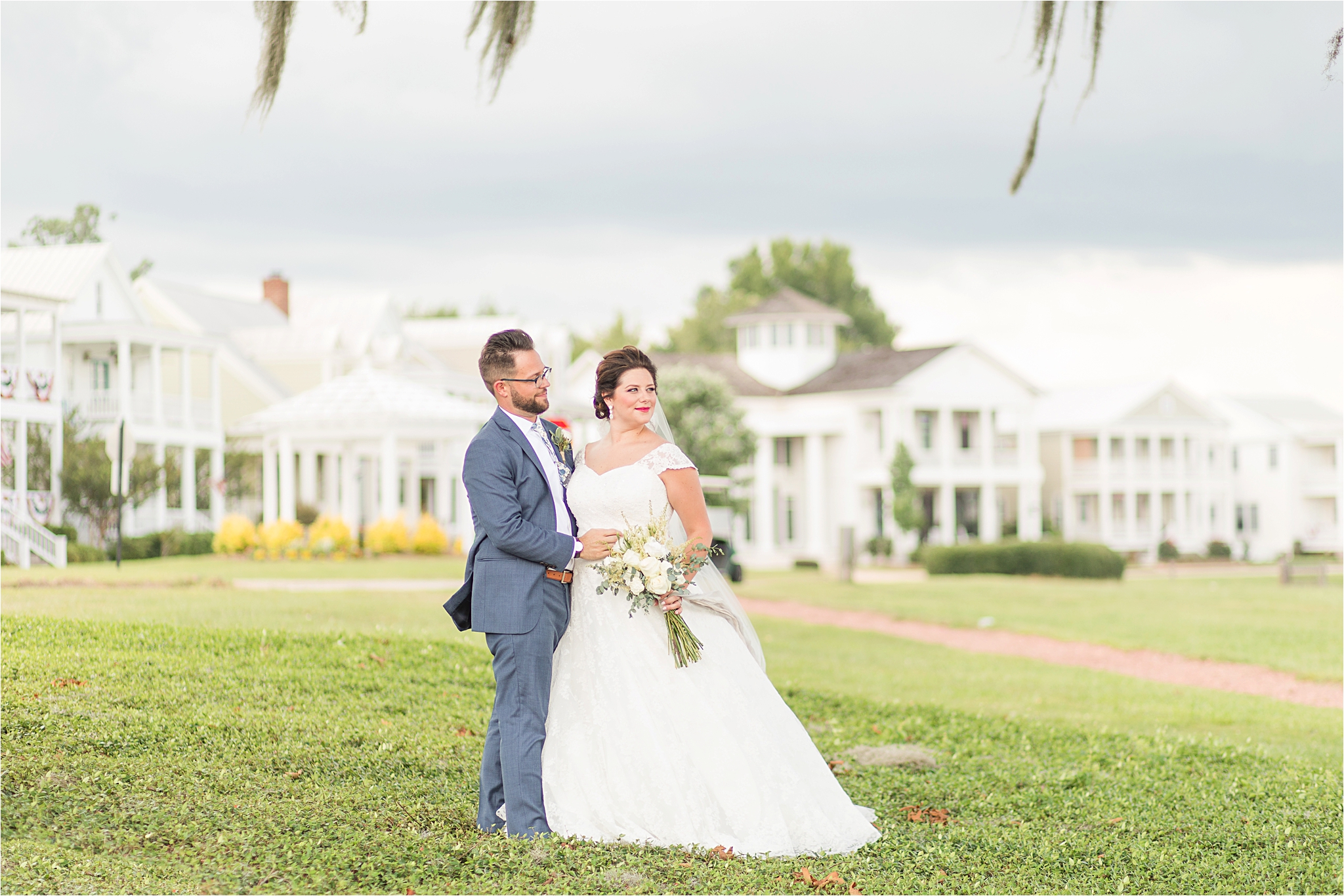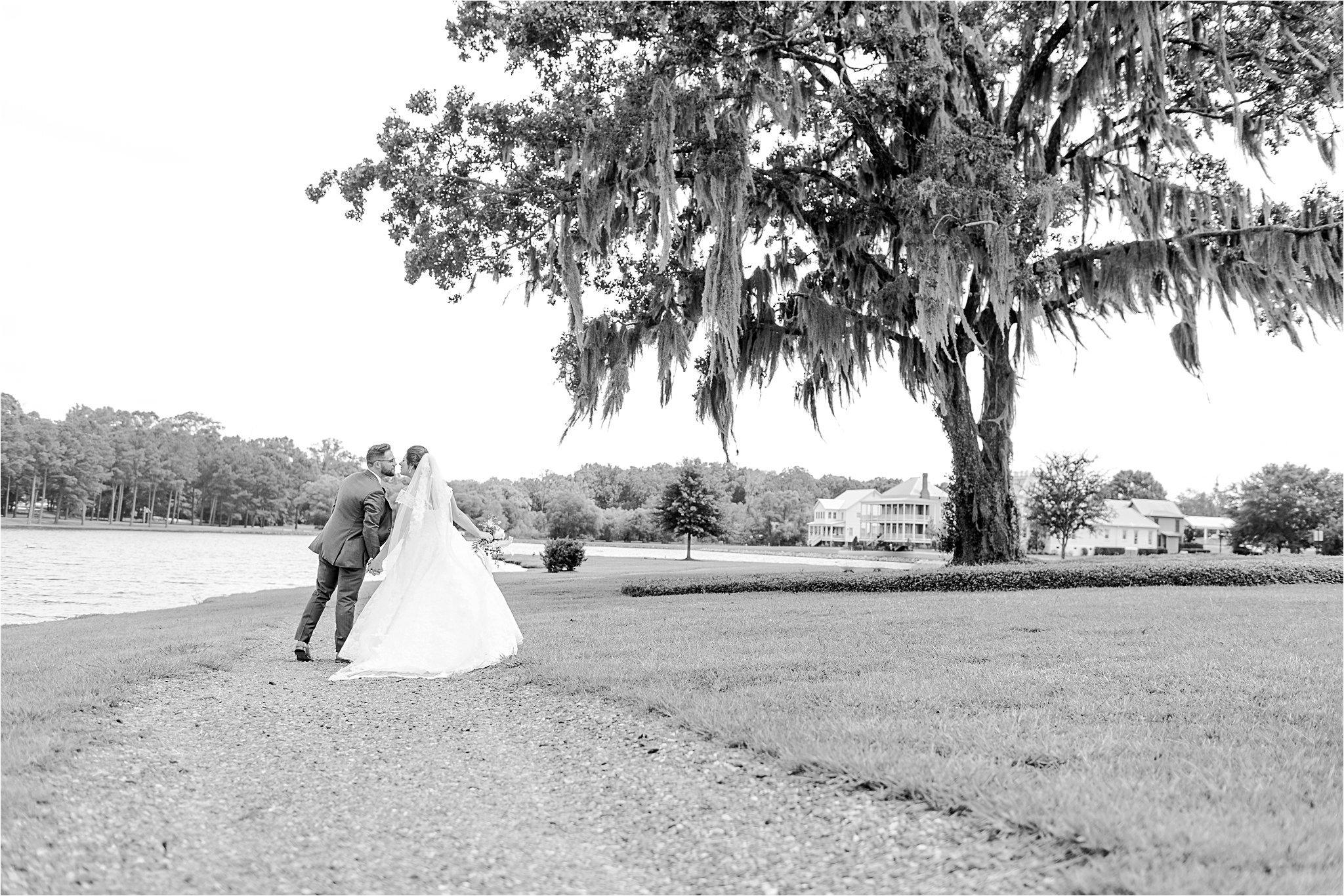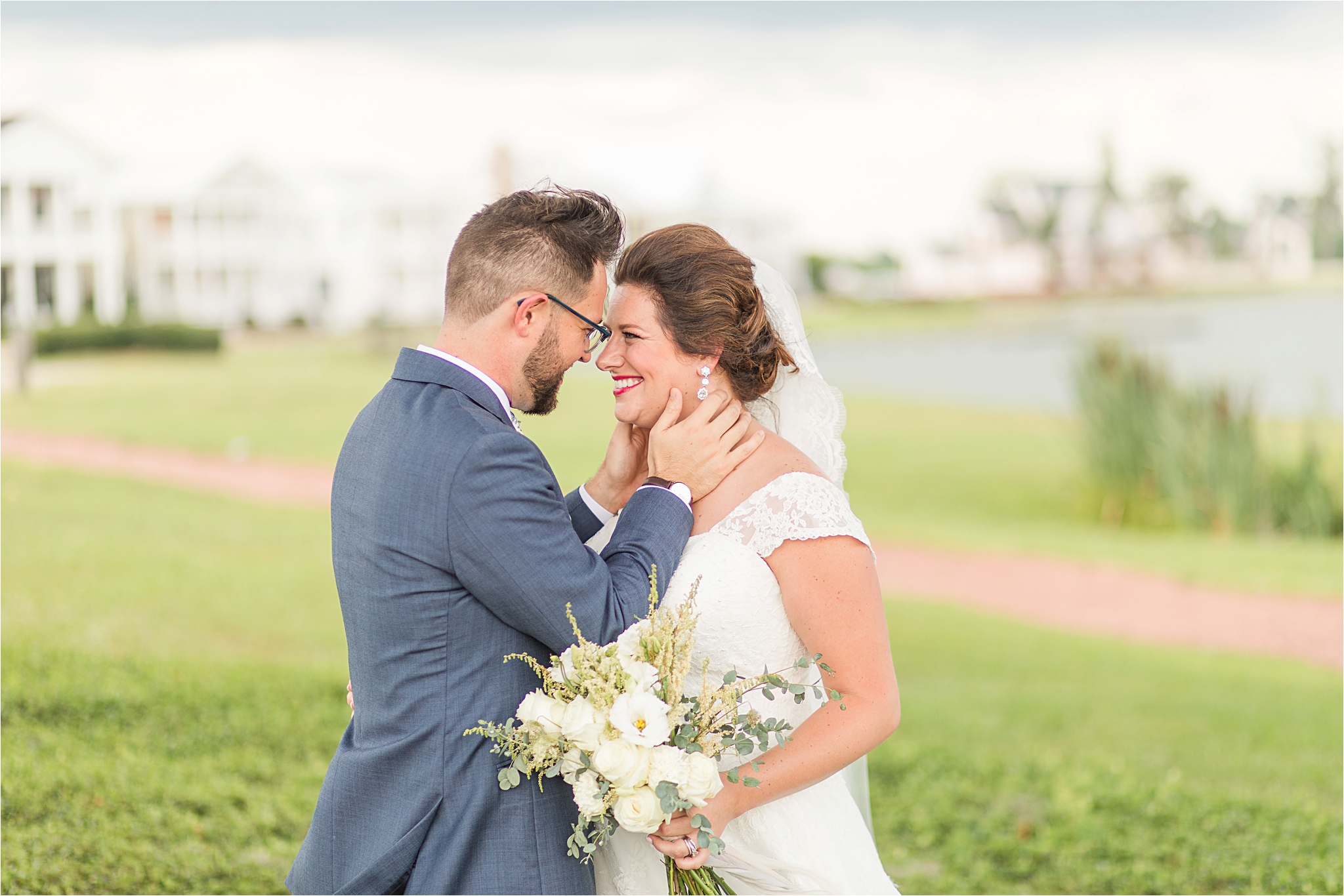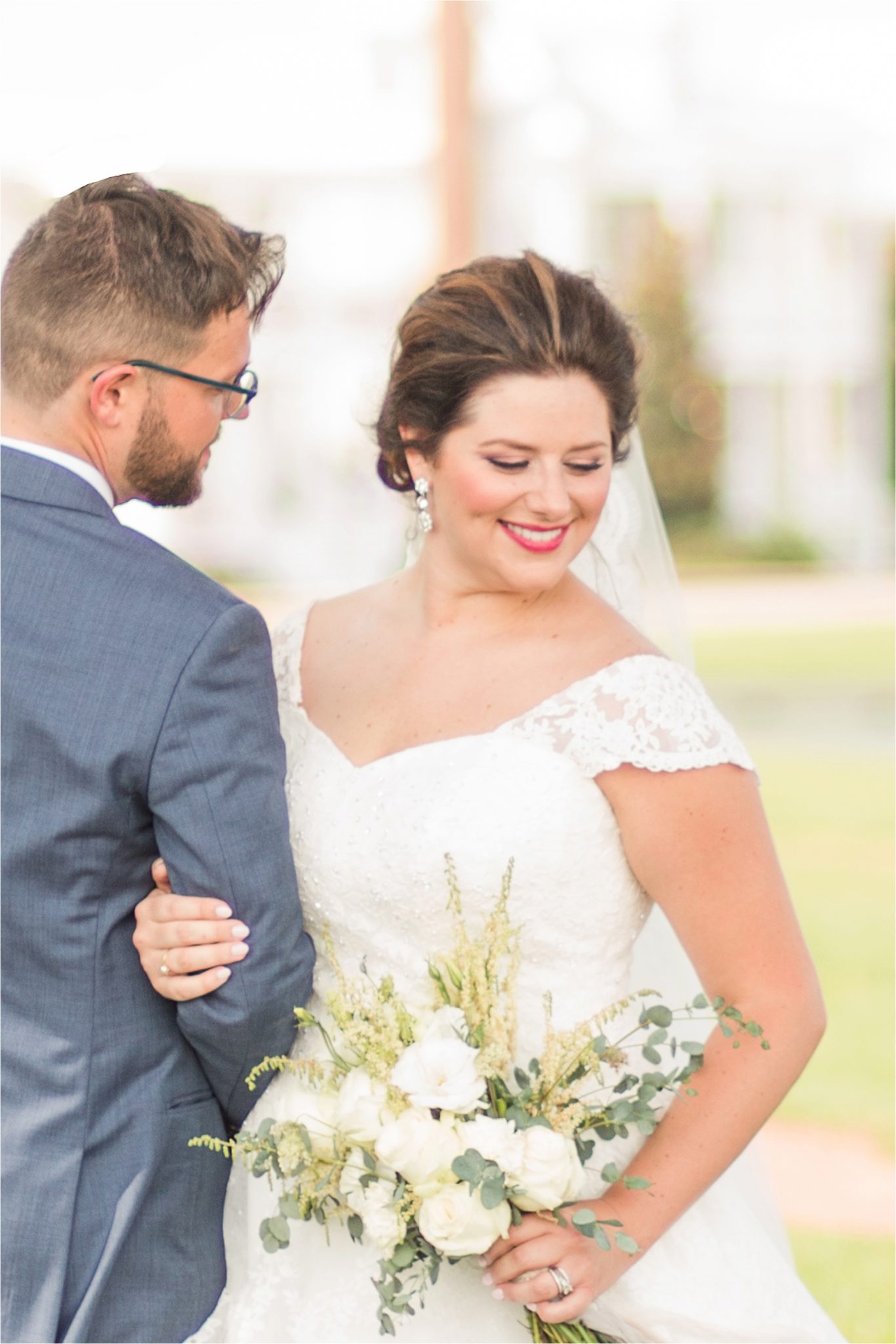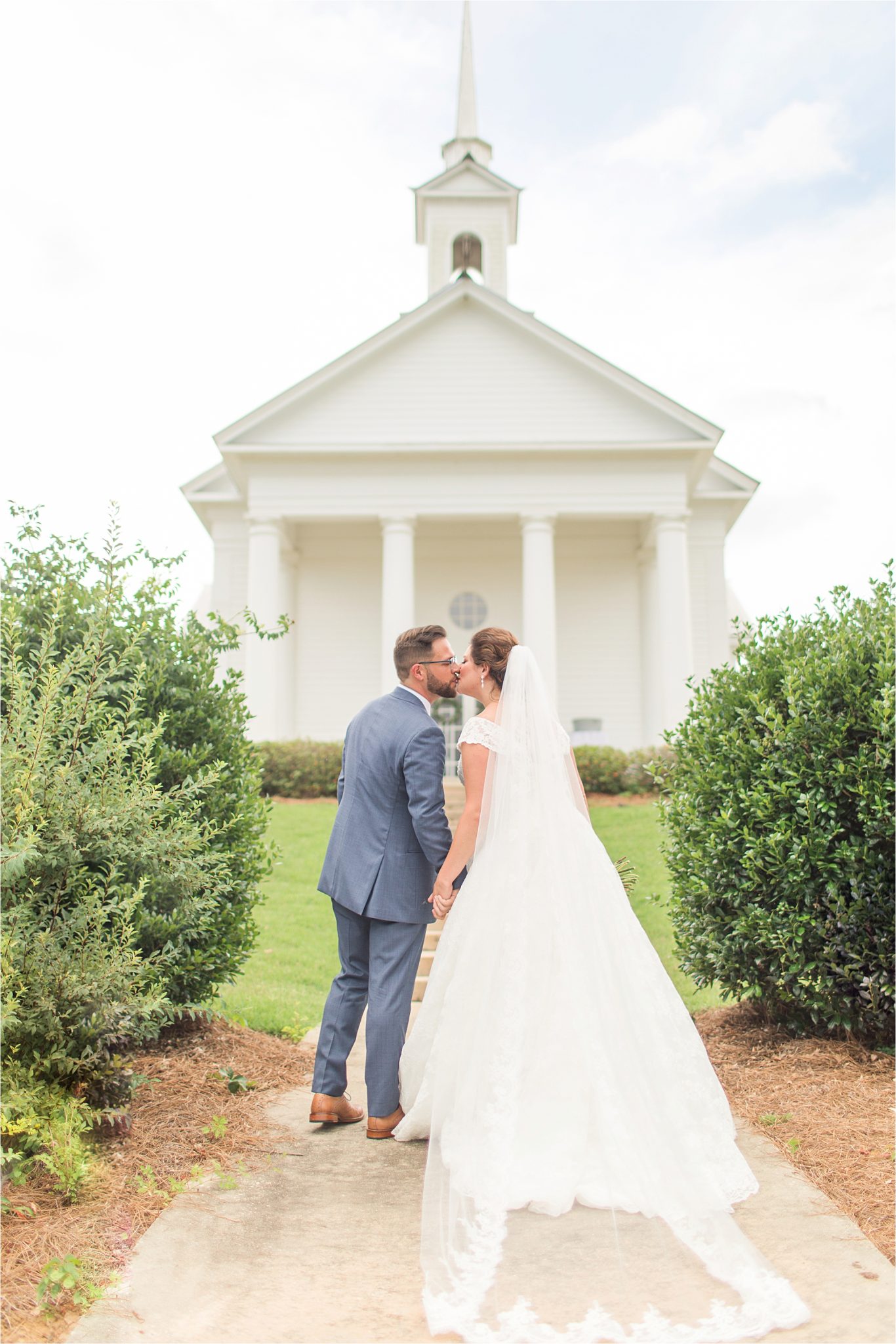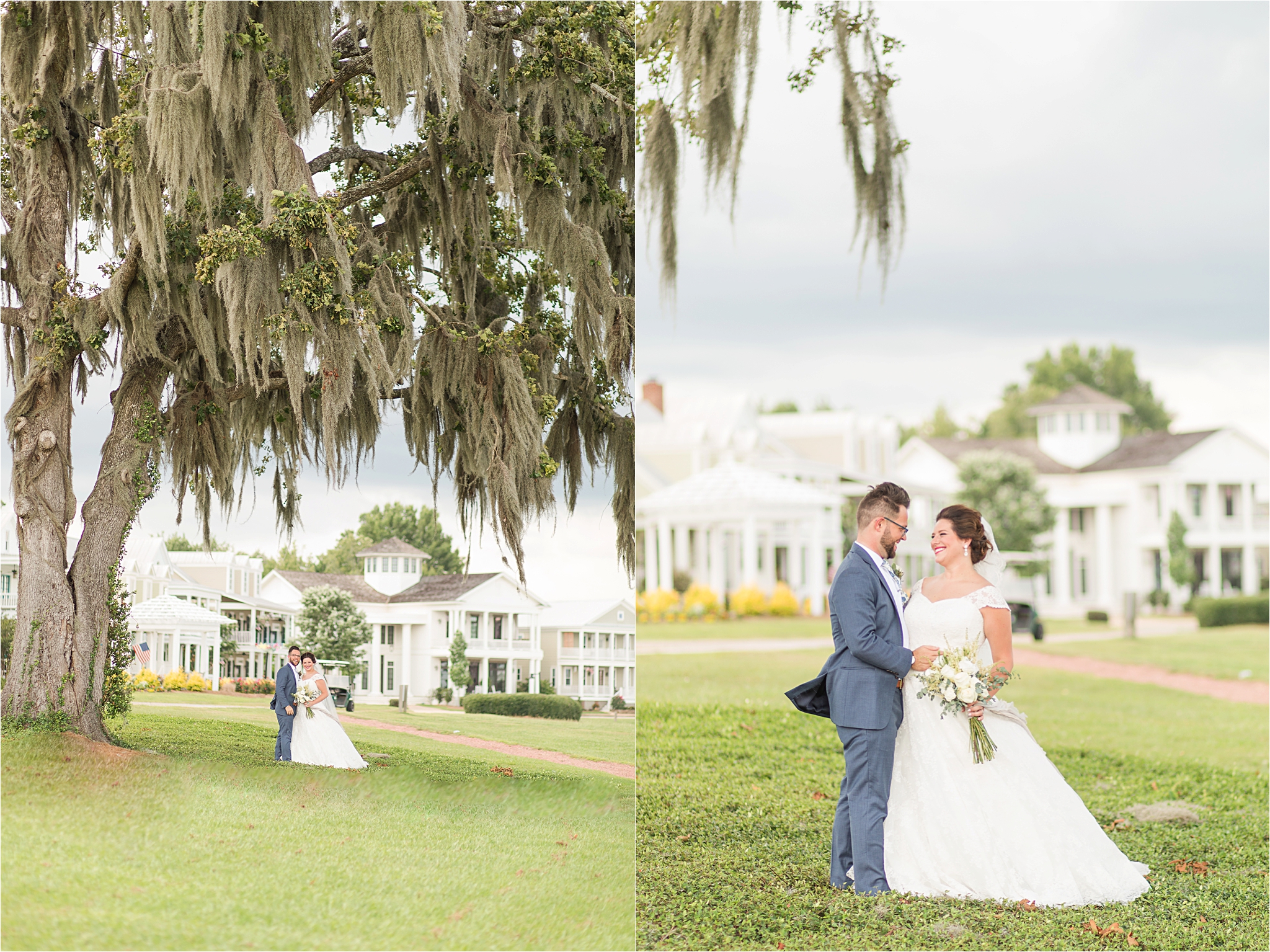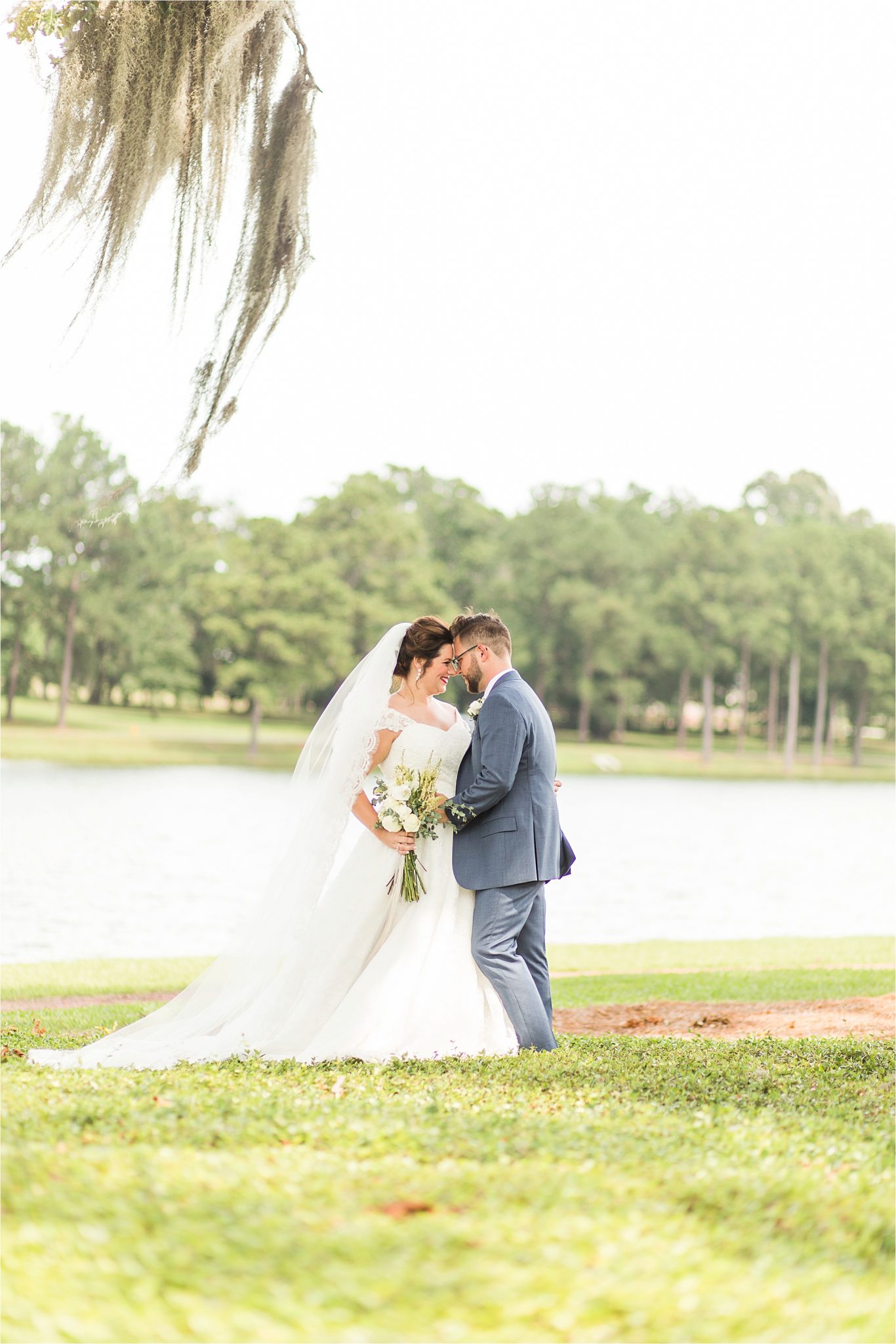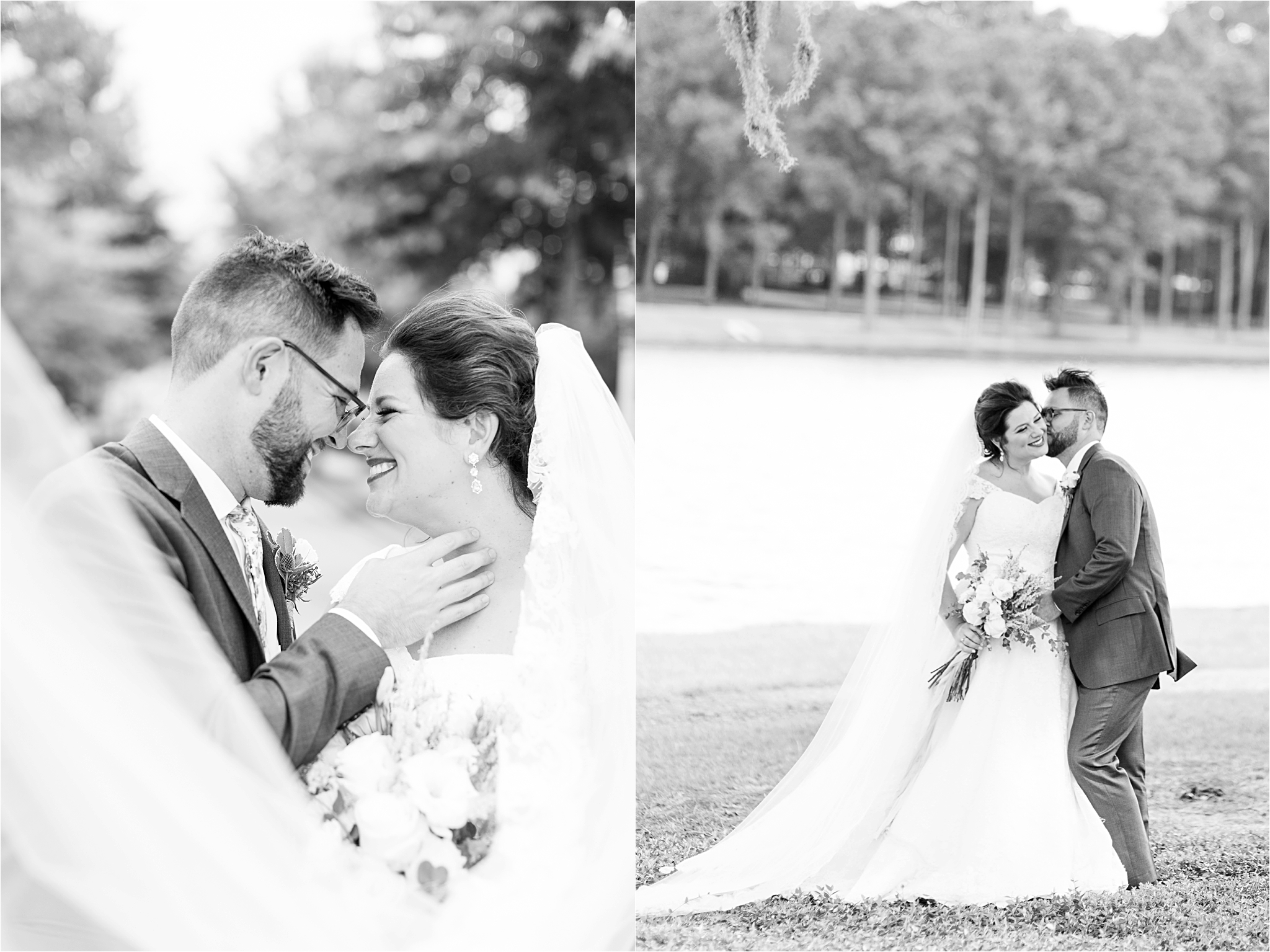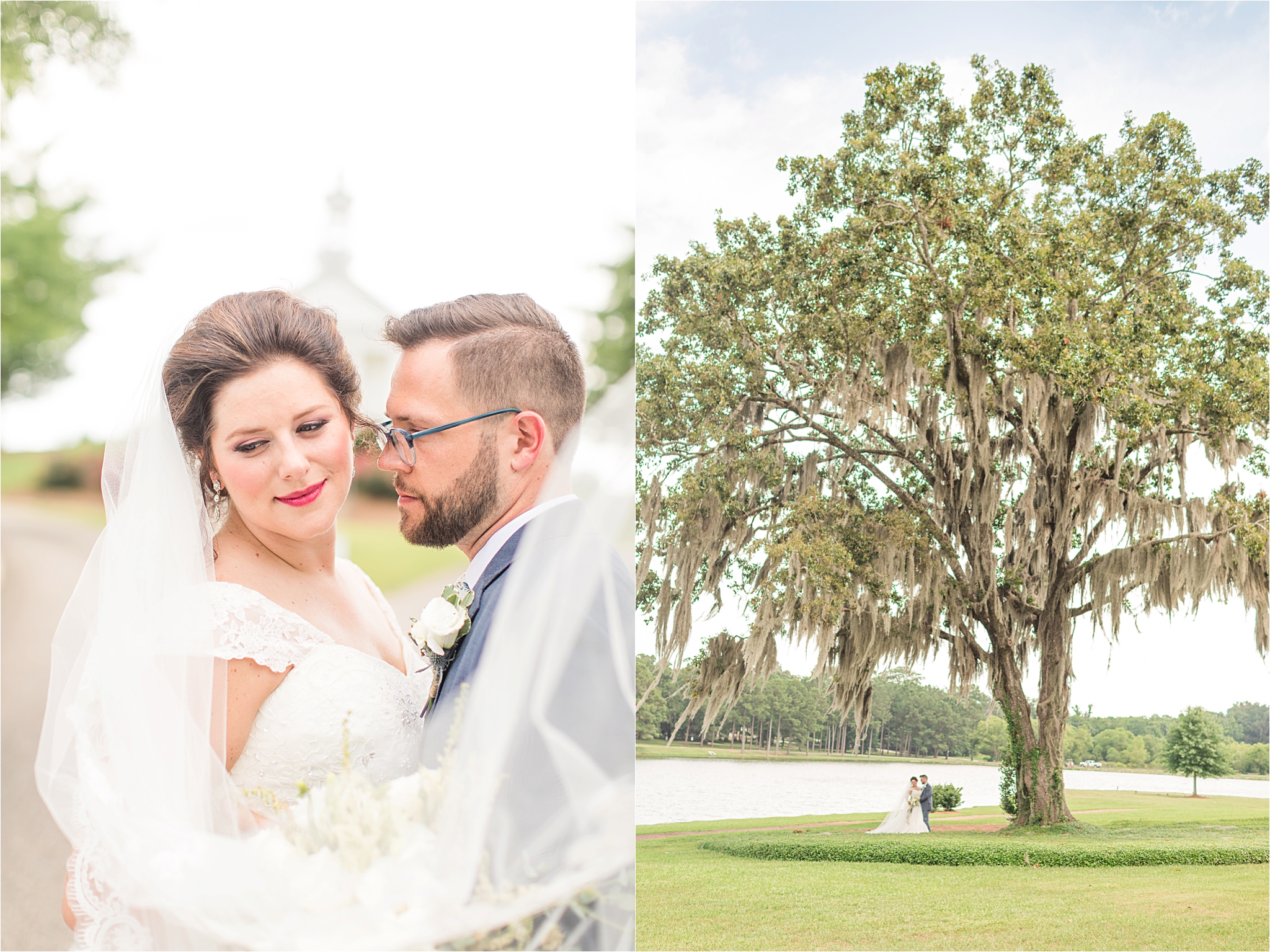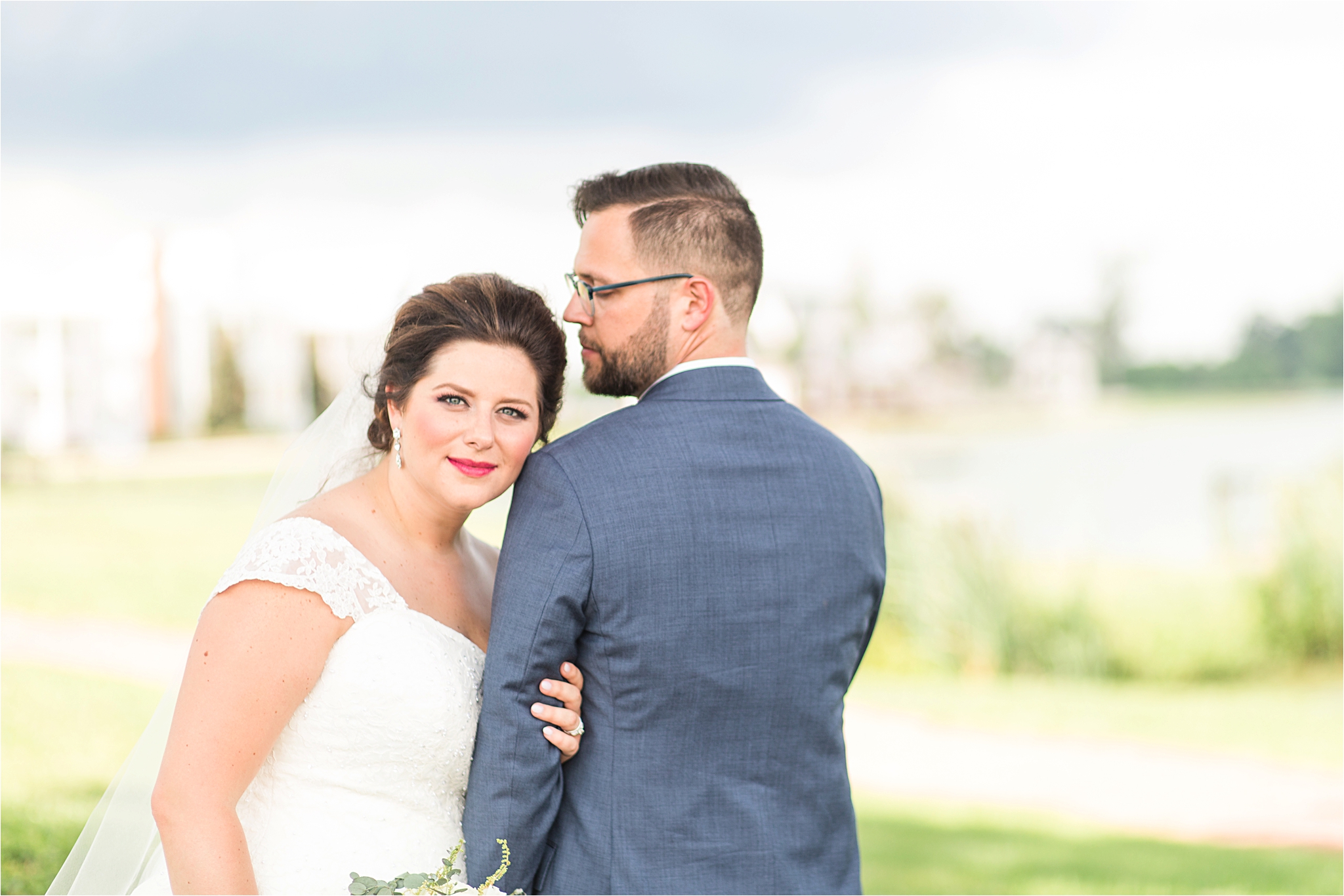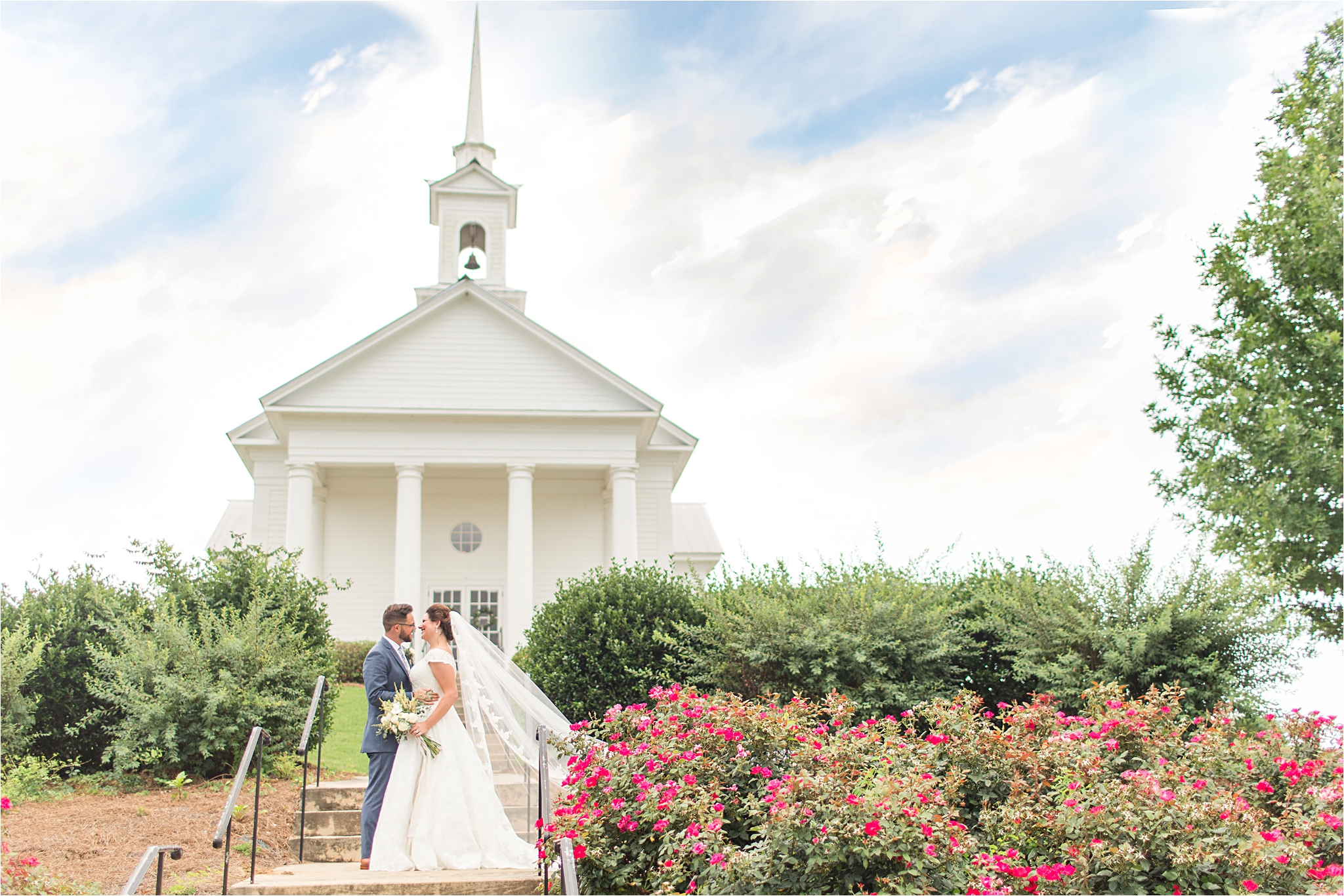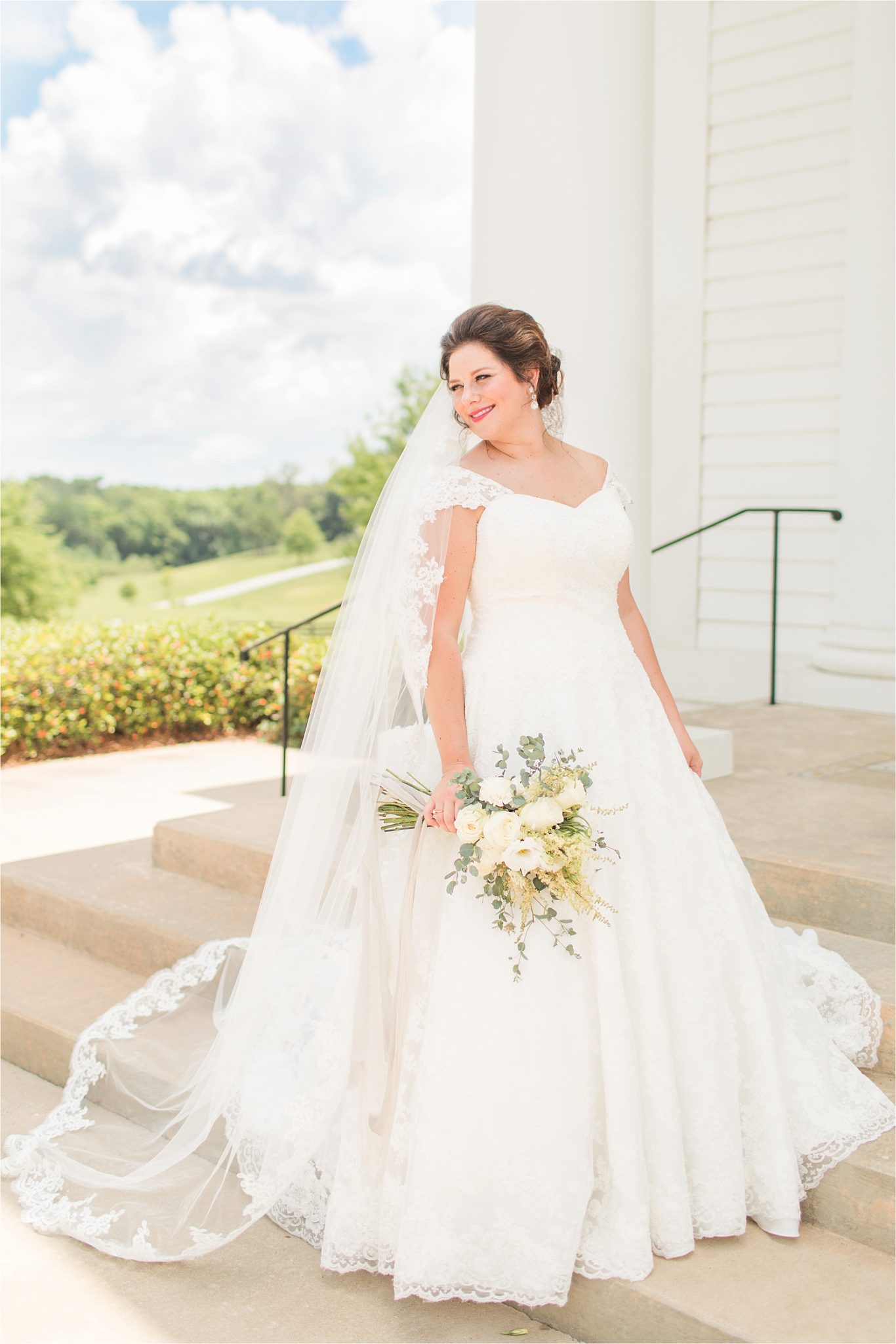 I love being a Montgomery Alabama Wedding Photographer…. !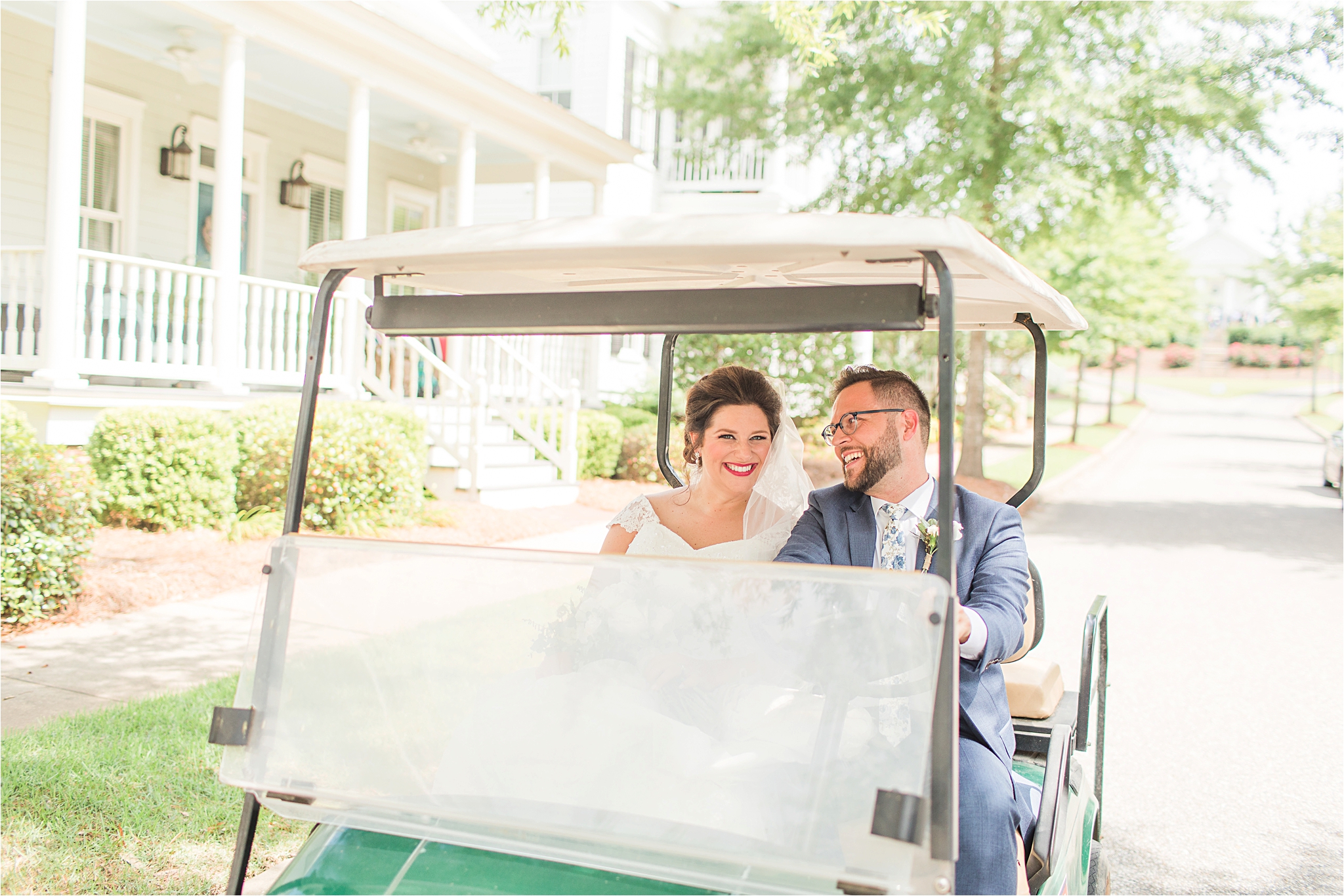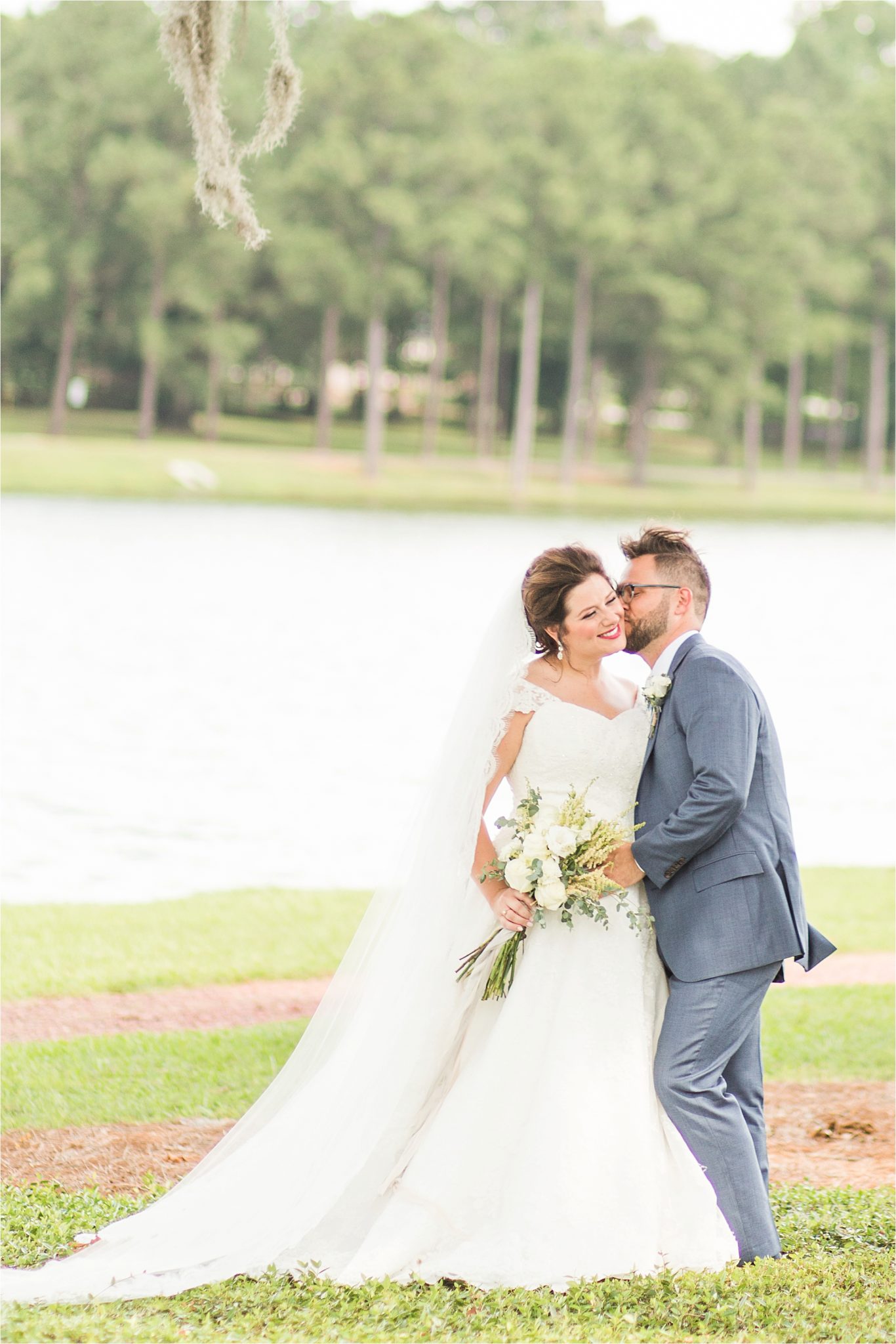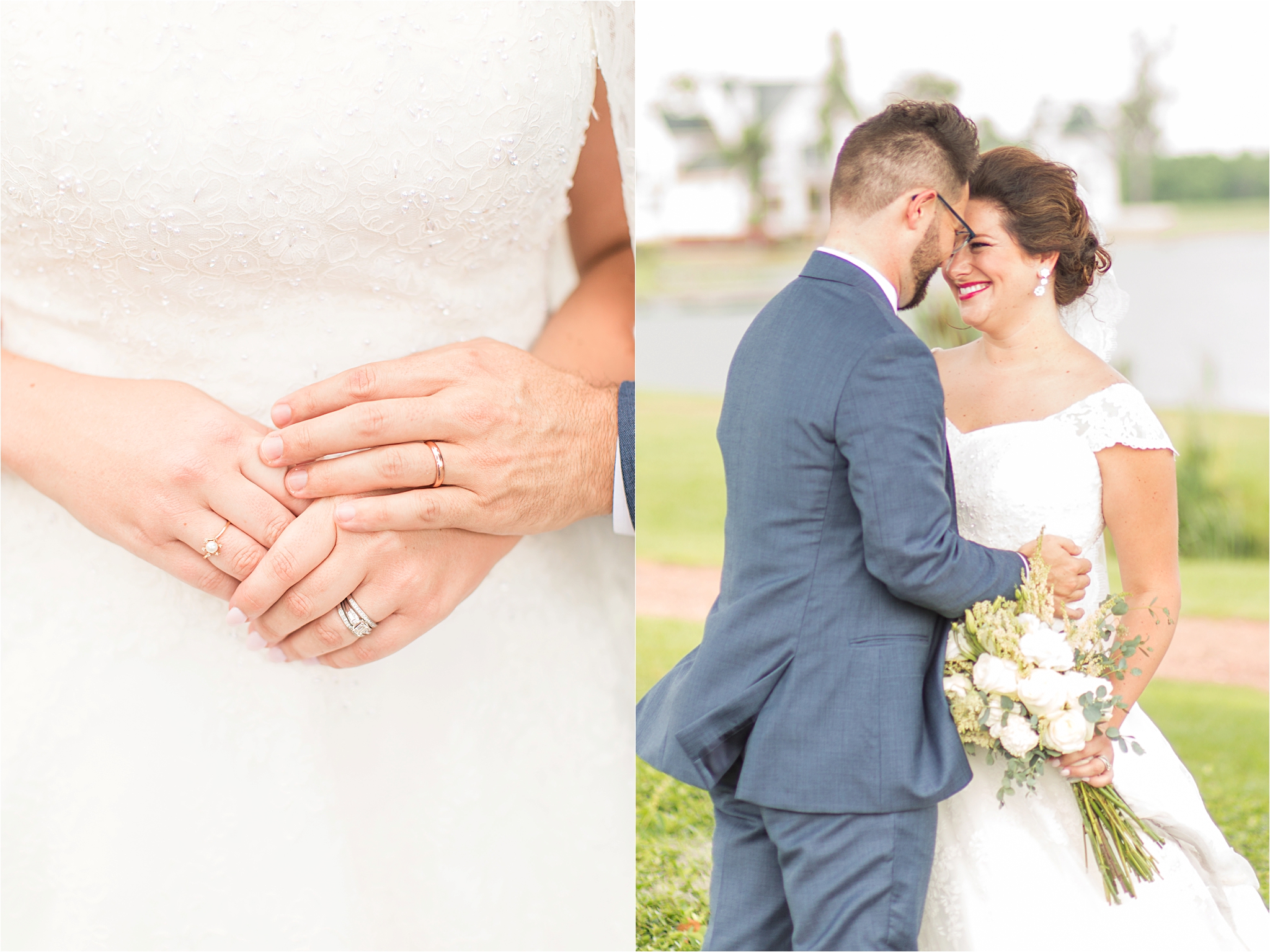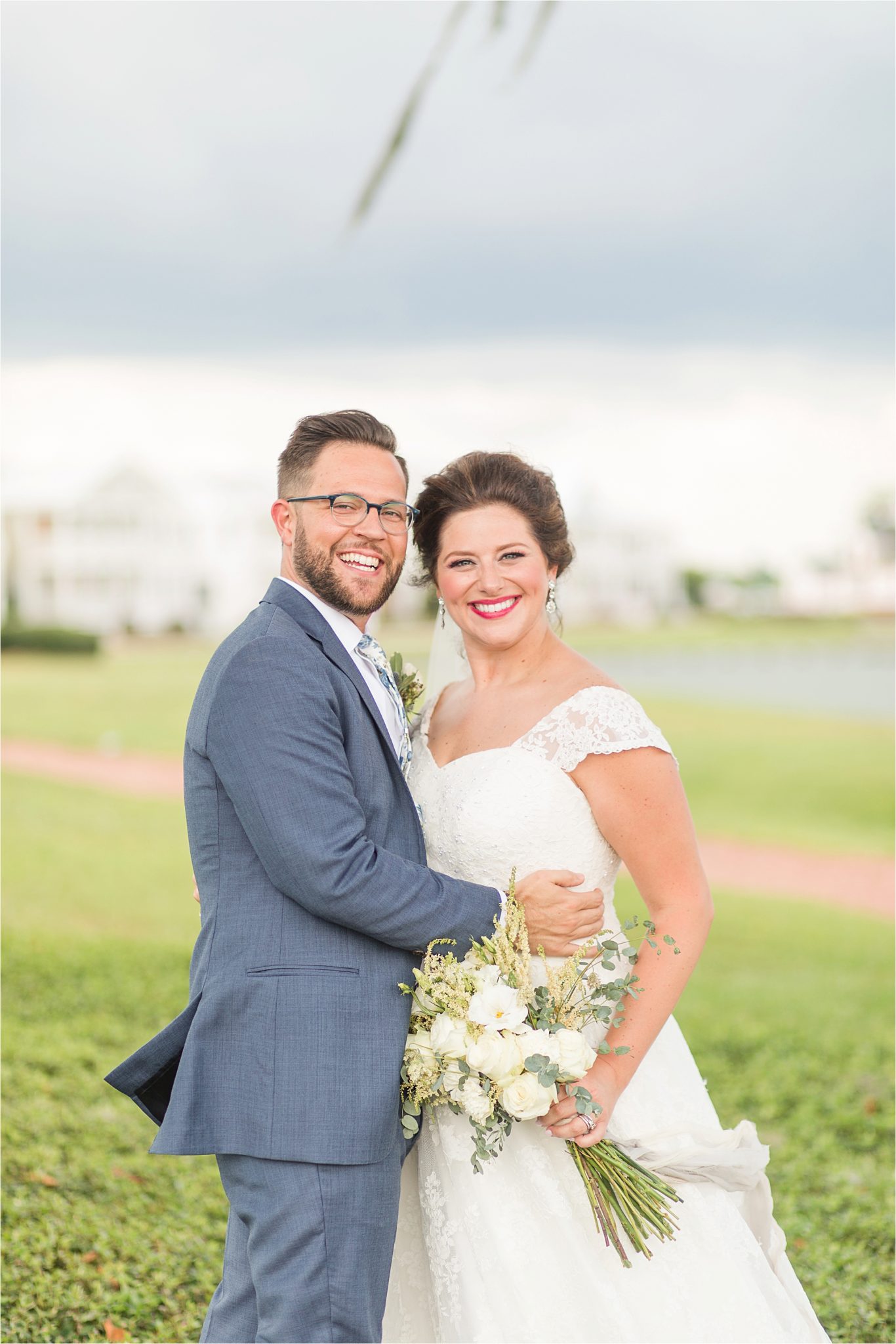 Love love love!!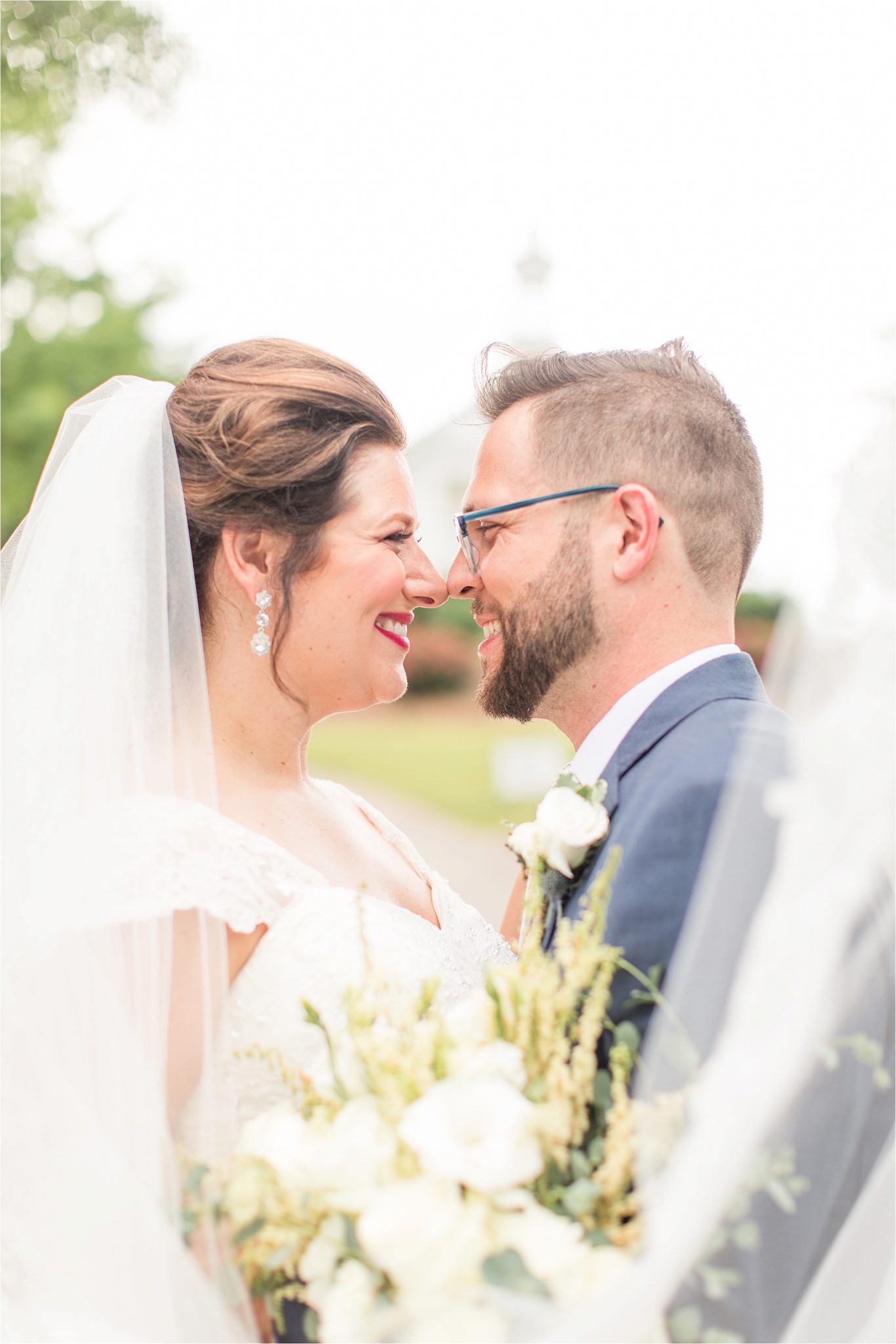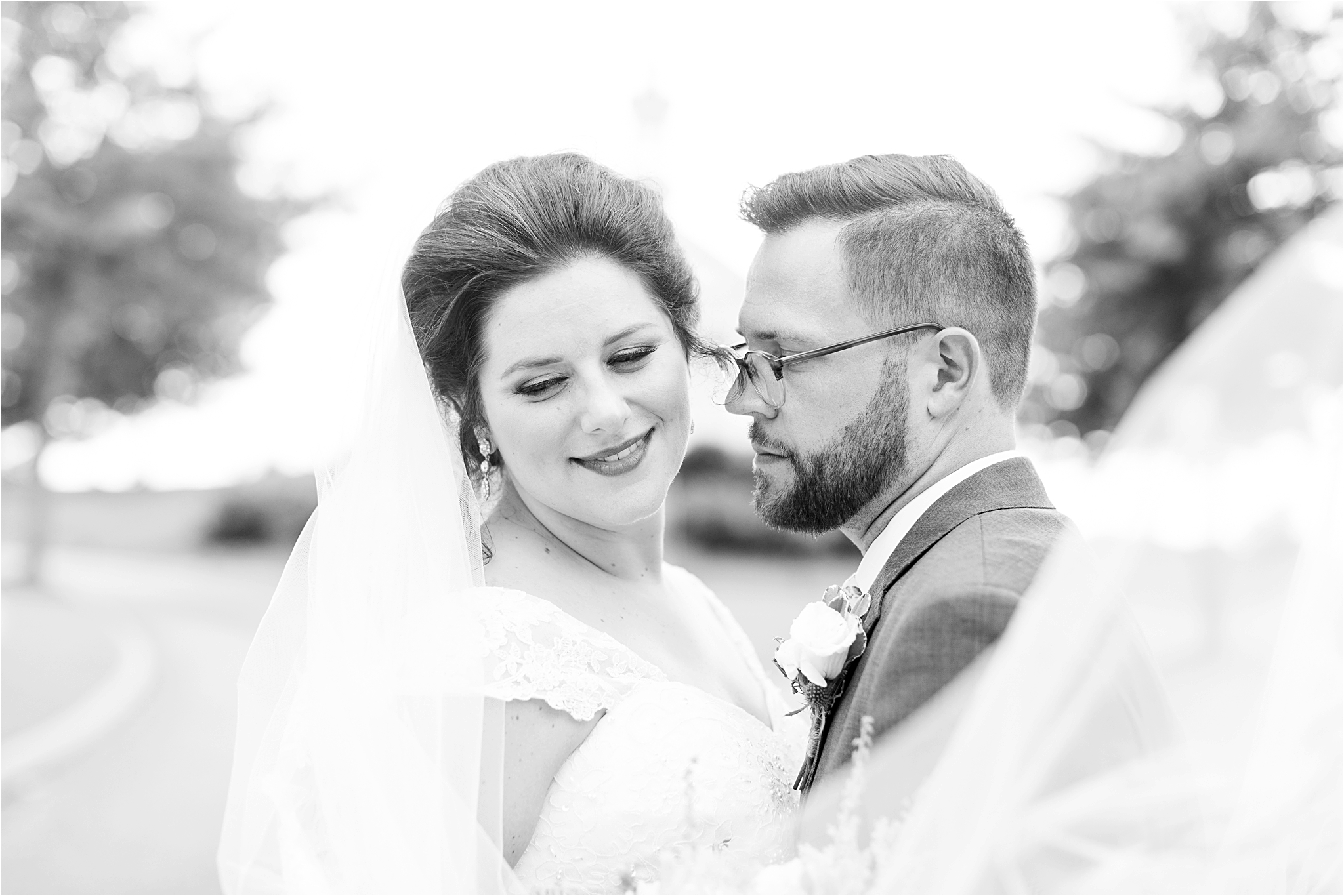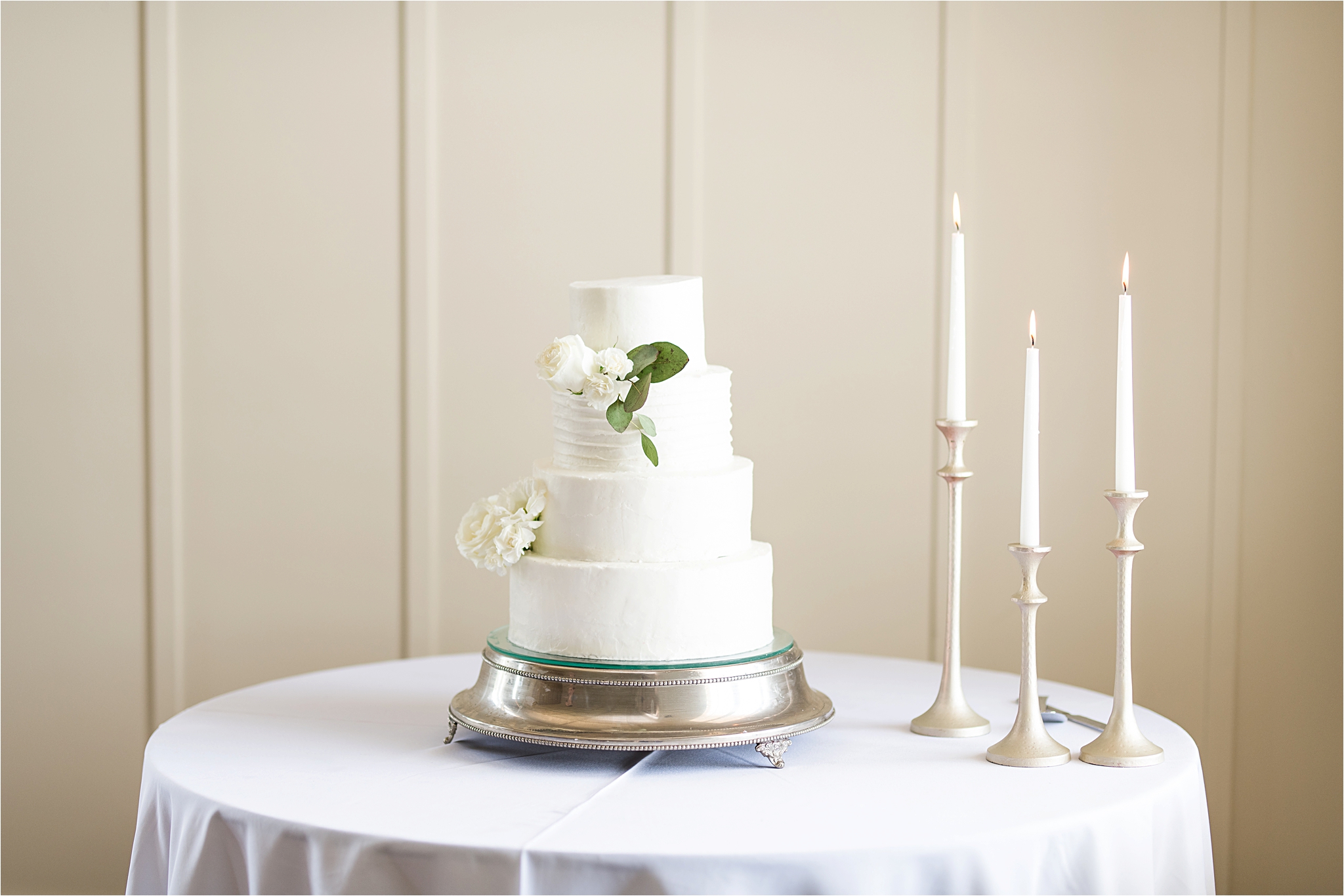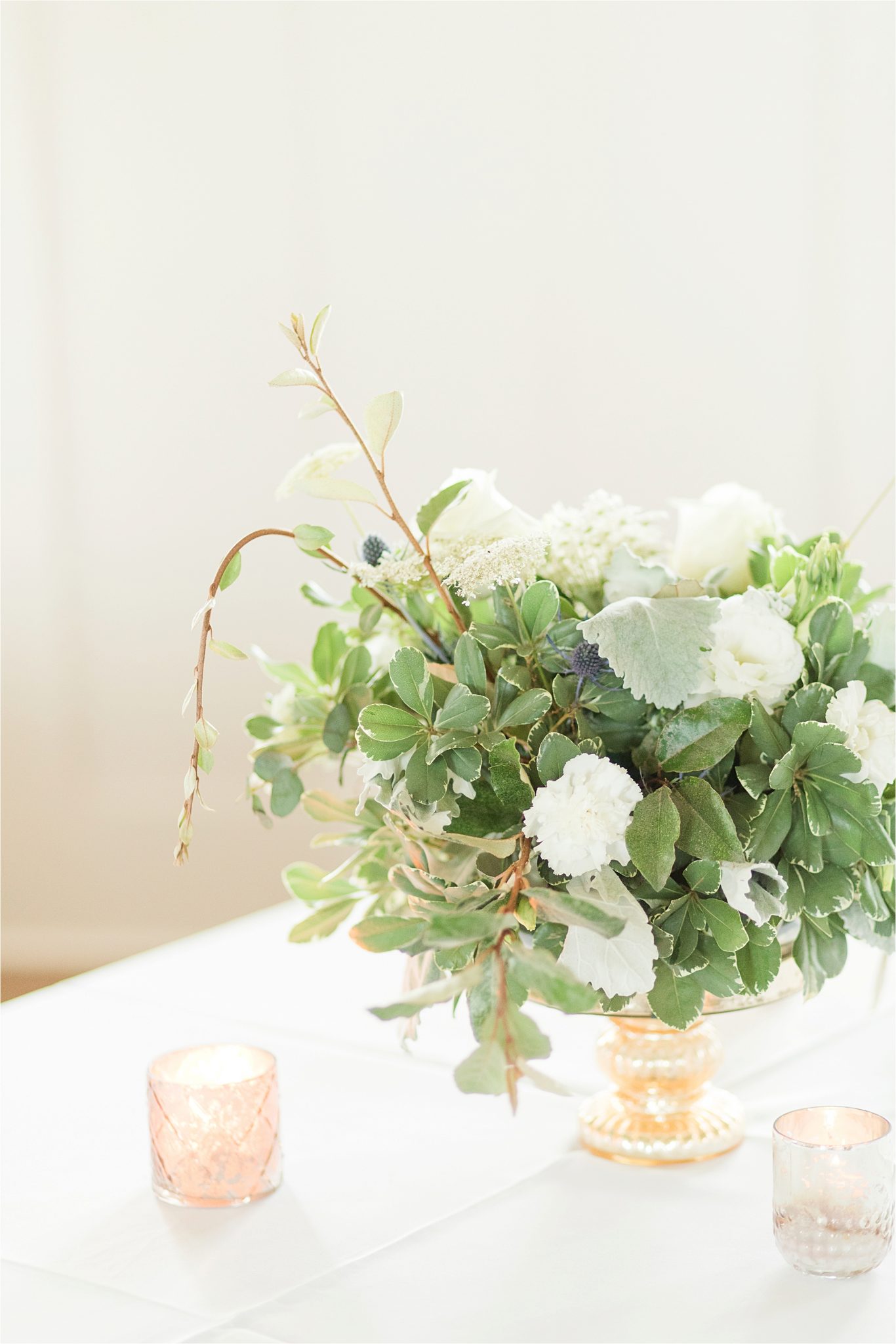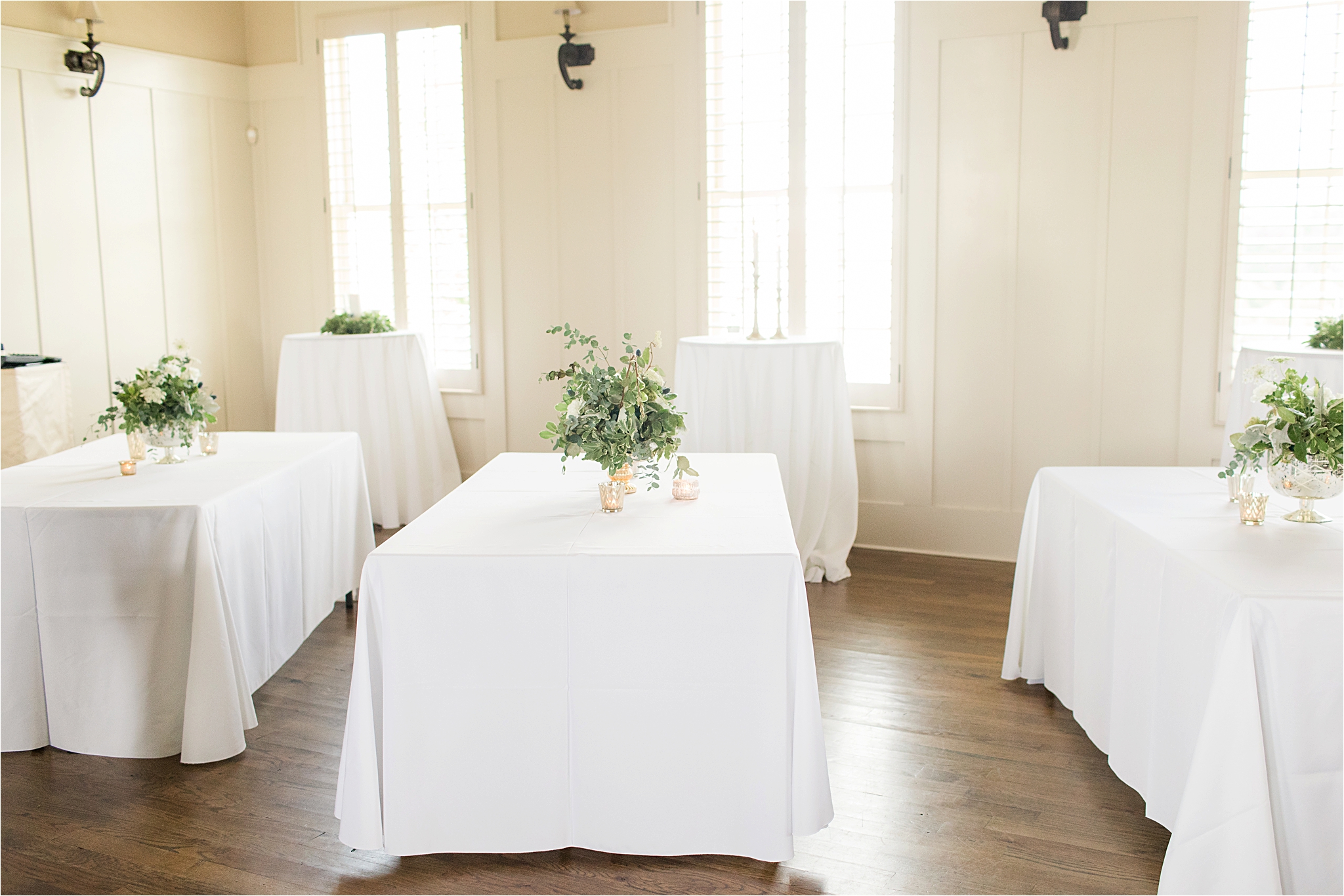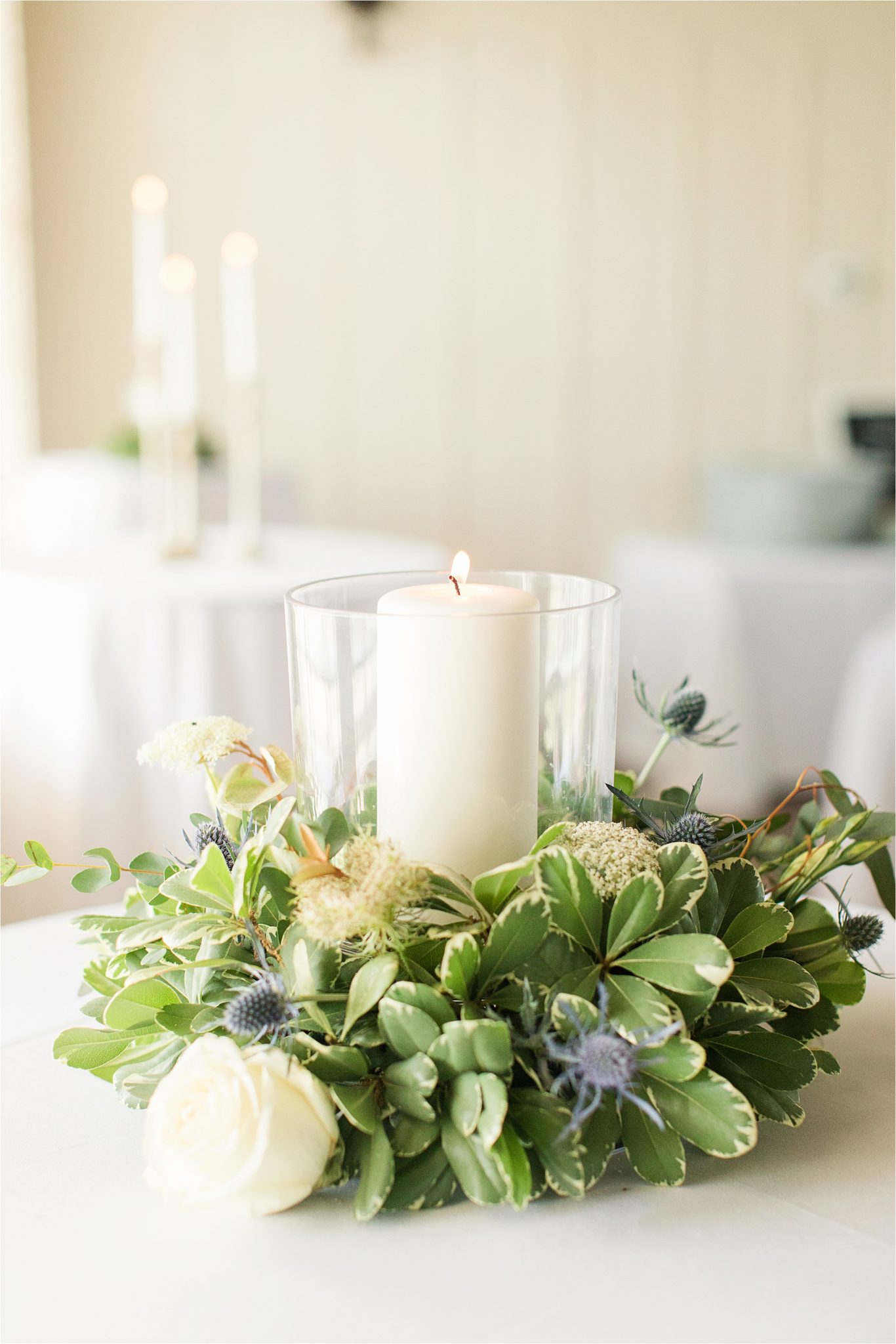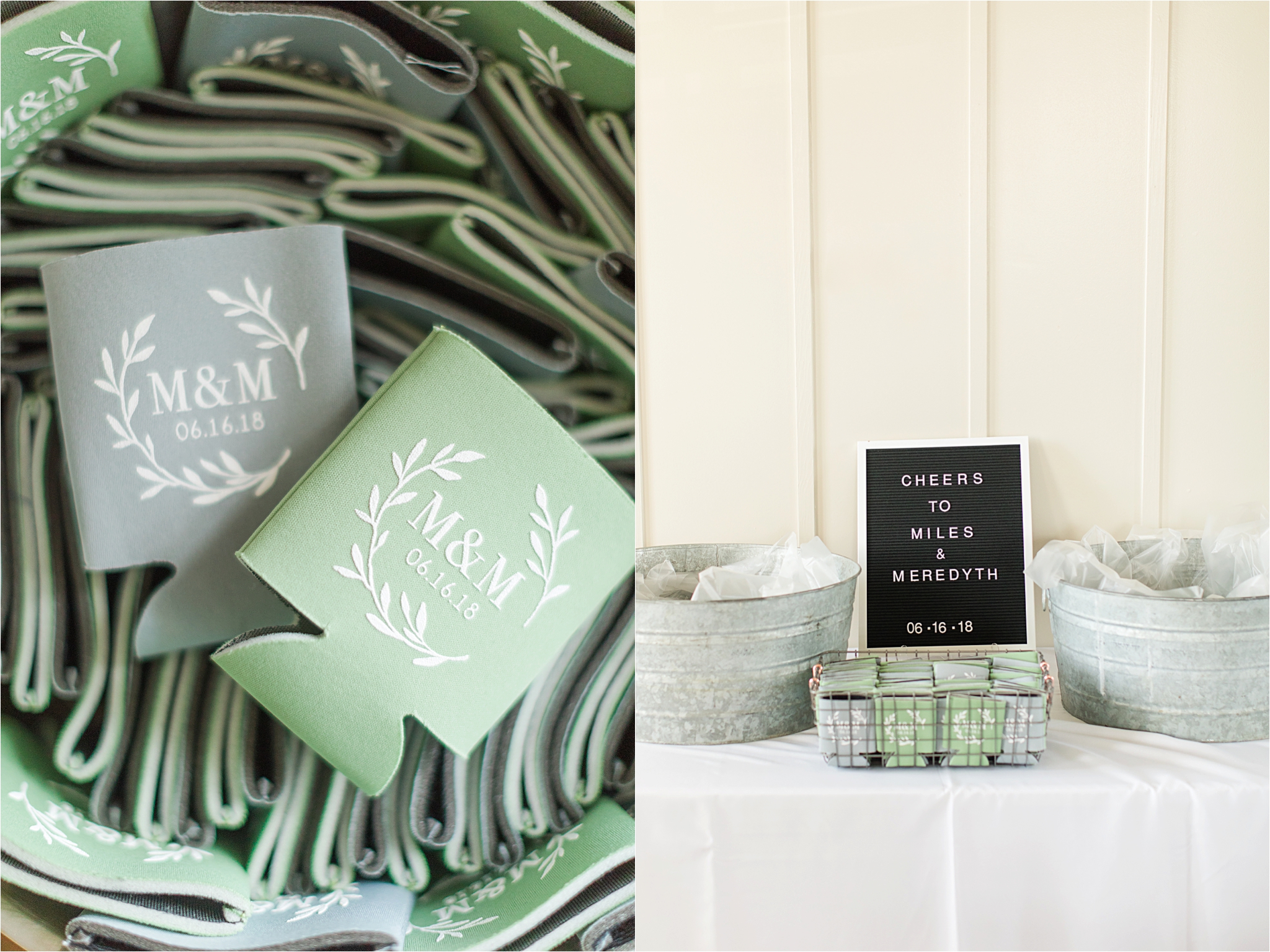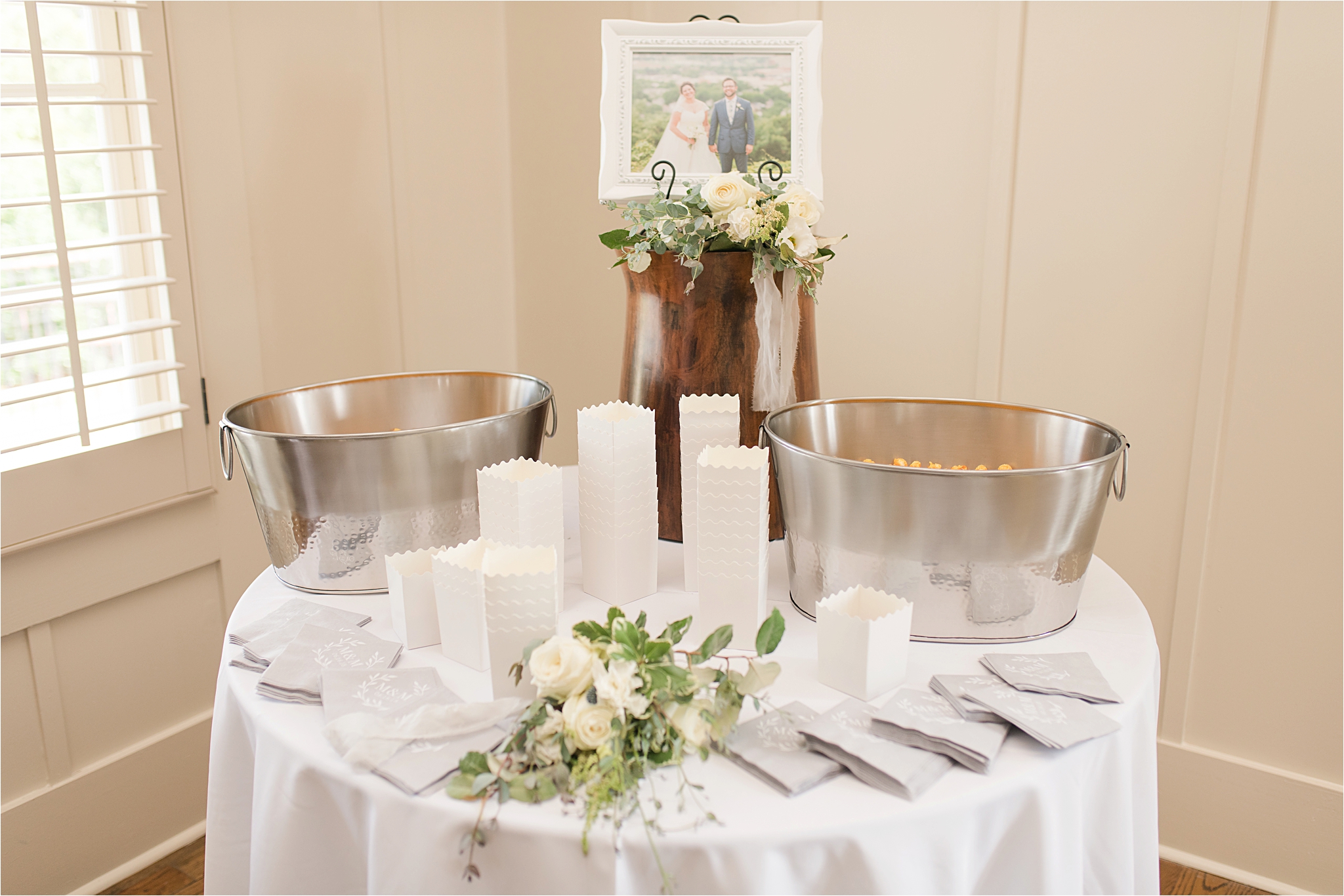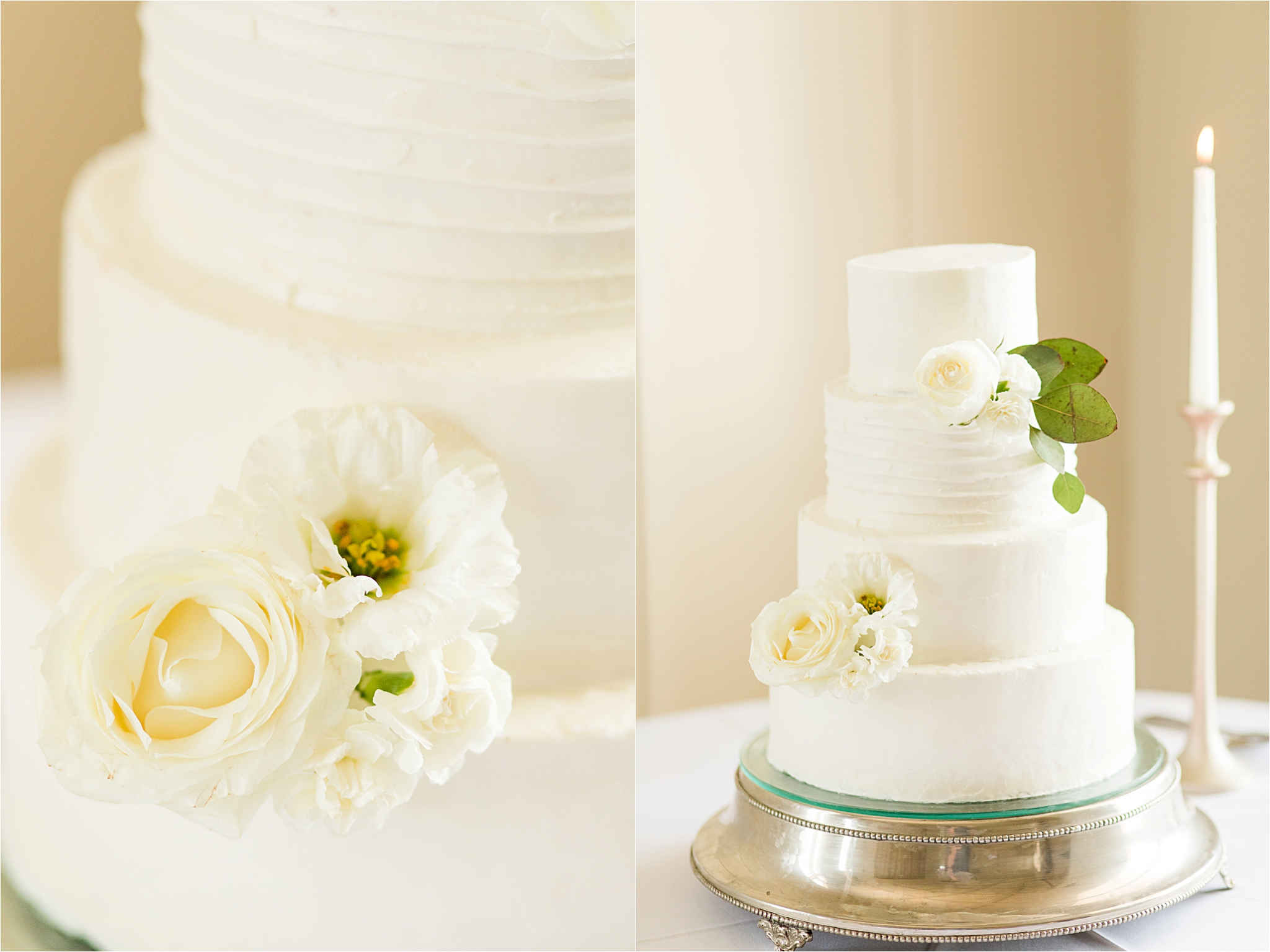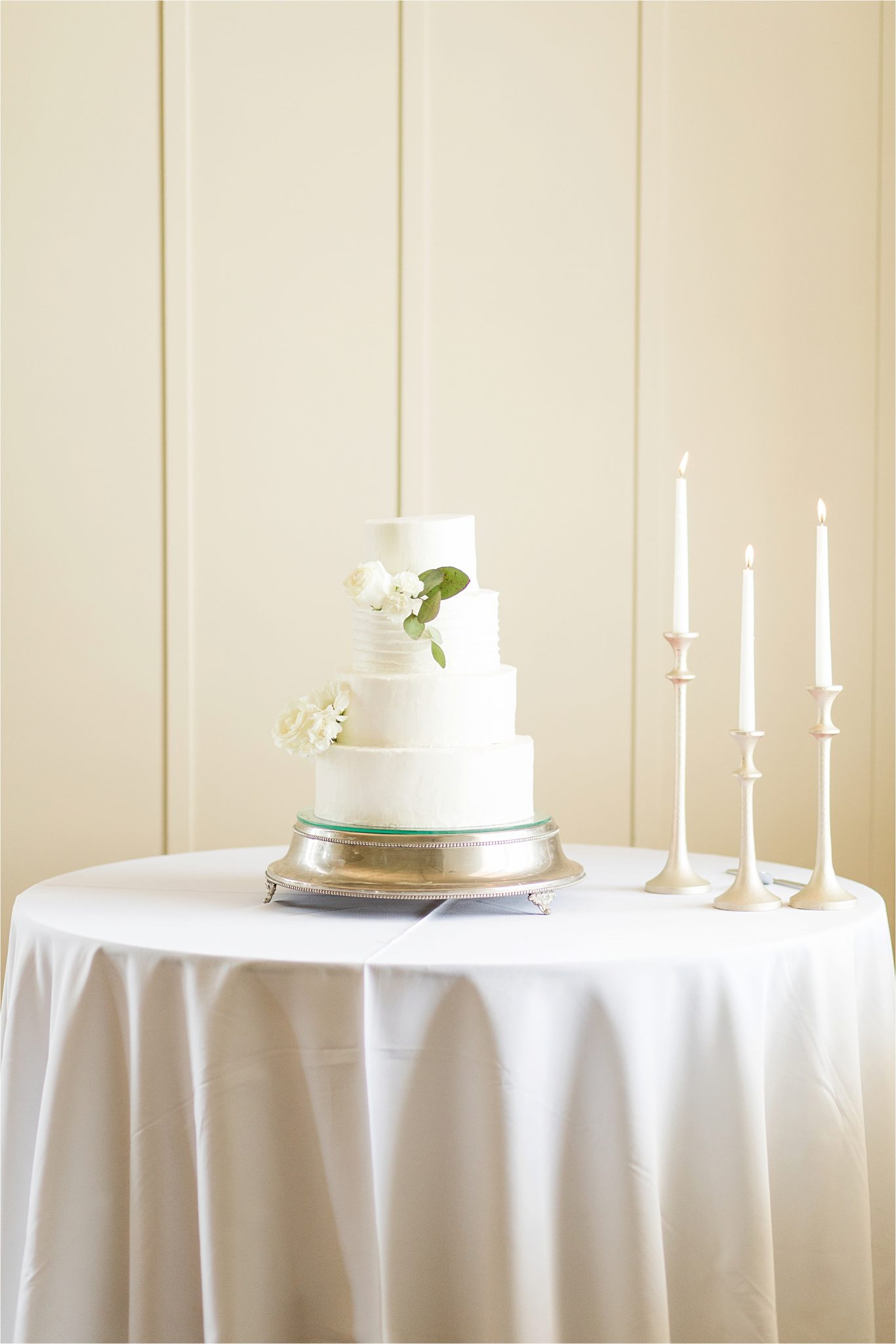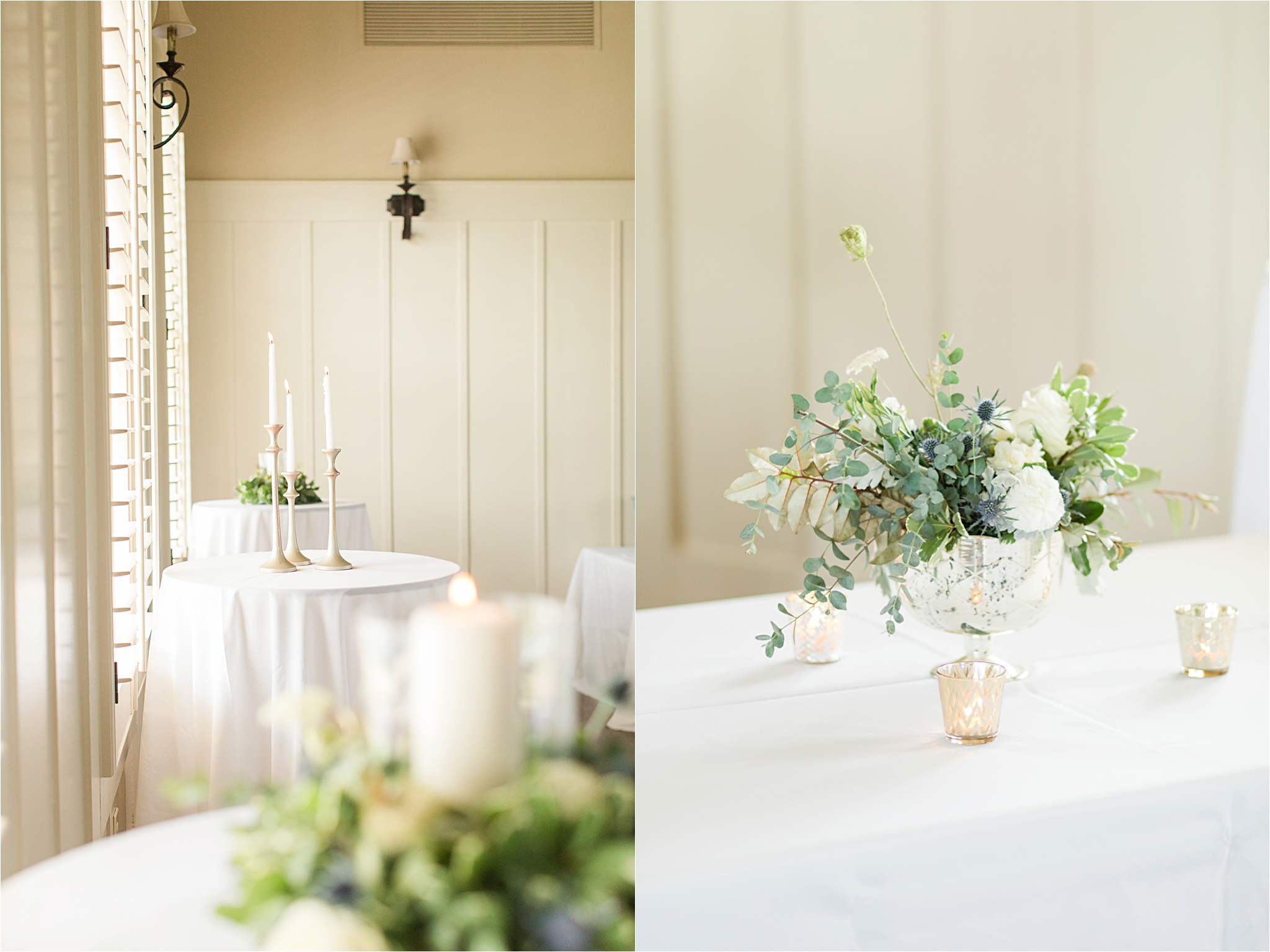 Steel City pops stole the shoe!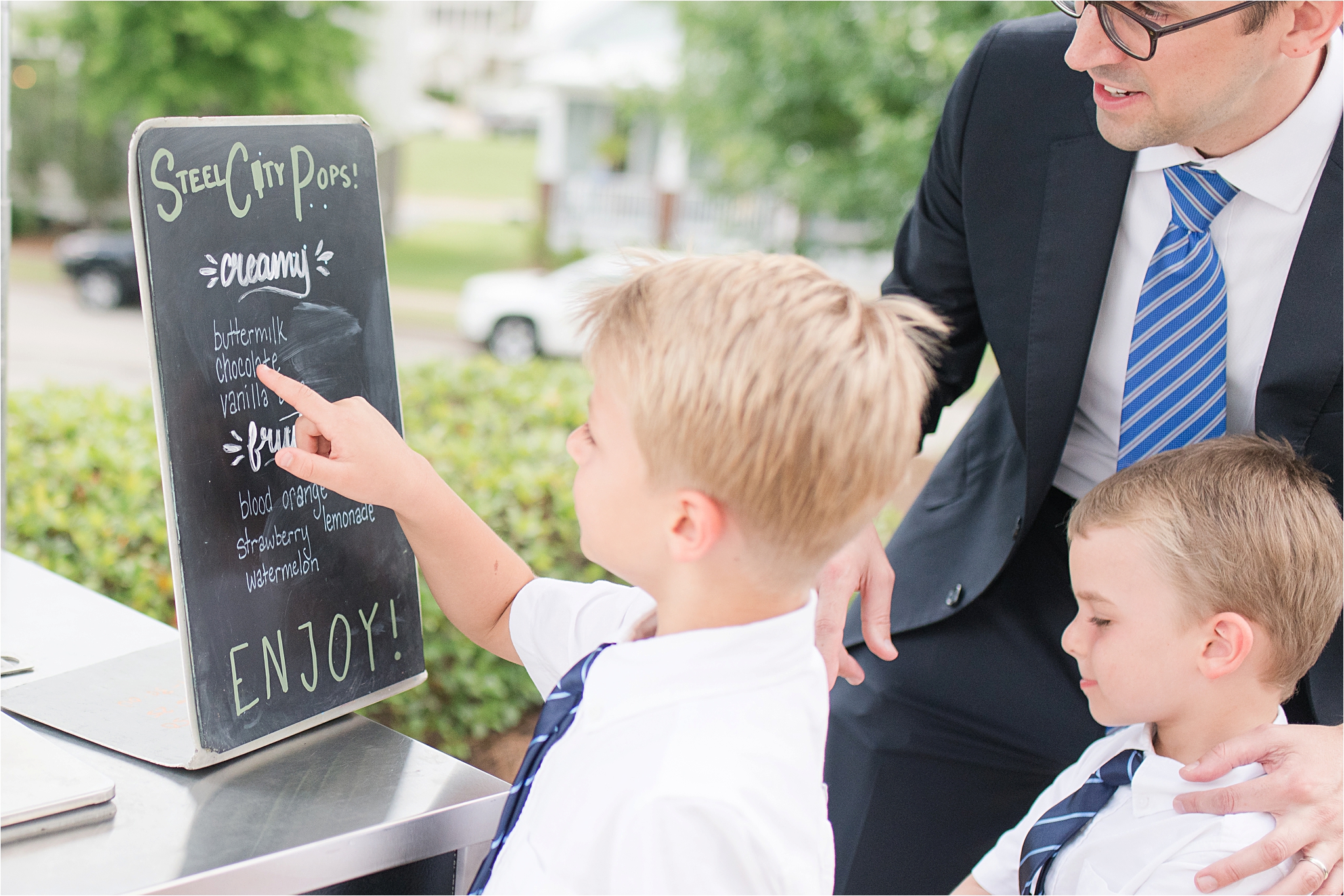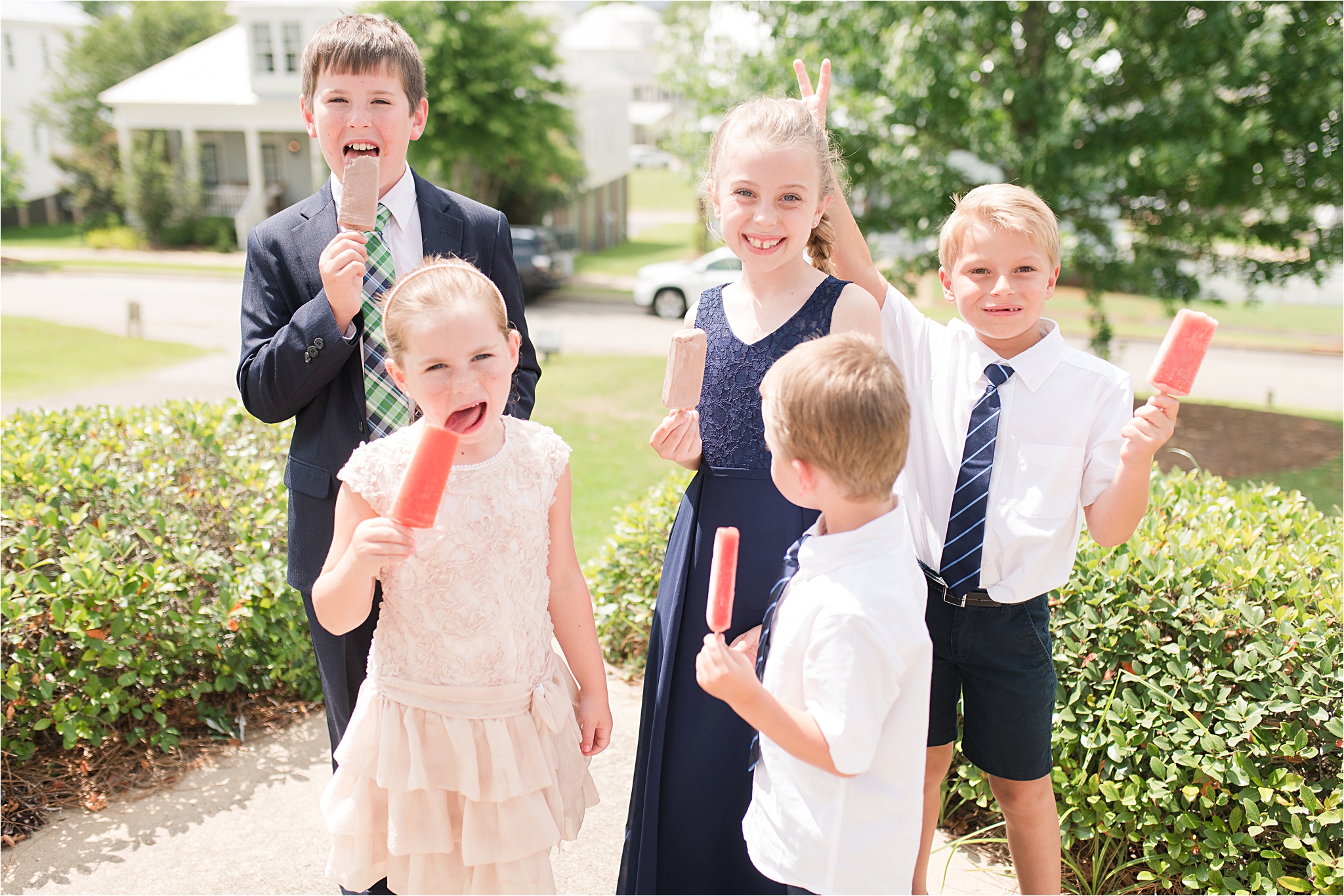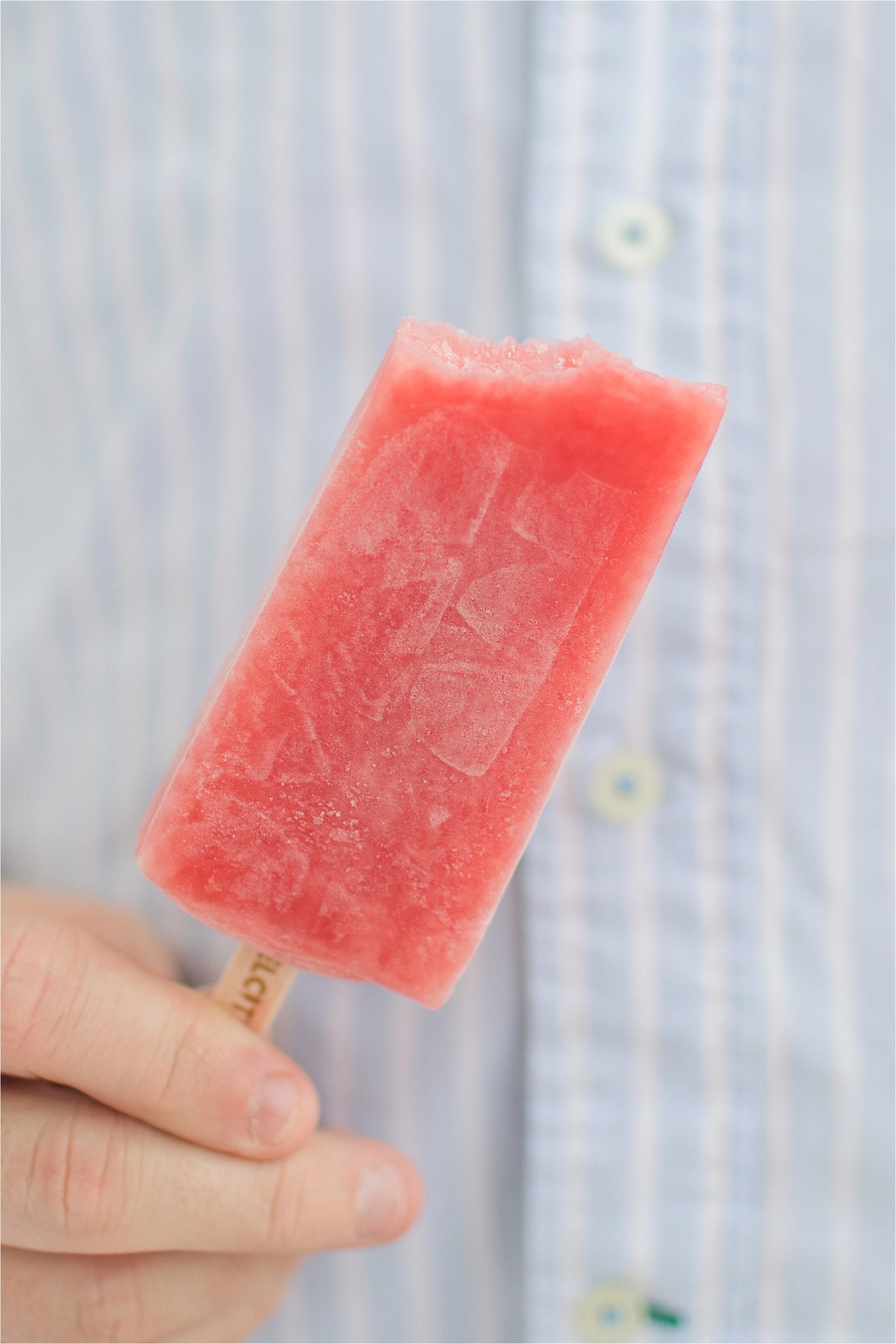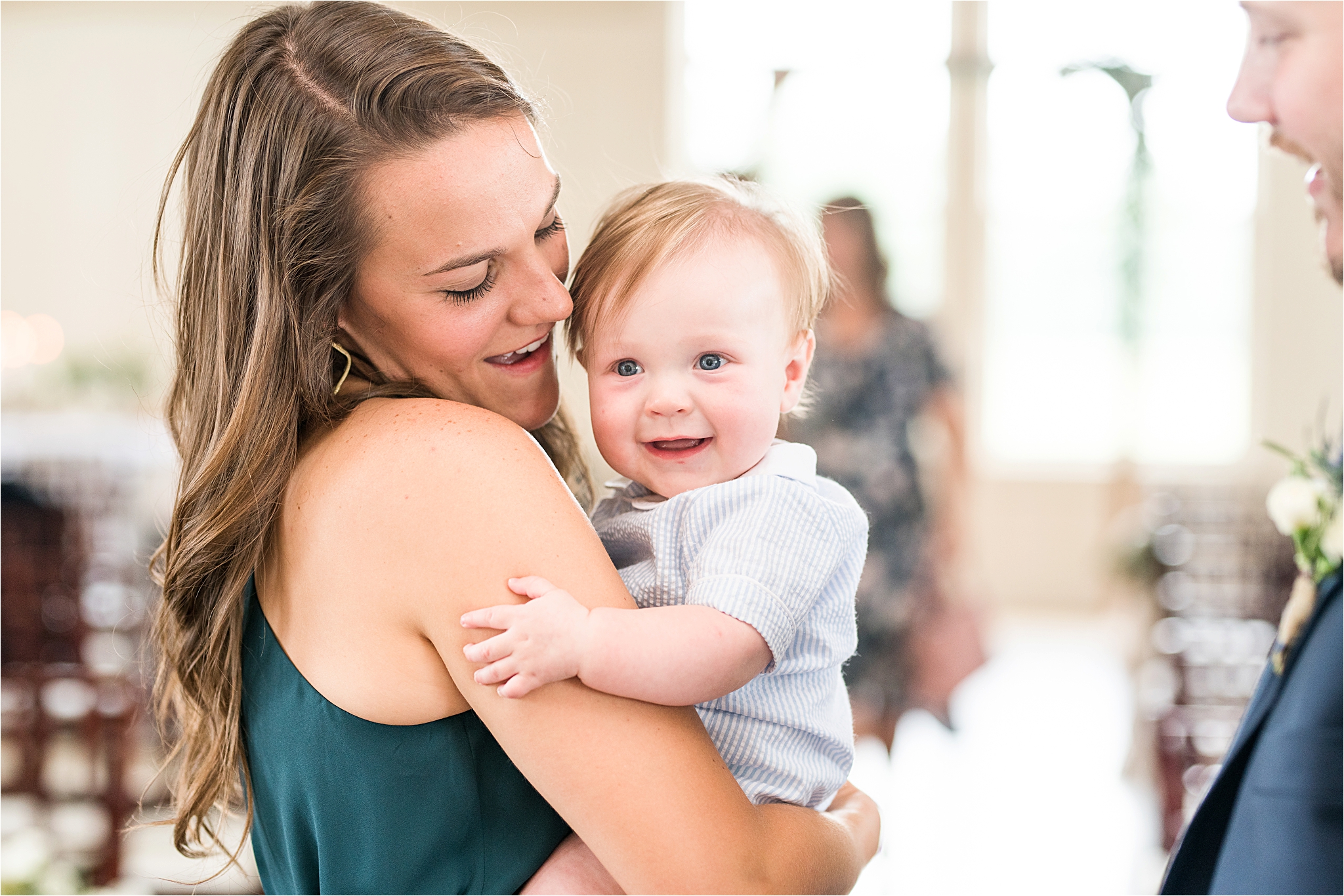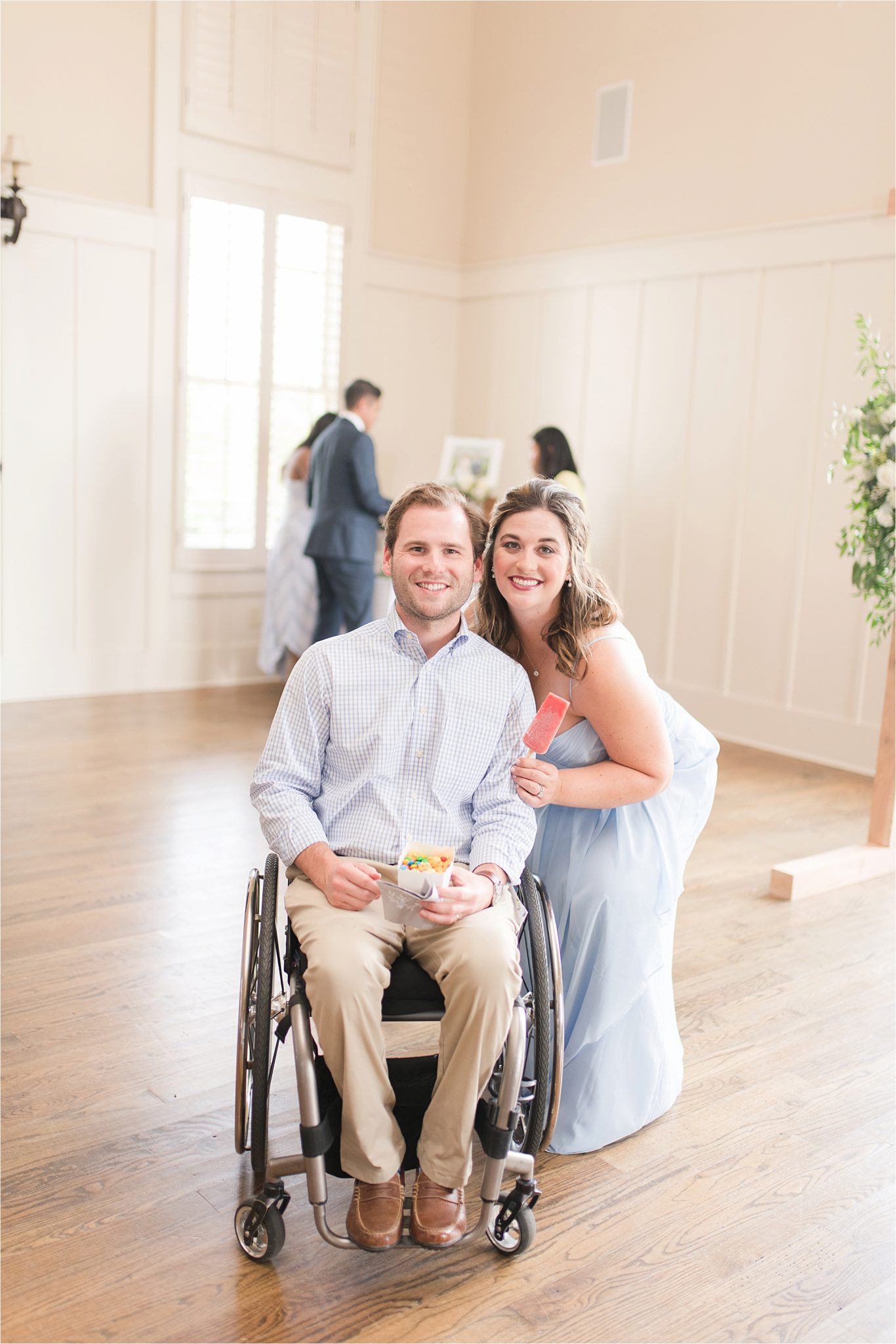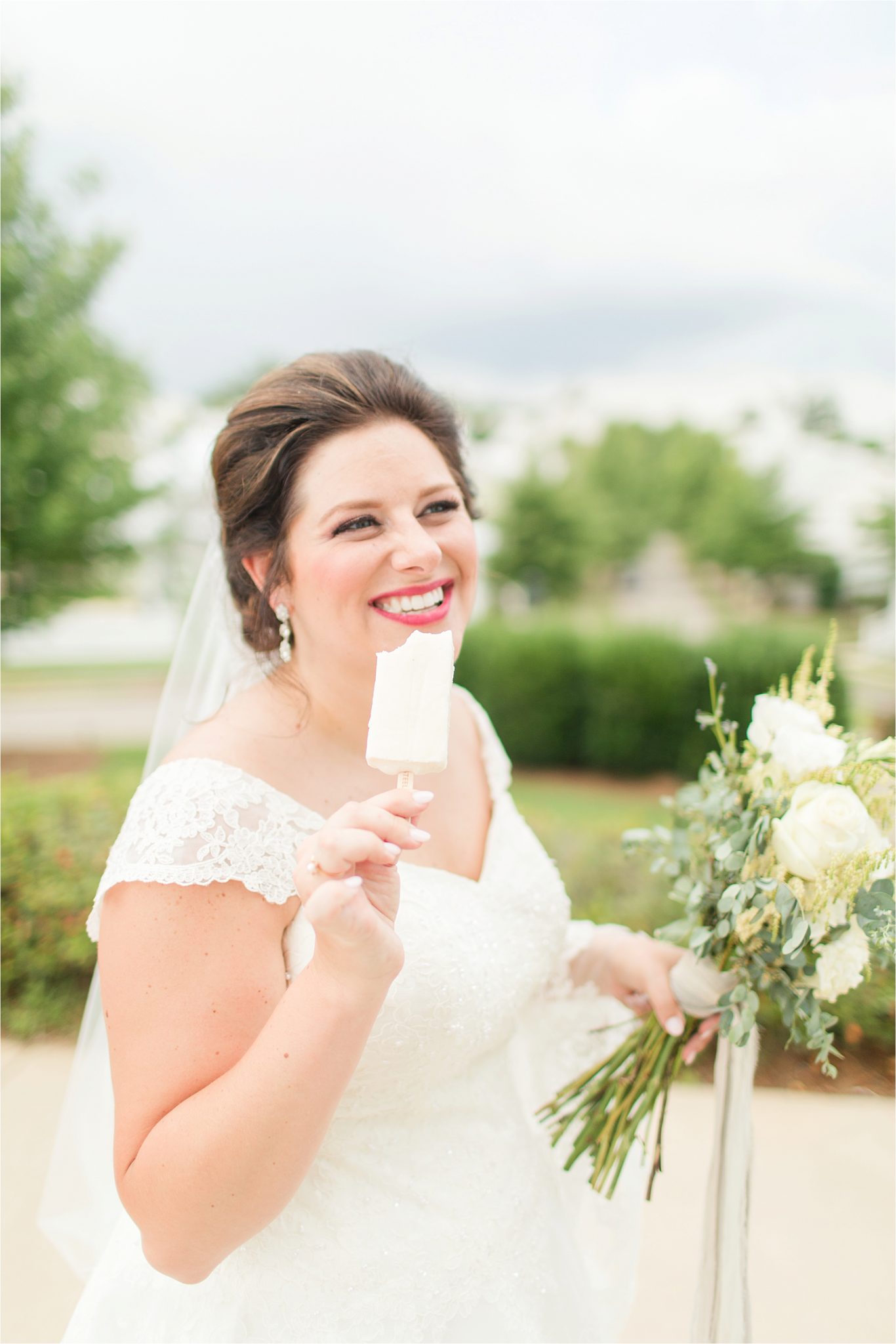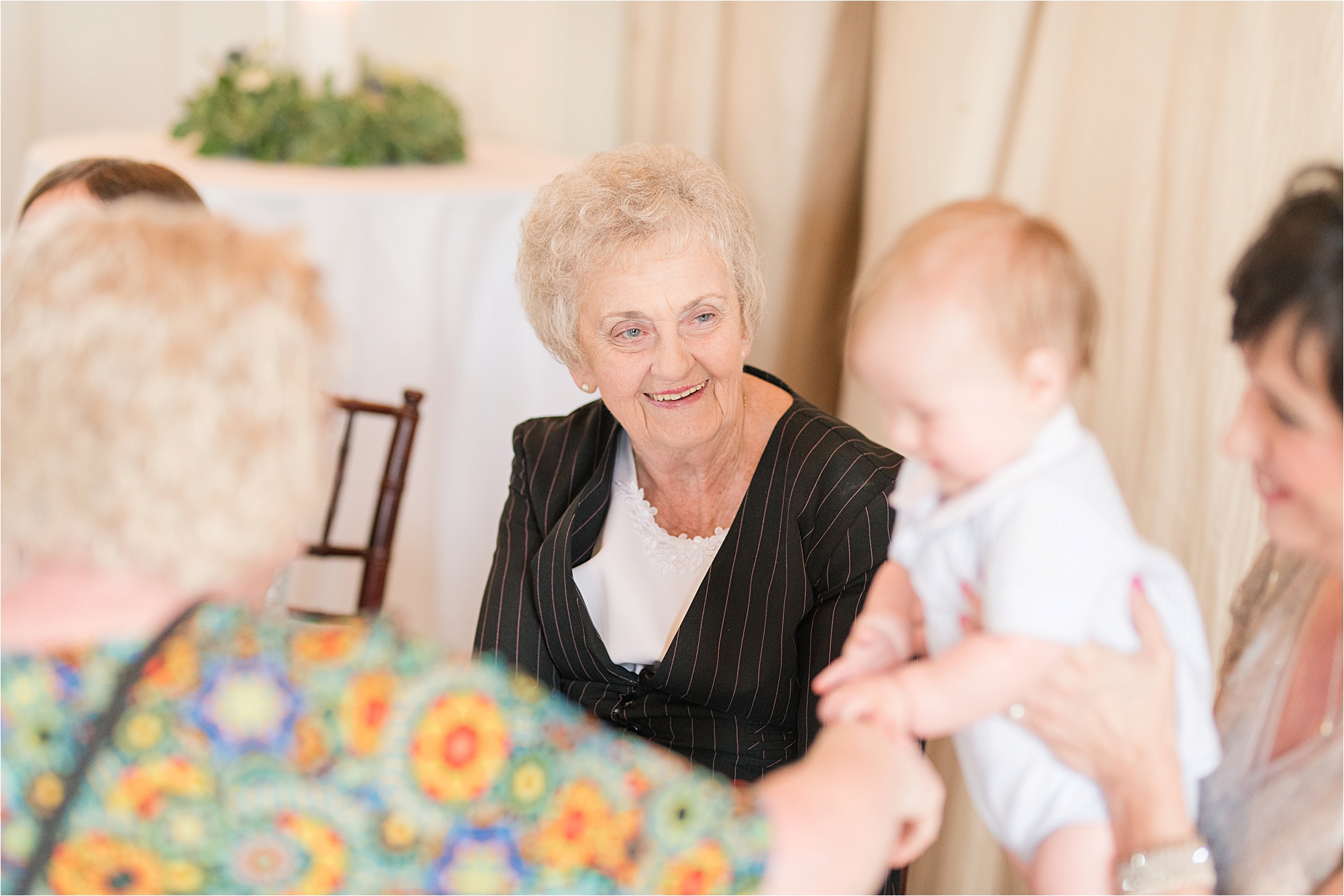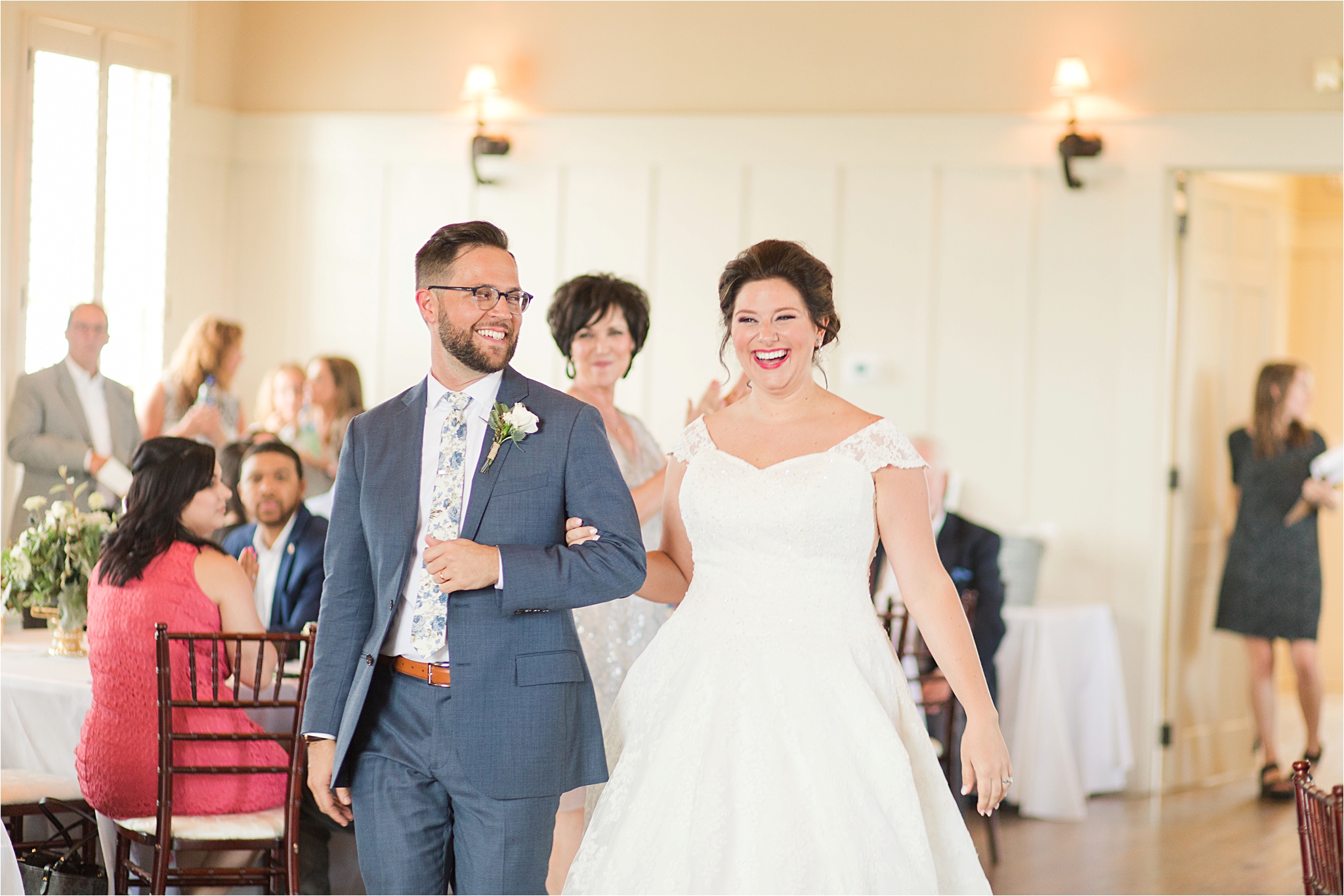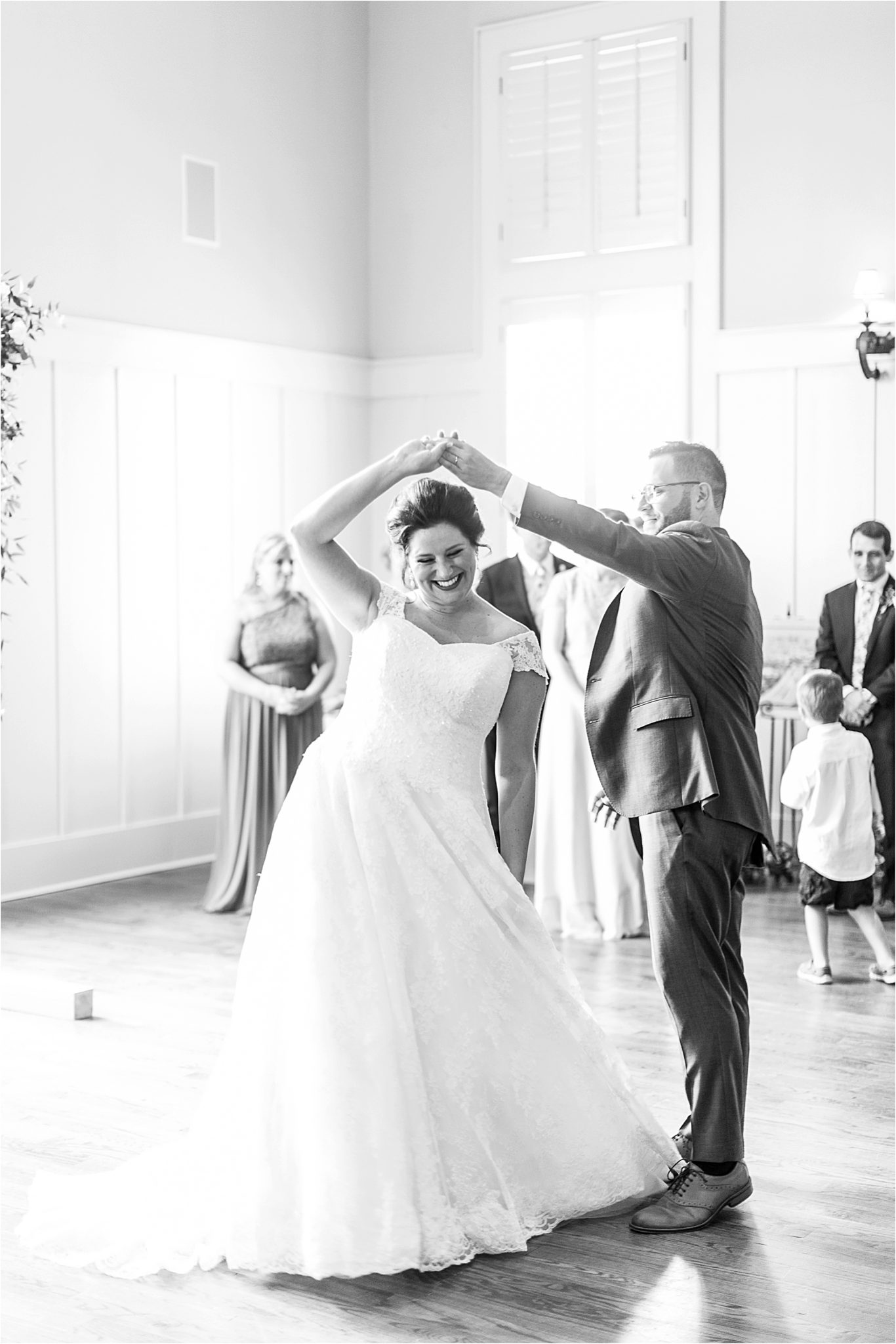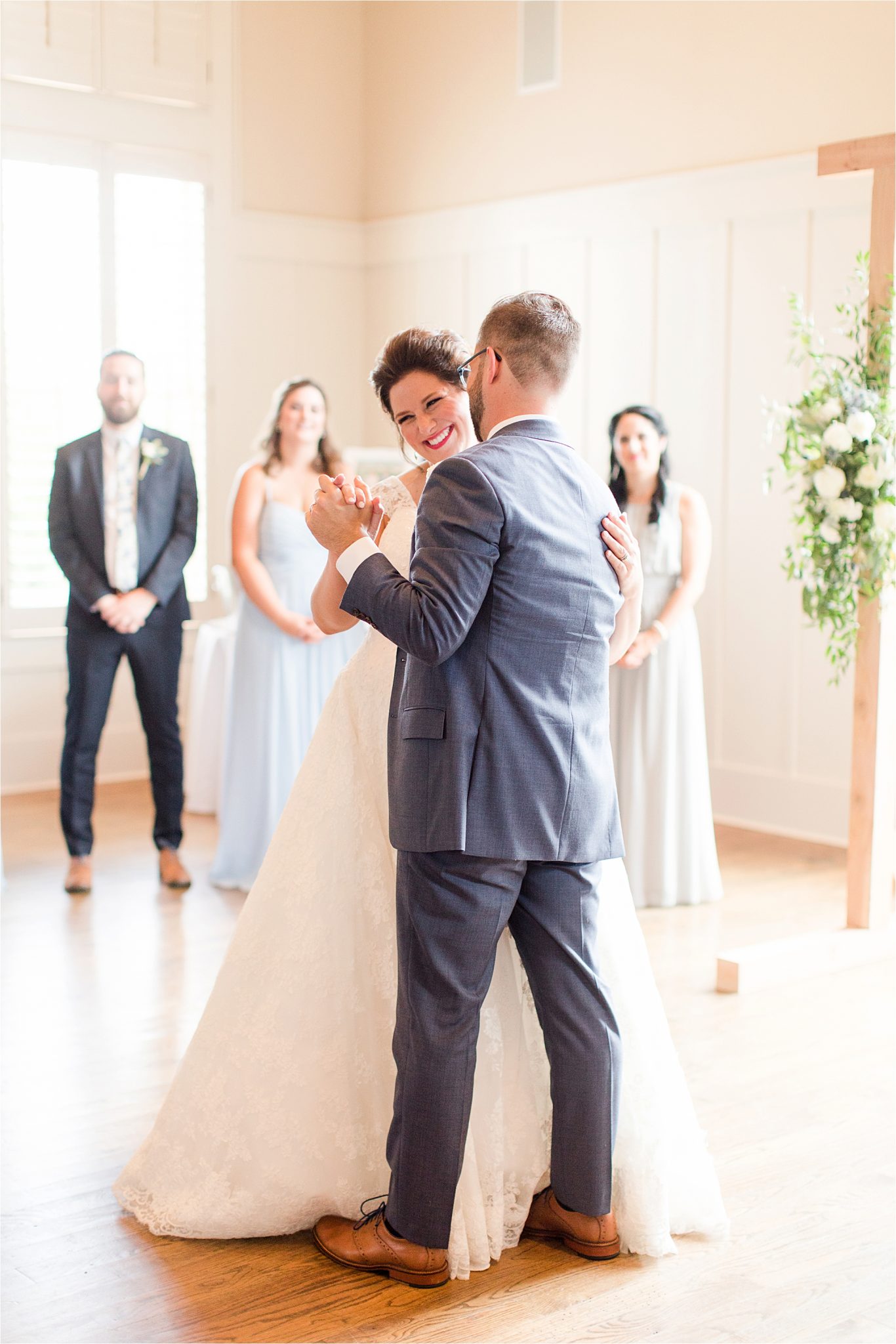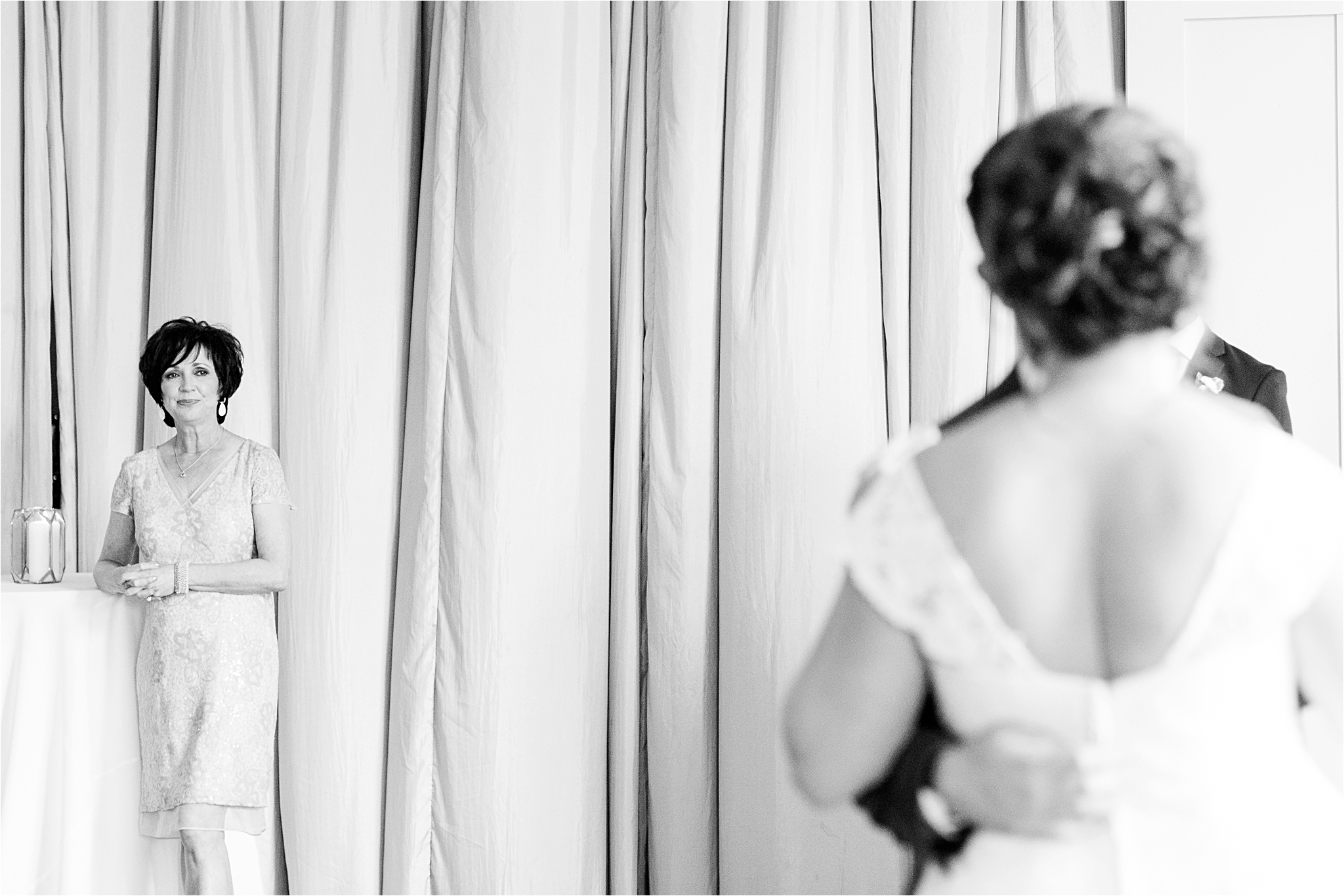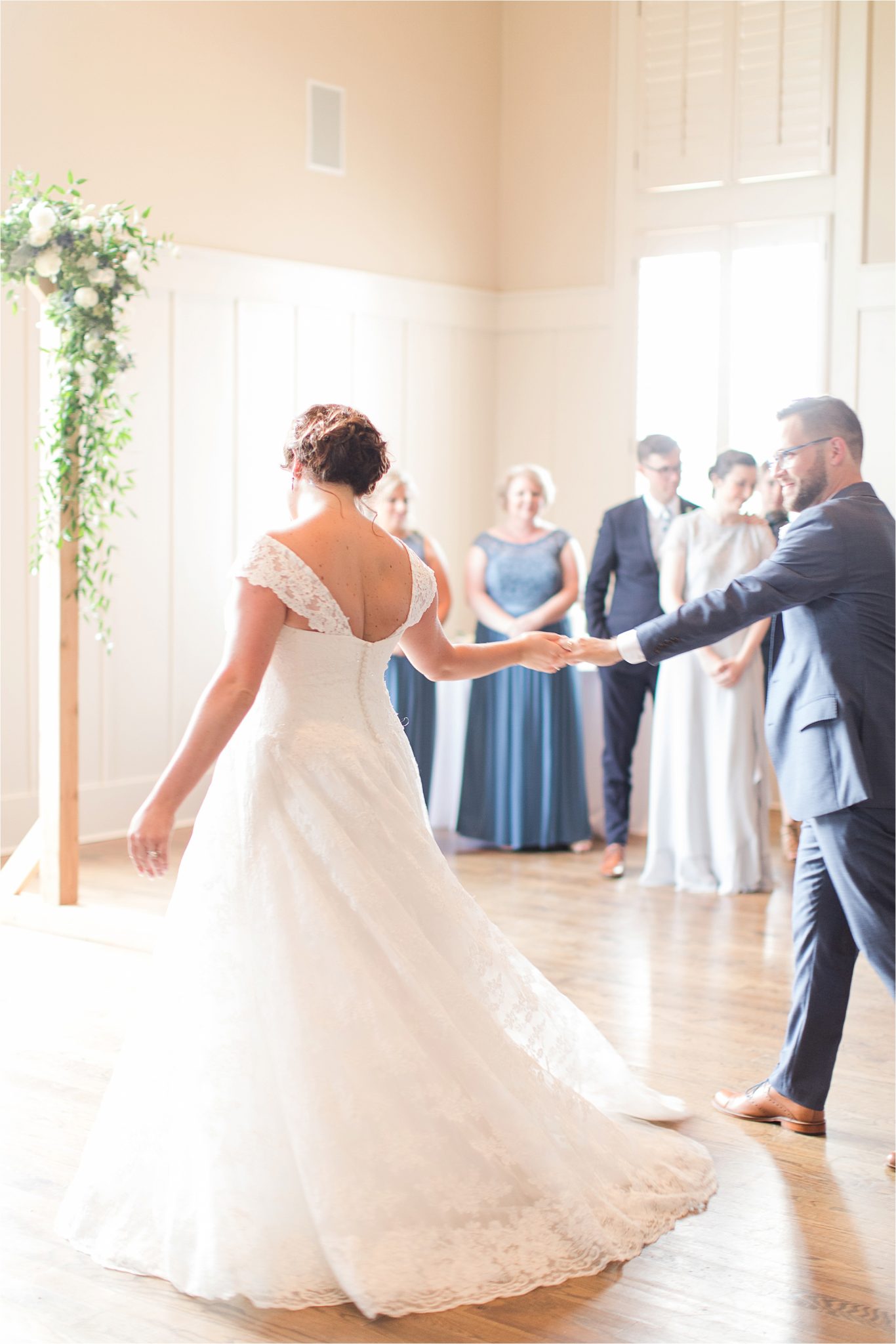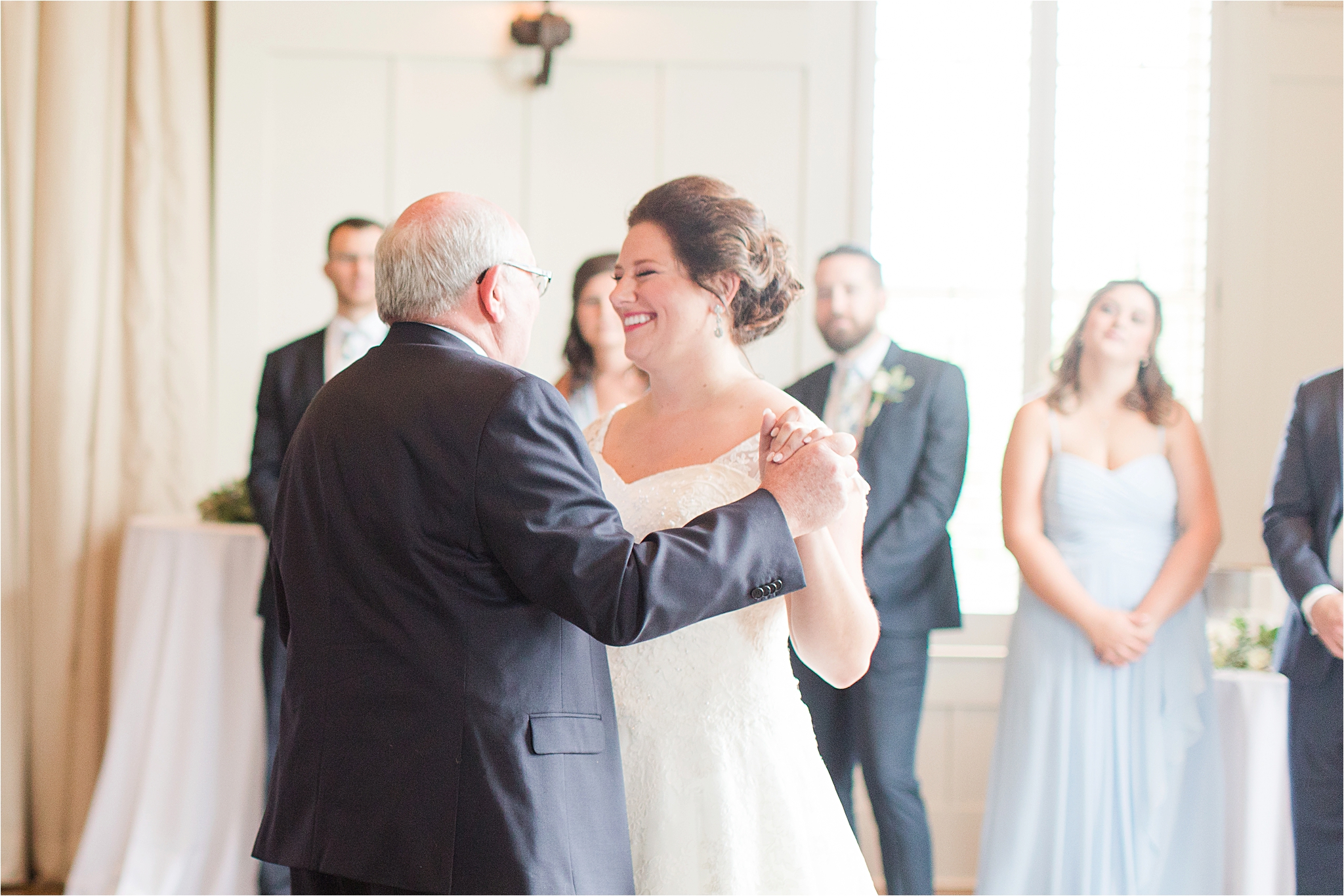 I just love Meredyth's laugh!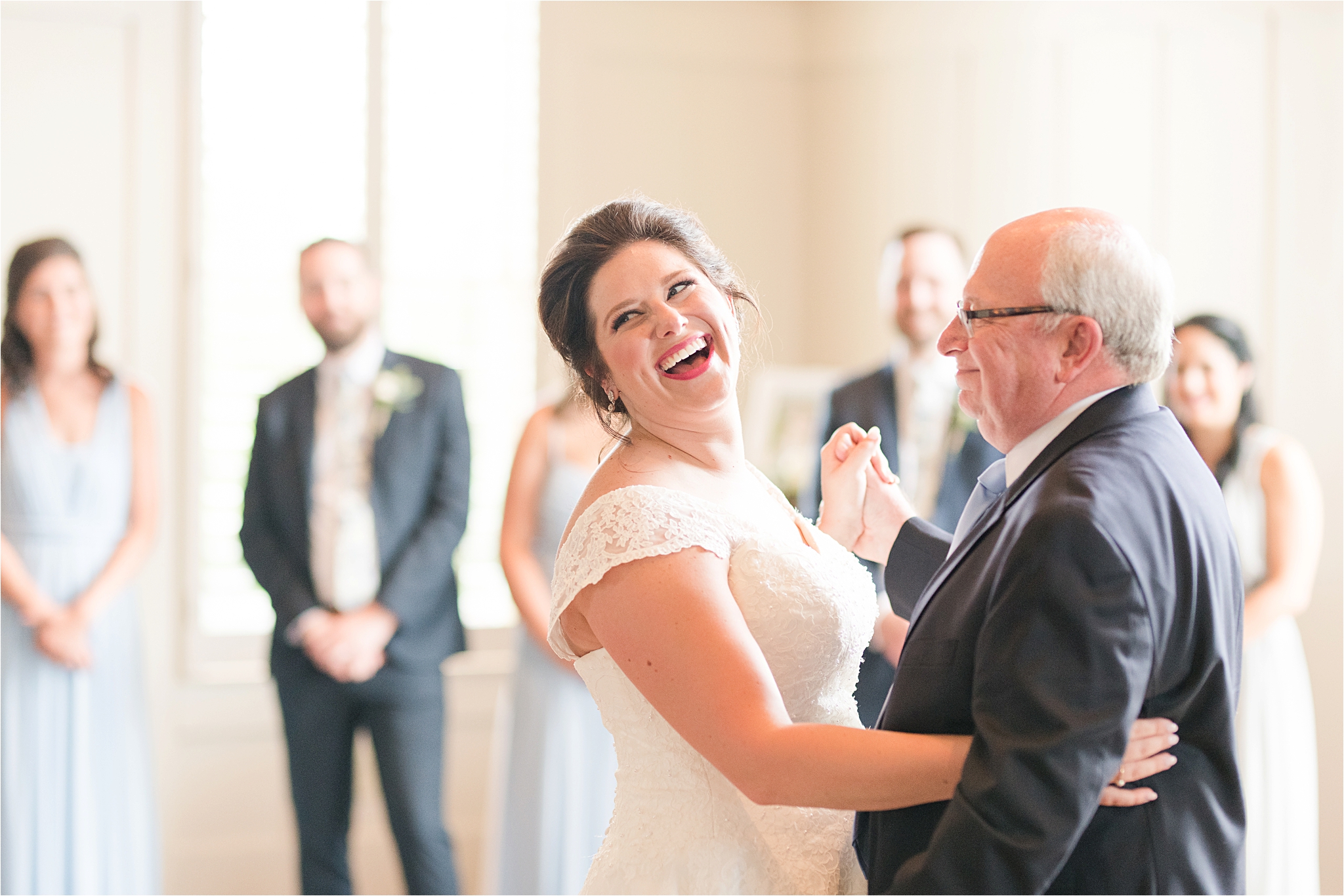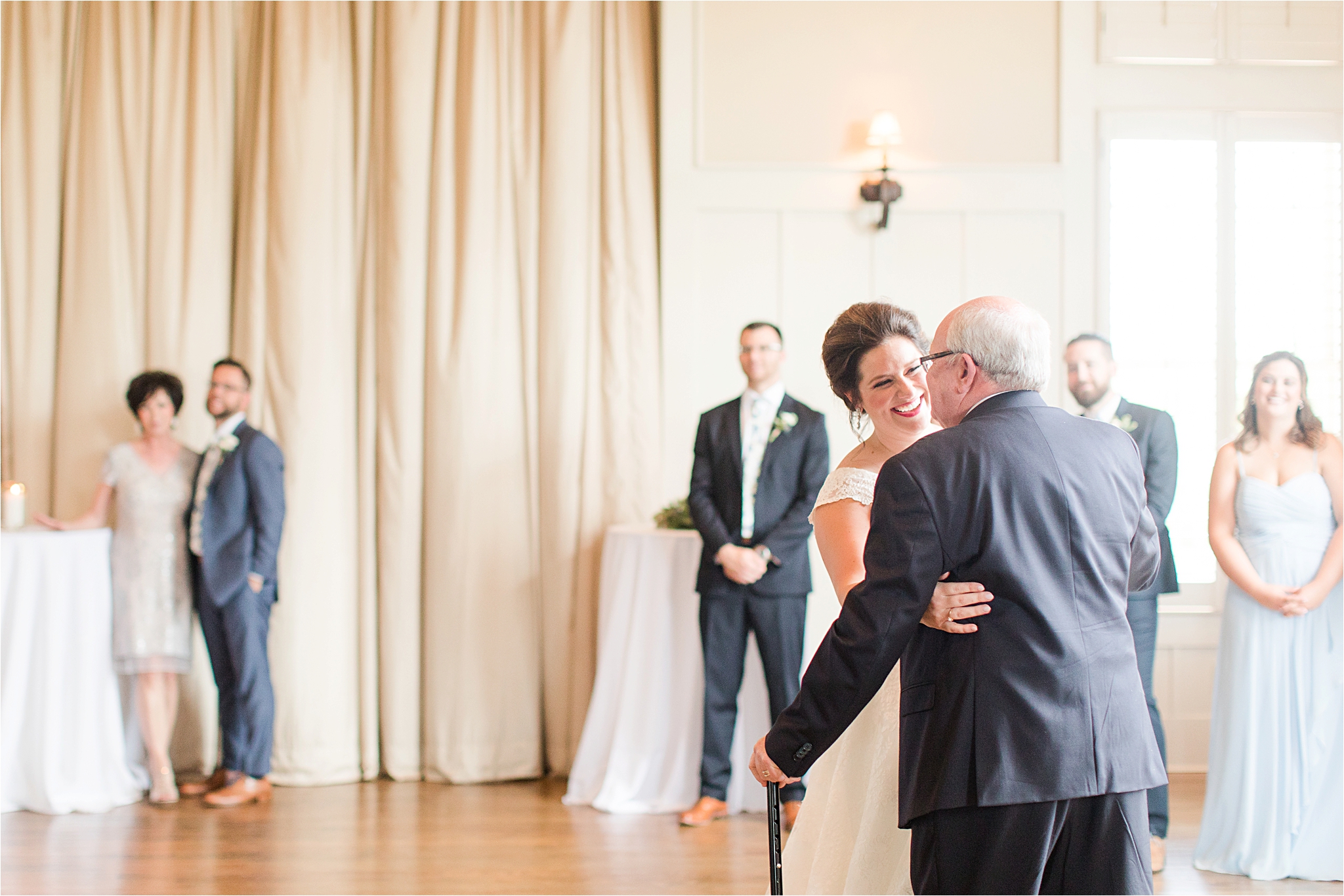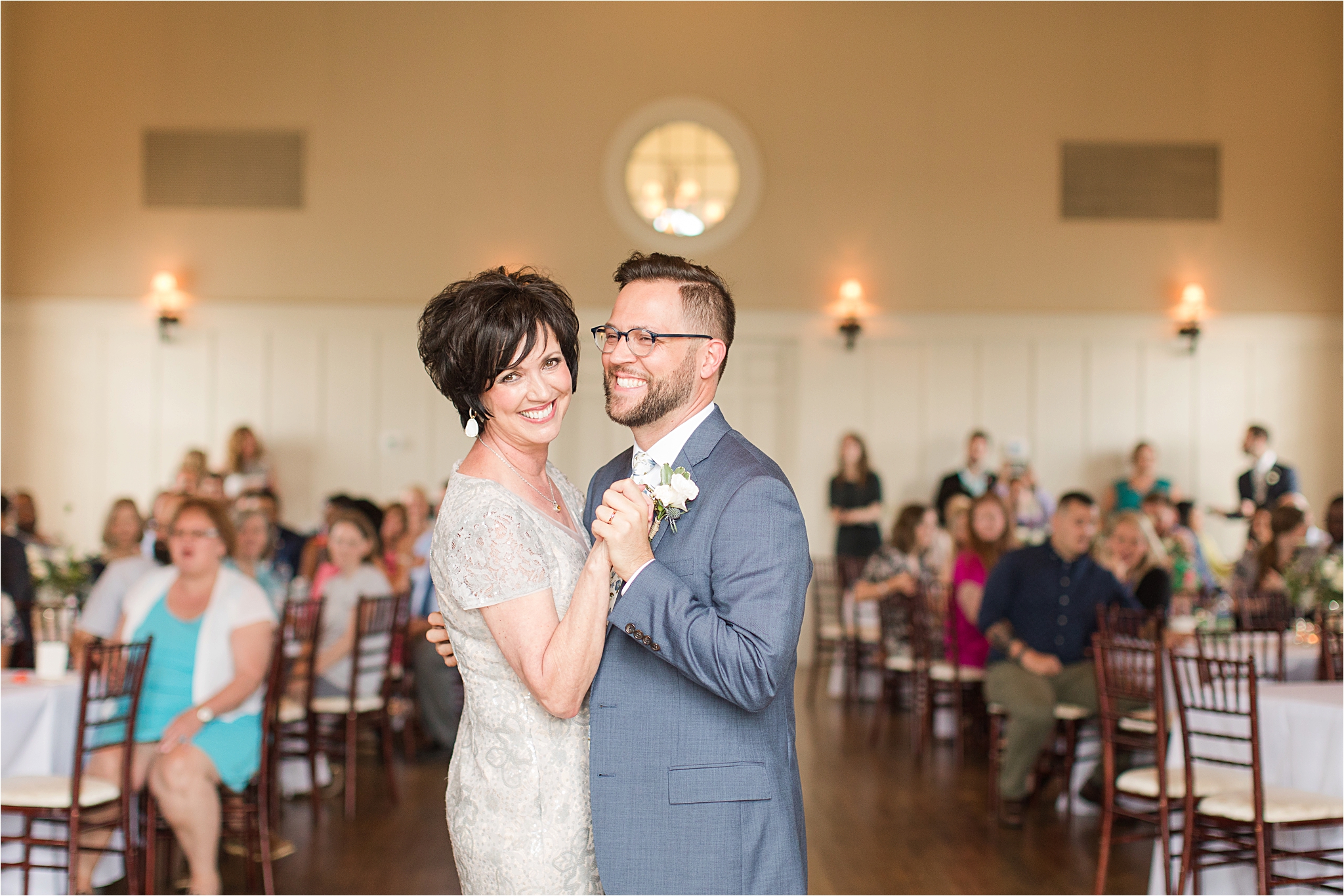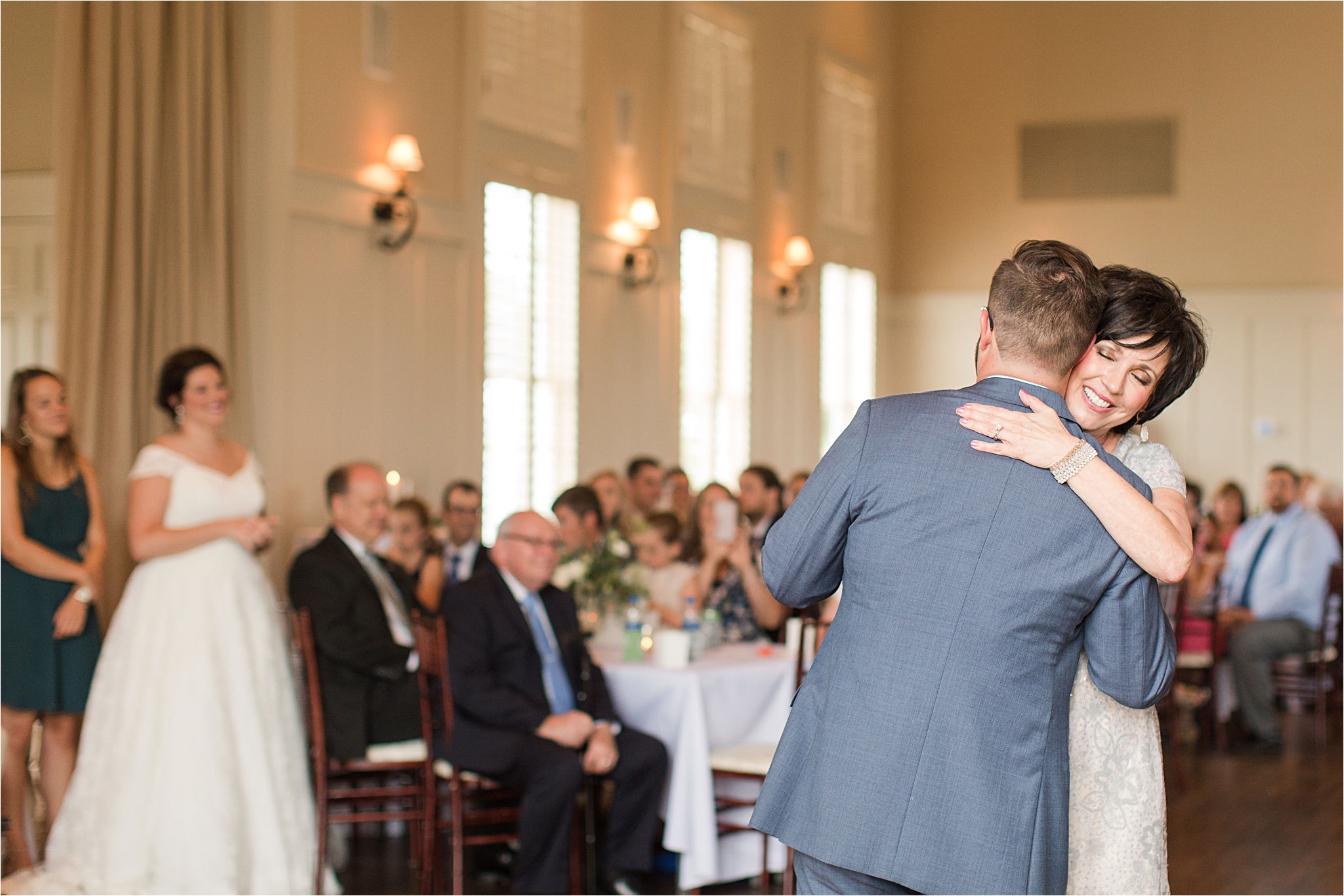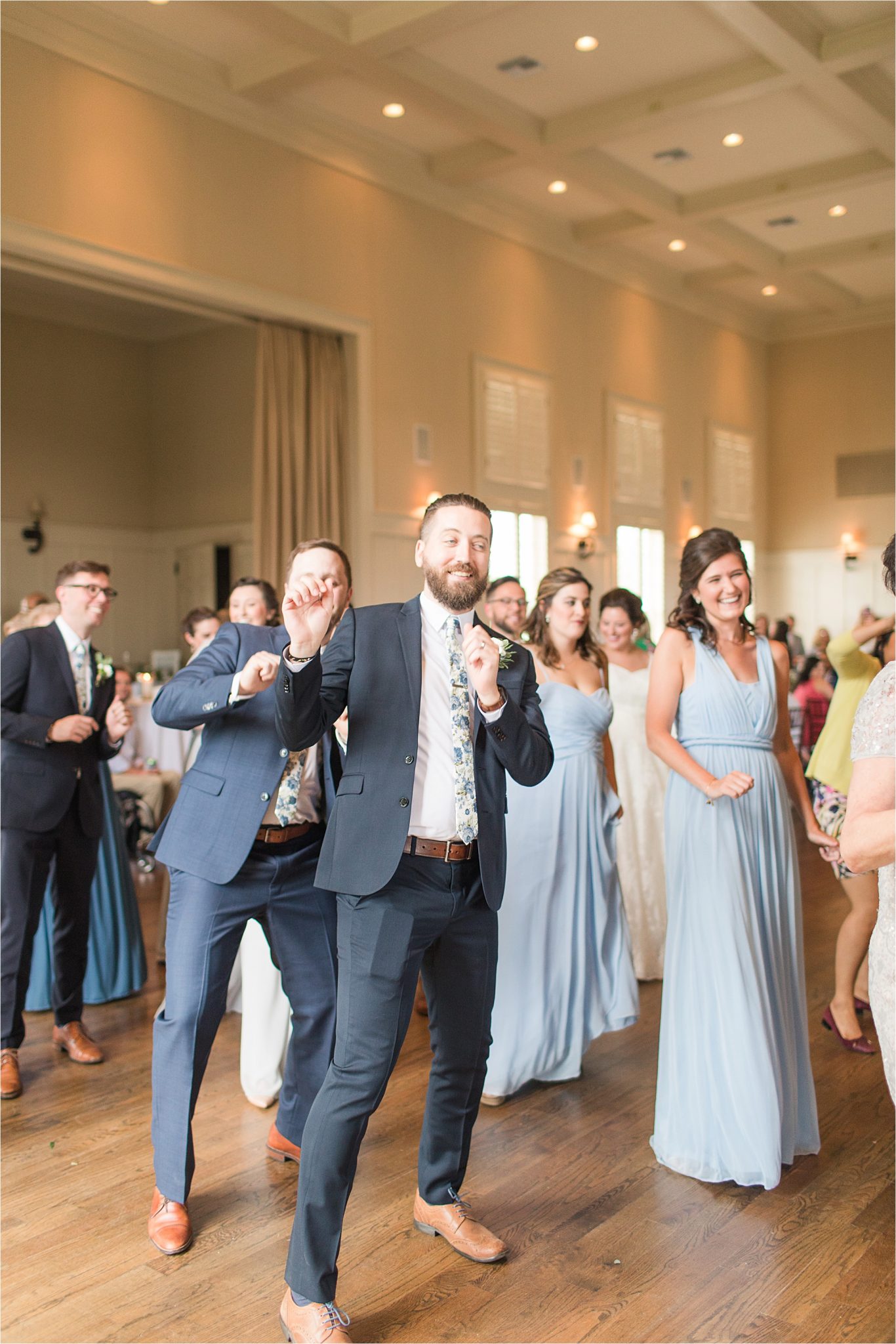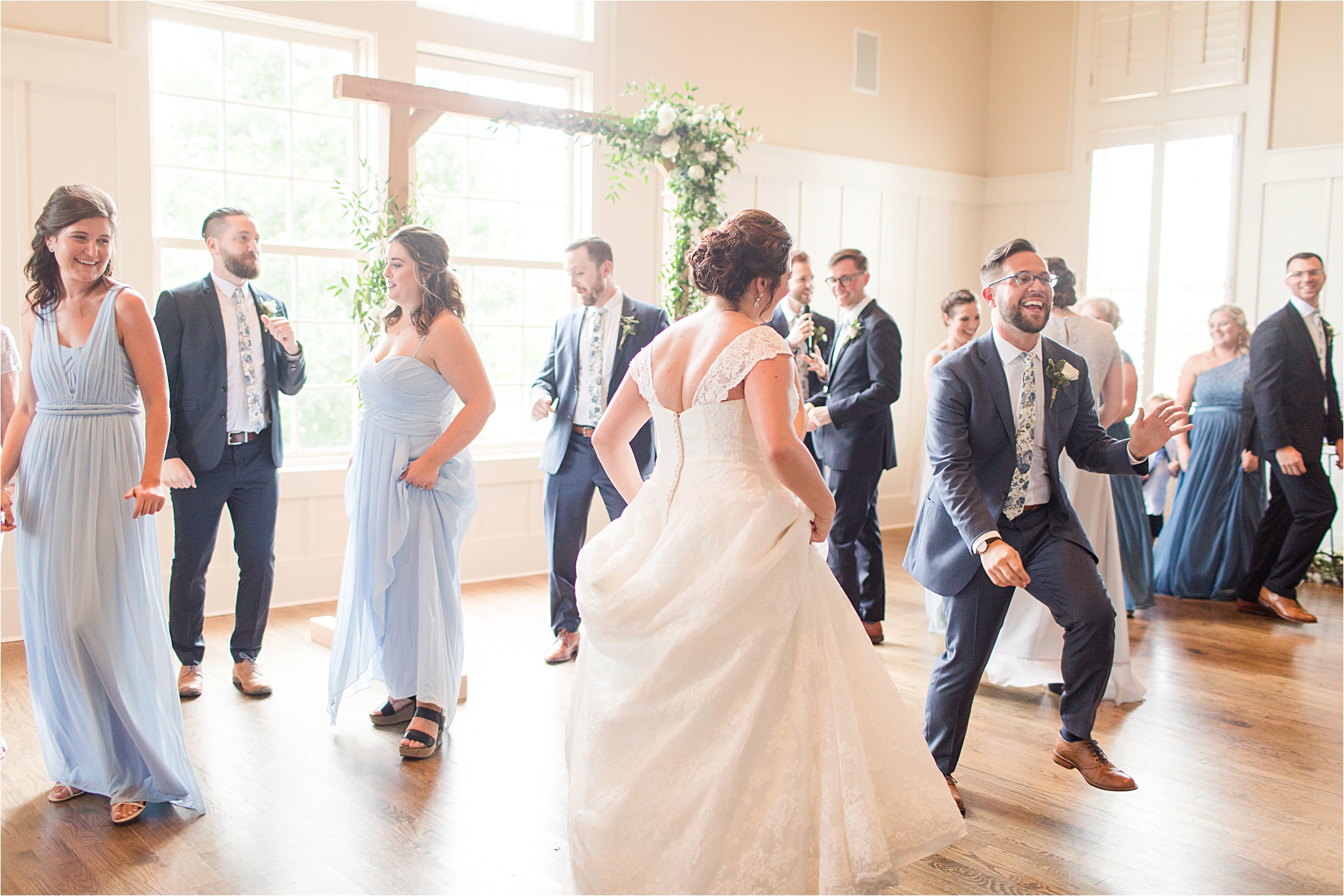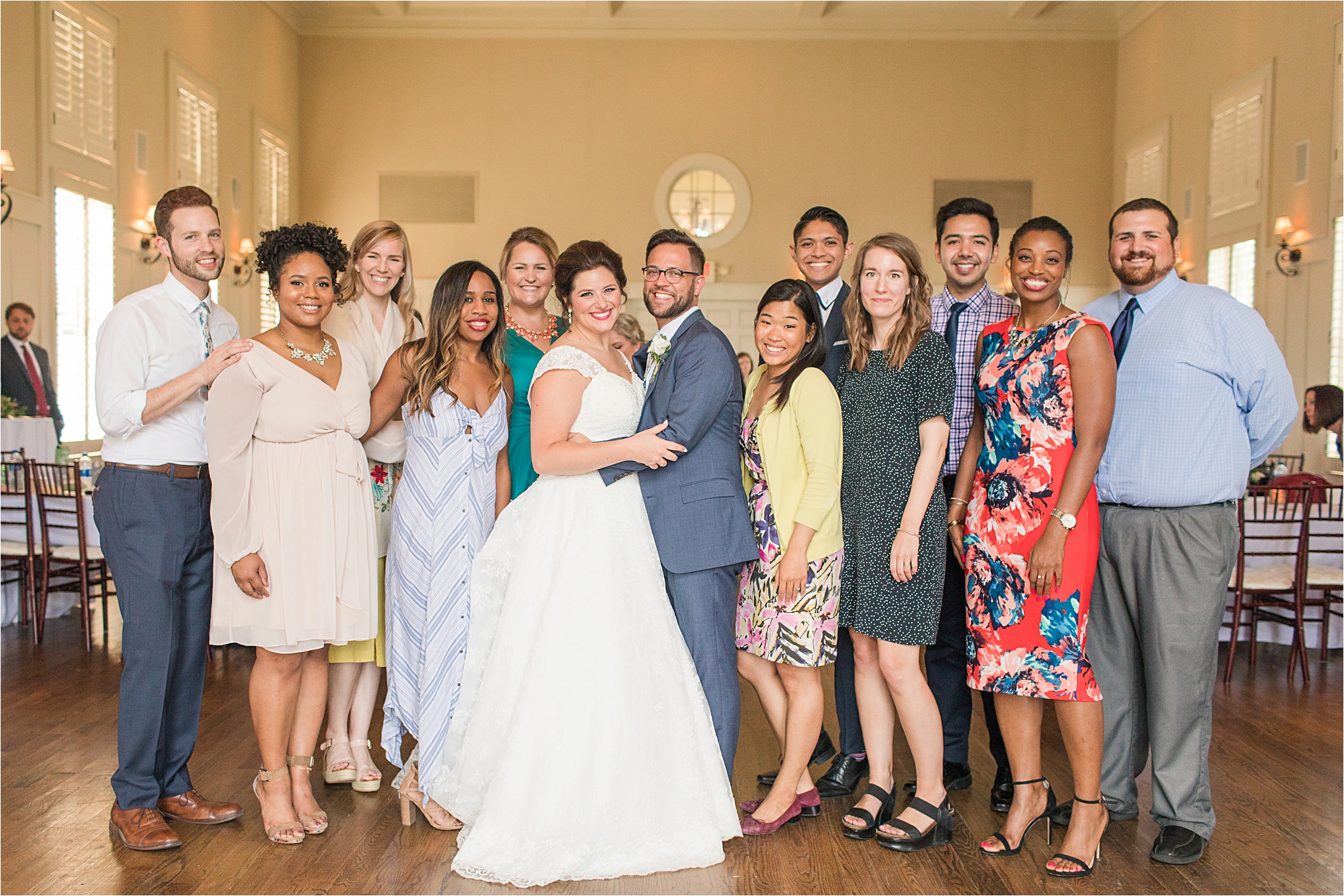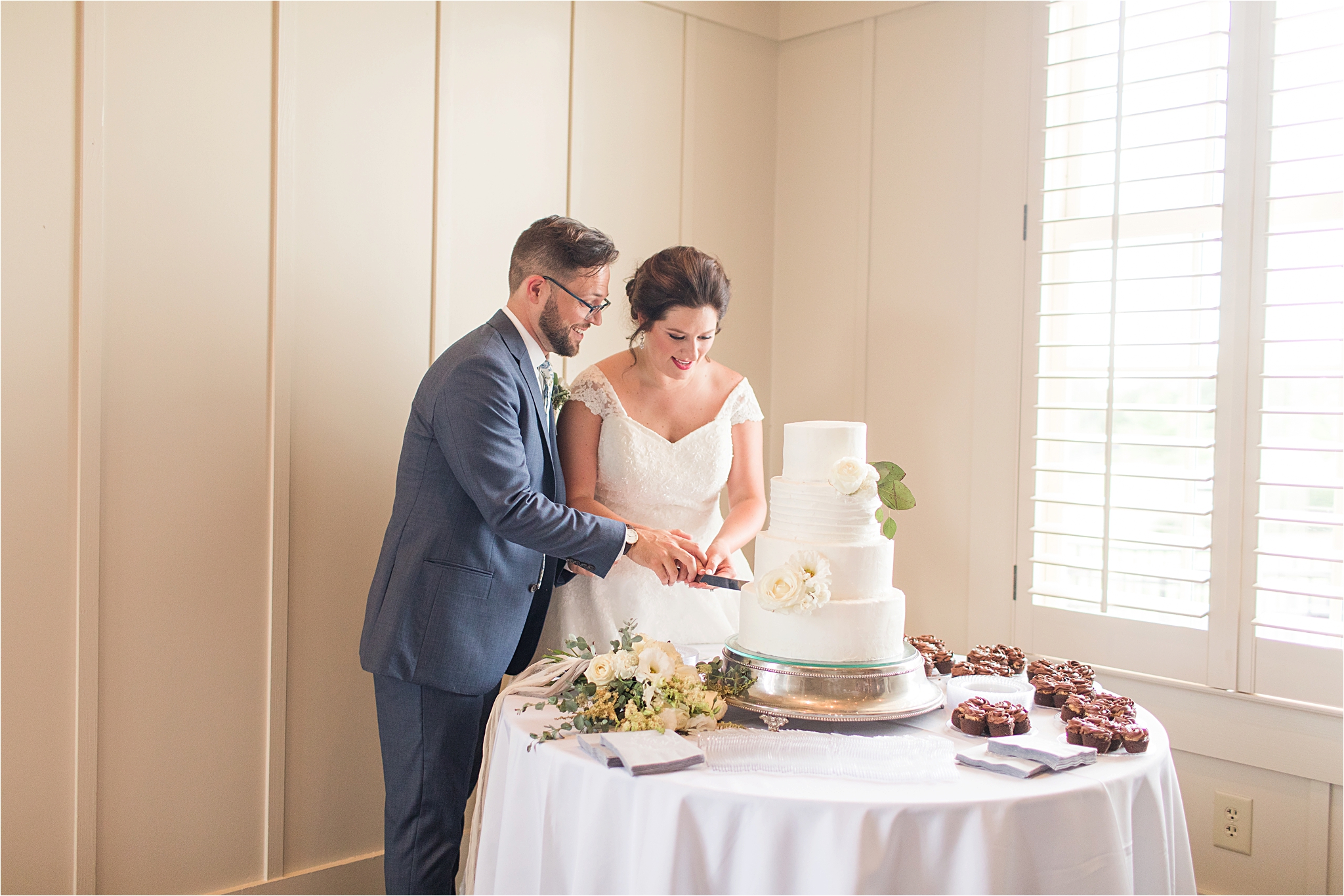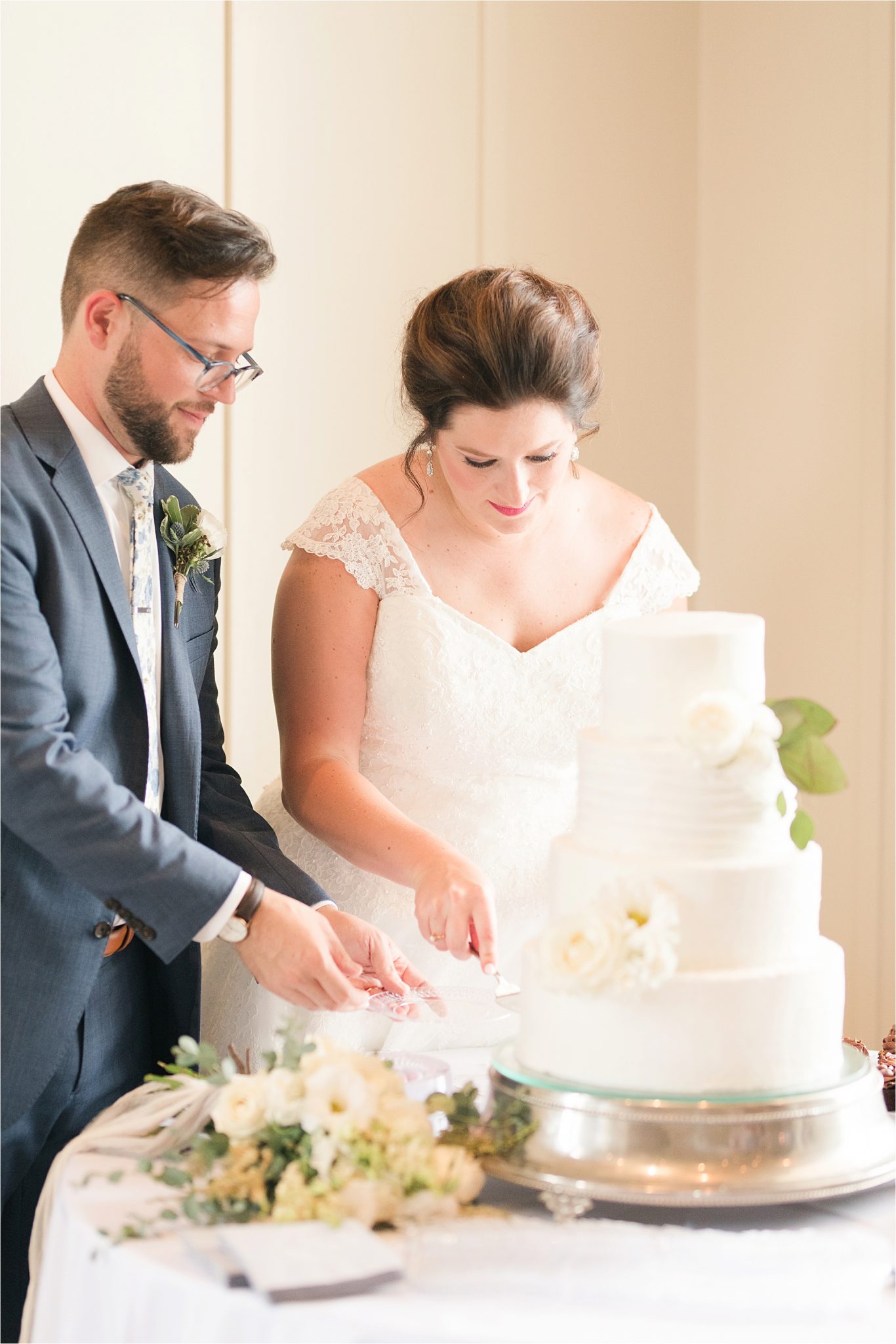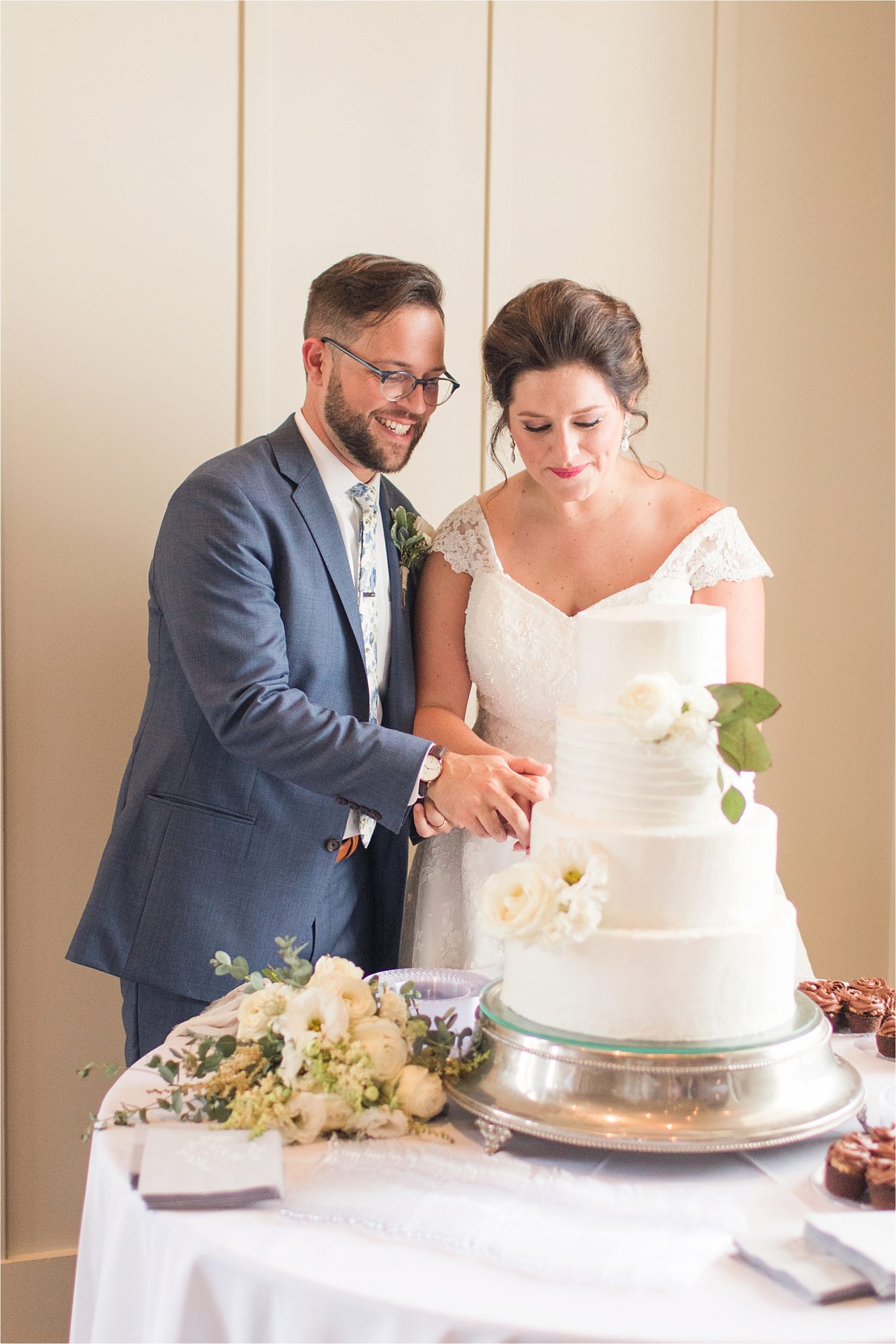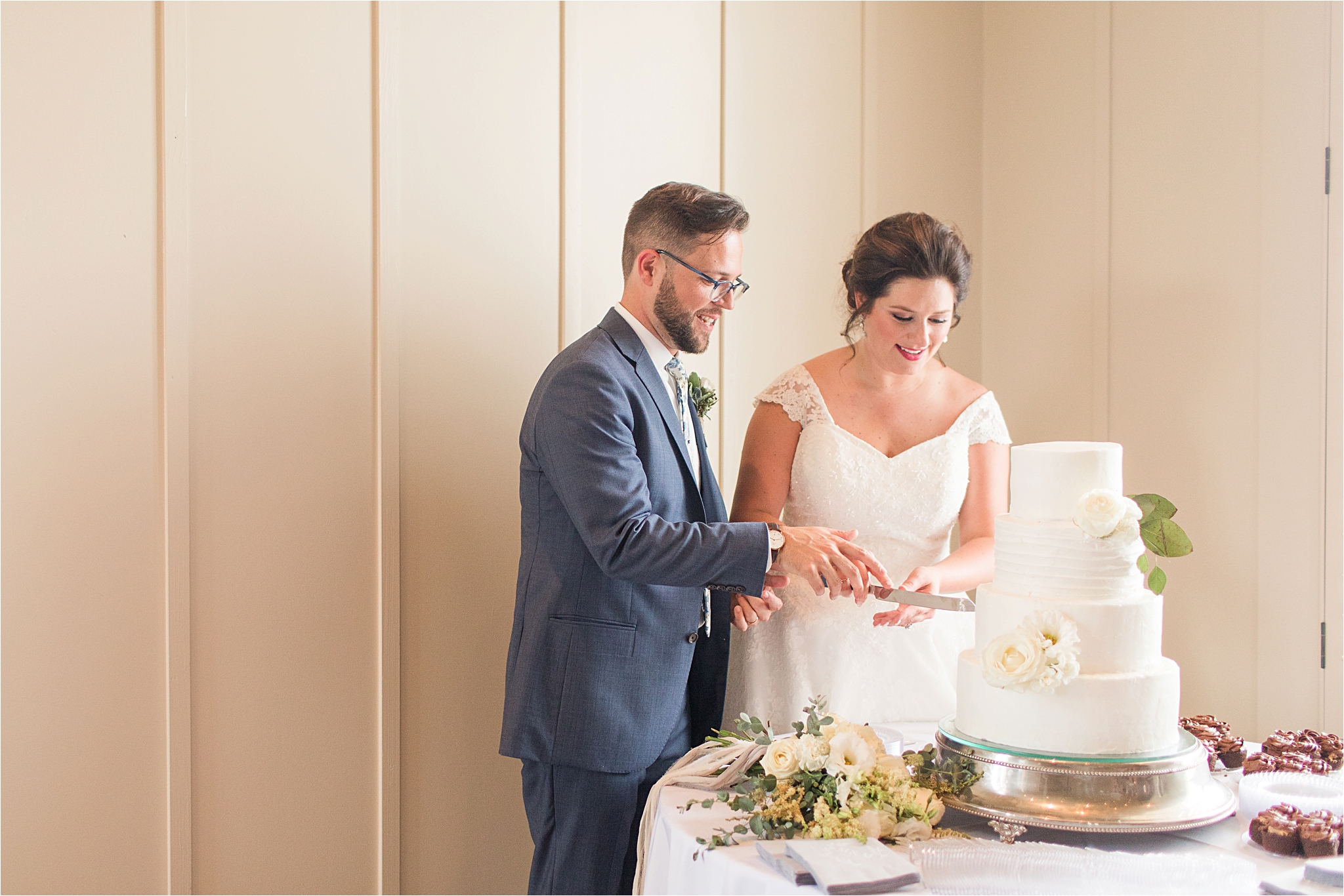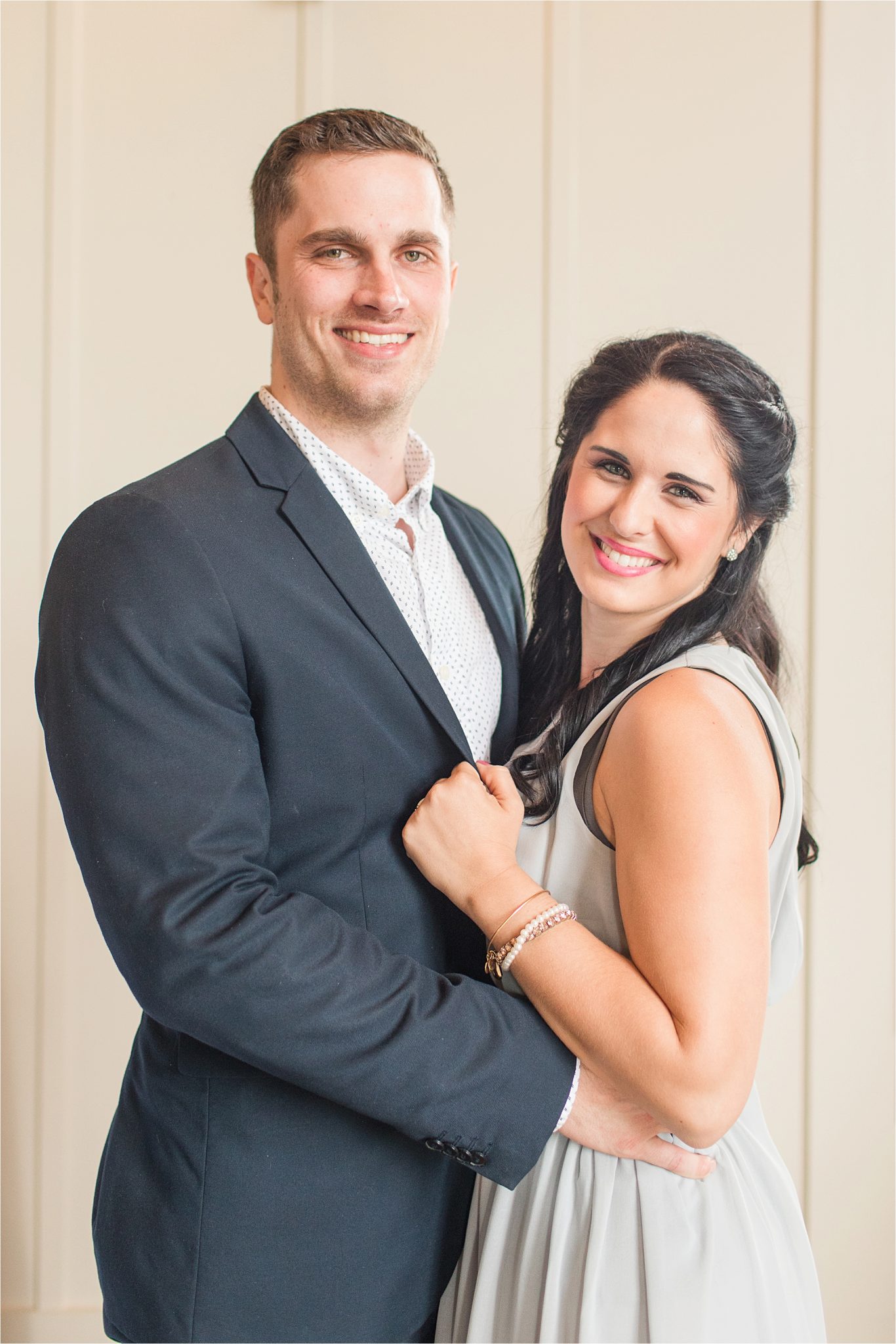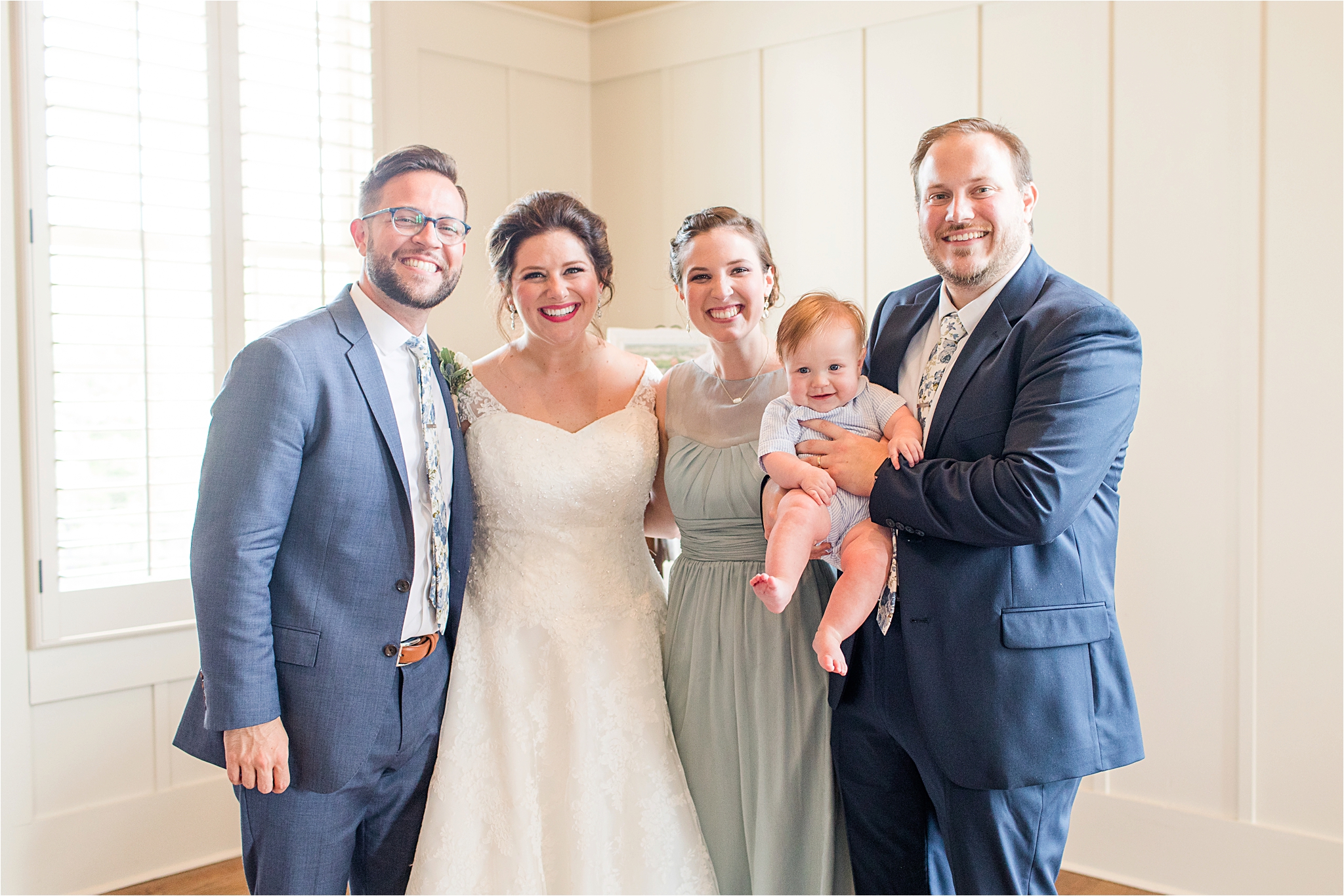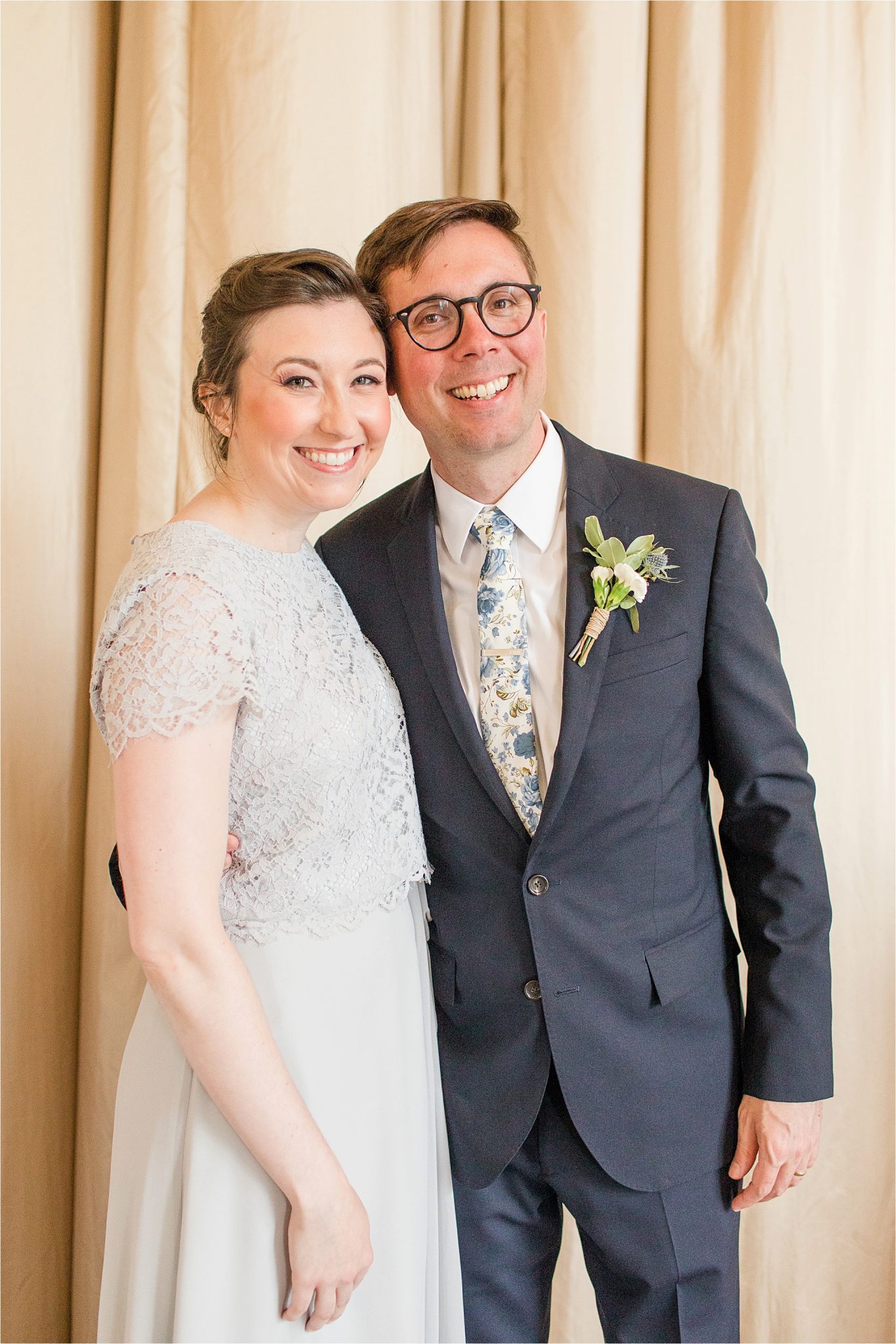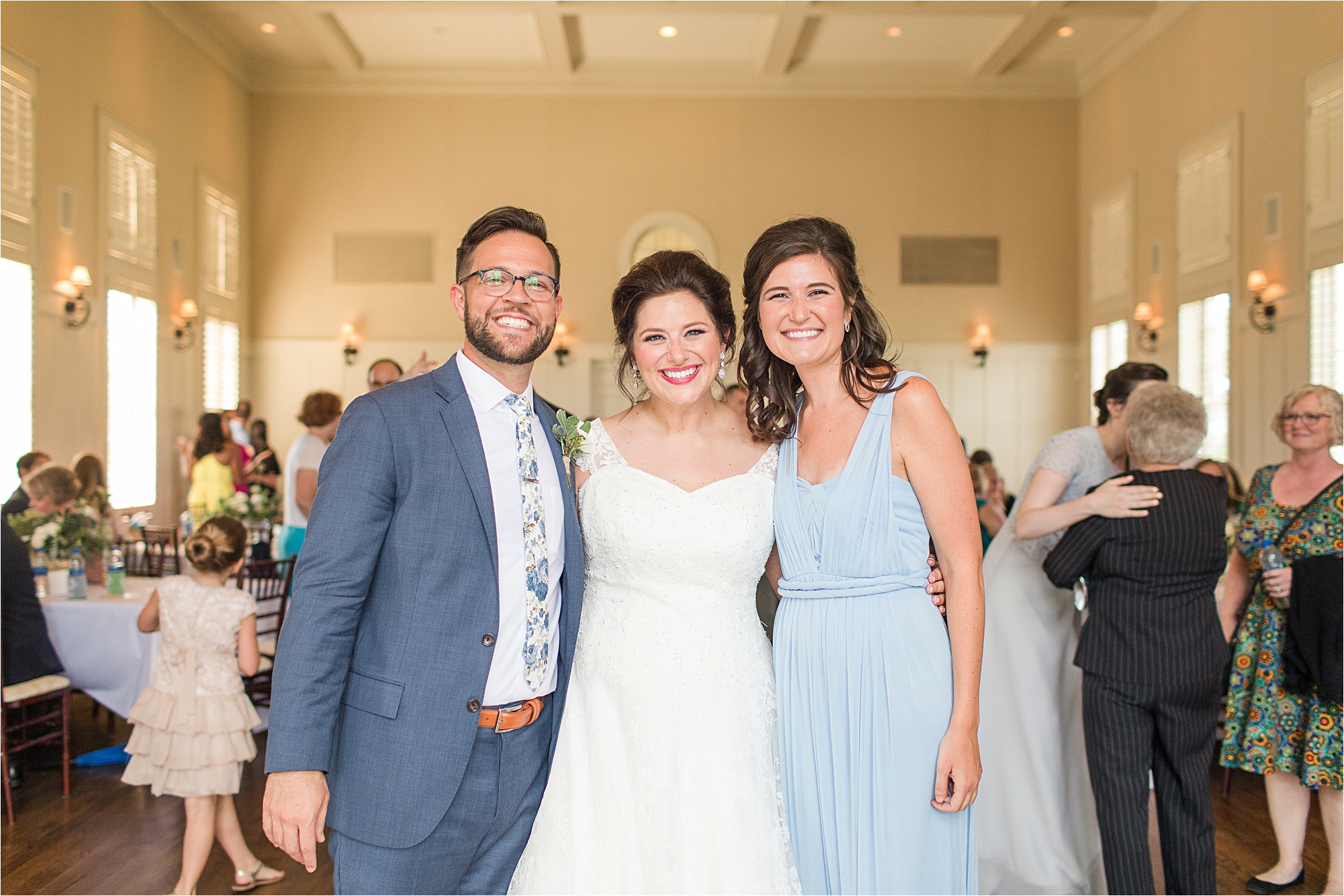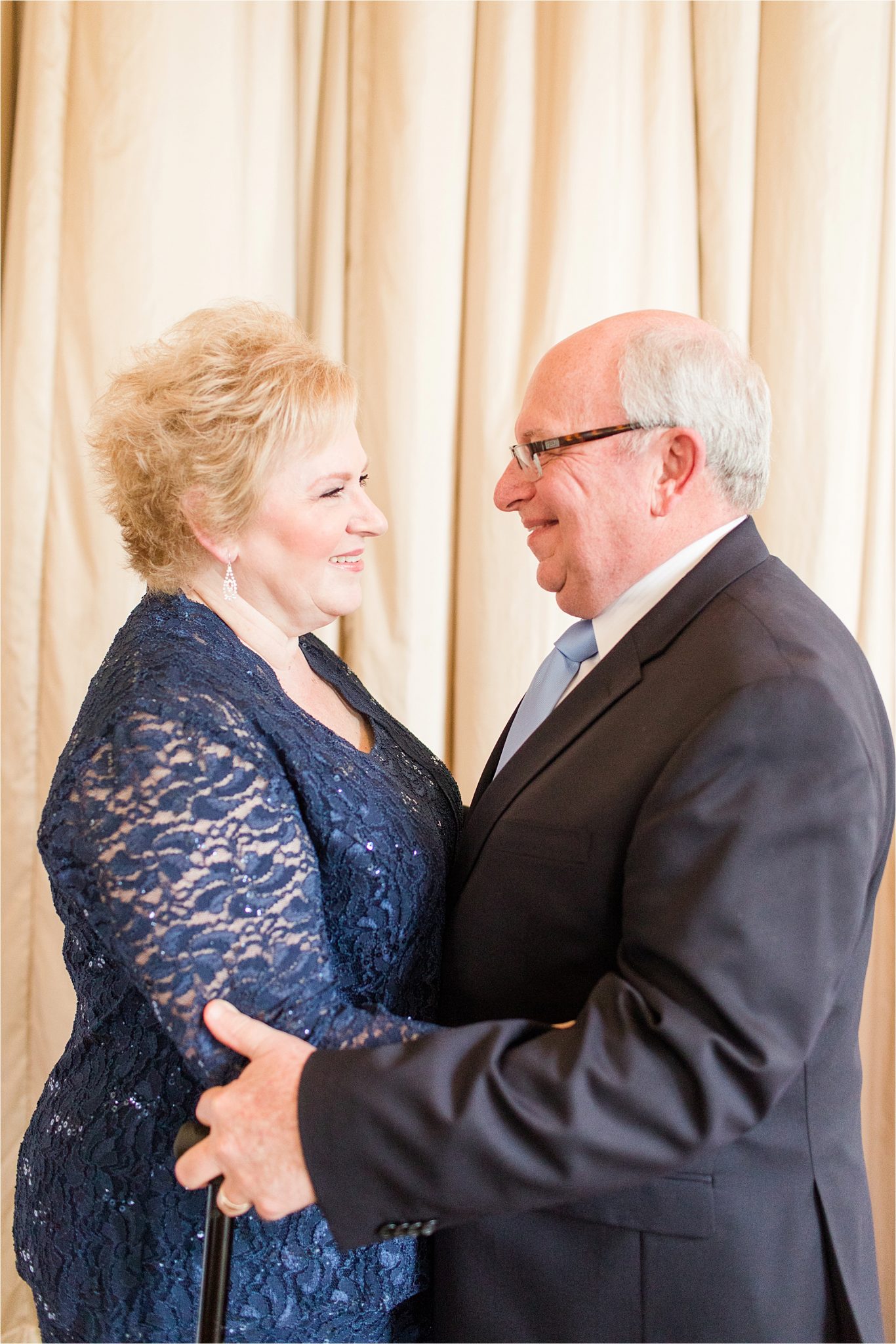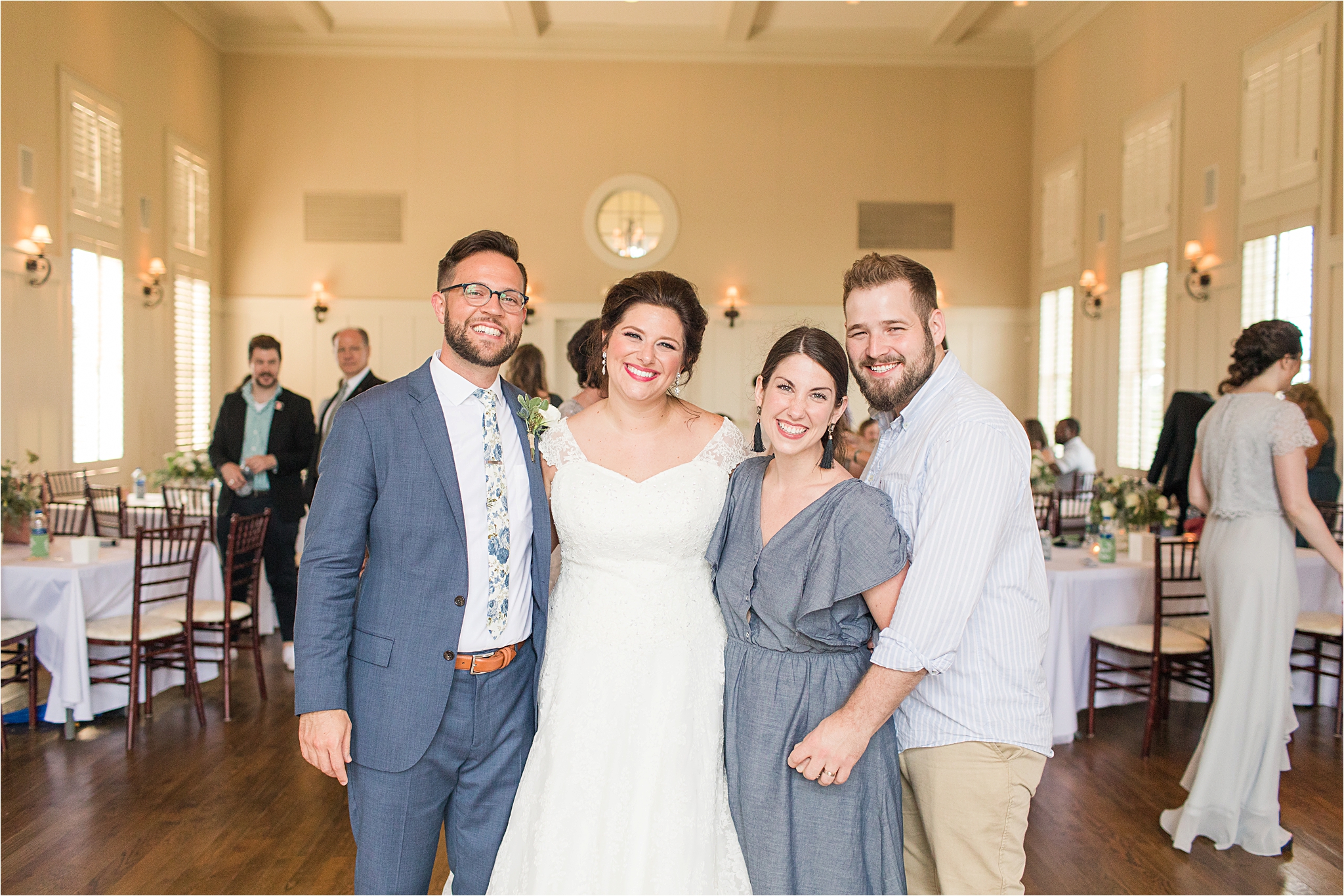 I just LOVED their exit!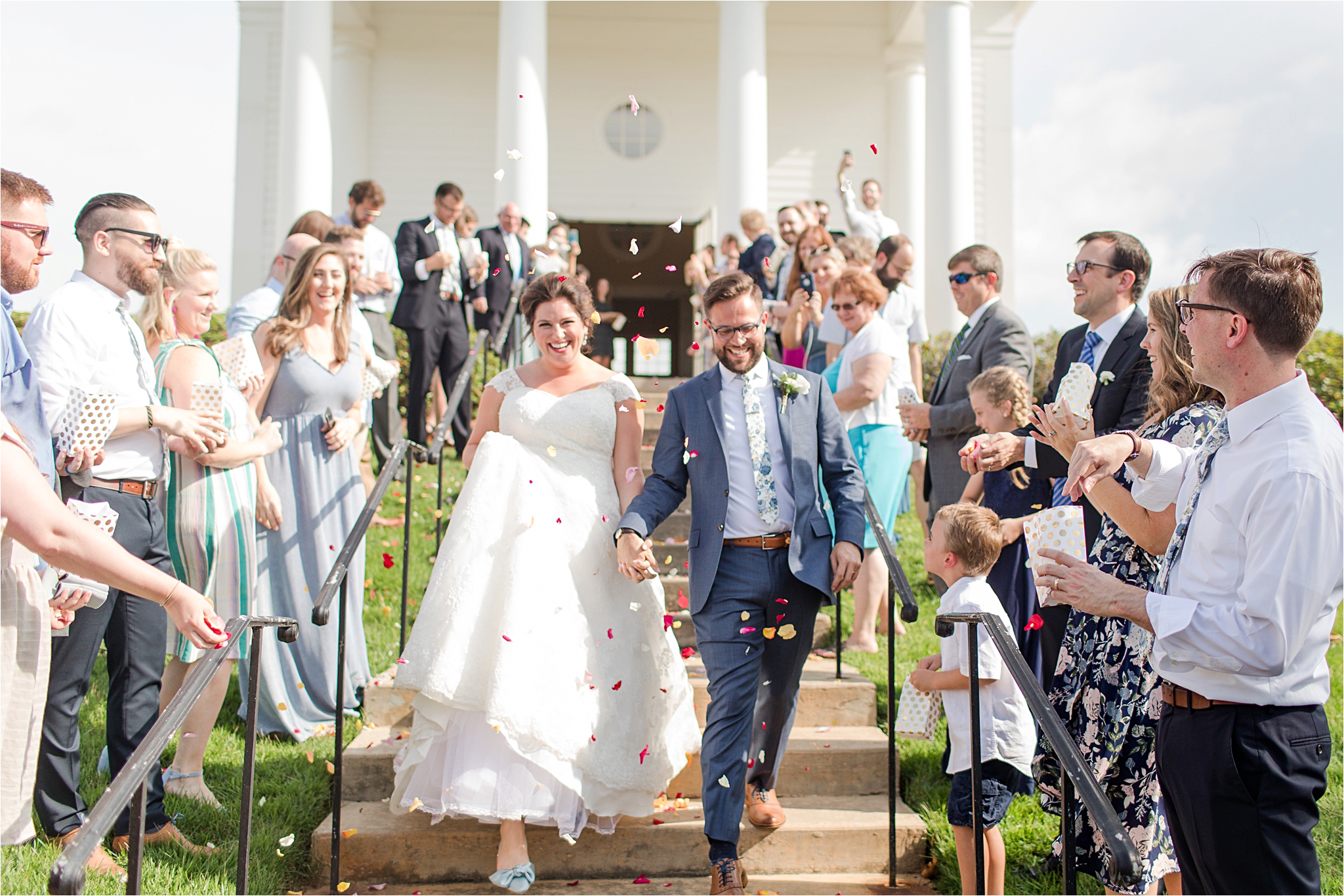 xoxo Anna Filly
VENDORS
DRESS STORE |David's Bridal
VENUE | The Chapel at the Waters 
RECEPTION | The Chapel at the Waters 
WEDDING COORDINATION | Ruth Ann Moss
FLORALS |Lindsey Harrington
HAIR  | Alison Wilks
 MAKEUP |Tim Evans
MUSIC | David Robbins
STATIONERY | Keandra Lundgren
CATERING | Steel City Pops and Kernal Kullman
BRIDE'S CAKE | Peggy McKinney
GROOM's ATTIRE | J Crew
GROOMSMEN | Miscellaneous
BRIDESMAIDS | Miscellaneous
PHOTOGRAPHY | Anna Filly Photography
HONEYMOON | Seattle, WA and an Alaskan Cruise