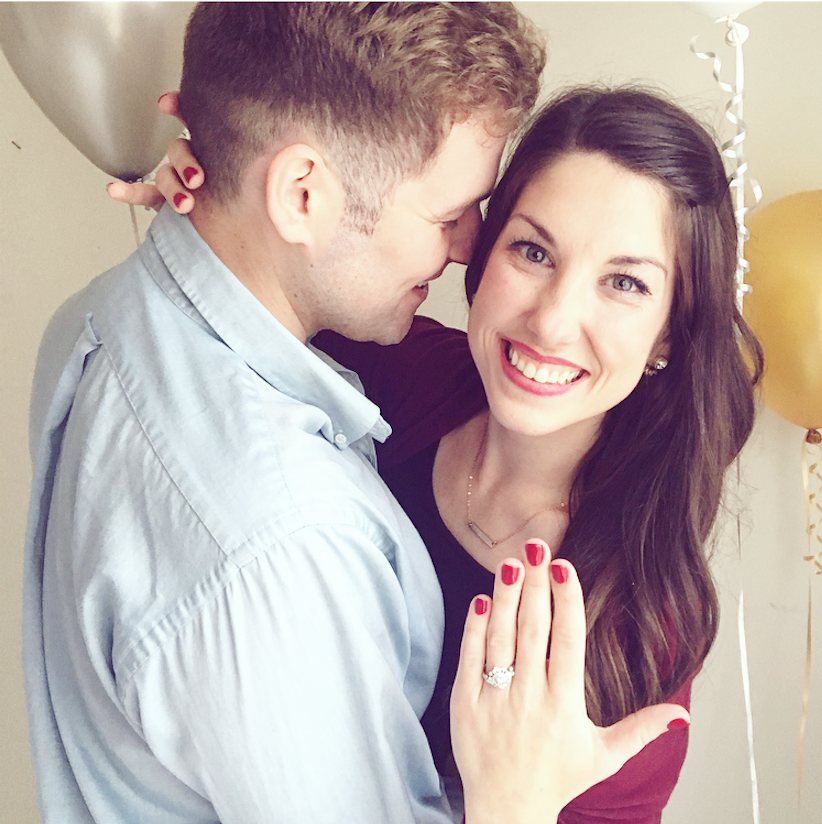 It started on Sunday when one of our good friends called, letting us know that he was coming into town on business.  Shrieks and happy screams filled the townhouse as my roommate, Whitney, jumped on my bed with our friend on speakerphone.   Dave Imber, would be coming into town Tuesday night.  
"Clear your schedule!" She shouted excitedly, "We're having a girls day and then picking him up from the airport!!"
I laughed and agreed. Dave had only one request before we hung up that day– that a loaf of homemade bread would be at dinner that night.  In excitement, I agreed that a fresh, homemade loaf would be waiting for him.  
Fast forward to Tuesday.  The girls day began and my roommates and I traded in our yoga pants & leggings, for jeans & cute sweaters.  We ran errands, got our nails done, went out to lunch & began planning the meal for that evening.  I LOVE hosting dinner parties, so inviting people over, planning a meal and taking time to intentionally spend it around a table with friends is one of my most favorite things.  
We had just gotten our nails done when Dave called to let us know his flight had been delayed because of the weather.  We wished him well and promised to be at the airport at 5:30pm.  With one last errand, we made our way to the grocery store, still uncertain about what we were going to cook.
 I made a casual phone call to my boyfriend David, and asked how his day was.  He told me he was walking into work and would stop by the house on his dinner break.  
The grocery store took longer than anticipated.  An hour in, my roommate, Brooke, looked at me and said, "Does Whitney always shop like this?"  I laughed and nodded my head.  One minute we were buying makeup, the next we were in the veggie aisle, suddenly, we needed to be getting milk, and then she'd remember we didn't have honey.  Back and forth we trudged through the store, smiling at the faces we had passed once, twice and even three times before.  It was as if she was stalling for something…..
Finally, we were ready to check out.  With a crack of thunder, and a quick glance outside we all looked at each other sheepishly.  Rain was pouring from the sky in heavy sheets. We hustled through the rain and into the car, throwing our groceries everywhere in the process.  Laughing, we drove home and as soon as we pulled in, Whitney threw me the keys.  "Go unlock the front door, and we'll follow with the groceries!"
I ran through the rain and up the stairs, wondering quietly to myself why I smelled the warm scent of garlic as I unlocked the door.  In a rush, my roommates came in after me, threw the groceries on the floor and slammed the door as they ran back down the stairs.
Then, I saw him.
My heart stopped.
David stood in the kitchen, twinkling lights and candles illuminated the smile on his sweet face.  I looked around.  Flowers everywhere, a meal on the table, his Bible open on the counter, his shoulders draped in a grey suit, Nat King Cole spinning on the record player…..
My eyes kept coming back to him.
He took my hands and pulled me deeper into the kitchen.  My favorite boyish grin filled his face, and his tender eyes looked into mine,  "I've been planning this for months….."
My heart raced as I realized what was happening.  Peace washed over me and tears filled my eyes as he continued.
"I adore you. I feel like I've loved you since I met you.  Loving you is natural, it's normal.  Loving you is exciting, it's the most special thing to me.  I've had all afternoon to put this together and I feel like all day I've been scrambling…. Because I need you.  You help me.  You help me see that I can't do life alone, and I need you to help me… for the rest of my life. "
He went from standing tall, to bending down on one knee before me, and I burst out into happy tears.  
"Anna Angeli' Filliben, will you marry me?"
The ring in his hand sparkled against the candle light and in that moment I worshipped.  I praised God for the gift I had in the man before me over and over and over again.  Kissing David, I whispered "mmhmm" as the tears trickled down my face.  He laughed and took my hands in his, placing his ring on my finger.
"Are we gonna get married?" I whispered.
"We're gonna get married, Anna Angeli'," David whispered back.
He then read scripture over me, and prayed with me.  He prayed, and I prayed.  
I don't know if you've ever wondered if you're going to get married, but I must confess that I've had my insecurities and I've had my doubts.  
But the Lord is faithful.
"So is that a yes?" David asked with a chuckle.
"Did I not say yes?" I asked, " I screamed it a million times in my head, but yeah!  YES I'll marry you!"
From then on, we'd joke that I didn't "say yes" I said "but yeah".
David invited me to sit at the table.  As I sat I couldn't stop looking at my left hand.
Then, he explained why, out of everywhere in the world, he chose the kitchen of my townhouse to propose.  
My heart is in the kitchen.  I find such joy and soulful satisfaction when guests gather around a table to share a meal.  There is something so incredible about nourishing our bodies, as we nourish our souls in conversation and connection.  The kitchen where hearts our poured out and life is measured.  Tasty creations are prepared and shared and life is enriched because of it.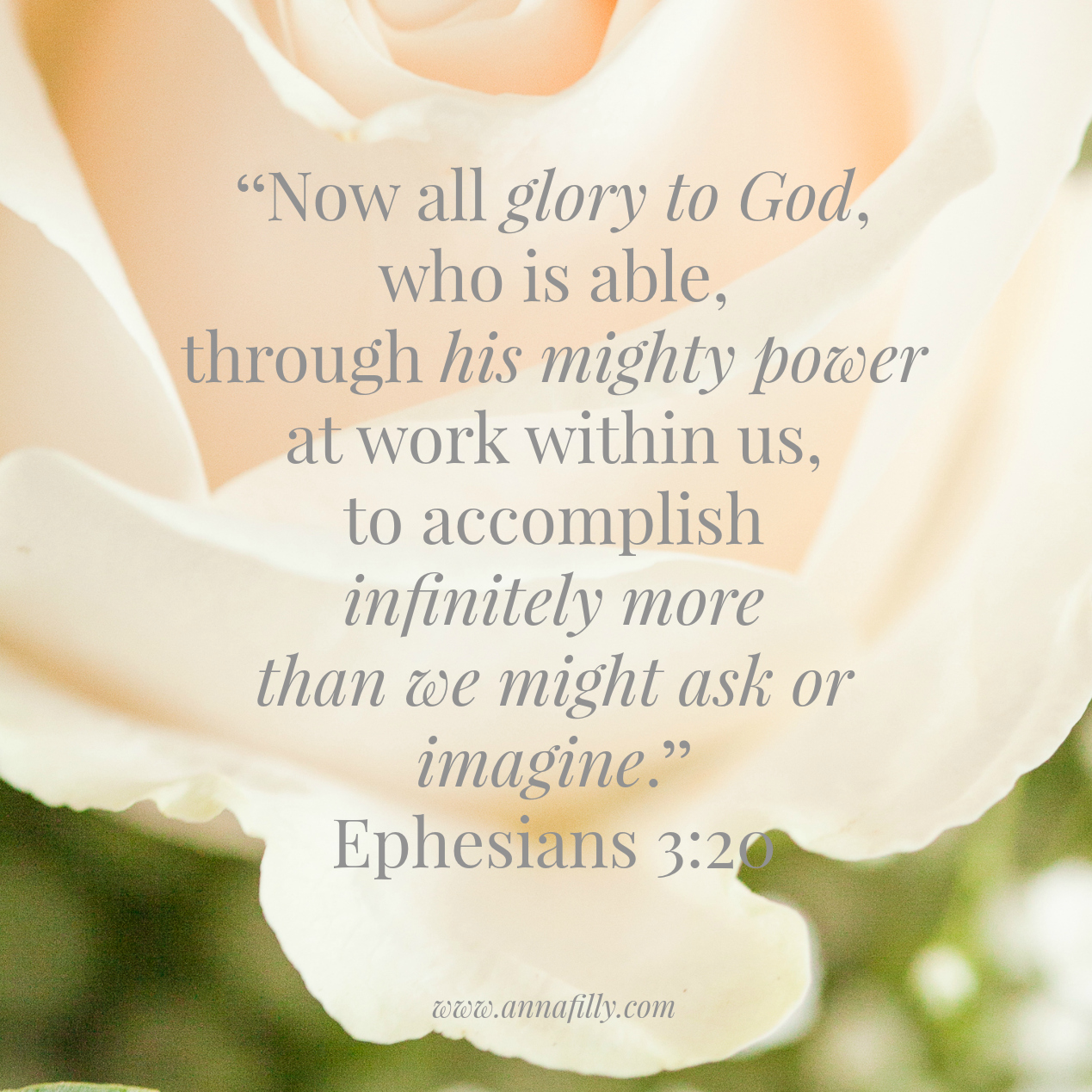 David knew that.  David also knew that I had prayed for that house for months on end, and the Lord had blessed me infinitely more than I could have asked for or imagined.  Not only had God given me the house of my dreams, but he also blessed me with incredible women to share it with.  The Lord had fulfilled his promise to me with the gifting of that home, and David wanted to propose his promise to me in the exact place where I had watched the Lord's promises blossom into reality.  
Tears flooded my eyes as he explained his heart.
We sat together, at the table, and David served me the dinner he had prepared.  We laughed and shared, listened and dreamed and then….
Suddenly, I heard movement outside.  I looked at David and he encouraged me to go see what it was.  I ran outside, and down the stairs as my roommates were walking up with balloons in tow.  They screamed and I screamed as I flashed my hand.  We shared hugs and I noticed two people behind them.  More screams and hugs were shared as I realized it was David's two best friends, Kyle and Seth.  We all went inside when the door opened once more, and I saw it was Jessica, David's sister.  I embraced her in joy just as the door opened a second time, revealing David's oldest sister, Rachel.  My heart was abounding and so full, when I saw someone else standing in the doorway.
My sister.
The flood of emotion hit me like a wave and I ran to her, holding her tightly.  There is nothing, not one single thing, that can amount to the love of a sister.  I cried happy tears into her shoulder, completely amazed and absolutely grateful by her presence.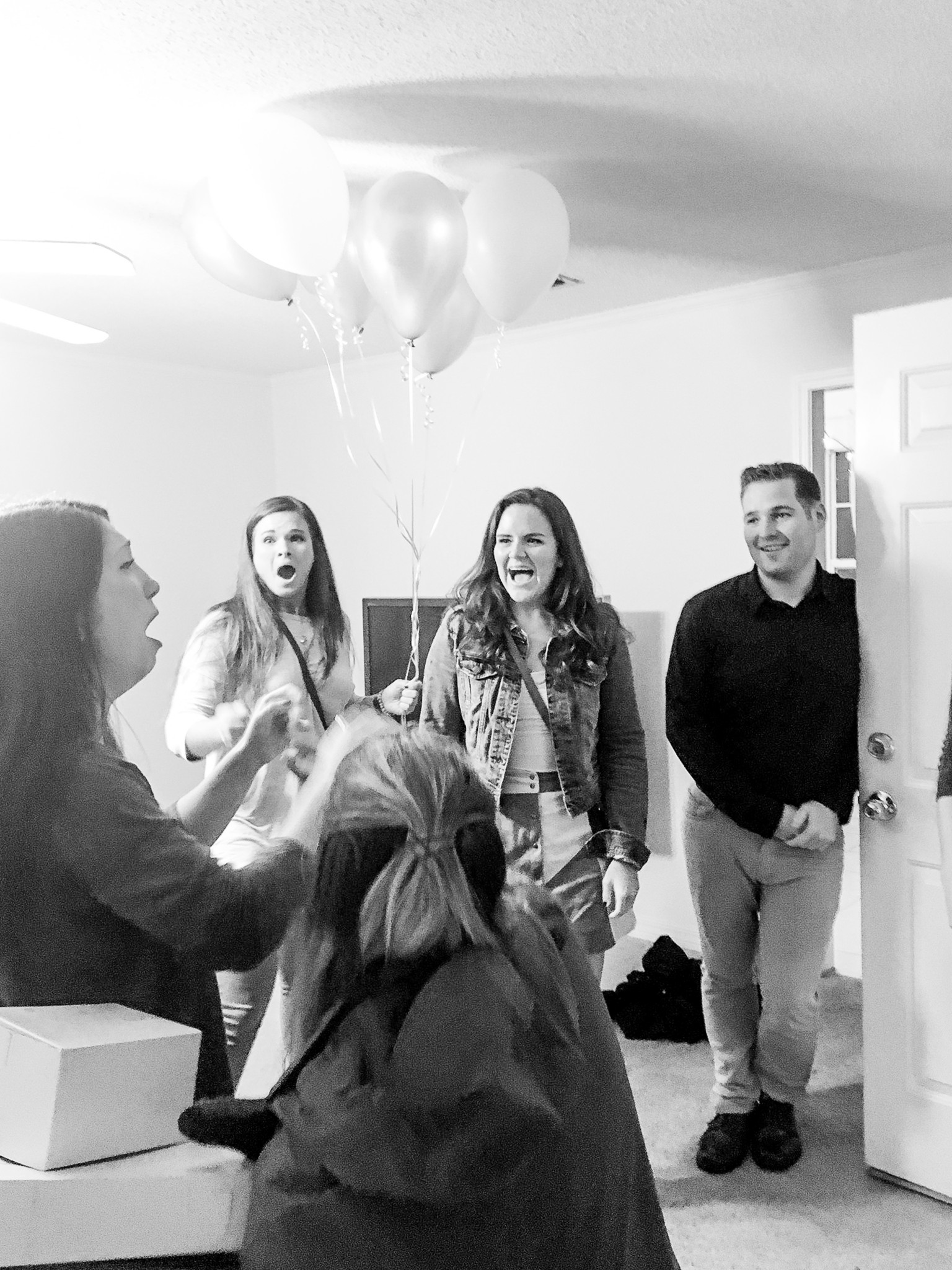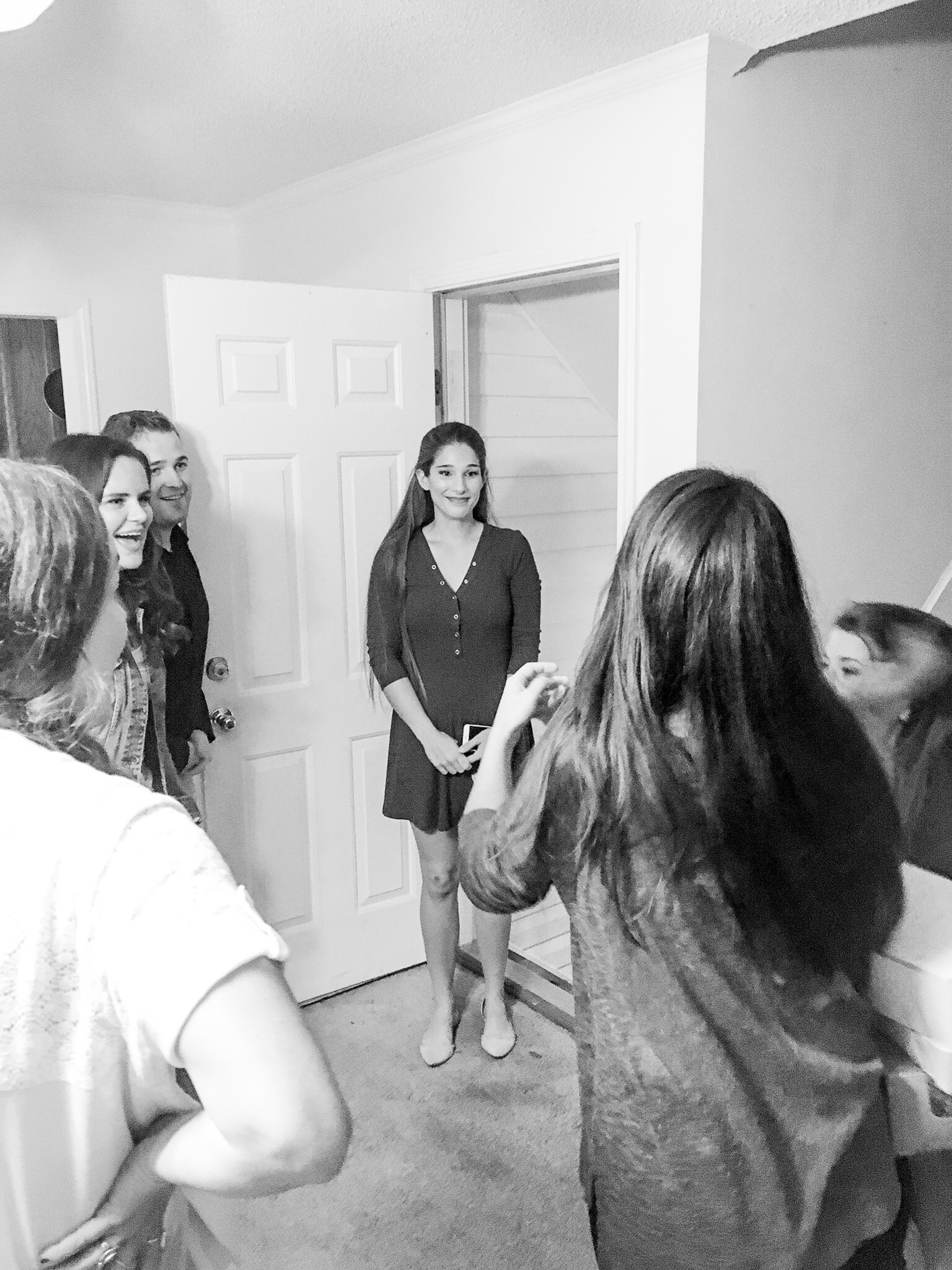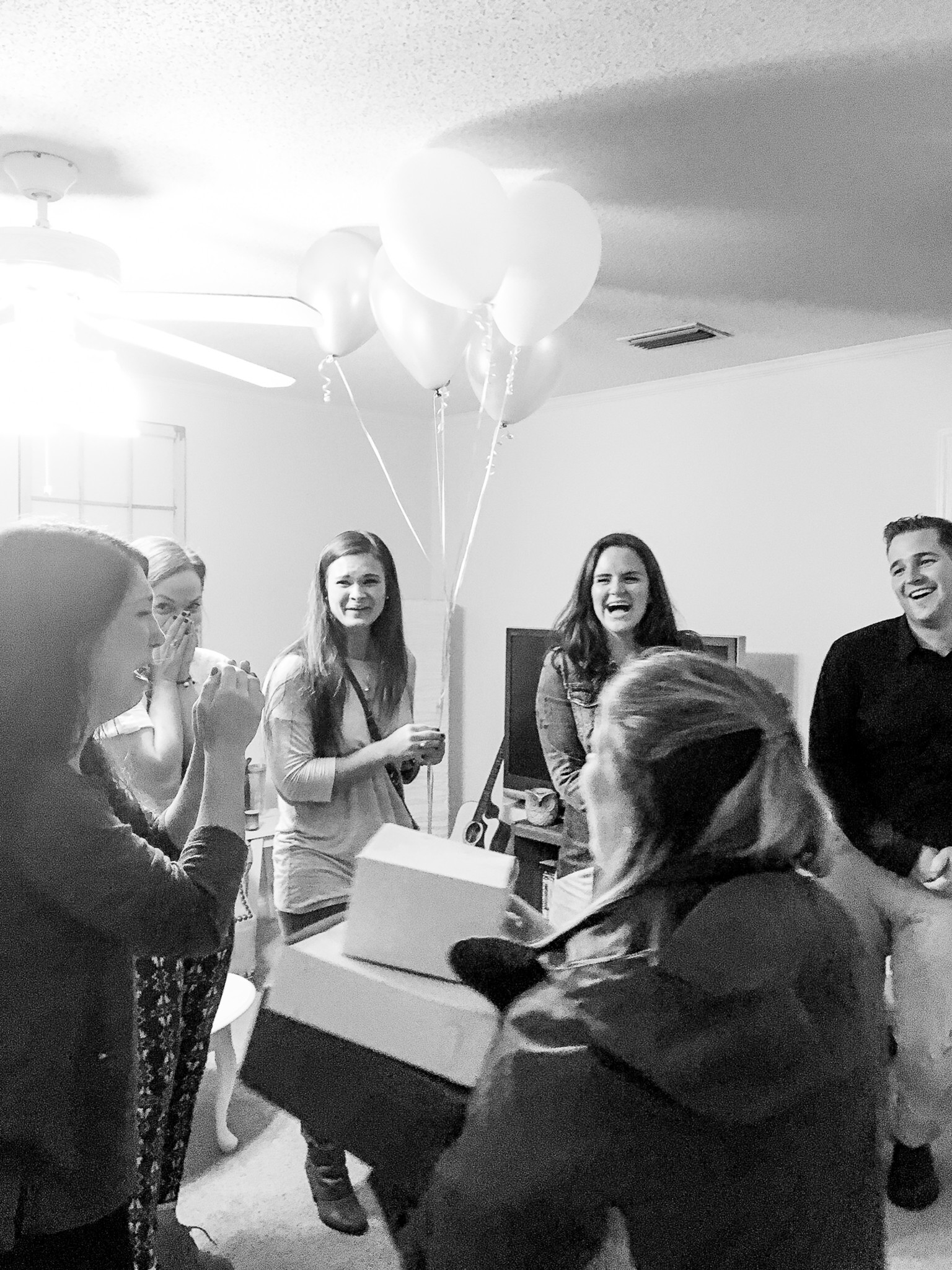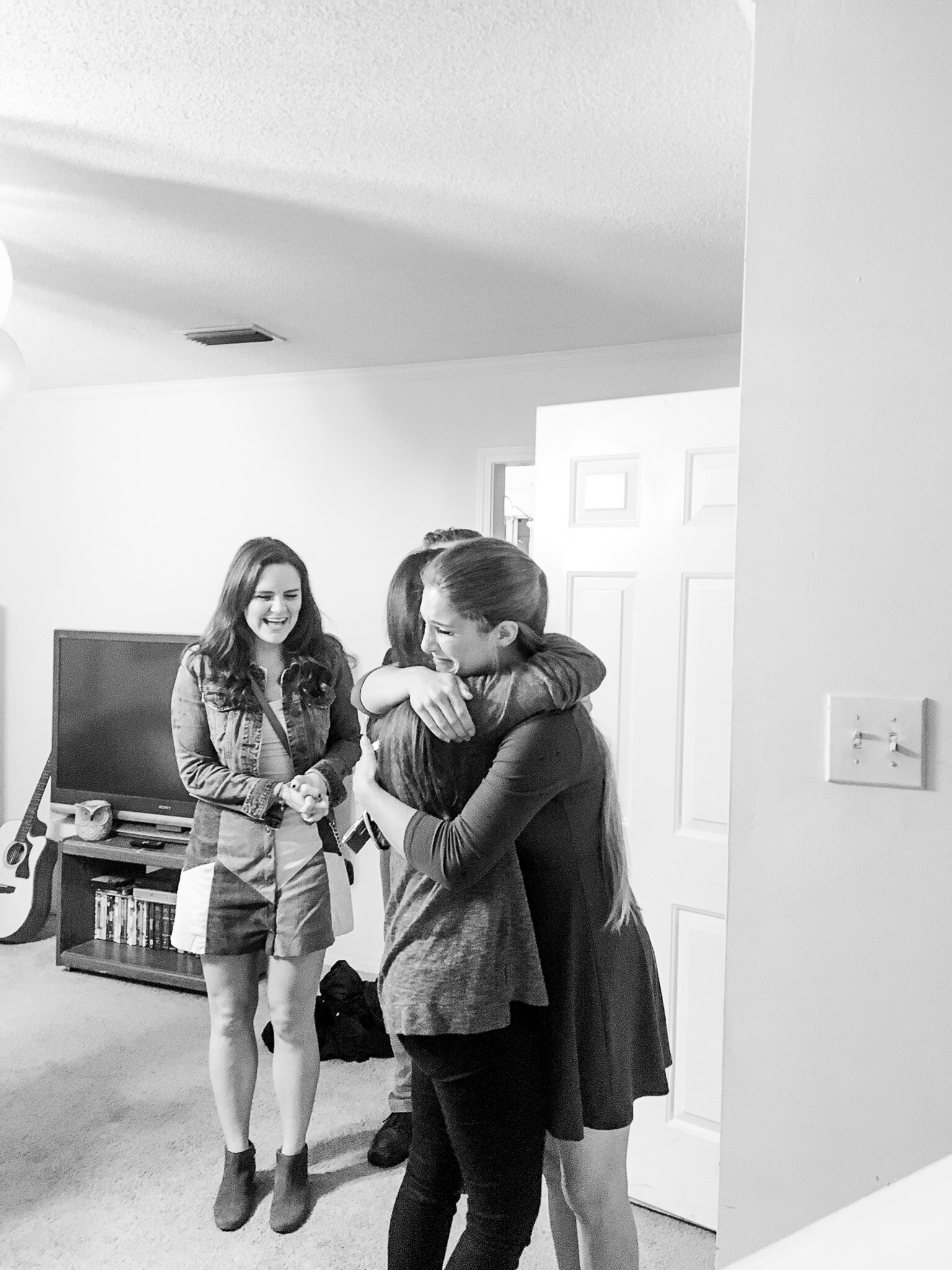 Then the festivities began.  We decided then and there that we wanted to keep our engagement quiet, just for the evening.  We called our parents and told them the story, laughing as our friends chimed in from the background.  That night, we all feasted on desserts from Disney World's France in Epcot (– thanks to my sweet sister !!), shared our own version of the story, played games, and enjoyed the evening.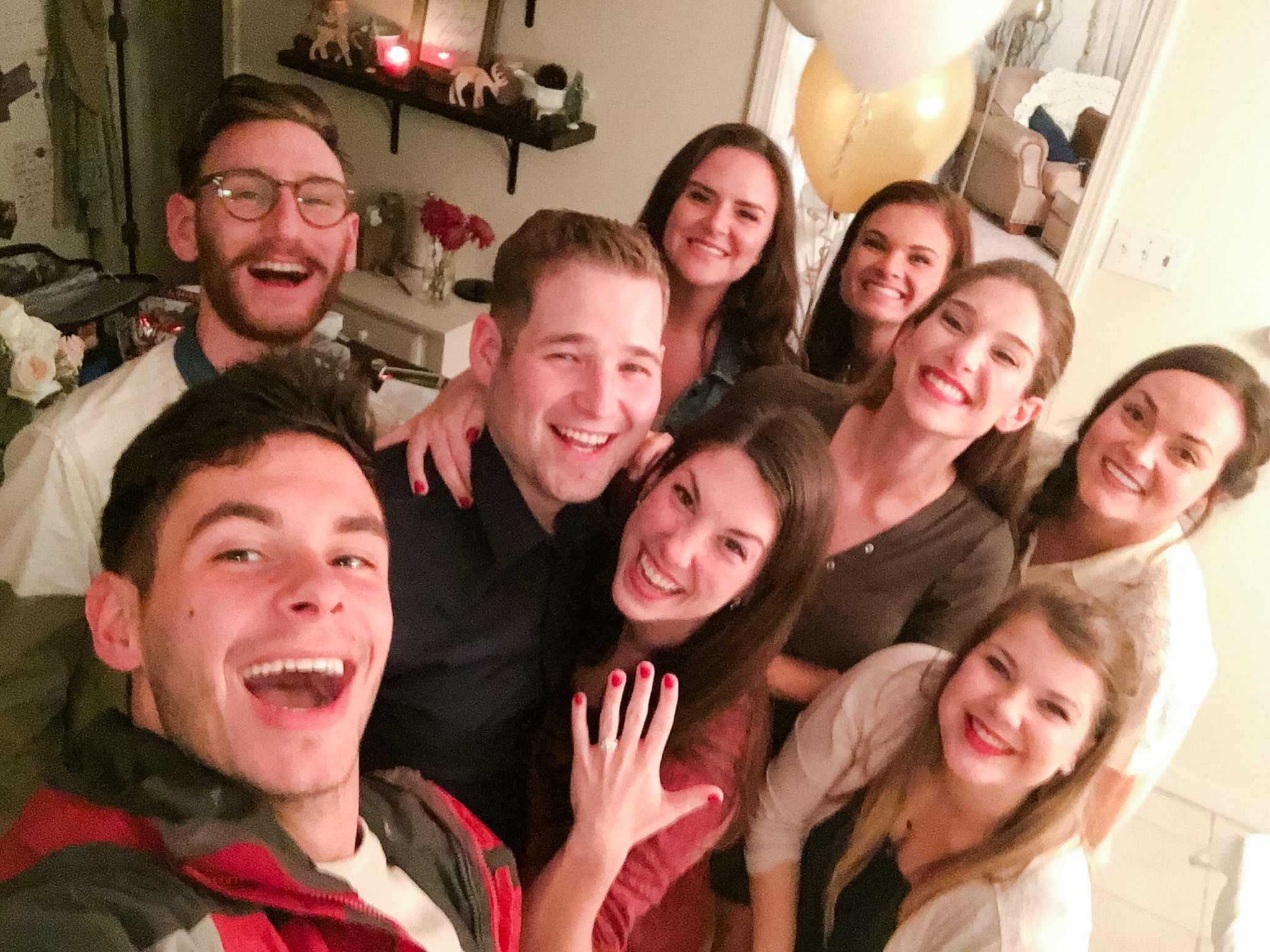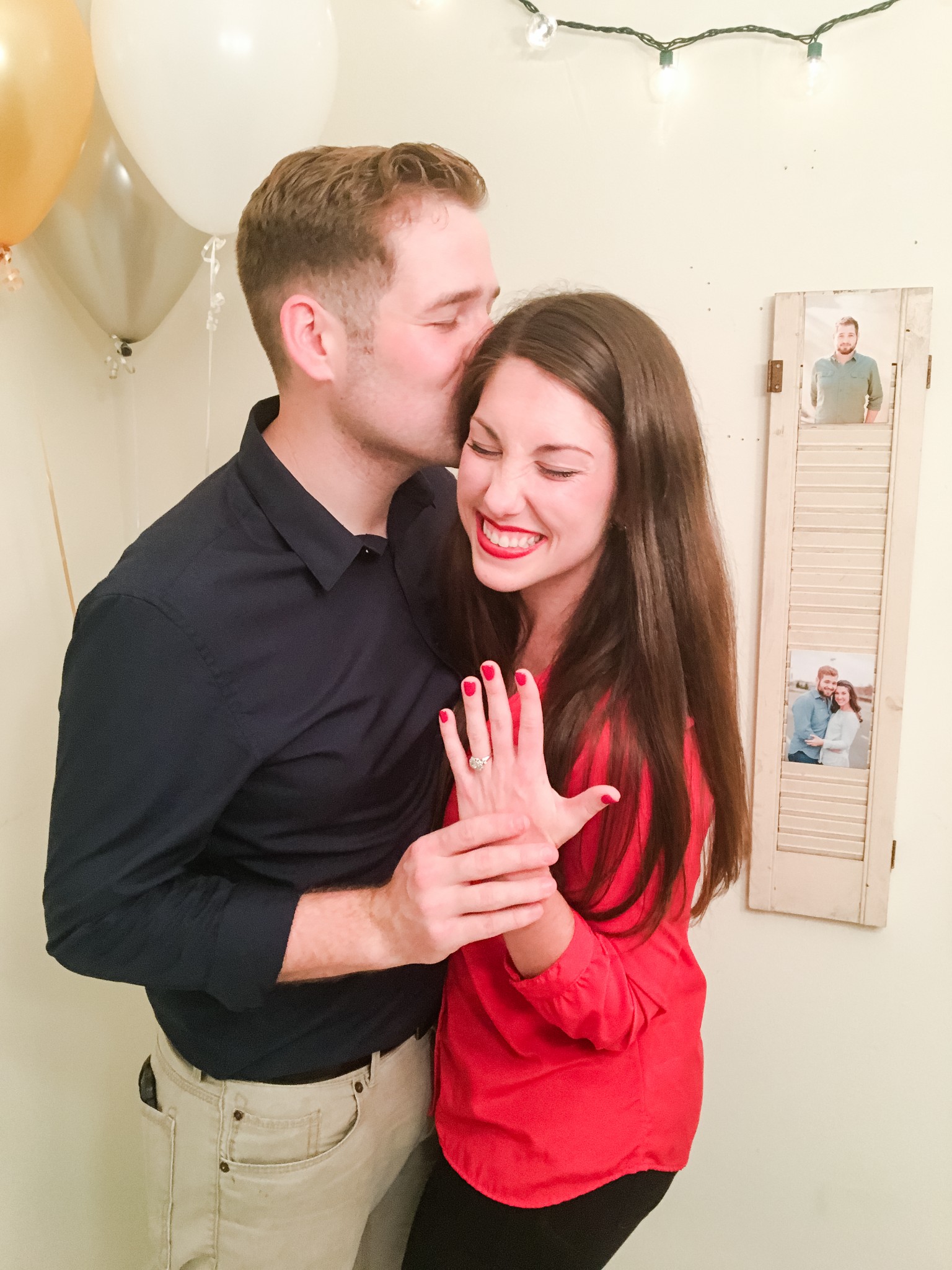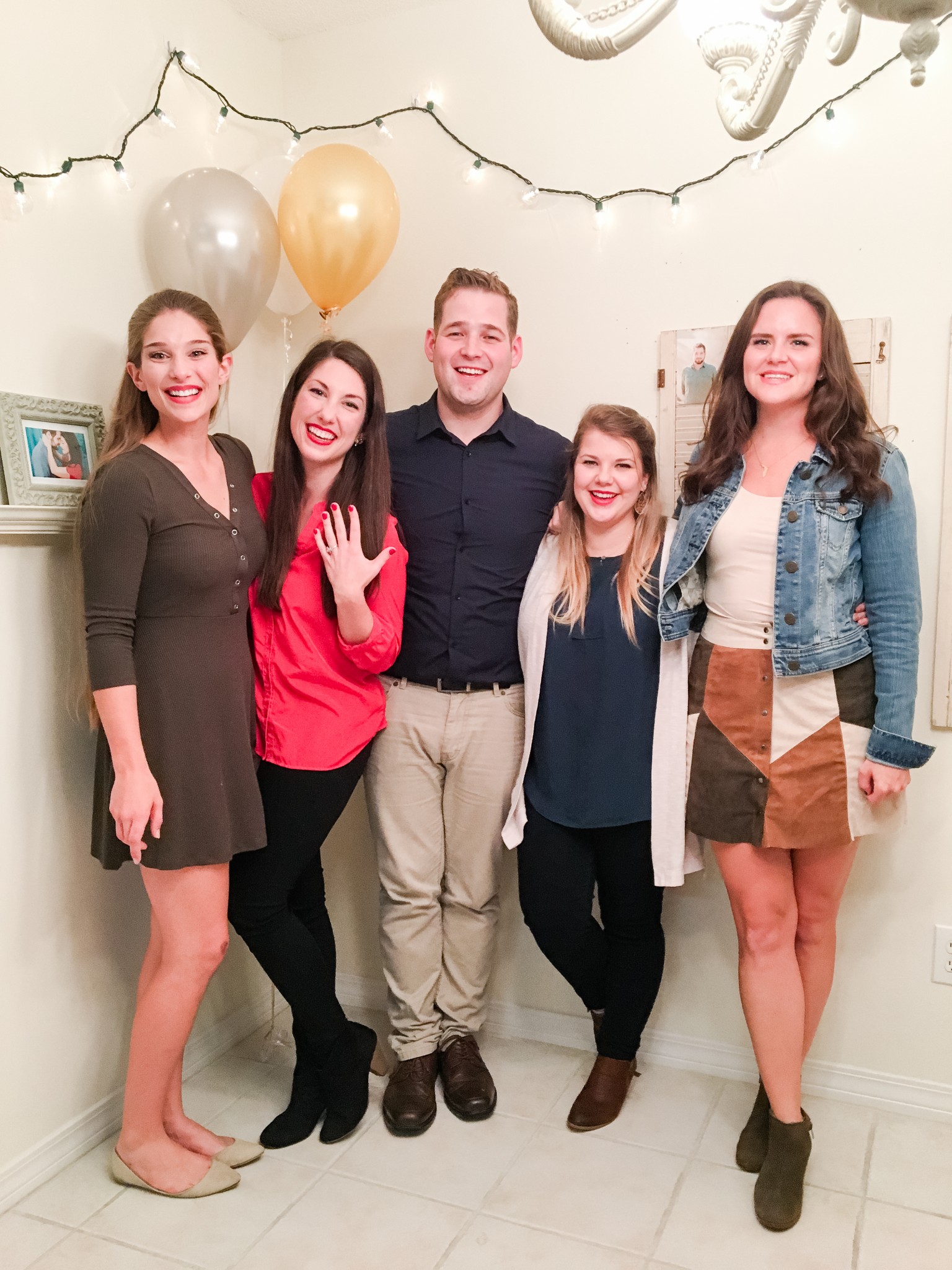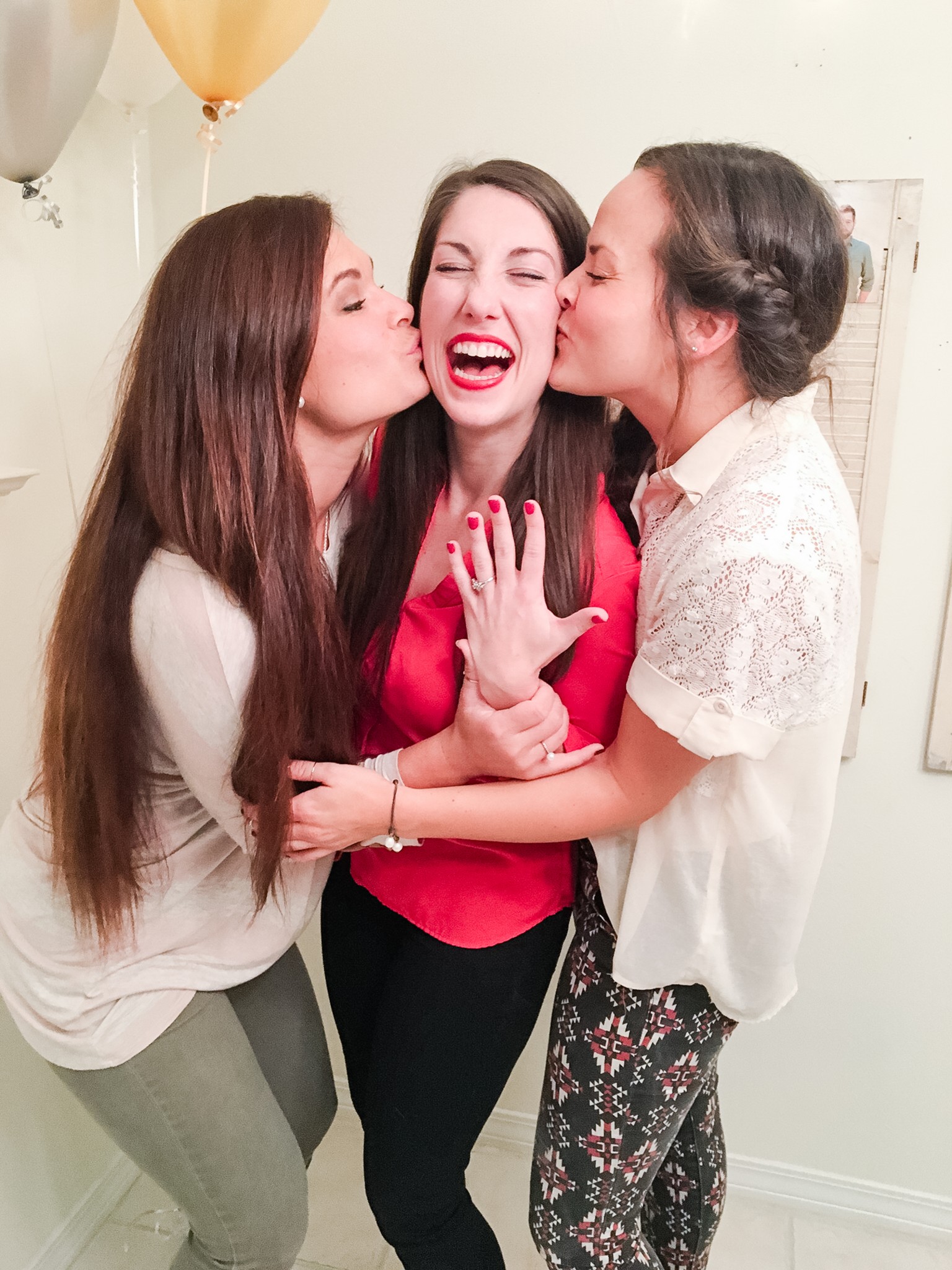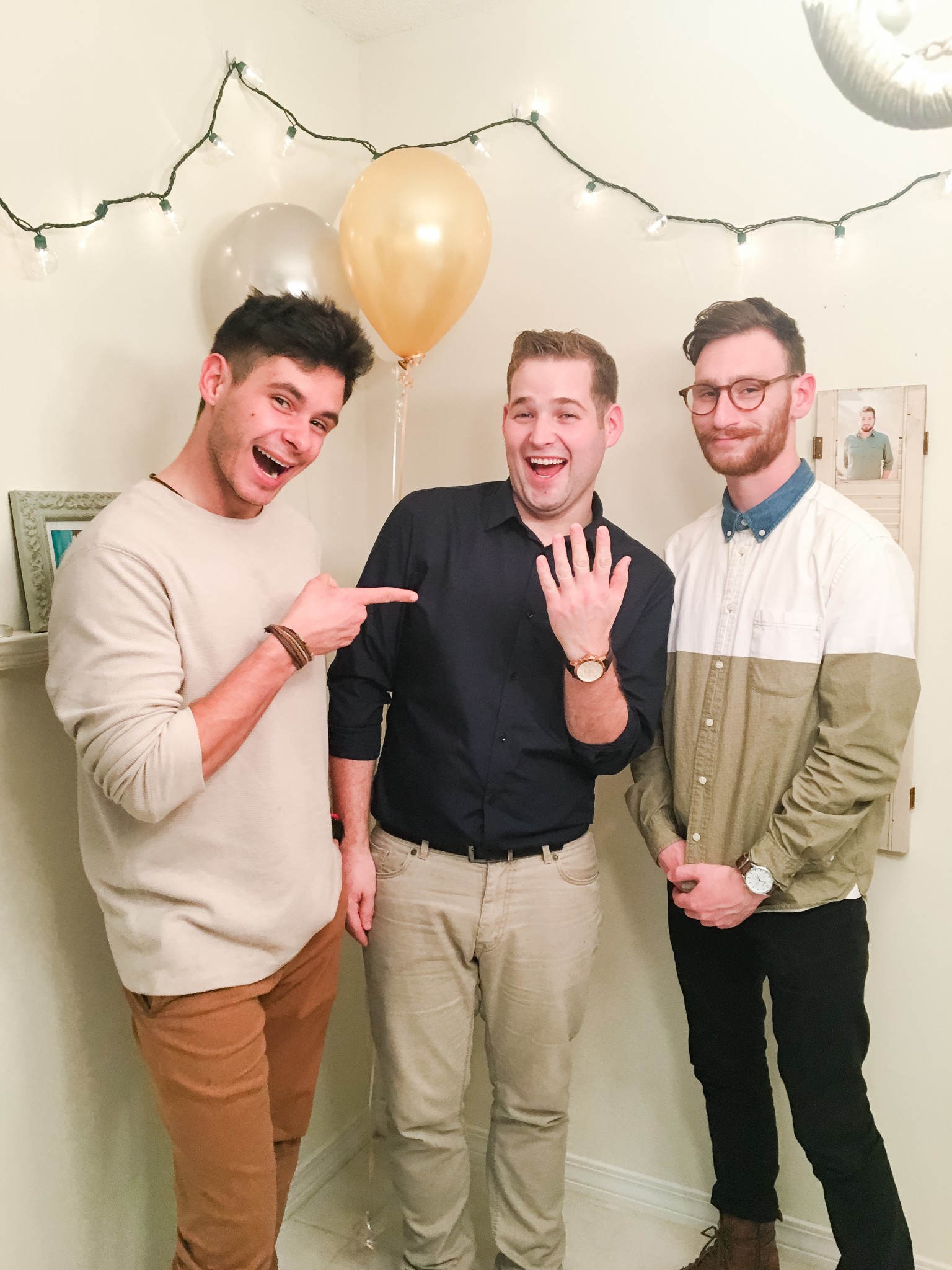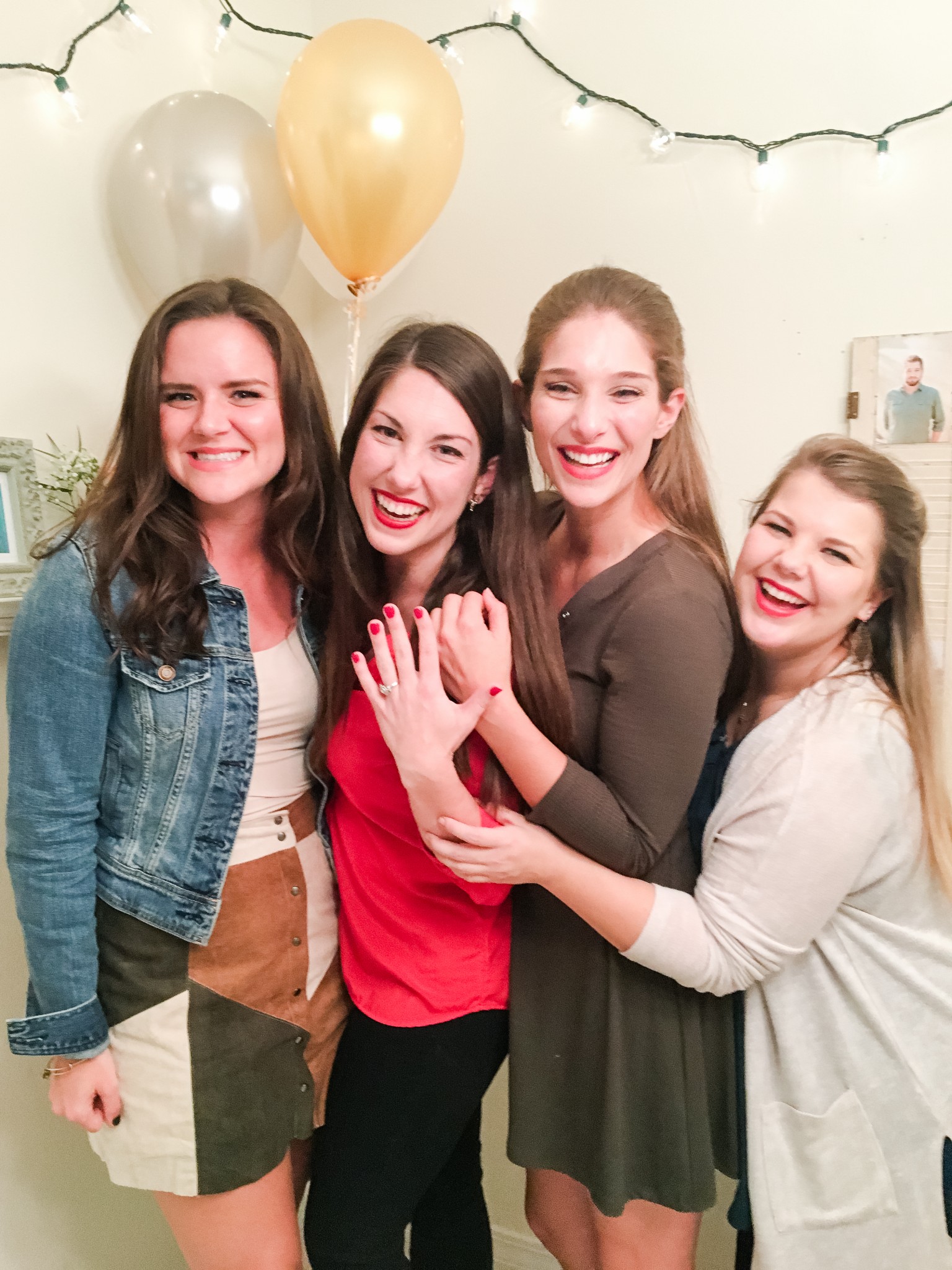 The funniest part?  I had instagrammed an image of the homemade bread I had made earlier that day in excitement that my friend Dave was coming into town.  My friends knew me so well, that they faked the whole "Dave coming into town on business thing" because they knew the only way I'd clear my schedule was if I had a dinner party to plan.  We'll never forget that.  It still tickles me.
Things I'm super thankful for? :
A GOPRO in the corner of the room that recorded the entire proposal, that I can watch and re-watch whenever I want <3
Our three sisters that were willing to travel 4-8 hours just to be with us
That God didn't give me the man of my dreams… he gifted me with the man of HIS REALITY for me.  Which is far better than my dreams can do.
Waiting to post on social media in order to call and reach out to those closest to us and PERSONALLY tell them we're engaged.
Each phone call, comment, text and email that we've received in celebration of this next season– we love EACH of you more than you know!! Thank you for rejoicing with us!!!
I am SO excited to start this journey as a Bride-to-be!  My heart is SO FULL and I can't believe this is real!!!
Gah!  Let the wedding planning start!!  Where do I even begin?!
PS Isn't this ring GORGEOUS?  David did such a good job!!!!!!!!!!!!!!!!!