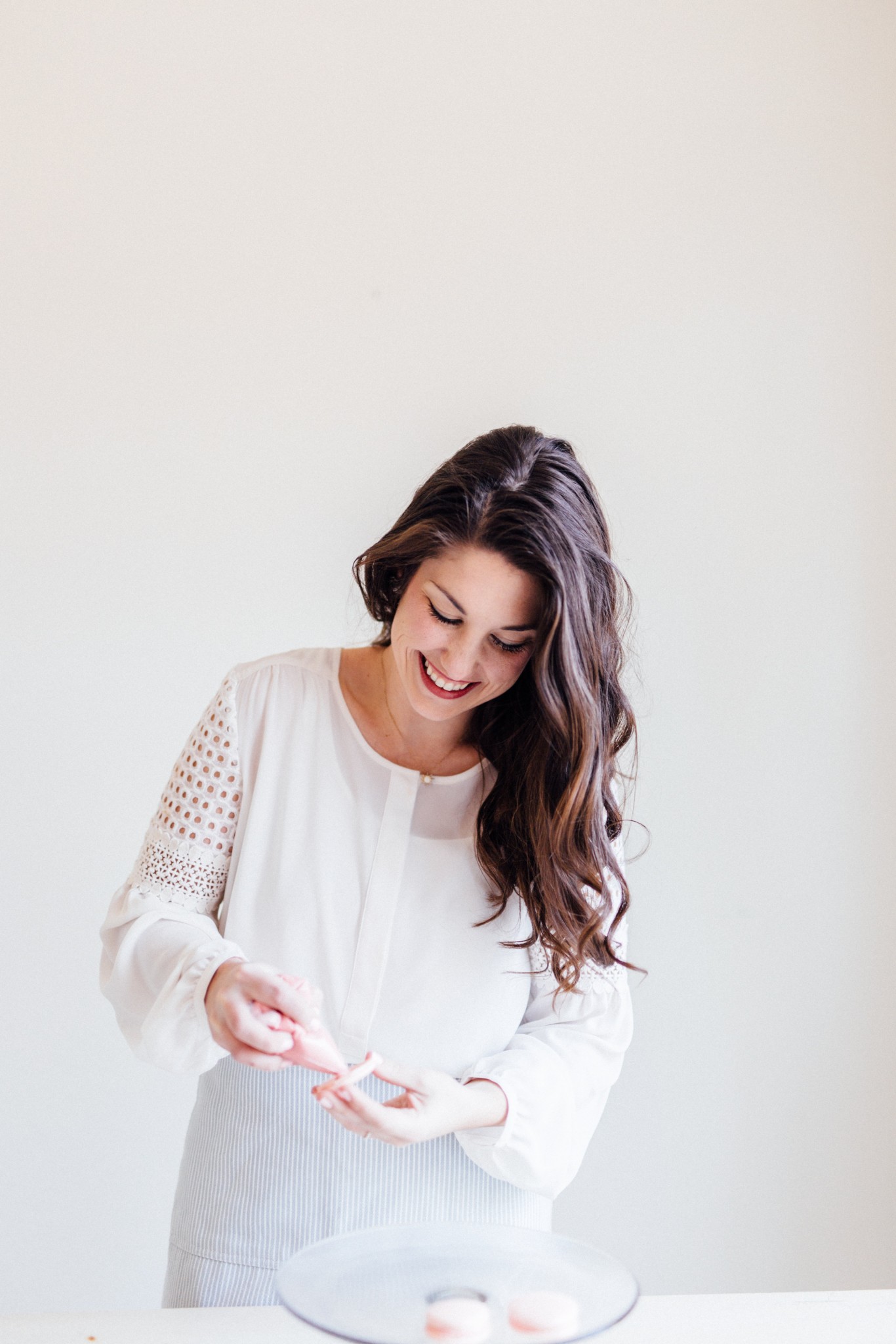 I first discovered these gorgeous little cookies years ago when I tried one in a small bakery for the very first time.  Interested in their numerous colors and assorted flavors, I purchased a few French Macarons and was delightfully surprised.  Their texture was so different from anything I had ever tasted: light and fluffy, yet slightly chewy & sugary sweet.   I told myself for years on end that I would try to bake a batch of my own.  It wasn't until last year that I experimented in creating the most perfect macaron cookie.  I did my research before I sifted & swirled and I quickly learned that many people loved to consume macarons, but making them was a different story.  They were as delicate to make as they were to consume, which made me love them all the more.  These cookies are as authentic as they come! When you follow their recipe exactly right, you are sweetly surprised at just how delightful these treats can be!  My advice?  Read the recipe twice before you follow it 🙂  Then, enjoy these tasty treats!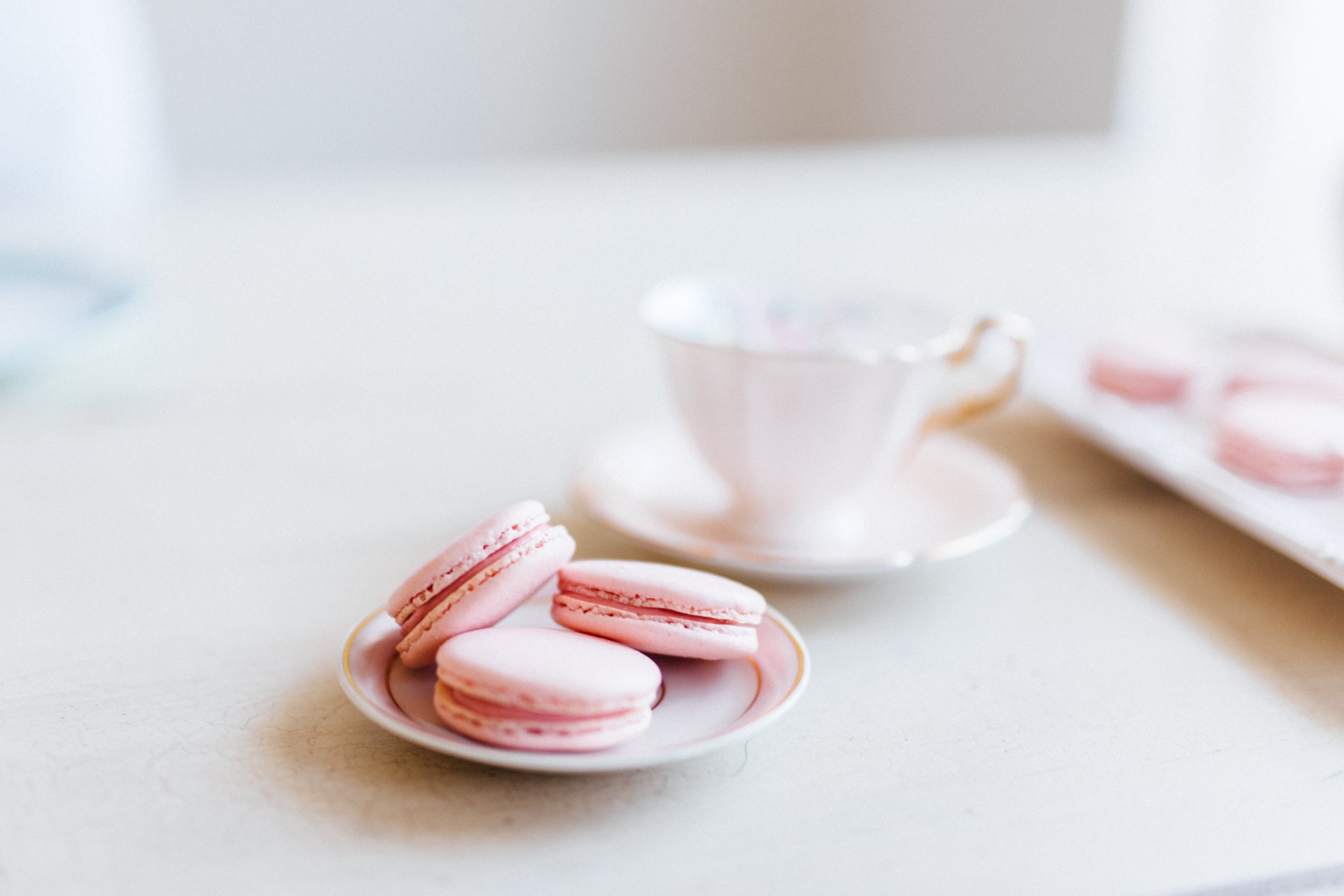 FRENCH MACARONS
INGREDIENTS
1 3/4 cups confectioners' sugar
1 cup almond flour
3 large egg whites, at room temperature
1/4 teaspoon cream of tartar
Pinch of salt
1/4 cup superfine sugar
2 to 3 drops food coloring (I used red)
1/2 teaspoon extract (I used almond )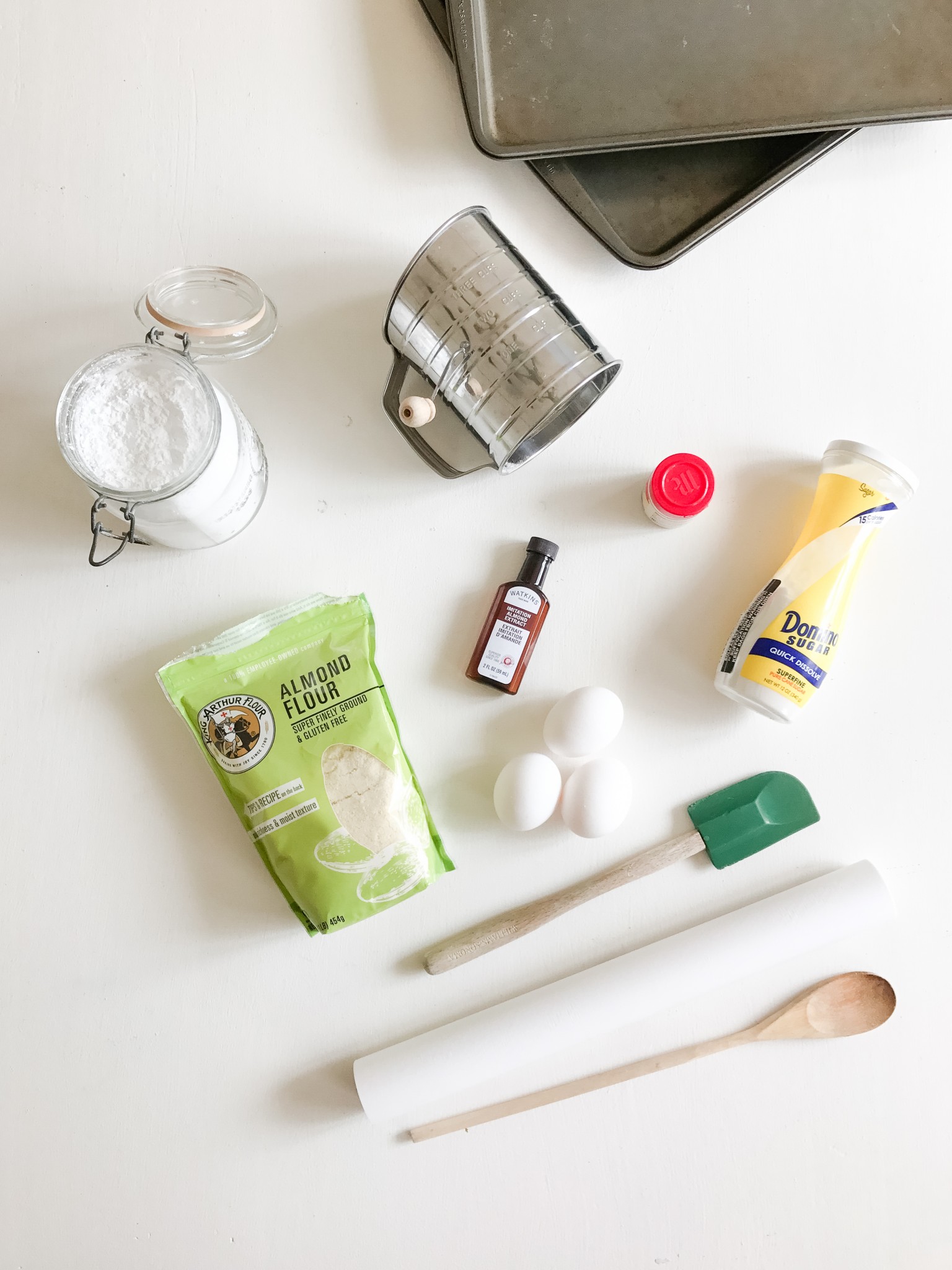 DIRECTIONS
Preheat the oven to 300*F. Line 3 baking sheets with parchment paper.
Measure the powdered sugar & almond flour by spooning them into measuring cups and leveling with a knife. Transfer to a bowl; stir to combine.
Sift the sugar-almond flour mixture, a little at a time, through a fine-mesh sieve into a large bowl.  Press mixture with a spatula if there are clumps.  It's okay if a few tablespoons of coarse almond flour may be left; just toss the extra.
Beat the egg whites, cream of tartar and salt with a mixer on medium speed until frothy. Increase the speed to medium high; gradually add the superfine sugar and beat until stiff and shiny (about 5 more minutes).
Transfer egg whites to the bowl with the almond flour mixture and fold together.
Add the food coloring and extract. Continue to fold the mixture,  turning and scraping the bowl, until the batter is smooth.  About 2 to 3 minutes.  You want the batter to fall off of the spatula in a smooth, thin ribbon.
Transfer the macaron batter to a pastry bag fitted with a 1/4-inch round tip ooorrrrrr a large ziplock bag if you don't have a pastry bag 😉 .
 Pipe 1 1/4-inch circles on each baking sheet. You want to make sure you leave plenty of room for your cookies so they don't bake together.
Firmly tap the baking sheets against a counter or table top.  Do it a few times to release any air bubbles in the cookies.
Let the cookies sit at room temperature until the tops are no longer sticky to the touch, 15 minutes to 1 hour.  This part is totally dependent on humidity– for me, I waited almost 45 minutes.
Make sure there are two racks in the oven, place an empty baking sheet on the bottom level, and a baking sheet full of macarons on the top . This will protect your cookies from heat!
Pop your baking sheets into the oven.  Bake until the cookies are shiny and rise 1/8 inch to form a "foot,"- about 15- 20 minutes.
 Peel the cookies off the mats and sandwich with a thin layer of filling!!
 ENJOY!FILLING FLAVORS

Almond-Fig: Tint the batter with 2 drops pink food coloring; flavor with almond extract. Fill with seedless Fig jam.
Raspberry Cheesecake: Tint the batter with 2 drops of red food coloring; flavor with vanilla extract. For the filling, mix 1/2 block of cream cheese with 4 tablespoons of seedless raspberry jam.
Mint-White Chocolate: Tint the batter with 2 drops green food coloring; flavor with mint extract. For the filling, microwave 3 ounces chopped white chocolate, 2 tablespoons heavy cream and 1 tablespoon butter in 30-second intervals, stirring, until smooth. Stir in 1/4 teaspoon mint extract and 1 drop mint green gel food coloring.

French Macaron Tips + Tricks:

Weather is a factor when baking these little guys.  They are super sensitive to humidity & moisture in the air.
Be careful with the food coloring– too much color will actually change the consistency of the batter.
** recipe adapted from the Food Network**