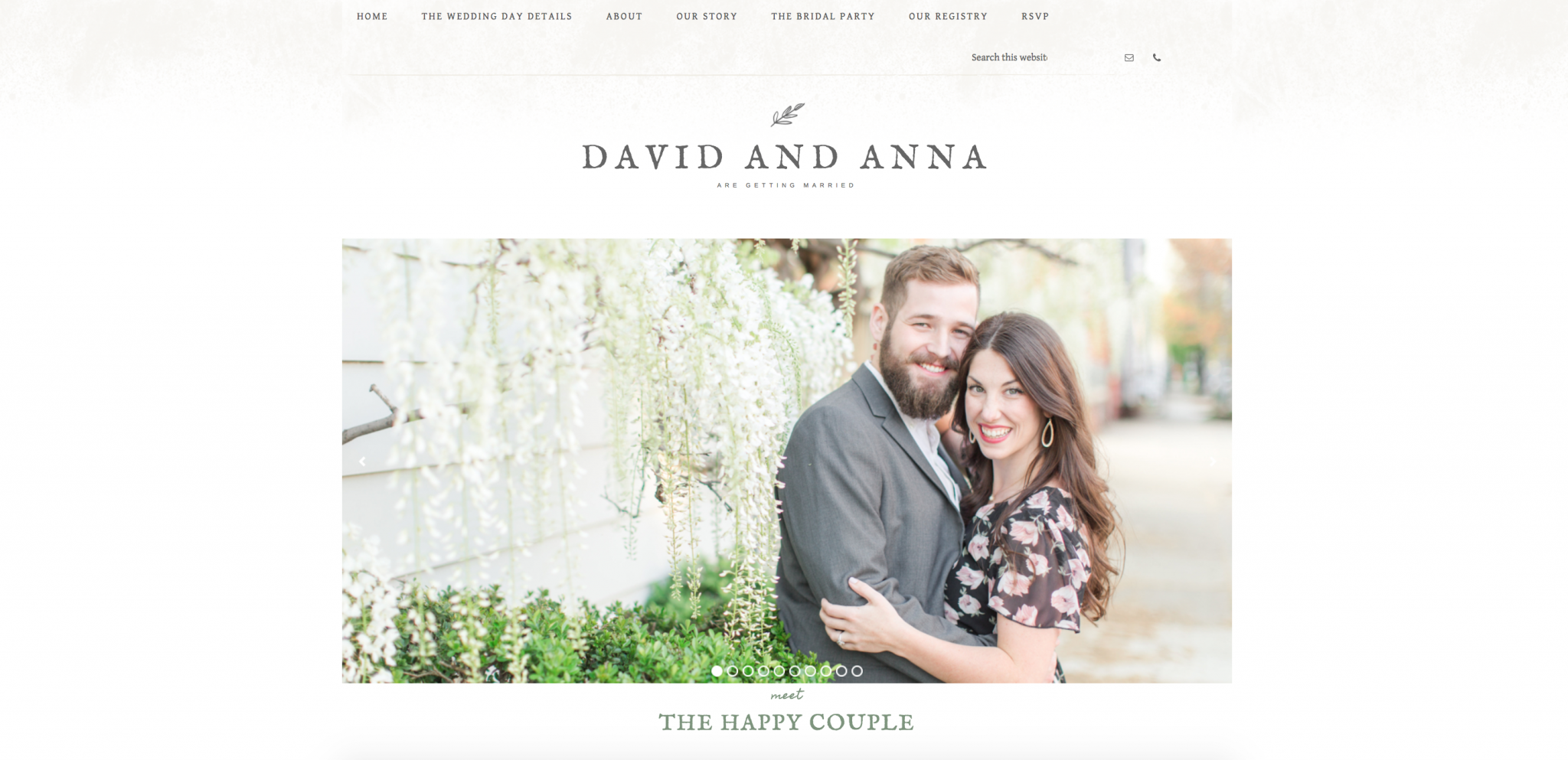 Building a Wedding Website
When it comes to planning a wedding, one thing that has become all the rage over the last few years is having a wedding website!  It is super convenient to create a place online where guests can access wedding day information.  As a bride to be, I was skeptical whether or not to create one at first.  Would it be worth the time invested?  Would guests actually use it ?  What information should we include ?  All of these questions filled my mind as I searched in the internet for answers.  I laugh at the irony now, but how many of us have gone to the internet to find the answer to a question?  That is exactly the reason why David and I decided to create a wedding website for our own wedding guests!  We didn't want them wondering, we wanted them to have a tool with as many answers to their questions as possible!   As the bride and groom, this allows for us to have more time investing and planning!
We designed our wedding website with a lot in mind.  We wanted our guests to have a place where they could find helpful information, as well as a place where they could get to know us better too!  David and I know that wedding days can be a whirlwind, and in our case we will have a lot of guests in attendance at our wedding.  A handful of our guests have either never met David, or never met me!  That being said, we wanted a place where guests could get to know us both individually and as a couple.  We also wanted an easy way to manage RSVPs through a computer software.  When I learned that guests could RSVP online through a wedding website, I was sold!
Wedding service providers such as The Knot, Wedding Wire and Zola provide customizable wedding websites through their own websites.  Annnndddd if you're planning a wedding, these companies also provide a lot of helpful information as well!  I designed our wedding website myself, but I did browse other wedding websites to see what we should include.  In all of my searching and question asking, I gathered a few things that are essential for every Wedding Website!
WHAT YOU NEED :
The Essentials : Make sure your Wedding Date, the time of your wedding, and Your Wedding Location (Ceremony and reception addresses) are in a CLEAR and EASY place to access!
Places to Stay : If you have any out of town guests attending your wedding, it is super courteous to include places to stay and accommodations on your wedding website!  Want to go the extra mile?  Block off a set of rooms for your guests to book at the hotel of your choice!  Some hotels might even offer group rates or discounts.
Things to Do: As someone who travels a lot, there is nothing better than finding someone local to the area you're traveling to and asking them where the best spots are.  Restaurants, bars, live music spots, and fun things unique to the area are all items you can include.  Since I've lived in Mobile for the last five years, I included a bunch of my favorite restaurants, coffee shops and activities.  I not only want my guests to have a great time at my wedding, but before and after my wedding as well!
Information about your future spouse: On our Wedding Website, David wrote my bio and I wrote his.  We thought it was the perfect touch for our friends and family to get to know our future spouse.  We also included easy access to our proposal story and how we met !  Who doesn't love a good love story?!  I know I do!
Your Registry Information : Hosts and hostesses of wedding and bridal showers will THANK YOU if you include this information in a place that's easy to access.  Guests will thank you too!  Including where you are registered and even adding direct links to your wedding registry will help guests easily find the perfect gifts to give.
I hope this helps you as you plan to make a wedding website of your own!  Don't be intimidated, like I totally was.  Take a few days and have FUN with it!  If you have any doubts, including a lot of photos is always a good idea 🙂
Want to see our wedding website?
xoxo
AnnaFilly